Chemical Composition of Four Essential Oils of Eugenia from the Brazilian Amazon and Their Cytotoxic and Antioxidant Activity
1
Programa de Pós-Graduação em Biotecnologia, Universidade Federal do Pará, Belém 66075-110, Brazil
2
Programa de Pós-Graduação em Química, Universidade Federal do Pará, Belém 66075-110, Brazil
3
Coordenação de Botânica, Museu Paraense Emilio Goeldi, Belém 66077-530, Brazil
4
Laboratório de Citogenética Humana, Universidade Federal do Pará, Belém 66075-900, Brazil
5
Programa de Pós-Graduação em Recursos Naturais da Amazônia, Universidade Federal do Oeste do Pará, Santarém 68035-110, Brazil
*
Author to whom correspondence should be addressed.
Academic Editors: Eleni Skaltsa and Gerhard Litscher
Received: 21 June 2017 / Revised: 5 July 2017 / Accepted: 5 July 2017 / Published: 8 July 2017
Abstract
Background:
Eugenia
species are appreciated for their edible fruits and are known as having anticonvulsant, antimicrobial and insecticidal actions.
Methods:
The plant material was collected in the southeastern Pará state of Brazil and submitted to hydrodistillation. GC-MS analyzed the oils, and their antioxidant and cytotoxic activities were evaluated by the DPPH and MTT assays.
Results:
The main components identified in the
Eugenia
oils were 5-hydroxy-
cis
-calemene, (2
E
,6
E
)-farnesol, (2
E
,6
Z
)-farnesol, caryophylla-4(12),8(13)-dien-5α-ol-5β-ol,
E
-γ-bisabolene, β-bisabolene, germacrene D, and ishwarane. The oil of
E. egensis
showed the most significant antioxidant activity (216.5 ± 11.6 mg TE/mL), followed by the oils of
E. flavescens
(122.6 ± 6.8 mg TE/mL) and
E. patrisii
(111.2 ± 12.4 mg TE/mL).
Eugenia
oils were cytotoxic to HCT-116 (colon cancer) cells by the MTT assay, where the most active was the oil of
E. polystachya
(10.3 µg/mL), followed by the oils of
E. flavescens
(13.9 µg/mL) and
E. patrisii
(16.4 µg/mL). The oils of
E. flavescens
and
E. patrisii
showed the highest toxicity for MRC5 (human fibroblast) cells, with values of 14.0 µg/mL and 18.1 µg/mL, respectively.
Conclusions:
These results suggest that
Eugenia
oils could be tested in future studies for the treatment of colon cancer and oxidative stress management.
View Full-Text
►

▼

Figures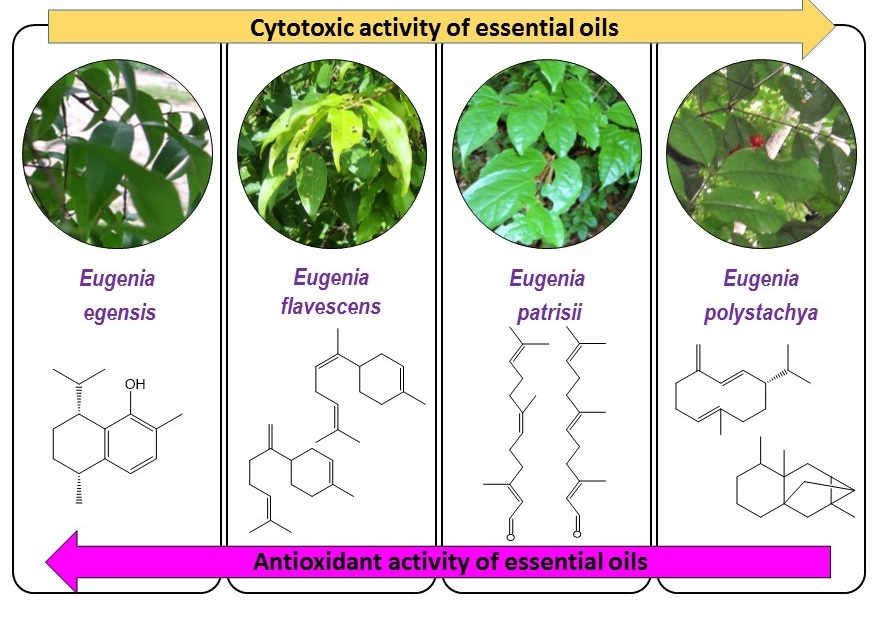 This is an open access article distributed under the
Creative Commons Attribution License
which permits unrestricted use, distribution, and reproduction in any medium, provided the original work is properly cited. (CC BY 4.0).
Share & Cite This Article
MDPI and ACS Style
da Silva, J.K.R.; Andrade, E.H.A.; Barreto, L.H.; da Silva, N.C.F.; Ribeiro, A.F.; Montenegro, R.C.; Maia, J.G.S. Chemical Composition of Four Essential Oils of Eugenia from the Brazilian Amazon and Their Cytotoxic and Antioxidant Activity. Medicines 2017, 4, 51.
Note that from the first issue of 2016, MDPI journals use article numbers instead of page numbers. See further details here.
Related Articles
Comments
[Return to top]