Unique Properties of Core Shell Ag@Au Nanoparticles for the Aptasensing of Bacterial Cells
1
AXES Research Group, Department of Chemistry, University of Antwerp, Groenenborgerlaan 171, B-2020 Antwerp, Belgium
2
Sphere Research Group, Department of Biology, University of Antwerp, Groenenborgerlaan 171, B-2020 Antwerp, Belgium
*
Author to whom correspondence should be addressed.
Academic Editors: Paolo Ugo and Ligia Moretto
Received: 18 April 2016 / Revised: 12 August 2016 / Accepted: 17 August 2016 / Published: 29 August 2016
Abstract
In this article, it is shown that the efficiency of an electrochemical aptasensing device is influenced by the use of different nanoparticles (NPs) such as gold nanoparticles (Au), silver nanoparticles (Ag), hollow gold nanospheres (HGN), hollow silver nanospheres (HSN), silver–gold core shell (Ag@Au), gold–silver core shell (Au@Ag), and silver–gold alloy nanoparticles (Ag/Au). Among these nanomaterials, Ag@Au core shell NPs are advantageous for aptasensing applications because the core improves the physical properties and the shell provides chemical stability and biocompatibility for the immobilization of aptamers. Self-assembly of the NPs on a cysteamine film at the surface of a carbon paste electrode is followed by the immobilization of thiolated aptamers at these nanoframes. The nanostructured (Ag@Au) aptadevice for
Escherichia coli
as a target shows four times better performance in comparison to the response obtained at an aptamer modified planar gold electrode. A comparison with other (core shell) NPs is performed by cyclic voltammetry and differential pulse voltammetry. Also, the selectivity of the aptasensor is investigated using other kinds of bacteria. The synthesized NPs and the morphology of the modified electrode are characterized by UV-Vis absorption spectroscopy, scanning electron microscopy, energy dispersive X-ray analysis, and electrochemical impedance spectroscopy.
View Full-Text
►

▼

Figures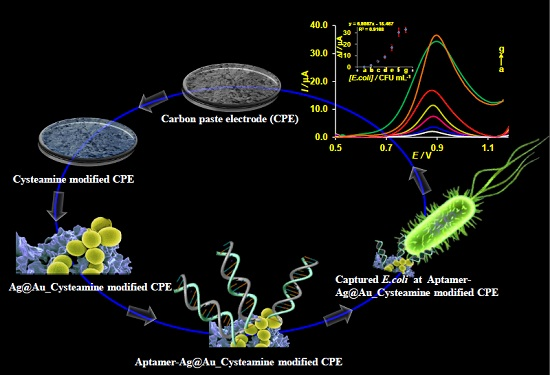 This is an open access article distributed under the
Creative Commons Attribution License
which permits unrestricted use, distribution, and reproduction in any medium, provided the original work is properly cited. (CC BY 4.0).
Share & Cite This Article
MDPI and ACS Style
Hamidi-Asl, E.; Dardenne, F.; Pilehvar, S.; Blust, R.; De Wael, K. Unique Properties of Core Shell Ag@Au Nanoparticles for the Aptasensing of Bacterial Cells. Chemosensors 2016, 4, 16.
Note that from the first issue of 2016, MDPI journals use article numbers instead of page numbers. See further details here.
Related Articles
Comments
[Return to top]