Enhanced Synthesis of Antioxidant Enzymes, Defense Proteins and Leghemoglobin in Rhizobium-Free Cowpea Roots after Challenging with Meloydogine incognita
1
Department of Biochemistry and Molecular Biology, Federal University of Ceara, Fortaleza 60451-970, Brazil
2
Department of Biological Sciences, State University of Rio Grande do Norte, Rio Grande do Norte, Mossoro 59610-210, Brazil
3
Department of Biology, Federal University of Ceara, Fortaleza 60451-970, Brazil
4
University of Fortaleza (UNIFOR), Ceara, Fortaleza 60451-970, Brazil
5
Department of Biophysics and Center of Biotechnology, Federal University of Rio Grande do Sul, Rio Grande do Sul, Porto Alegre 91501-970, Brazil
6
Institute of Biotechnology, University of Caxias do Sul, Caxias do Sul, RS, Rio Grande do Sul, Caxias do Sul 95070-560, Brazil
*
Author to whom correspondence should be addressed.
Received: 8 August 2014 / Revised: 22 October 2014 / Accepted: 13 November 2014 / Published: 26 November 2014
Abstract
The root knot nematodes (RKN),
Meloydogine
spp., particularly
Meloidogyne incognita
and
Meloidogyne javanica
species, parasitize several plant species and are responsible for large annual yield losses all over the world. Only a few available chemical nematicides are still authorized for RKN control owing to environmental and health reasons. Thus, plant resistance is currently considered the method of choice for controlling RKN, and research performed on the molecular interactions between plants and nematodes to identify genes of interest is of paramount importance. The present work aimed to identify the differential accumulation of root proteins of a resistant cowpea genotype (CE-31) inoculated with
M. incognita
(Race 3) in comparison with mock-inoculated control, using 2D electrophoresis assay, mass spectrometry identification and gene expression analyses by RT-PCR. The results showed that at least 22 proteins were differentially represented in response to RKN challenge of cowpea roots mainly within 4–6 days after inoculation. Amongst the up-represented proteins were SOD, APX, PR-1, β-1,3-glucanase, chitinases, cysteine protease, secondary metabolism enzymes, key enzymes involved in ethylene biosynthesis, proteins involved in MAPK pathway signaling and, surprisingly, leghemoglobin in non-rhizobium-bacterized cowpea. These findings show that an important rearrangement in the resistant cowpea root proteome occurred following challenge with
M. incognita
.
View Full-Text
►

▼

Figures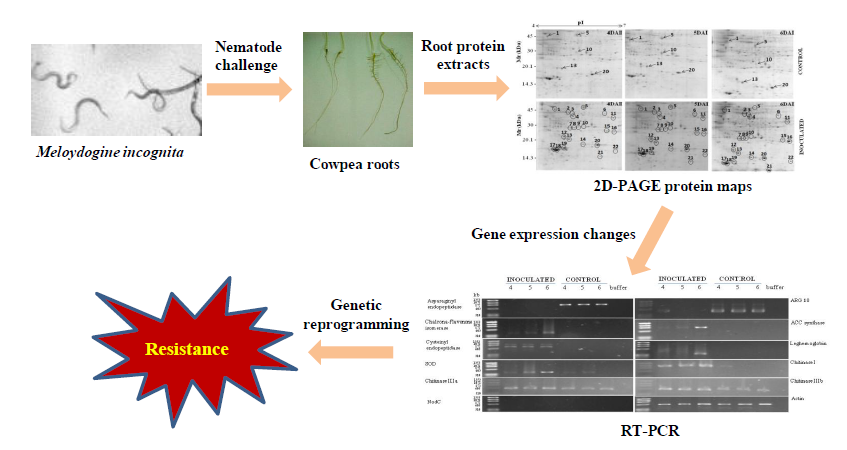 This is an open access article distributed under the
Creative Commons Attribution License
which permits unrestricted use, distribution, and reproduction in any medium, provided the original work is properly cited. (CC BY 4.0).
Share & Cite This Article
MDPI and ACS Style
Oliveira, J.T.A.; Araujo-Filho, J.H.; Grangeiro, T.B.; Gondim, D.M.F.; Segalin, J.; Pinto, P.M.; Carlini, C.R.R.S.; Silva, F.D.A.; Lobo, M.D.P.; Costa, J.H.; Vasconcelos, I.M. Enhanced Synthesis of Antioxidant Enzymes, Defense Proteins and Leghemoglobin in Rhizobium-Free Cowpea Roots after Challenging with Meloydogine incognita . Proteomes 2014, 2, 527-549.
Related Articles
Comments
[Return to top]