Quantitative Proteomics of the Root of Transgenic Wheat Expressing TaBWPR-1.2 Genes in Response to Waterlogging
NARO Institute of Crop Science (NICS), National Agriculture and Food Research Organization (NARO), 2-1-18 Kannondai, Tsukuba, Ibaraki 305-8518, Japan
†
Current address: Kihara Institute for Biological Research, Yokohama City University, Maioka-cho 641-12, Totsuka-ku, Yokohama 244-0813, Japan
‡
Current address: Department of Agro-Environmental Science, Division of Plant Production Science, Obihiro University of Agriculture and Veterinary Medicine, Inada-cho, Nishi 2-11, Obihiro, Hokkaido 080-8555, Japan.
*
Author to whom correspondence should be addressed.
Received: 10 July 2014 / Revised: 20 October 2014 / Accepted: 22 October 2014 / Published: 4 November 2014
Abstract
Once candidate genes are available, the application of genetic transformation plays a major part to study their function in plants for adaptation to respective environmental stresses, including waterlogging (WL). The introduction of stress-inducible genes into wheat remains difficult because of low transformation and plant regeneration efficiencies and expression variability and instability. Earlier, we found two cDNAs encoding WL stress-responsive wheat pathogenesis-related proteins 1.2 (
TaBWPR-1.2
),
TaBWPR-1.2#2
and
TaBWPR-1.2#
13. Using microprojectile bombardment, both cDNAs were introduced into "Bobwhite". Despite low transformation efficiency, four independent T
2
homozygous lines
for each gene were isolated, where transgenes were ubiquitously and variously expressed. The highest transgene expression was obtained in
Ubi:TaBWPR-1.2#2
L#11a and
Ubi:TaBWPR-1.2#13
L#4a. Using quantitative proteomics, the root proteins of L#11a were analyzed to explore possible physiological pathways regulated by TaBWPR-1.2 under normal and waterlogged conditions. In L#11a, the abundance of proteasome subunit alpha type-3 decreased under normal conditions, whereas that of ferredoxin precursor and elongation factor-2 increased under waterlogged conditions in comparison with normal plants. Proteomic results suggest that L#11a is one of the engineered wheat plants where TaBWPR-1.2#2 is most probably involved in proteolysis, protein synthesis and alteration in the energy pathway in root tissues via the above proteins in order to gain metabolic adjustment to WL.
View Full-Text
►

▼

Figures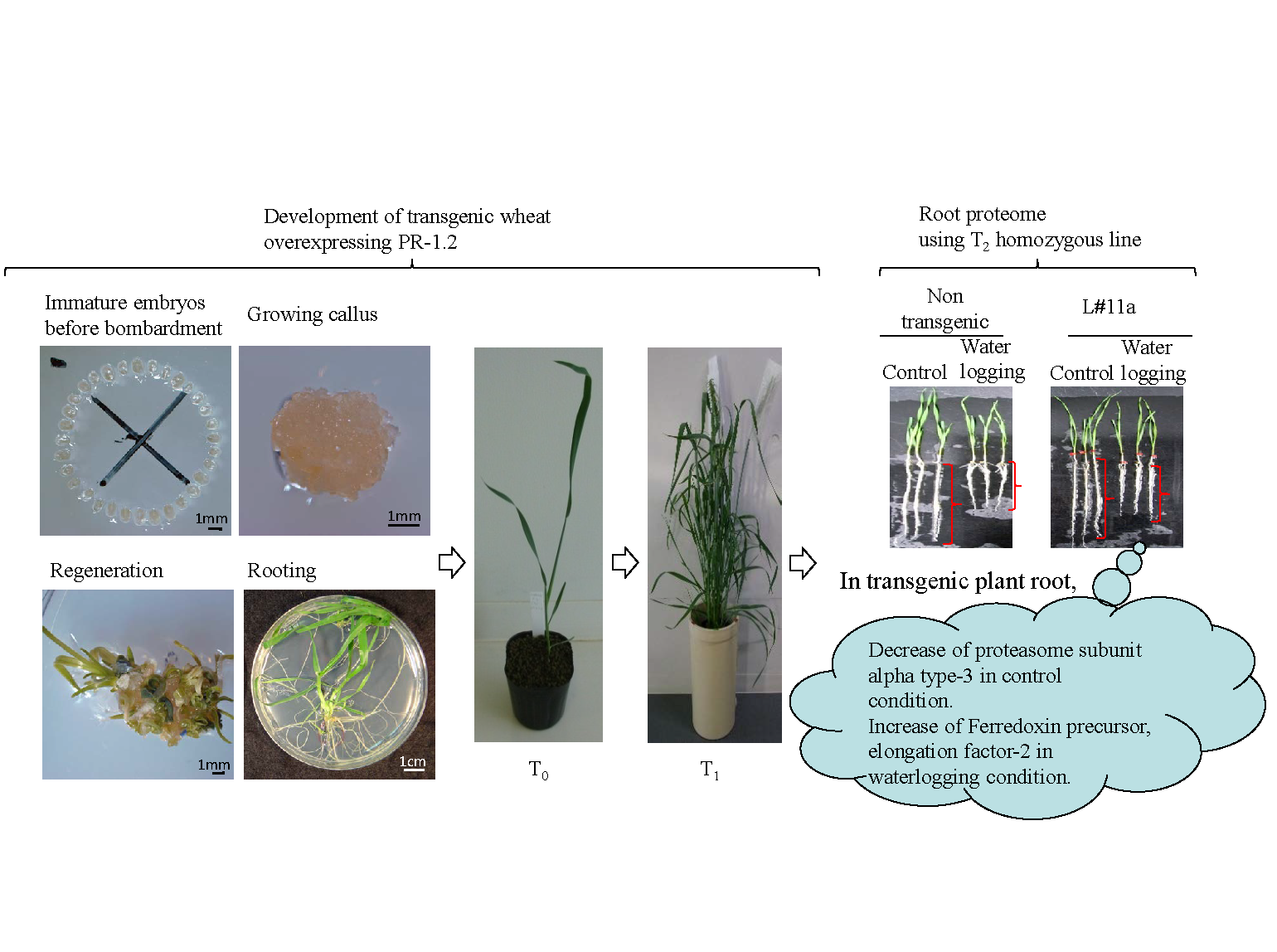 This is an open access article distributed under the
Creative Commons Attribution License
which permits unrestricted use, distribution, and reproduction in any medium, provided the original work is properly cited. (CC BY 4.0).
Share & Cite This Article
MDPI and ACS Style
Haque, E.; Abe, F.; Mori, M.; Nanjo, Y.; Komatsu, S.; Oyanagi, A.; Kawaguchi, K. Quantitative Proteomics of the Root of Transgenic Wheat Expressing TaBWPR-1.2 Genes in Response to Waterlogging. Proteomes 2014, 2, 485-500.
Related Articles
Comments
[Return to top]