Open Access This article is
freely available
re-usable
Review
The Physiological and Pathological Implications of the Formation of Hydrogels, with a Specific Focus on Amyloid Polypeptides
Sir William Dunn School of Pathology, University of Oxford, Oxford OX1 3RE, UK
*
Author to whom correspondence should be addressed.
Academic Editors: Margaret Sunde, Matthew Chapman, Daniel Otzen and Sarah Perrett
Received: 20 July 2017 / Accepted: 18 September 2017 / Published: 22 September 2017
Abstract
:
Hydrogels are water-swollen and viscoelastic three-dimensional cross-linked polymeric network originating from monomer polymerisation. Hydrogel-forming polypeptides are widely found in nature and, at a cellular and organismal level, they provide a wide range of functions for the organism making them. Amyloid structures, arising from polypeptide aggregation, can be damaging or beneficial to different types of organisms. Although the best-known amyloids are those associated with human pathologies, this underlying structure is commonly used by higher eukaryotes to maintain normal cellular activities, and also by microbial communities to promote their survival and growth. Amyloidogenesis occurs by nucleation-dependent polymerisation, which includes several species (monomers, nuclei, oligomers, and fibrils). Oligomers of pathological amyloids are considered the toxic species through cellular membrane perturbation, with the fibrils thought to represent a protective sink for toxic species. However, both functional and disease-associated amyloids use fibril cross-linking to form hydrogels. The properties of amyloid hydrogels can be exploited by organisms to fulfil specific physiological functions. Non-physiological hydrogelation by pathological amyloids may provide additional toxic mechanism(s), outside of membrane toxicity by oligomers, such as physical changes to the intracellular and extracellular environments, with wide-spread consequences for many structural and dynamic processes, and overall effects on cell survival.
Keywords:
amyloid; hydrogel; physiology; pathology
1. Introduction
This review deals with hydrogel formation with a particular focus on amyloid polypeptides in the context of both normal physiology and pathology. Firstly, we describe hydrogels in general, and physical polypeptide hydrogels in term of properties, formation and how their characteristics may be studied. Secondly, we outline the role of natural hydrogels, either cellular or formed by functional amyloid polypeptides, before reviewing that formed by pathological amyloids. Lastly, we link normal physiology to pathology by exploring potential cellular consequences of gelation by pathological amyloids.
2. Hydrogels and Physical Polypeptide Hydrogels
As this review deals with hydrogel formation, we are first defining what hydrogels are, along with explaining their characteristics, before describing the types of hydrogels that are the focus of this review, physical polypeptide hydrogels, and how they can be studied.
2.2. Physical Polypeptide Hydrogels
Most studies offering detailed characterisation of the process of polypeptide hydrogelation (e.g., conformation, assembly pathway, factors affecting the assembly) have been conducted on synthetic peptides [
50
,
51
,
52
,
53
]. These peptides are directly relevant for the fields of biomaterials and biomedicine. Although not directly relevant biologically, these peptides behave in a similar manner to full-length amyloid polypeptides in term of conformation and assembly, the main focus of this review, and as mentioned offer the only detailed characterisation of hydrogelation available to date.
Before reaching the gel point, polypeptides are distributed in finite clusters, which are soluble and therefore called a 'sol'. Beyond the gel point, it is called a 'gel'. Often physical polypeptide hydrogels are reversible and undergo sol-gel, and sometimes gel-sol, transition. Hydrogel-forming polypeptides generally are amphiphilic [
54
,
55
,
56
] and adopt β-structures (β-sheet, β-turn, hairpin) [
57
,
58
,
59
], but helical structures can also gel [
60
]. Hydrogel formation by polypeptides is a reversible hierarchical multi-step process during which polypeptide monomers first aggregate by stochastic nucleation before elongating into fibril via monomer addition, with the fibrils then forming a water-filled 3D supramolecular network through fibril entanglement (
Figure 1
) [
61
,
62
,
63
,
64
]. Therefore, fibril formation is a necessary step for gelation with fibril density and entanglement determining the rigidity of the hydrogel. Thus, the kinetics of gelation are dependent on the kinetics of fibrillisation. Hydrogels are stabilised by numerous non-covalent interactions, between the polypeptide molecules and/or the polypeptide and solvent [
65
], such as hydrogen bonds [
54
,
66
], hydrophobic [
54
], ionic [
54
,
57
] and π–π interactions, which are typical of amyloidogenesis [
58
,
62
]. The properties of the gelled solution are dependent not only on the concentration, length and stiffness of the polypeptide fibrils but also on the number and nature of the crosslinking between them. In particular, we may distinguish fibril entanglement without inter-fibril interactions as one end of a spectrum that extends through global fibril-fibril lateral interactions (e.g., via hydrogen bonding) to specific points of crosslinking determined by associated proteins with bivalent fibril binding properties (e.g., bundling proteins on actin microfilaments—see
Section 3.2
).
2.3. Study of Physical Polypeptide Hydrogels
The properties of hydrogels can be examined using various techniques. Often characterised are the temperatures of sol-gel and gel-sol transitions, by looking at physical state over a range of temperatures, for example by spectroscopic techniques (e.g., dynamic light scattering), thermal techniques (e.g., differential scanning calorimetry) or rheology.
The mechanical properties, and overall macroscopic physical characteristics, of a physical hydrogel can be determined by rheology, which is reviewed by Yan et al. [
50
]. Rheology permits the study of the relationship between stress and deformation, which can provide polymer characteristics such as gel strength, viscosity (resistance to flow deformation), viscoelasticity (both viscosity and elasticity). The main rheological technique to characterise hydrogels is small amplitude oscillatory shear, during which the sample is subjected to shear flow by small amplitude torsional oscillation. Small strain is preferable as it avoids rupturing the network structure. The rheological measurements in our review were obtained by this technique. The critical gelation concentration can be determined, and the stability, rigidity/strength of the hydrogel can be probed. The temporal evolution of the system can be followed, which allows the sol-gel (and, if happening, gel-sol) transition (cross-over point of the moduli, see below) to be observed. Indeed, the transition strongly affects molecular mobility leading to rheological changes as the solution does not behave as a liquid anymore and not yet as a solid. The linear viscoelastic region of the hydrogel can be determined by doing strain amplitude measurements. Finally, the kinetics of gelation and final gel stiffness can be determined. Generally, three parameters are measured over time, temperature, frequency and strain: the elasticity or stiffness (elastic or storage modulus G'), the liquid-like properties (loss modulus G") of the solution, and the loss tangent, tan δ (G"/G'). In other words, under shear stress, G' represents the ability of the deformed polymer to go back to its original state, and G" the tendency of the polymer to flow. As network connectivity increases, both G' and G" grow, either immediately or after a lag time, before reaching a plateau when maximum connectivity and network arrangement are achieved. Measuring all these changes allow the determination of the gelation kinetics. Typically, for a gel G' dominates over G" and tan δ < 1, and for a viscous liquid G" dominates over G'. The dominance of G' over G" over a frequency sweep is also a clear indication of gelation. Importantly, the two moduli have to be independent of the deformation amplitude within the linear viscoelastic region.
Rheological characterisation allows the study of gelation under different environmental conditions and can shed light on the gelation mechanisms. The gelation of many natural polypeptides is not yet fully understood and even less so for amyloid polypeptides, as evident from the very few rheological characterisations given in this review. In the case of pathological amyloid systems, hydrogelation could represent a potential new mechanism for toxicity (see
Section 6
).
3. Cellular Hydrogels
Hydrogel-forming polypeptides are widely found in nature and provide a wide range of functions for the organism making them. At a cellular level, hydrogels are found in various locations, from the extracellular space (mucus and the extracellular matrix), to the cytoplasm (cytoskeleton) and within organelles (e.g., the nucleolus within the nucleus, and other membrane-less organelles) (
Figure 2
). Cellular hydrogels provide various functions, for example selective diffusion barriers, physical integrity and motility. In this section, we do not intend to give a general overview of all cellular hydrogels, but instead we focus on cellular hydrogels that may be targets of non-natural hydrogels formed by pathological amyloids (extracellular matrix and cytoskeleton; see
Section 6
) and cellular hydrogels made by or linked to 'functional' amyloid-forming polypeptides (e.g., the central channel of the nuclear pore complex, secretory granules and membrane-less organelles in the cytoplasm).
4. Natural, Functional and Non-Pathological Hydrogels
A wide range of organisms are exploiting functional amyloidogenesis to provide them with additional functions/properties, and these have been reviewed before [
9
,
14
,
123
,
124
,
125
,
126
]. However, to date, only a few of these functional amyloid-polypeptides have been shown to form hydrogels and these are the ones we focused on in this review.
4.1. Microbial Adhesins
Microbial amyloid-adhesins are employed in functions as diverse as forming an adherent growth matrix (e.g., curli with
E. coli
, and
Salmonella
or phenol-soluble modulins with
Staphylococcus aureus
), spore dispersal (fungal hydrophobin), interspecies killing (e.g., Microcin E492 produced by
Klebsiella pneumonia
) and pathogenic microbes interacting with vertebrate hosts (e.g.,
E. coli
,
Salmonella
,
Listeria monocytogenes
,
Mycobacterium tuberculosis
, and
Plasmodium
spp.) [
10
,
11
,
12
,
127
,
128
,
129
,
130
,
131
,
132
,
133
].
4.1.1. Bacterial Biofilms
In addition to the motile, planktonic state, bacteria are also capable of adhering to numerous surfaces they encounter in their aqueous environments, including teeth, industrial pipework, ships, and medical implants, to form sessile biofilms. The formation of these biofilms is a multi-stage process involving loose association between the surface and the bacteria's glycocalyx, followed by adhesion and the formation of aggregated microcolonies, and finally the development of these colonies into mature biofilms [
134
,
135
]. Biofilms are thought to confer numerous benefits on bacterial populations, including providing an environment suitable for complex signalling, differentiation of subpopulations for the division of labour of energetically taxing activities and the pooling of nutrients [
136
,
137
]. Furthermore, biofilms are thought to provide protection from a raft of environmental hazards including ultraviolet exposure, desiccation, metal toxicity, and exposure to some antibiotics and antimicrobial agents [
138
,
139
,
140
,
141
].
The extracellular polymeric substance that enmeshes bacteria in a biofilm has been subjected to rheological measurements demonstrating that biofilms exhibit the classic viscoelastic behaviour of a hydrogel [
142
,
143
,
144
]. The properties of a hydrogel are thought to confer many of the advantages of the sessile state. Most obviously, the viscoelastic properties of a hydrogel provide bacteria within the biofilm with a degree of protection from rapidly changing current conditions they experience in aqueous environments [
145
]. Moreover, molecules experience a retarded diffusive motion in hydrogels compared to water, allowing for the concentration of nutrients proximal to the cells [
67
,
136
]. Beyond entrapping nutrients, the hydrogel is capable of blocking diffusion into the biofilm of other molecules through charge exclusion. Positively charged molecules, such as aminoglycoside antibiotics, show reduced diffusion through biofilms compared to neutral solutes, thought to be a product of the repulsive force produced by the negatively charged biofilm biopolymers, particularly the exopolysaccharides [
67
,
146
,
147
].
4.2. Silk
Fibroin light chain (~25 kDa) and heavy chain (~350 kDa), the protein constituent in silk formed by spiders and silkworms, have become an increasingly attractive potential biomaterial and drug delivery system due to their properties. Fibroin is biodegradable over long time periods, is biocompatible, and durable in the extreme, making it highly amenable to biomedical uses [
160
]. Fibroin is further made attractive as a drug delivery system due to its ability to be easily manipulated into a number of states, including hydrogels [
161
]. Gelation occurs at concentrations ≤5 wt% and is dependent on a number of factors, including temperature, ionic environment, and pH [
162
]. Conversion from a liquid to solid fibers occurs through strain-induced phase separation.
Fibroin heavy chain has alternating regions of hydrophobicity and hydrophilicity, with the former comprising numerous repeats of GAGAGS or GAGAGX (X being either V or Y), which can fold into a β-sheet conformation [
161
]. Detailed rheological characterisations of reconstituted
Bombyx mori
silk fibroin hydrogelation, either at the air-water interface (AWI) or in the whole system (bulk solution and AWI), showed not only formation of viscoelastic interfacial gel-like structures (i.e., films) but also formation of extended gel networks at low concentrations (<2.5 wt% [
31
,
163
]. Gelation can be induced by lowering the pH of the solution to around 4, adding Ca
2+
to potentiate β-sheet formation, or using ultrasonication [
162
,
164
,
165
,
166
]. These multiple means of creating fibroin hydrogels are key for its prospects as a drug delivery method as it allows molecules with differing sensitivities to be encapsulated within the hydrogel through multiple means without being denatured. Many of the same conditions that determine the propensity of fibroin solutions to gel, such as concentration, temperature, and ion content, also determine the pore size of the resultant gel [
162
].
5. Pathological Amyloid Hydrogels
Amyloidogenesis has been closely associated with an increasing number of diseases including type II diabetes mellitus, AD and Parkinson's diseases, amyotrophic lateral sclerosis (ALS) and frontotemporal dementia. With ever ageing populations, our understanding of diseases with age-related risk factors, such as amyloid diseases, has become increasingly important. As a result, a great deal of research has been focused upon them over the last few decades. Different amyloidoses are clinically unrelated, but are all characterised by the intra- or extra-cellular deposition of insoluble and misfolded amyloid-forming polypeptides [
5
]. Instead of precipitating out of solution, some amyloid polypeptides have also been shown to form hydrogels. Outside of islet amyloid polypeptide, TDP-43 and FUS, only partial characterisation of the hydrogel is currently available.
6. Consequences of Gelation by Pathological Amyloids
The absence of cytotoxicity in organisms using the amyloid fold to fulfil physiological functions suggests some level of regulation (proteostasis to regulate abundance, gatekeeper residues to limit assembly to certain circumstances). Fibrillisation is also used as a mechanism for storing peptide hormones in
Homo sapiens
(see
Section 3.4
) [
119
]. However, fibril fragmentation is also a general property of amyloidogenesis, which is useful in the release of peptide hormones but more problematic in regards to toxic intermediates. In normal circumstances (i.e., in absence of a trigger), fibrillisation may simply act as a sink for toxic species, to allow cellular machinery to process the compound at a rate which doesn't interfere with cellular function. Fibrils themselves seem not to be causal for disease (e.g., the poor correlation between AD clinical severity and amyloid deposits) and are viewed as stable non-toxic proteinaceous structures [
211
,
212
]. The current view is that oligomers or intermediates of the assembly pathways are the toxic species causing disruption of membrane integrity in various ways (e.g., carpeting and pore formation) [
213
]. Here, we propose that, additionally, non-natural hydrogel formation, as triggered by some pathological amyloids, could also physically change both the intracellular and extracellular environments of cells, affecting/disrupting all sorts of processes, from motility to molecular transport, and overall cell survival (
Figure 3
).
7. Conclusions
Polypeptides polymerising into a water-swollen and viscoelastic three-dimensional cross-linked polymeric network, called a hydrogel, are widely found in nature. Hydrogels provide a wide range of functions for the organism making them, either at the organism or cell level.
Cross-β sheet amyloid structures can be damaging or beneficial to different types of organisms. The best-known amyloids are those associated with diseases (e.g., Alzheimer's and Parkinson's diseases, and type II diabetes mellitus). However, a wide range of higher eukaryotes and prokaryotes utilise the amyloid fold to maintain normal cellular activities or to promote survival and growth. Both functional and disease-associated amyloids use fibril cross-linking to form hydrogels, which can be exploited by organisms to fulfil specific physiological functions.
Outside of the well-studied nucleation-dependent polymerisation, investigation of hydrogelation by pathological amyloids is an emerging field and characterisation of their hydrogel properties is lagging behind that of functional amyloid hydrogels.
Cellular malfunction and death in amyloid diseases may not only be due to oligomer toxicity via membrane perturbation, but also due to the physical effects of the formation of non-natural amyloid hydrogels on cellular functions. Insights into the mechanistic role played by hydrogels in amyloid diseases may teach us more about native hydrogel functions to develop new polypeptide-based hydrogels for use in bioengineering and medicine, but the major prize will be a better understanding of disease progression leading to novel future treatments.
Acknowledgments
L.J. was supported by Synaptica Ltd., and A.C.F. studies are supported by a Sir William Dunn School of Pathology departmental fund. No funds have been received to cover the costs to publish in open access
Author Contributions
L.J. and A.C.F. wrote the review. L.J., A.C.F. and D.J.T.V. discussed and commented on the manuscript.
Conflicts of Interest
The authors declare no conflict of interest.
Abbreviations
| | |
| --- | --- |
| air-water interface | AWI |
| Alzheimer's disease | AD |
| amyloid-β peptide | Aβ |
| amyloid precursor protein | APP |
| amyotrophic lateral sclerosis | ALS |
| extracellular matrix | ECM |
| frontotemporal dementia | FTD |
| fused in sarcoma | FUS |
| heterogeneous nuclear ribonucleoprotein A1 | hnRNPA1 |
| human immunodeficiency virus | HIV |
| islet amyloid polypeptide | IAPP |
| liquid-liquid phase separation | LLPS |
| microtubule organising centre | MTOC |
| non-amyloid-β component of AD | NAC |
| nuclear pore complex | NPC |
| nuclear transport receptor | NTR |
| RNA-binding protein | RBP |
| T cell intracellular antigen 1 | TIA1 |
| 43-kD TARDNA–binding protein | TDP-43 |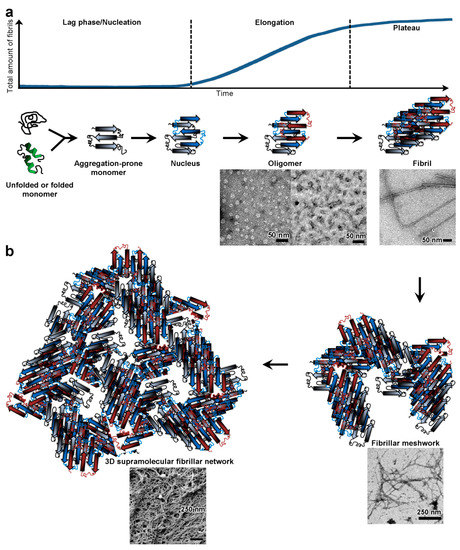 Figure 1. From monomer to hydrogel. (a) Formation of amyloid fibrils. Amyloidogenesis is a nucleation-dependent polymerisation process, which shows a typical sigmoidal behaviour. When followed over time, fibril formation can classically be divided into three phases: nucleation typically characterised by a lag phase, elongation and a plateau. During nucleation, monomers (either unfolded or folded) have to undergo a conformational change to adopt an aggregation prone β-sheet conformation. Then aggregation-prone monomers have to come together in the right conformation and orientation, in an energetically unfavourable step, to form the minimal stable assembly, the nucleus. Once formed, the nucleus serves as a structural template for cooperative elongation. The assembly process becomes energetically favourable and proceeds through addition of aggregation-prone monomers onto the nucleus during elongation to form assembly intermediates or oligomers. Morphologically, by transmission electron microscopy, these oligomers appear as spherical structures (doughnut-like of 10–20 nm diameter) or small rods/protofibrils of various length (~20 to 70 nm). Oligomers carry on growing at the expense of monomers until the monomer concentration falls to the critical fibrillar concentration (the minimum monomer concentration required to form fibrils) and then fibril extension ceases (plateau phase). Typically, by transmission electron microscopy, fibrils can be several μm long with a width of 10 to 20 nm; (b) Formation of a 3D supramolecular fibrillar network. Beyond fibril formation, amyloid fibrils can interact with one another through a range of non-covalent and non-specific interactions to first form a fibrillar meshwork. By transmission electron microscopy, several μm long fibrils are seen to mostly laterally pack together, as well as twisting around one another. This fibrillar meshwork then proceeds, through further fibrillar interactions and entanglements, to form a 3D supramolecular fibrillar network. By scanning electron microscopy, the 3D network comprises fibril bundles as well as supramolecular networks of condensed amyloid fibrils. In an aqueous environment, this 3D supramolecular fibrillar network would be water-filled and act as the basis for hydrogel formation. This water-filled network has pore size defined by the fibrillar species and cross-linkers if present (see holes in between the schematic entangled β-sheets or within the condensed fibril in the scanning electron microscopy).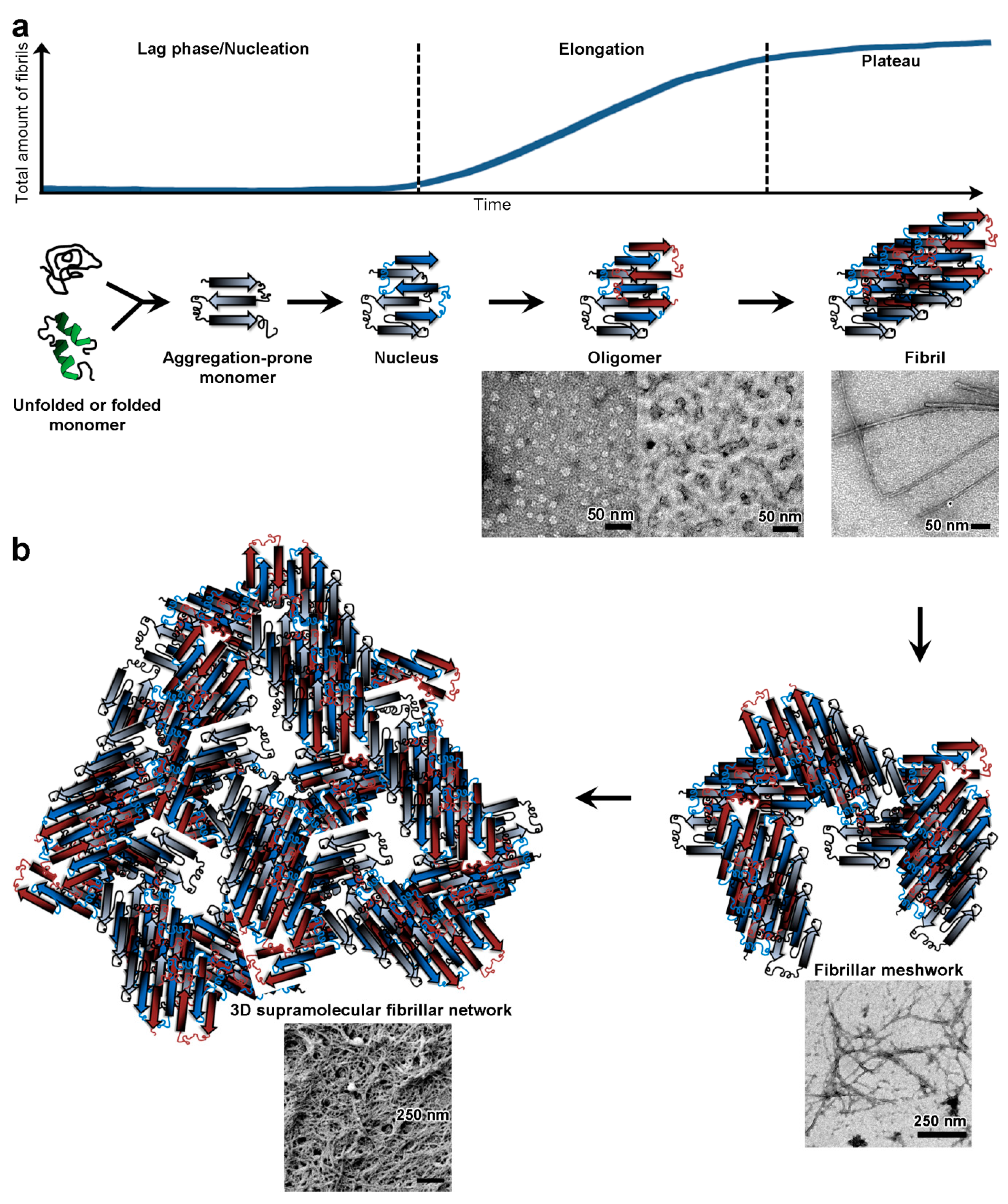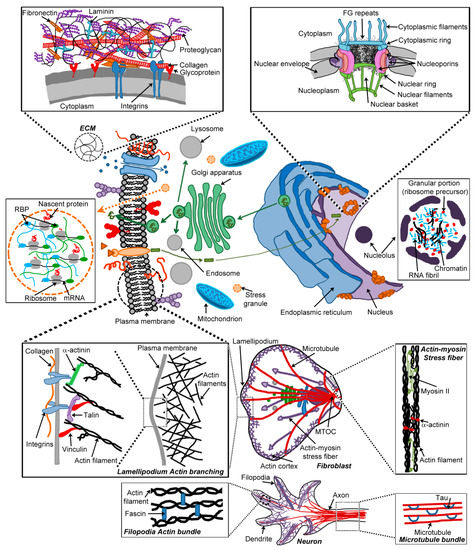 Figure 2. Cellular hydrogels. Hydrogel-forming polypeptides can be found either within the eukaryotic cell (e.g., membrane-less organelles such as the nucleolus and stress granules, the central channel of the nuclear pore complexes (NPC), and the cytoskeleton) or in the extracellular space (extracellular matrix (ECM)). Hydrogel-forming polypeptides provide a wide range of functions for eukaryotic cells: selective diffusion barriers (ECM and NPC), compartmentalisation (nucleolus and stress granules), physical integrity (NPC, ECM and cytoskeleton), and motility (ECM and cytoskeleton). Some cellular hydrogels are formed by 'functional' amyloid-forming polypeptides (e.g., the central channel of the NPC and stress granules), but others (nucleolus, ECM and cytoskeleton) derive from non-amyloid polypeptides. For each cellular hydrogel, the hydrogel-forming polypeptide, cross-linkers and any other molecules involved in hydrogelation are depicted. Molecules that are involved in triggering polymerisation and/or polymerisation control, but not in hydrogelation, have been omitted. At the centre of the figure is a schematic of a typical eukaryotic cell, showing organelles and vesicular transport (green circles, containing proteins as green 'lines') between organelles of the endomembrane system: endoplasmic reticulum (light blue), Golgi apparatus (green), endosome (grey), lysosome (grey) and plasma membrane. Molecules present at the plasma membrane are also depicted: proteins (red 'lines') and glycoproteins (red lines with circles); proteoglycans (purple circles); receptors (light orange), their ligands (dark orange triangles) and downstream effectors (green rectangle); and transmembrane channel (blue) with molecules able to cross through it (blue circles). The ECM (top left inset) comprises proteoglycans and fibrous proteins such as collagen (red 'tubes'), with the precise composition and organisation varying between tissue types. Collagen provides a structural framework for the ECM. Other proteins, such as fibronectin (orange) and laminin (blue), cross-link the ECM itself, but also the ECM to cells (via integrins, blue), and the ECM to soluble molecules. Proteoglycans (black fibrils with purple glycans) form the hydrogel, in which collagen and cross-linkers are embedded. NPC (top right inset) are spanning the nuclear envelope and formed from different protein types: filaments and rings (blue and green) forming the cytoplasmic and nucleoplasmic sides, and nucleoporins (purple, orange and pink) spanning the envelope. NPC selectively gate transport between the cytoplasm and nucleoplasm, which is mediated by a subclass of nucleoporins containing multiple Phenylalanine-Glycine (FG) repeats (FG-Nups). FG-Nups form an extended meshwork of fibrils (black filaments) lining the central channel and proposed to form a hydrogel with selective permeability. Stress granules (middle left inset) are membrane-less organelles accumulating during translational response to stress. They contain mRNA (black), translation machinery (e.g., ribosomes, grey) and RNA-binding proteins (RBPs; blue and green ovals). RBPs, through their prion-like domains, promote reversible aggregation, liquid-liquid phase separation followed by hydrogelation, which triggers formation of mature stress granules. The nucleolus (middle right inset) is also a membrane-less organelle maintained by aggregation, phase separation and hydrogelation. It is organised into three 'compartments': the granular portion (ribosome precursors, red), the fibrillar centre (RNA fibrils, blue) and the dense fibrillar portion (chromatin, black). The bottom third of the figure represents two types of cells (fibroblast and neuron), with different types of cytoskeleton organisation detailed (actin, purple, and microtubule, red). Cytoskeleton filaments form hydrogels cross-linked by a range of cytoskeleton-binding proteins. Just beneath the plasma membrane of some resting cells there is a cortex rich in actin. In eukaryotic cells, environment sensing and motility are mostly achieved through two types of protrusions, lamellipodium and filipodia, both formed via actin polymerisation generating treadmilling and driving directional movement at the cell leading edge. In lamellipodium (bottom left penultimate inset), actin polymerisation forms a dense network running in a crisscross fashion at angles of ~70°, crosslinked together by filamin (not shown). Directional migration is initiated by extracellular cues such as ECM proteins (e.g., collagen, orange filament). Protrusions are stabilised by adhesions linking the actin cytoskeleton to the underlying ECM proteins. In focal adhesions, integrins (heterodimeric receptor, blue) span the membrane and interact with the ECM substrate and, via actin-binding proteins (α-actinin, green, vinculin, red, and talin, purple), with intracellular actin. Filopodia are long thin protrusions composed of parallel polymerised actin bundles held together by a variety of proteins (e.g., fascin, blue) (bottom left inset). Attachment to the ECM substrate is followed by a contraction phase, detachment at the cell rear and retraction. Retraction requires a motor protein, myosin II (green), found in actomyosin stress fibers, crosslinked by α-actinin (red) (bottom right penultimate inset). Activation of the myosin motor leads to shortening of the filaments and subsequent cellular movements, but also promotes disassembly of adhesions at the cell rear. Microtubules radiate from the microtubule organising centre (MTOC) and are involved in moving and redistributing components of the cell. In neurons, reversible microtubule polymerisation in bundle is controlled by tau (blue semi-circle) binding (bottom right inset).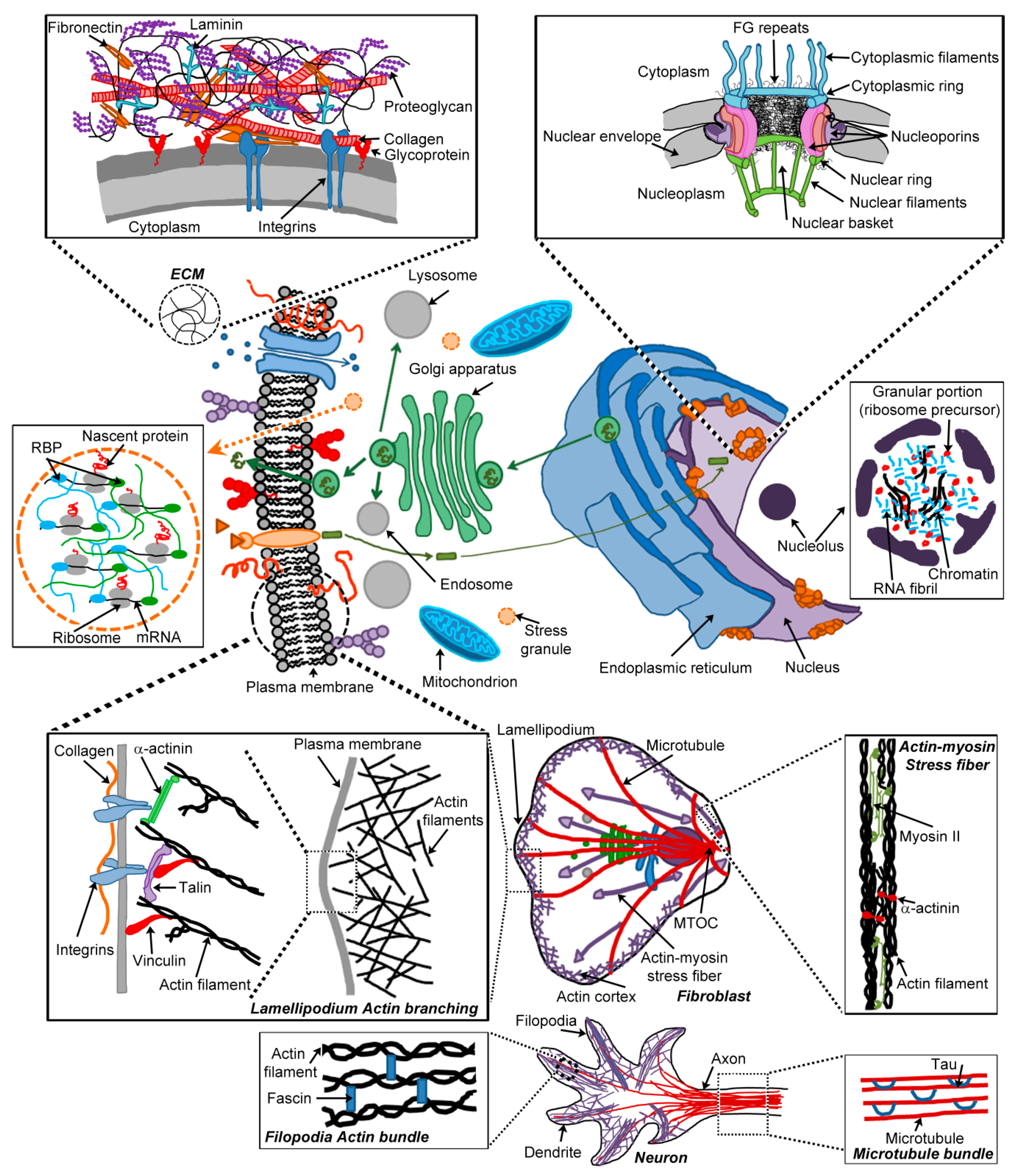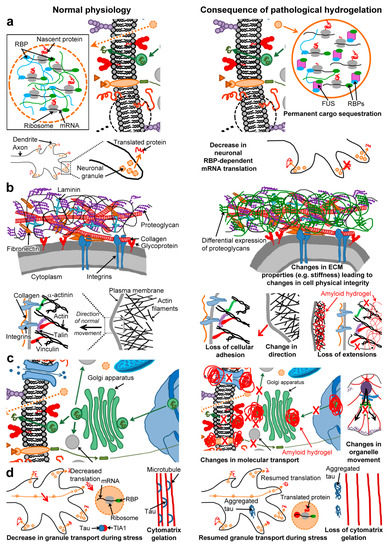 Figure 3. Consequences of hydrogelation by pathological amyloid-forming polypeptides on normal cellular functions. (a) Permanent cargo sequestration (top panels) and decrease of RNA-binding protein (RBP)-dependent translation of mRNA (bottom panels). In normal physiology, cargos are transiently sequestered within granules due to reversible hydrogelation, and are released from them by gel melting (left top panel). In neurons, neuronal granules trap, via RBPs, mRNA encoding proteins in close proximity to synapses (bottom left panel). In the disease state, pathological amyloid-forming polypeptides, such as fused in sarcoma (FUS), can permanently trap cargo (e.g., RBPs) by forming an irreversible hydrogel (right top panel). This permanent cargo trapping can affect granule function in several ways. One example would be a decrease in RBP-dependent new translation of mRNA in dendrites and axon terminals (right bottom panel); (b) Changes in cell physical integrity (top panels) and motility (bottom panels). In normal physiology, the ECM provides cells with physical integrity (top left panel), but also participates in cell motility by linkage with the intracellular actin cytoskeleton (bottom left panel). It has been shown that pathological amyloids can affect ECM composition and properties, and can bind to ECM constituents. This would affect ECM hydrogel stiffness and would result in changes in the cell physical integrity by applying mechanical stress (top right panel). Disease-triggered changes in ECM hydrogel stiffness would also affect cell motility and migration in different ways (bottom right panel): loss of cellular adhesion, changes in rate and direction of cell migration. An inter-relationship between pathological amyloids and the actin cytoskeleton has also been shown. Formation and deposition of additional hydrogels by amyloid polypeptides in the intracellular space may thus alter the actin hydrogel (e.g., flexibility, actin turn-over, actomyosin contractility). This could lead to loss of cellular extensions triggered in different ways: contraction of the actin cytoskeleton (e.g., by increased stiffness), and actin filament depolymerisation (e.g., by a slower diffusion of actin monomers to growing filament ends); (c) Changes in molecular transport. In normal physiology, molecules are transported within the cell (vesicular transport within the endomembrane system), outside of the cell (vesicles), or taken up by the cell via receptors or channels (left panel). In the disease state, non-natural hydrogels could affect, or even impede, molecular transport in a variety of way: interaction between solutes and fibrils within the hydrogel, reduction of diffusion rates, trapping of molecules bigger than the pore size, and overall by decreasing bulk flow. This would affect the uptake of nutrients and essential molecules, secretion of molecules, intracellular trafficking, vesicle content might be released in the wrong place, movement of signalling molecules between cells, and movement of organelles (right panels). Sites where native hydrogels are absent or have very different properties would be the most affected; (d) Regulation of non-pathological gelators. In neuron normal physiology, translation of mRNAs relies on RBP-dependent RNA transport in neuronal granules to the synapse (left panel). Tau was proposed to slow RNA granule transport to the synapse, and therefore to be involved in translational stress response, due to its interaction with RBP T cell intracellular antigen 1 (TIA1). Tau, as a microtubule regulator, could also play a role in the cytomatrix hydrogelation. Thus, amyloids like tau, when in a monomeric state, can be involved in regulation of non-pathological gelators. In the disease state, as soon as amyloid-forming polypeptides start aggregating and gelling, their role in regulating hydrogelation of other components might be affected or abolished (right panel).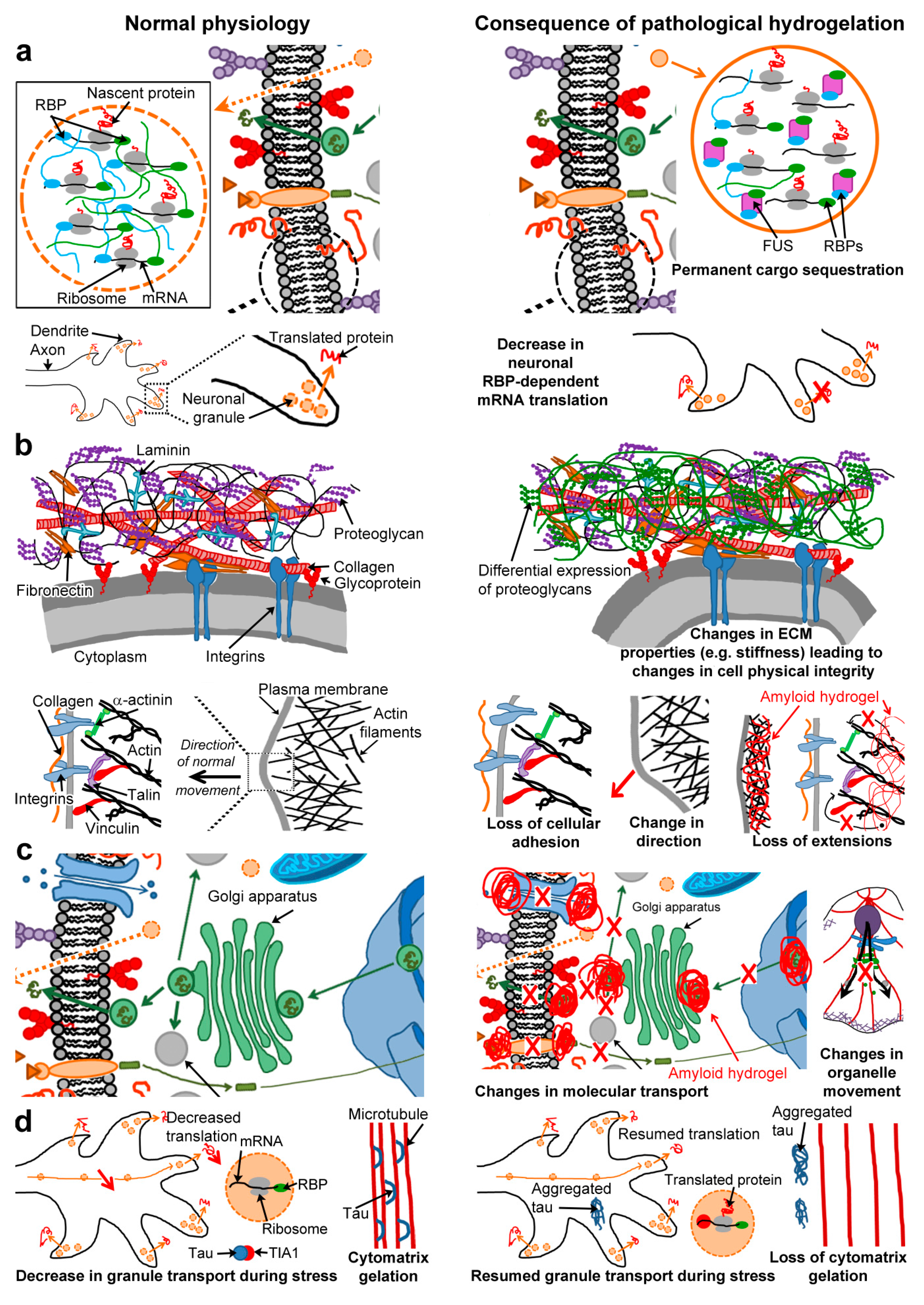 © 2017 by the authors. Licensee MDPI, Basel, Switzerland. This article is an open access article distributed under the terms and conditions of the Creative Commons Attribution (CC BY) license (http://creativecommons.org/licenses/by/4.0/).