Decarboxylation of Pyruvate to Acetaldehyde for Ethanol Production by Hyperthermophiles
Department of Biology, University of Waterloo, 200 University Avenue West, Waterloo, Ontario N2L 3G1, Canada
†
Current address: Structural Genomics Consortium, University of Toronto, Toronto, Ontario M5G 1L7, Canada.
*
Author to whom correspondence should be addressed.
Received: 9 July 2013 / Revised: 2 August 2013 / Accepted: 15 August 2013 / Published: 21 August 2013
Abstract
Pyruvate decarboxylase (PDC encoded by
pdc
) is a thiamine pyrophosphate (TPP)-containing enzyme responsible for the conversion of pyruvate to acetaldehyde in many mesophilic organisms. However, no
pdc
/PDC homolog has yet been found in fully sequenced genomes and proteomes of hyper/thermophiles. The only PDC activity reported in hyperthermophiles was a bifunctional, TPP- and CoA-dependent pyruvate ferredoxin oxidoreductase (POR)/PDC enzyme from the hyperthermophilic archaeon
Pyrococcus furiosus
. Another enzyme known to be involved in catalysis of acetaldehyde production from pyruvate is CoA-acetylating acetaldehyde dehydrogenase (AcDH encoded by
mhpF
and
adhE
). Pyruvate is oxidized into acetyl-CoA by either POR or pyruvate formate lyase (PFL), and AcDH catalyzes the reduction of acetyl-CoA to acetaldehyde in mesophilic organisms. AcDH is present in some mesophilic (such as clostridia) and thermophilic bacteria (e.g.,
Geobacillus
and
Thermoanaerobacter
). However, no AcDH gene or protein homologs could be found in the released genomes and proteomes of hyperthermophiles. Moreover, no such activity was detectable from the cell-free extracts of different hyperthermophiles under different assay conditions. In conclusion, no commonly-known PDCs was found in hyperthermophiles. Instead of the commonly-known PDC, it appears that at least one multifunctional enzyme is responsible for catalyzing the non-oxidative decarboxylation of pyruvate to acetaldehyde in hyperthermophiles.
View Full-Text
►

▼

Figures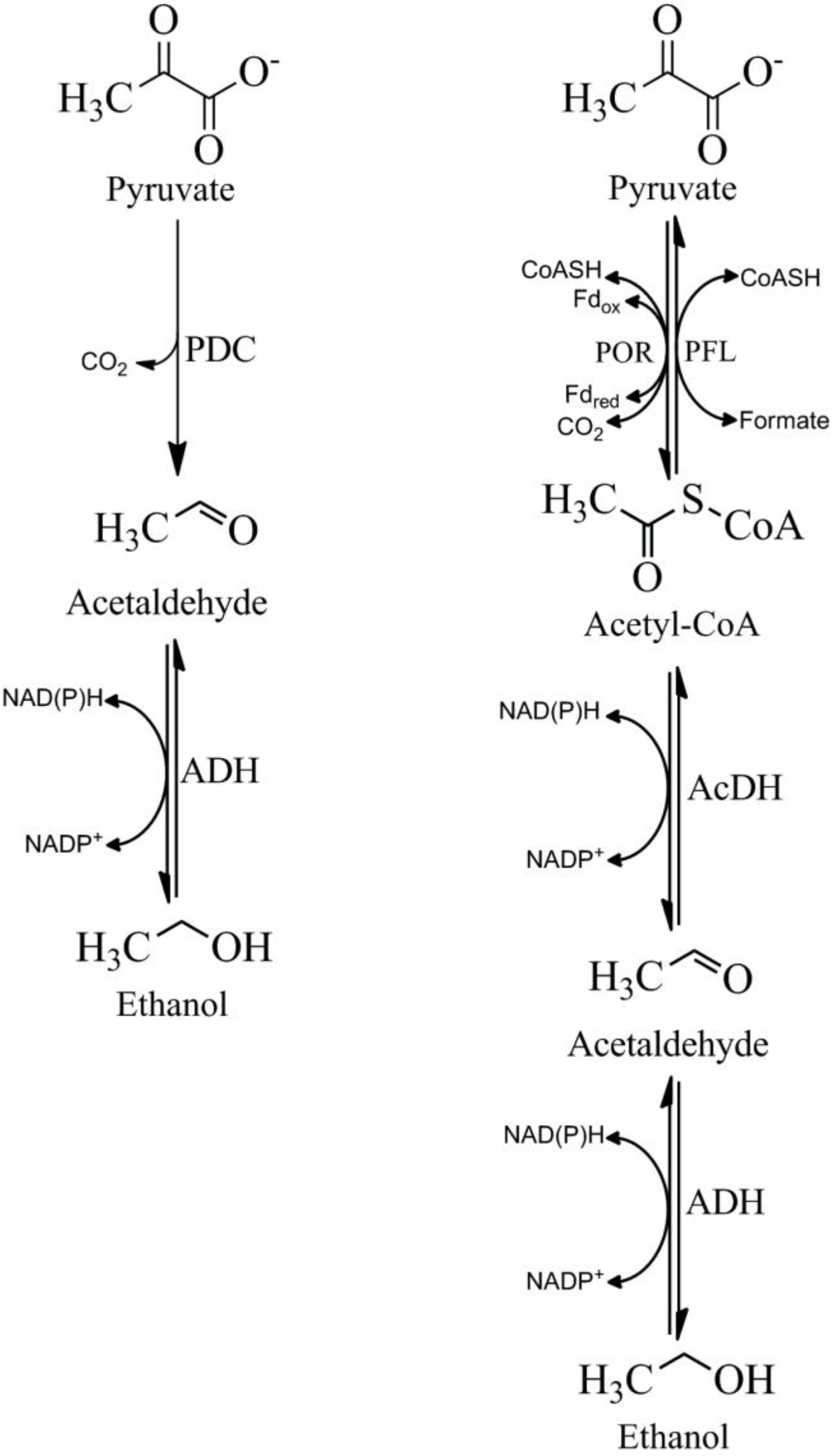 Figure 1
Share & Cite This Article
MDPI and ACS Style
Eram, M.S.; Ma, K. Decarboxylation of Pyruvate to Acetaldehyde for Ethanol Production by Hyperthermophiles. Biomolecules 2013, 3, 578-596.
Related Articles
Comments
[Return to top]