Metabolomics of Therapy Response in Preclinical Glioblastoma: A Multi-Slice MRSI-Based Volumetric Analysis for Noninvasive Assessment of Temozolomide Treatment
1
Departament de Bioquímica i Biologia Molecular, Unitat de Bioquímica de Biociències, Edifici Cs, Universitat Autònoma de Barcelona, 08193 Cerdanyola del Vallès, Spain
2
Centro de Investigación Biomédica en Red en Bioingeniería, Biomateriales y Nanomedicina (CIBER-BBN), 28029 Madrid, Spain
3
Institut de Biotecnologia i de Biomedicina (IBB), Universitat Autònoma de Barcelona, 08193 Cerdanyola del Vallès, Spain
4
Servei de Ressonància Magnètica Nuclear, Edifici C, Universitat Autònoma de Barcelona, 08193 Cerdanyola del Vallès, Spain
5
Departament de Medicina i Cirurgia Animals, Facultat de Veterinària, Edifici V, Universitat Autònoma de Barcelona, 08193 Cerdanyola del Vallès, Spain
*
Author to whom correspondence should be addressed.
Academic Editors: Madhu Basetti and Peter Meikle
Received: 31 March 2017 / Revised: 30 April 2017 / Accepted: 15 May 2017 / Published: 18 May 2017
Abstract
Glioblastoma (GBM) is the most common aggressive primary brain tumor in adults, with a short survival time even after aggressive therapy. Non-invasive surrogate biomarkers of therapy response may be relevant for improving patient survival. Previous work produced such biomarkers in preclinical GBM using semi-supervised source extraction and single-slice Magnetic Resonance Spectroscopic Imaging (MRSI). Nevertheless, GBMs are heterogeneous and single-slice studies could prevent obtaining relevant information. The purpose of this work was to evaluate whether a multi-slice MRSI approach, acquiring consecutive grids across the tumor, is feasible for preclinical models and may produce additional insight into therapy response. Nosological images were analyzed pixel-by-pixel and a relative responding volume, the
Tumor Responding Index
(
TRI
), was defined to quantify response. Heterogeneous response levels were observed and treated animals were ascribed to three arbitrary predefined groups: high response (HR,
n
= 2),
TRI
= 68.2 ± 2.8%, intermediate response (IR,
n
= 6),
TRI
= 41.1 ± 4.2% and low response (LR,
n
= 2),
TRI
= 13.4 ± 14.3%, producing therapy response categorization which had not been fully registered in single-slice studies. Results agreed with the multi-slice approach being feasible and producing an inverse correlation between
TRI
and Ki67 immunostaining. Additionally, ca. 7-day oscillations of
TRI
were observed, suggesting that host immune system activation in response to treatment could contribute to the responding patterns detected.
View Full-Text
►

▼

Figures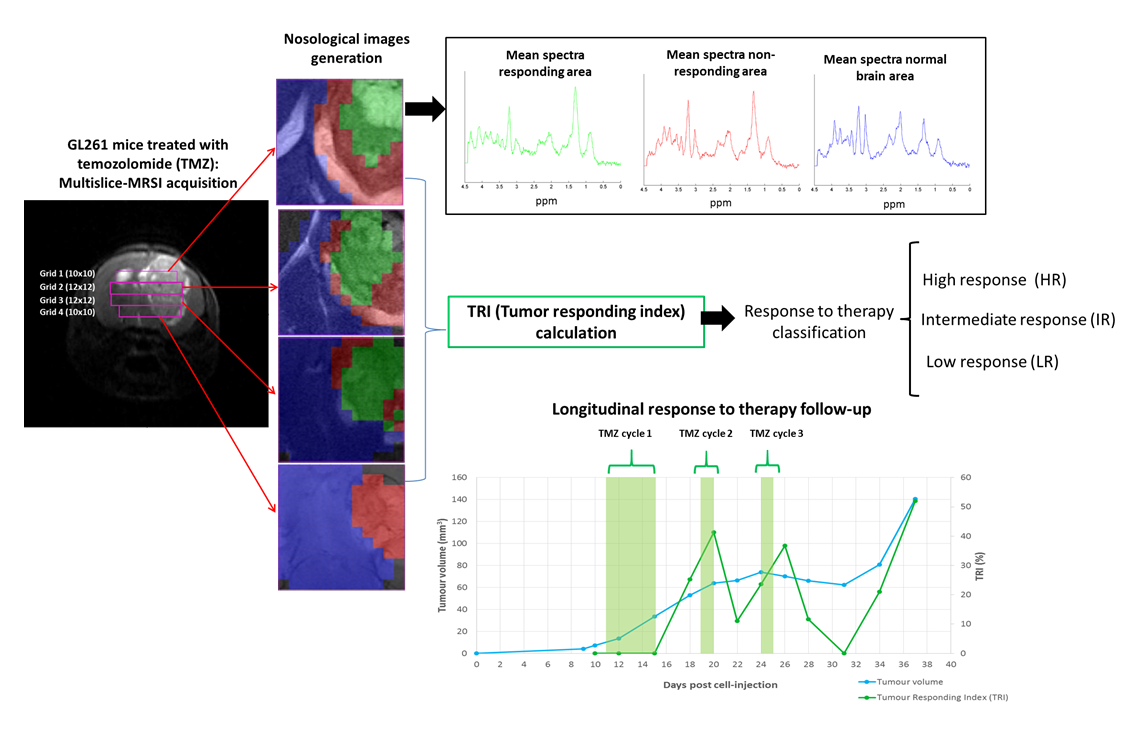 This is an open access article distributed under the
Creative Commons Attribution License
which permits unrestricted use, distribution, and reproduction in any medium, provided the original work is properly cited. (CC BY 4.0).
Share & Cite This Article
MDPI and ACS Style
Arias-Ramos, N.; Ferrer-Font, L.; Lope-Piedrafita, S.; Mocioiu, V.; Julià-Sapé, M.; Pumarola, M.; Arús, C.; Candiota, A.P. Metabolomics of Therapy Response in Preclinical Glioblastoma: A Multi-Slice MRSI-Based Volumetric Analysis for Noninvasive Assessment of Temozolomide Treatment. Metabolites 2017, 7, 20.
Note that from the first issue of 2016, MDPI journals use article numbers instead of page numbers. See further details here.
Related Articles
Comments
[Return to top]