Open Access This article is
freely available
re-usable
Article
A Modified Surface on Titanium Deposited by a Blasting Process
1
School of Pharmacy, Cavanagh Building, University College Cork, Cork, Ireland
2
Department of Chemical and Process Engineering, Cork Institute of Technology, Bishopstown, Cork, Ireland
3
The Nanotechnology and Integrated BioEngineering Centre, University of Ulster at Jordanstown, Newtownabbey, Co Antrim, BT37 OQB, Northern Ireland
4
School of Electrical, Electronic & Mechanical Engineering, University College Dublin, Belfield, Dublin 4, Ireland
5
Research & Development, EnBIO, Carrigtohill, Cork, Ireland
*
Author to whom correspondence should be addressed; Tel.: +353-(0)21-490-1667; Fax: +353-(0)21-490-1656.
Received: 16 July 2011; in revised form: 23 August 2011 / Accepted: 1 September 2011 / Published: 13 September 2011
Abstract
: Hydroxyapatite (HA) coating of hard tissue implants is widely employed for its biocompatible and osteoconductive properties as well as its improved mechanical properties. Plasma technology is the principal deposition process for coating HA on bioactive metals for this application. However, thermal decomposition of HA can occur during the plasma deposition process, resulting in coating variability in terms of purity, uniformity and crystallinity, which can lead to implant failure caused by aseptic loosening. In this study, CoBlast™, a novel blasting process has been used to successfully modify a titanium (V) substrate with a HA treatment using a dopant/abrasive regime. The impact of a series of apatitic abrasives under the trade name MCD, was investigated to determine the effect of abrasive particle size on the surface properties of both microblast (abrasive only) and CoBlast (HA/abrasive) treatments. The resultant HA treated substrates were compared to substrates treated with abrasive only (microblasted) and an untreated Ti. The HA powder, apatitic abrasives and the treated substrates were characterized for chemical composition, coating coverage, crystallinity and topography including surface roughness. The results show that the surface roughness of the HA blasted modification was affected by the particle size of the apatitic abrasives used. The CoBlast process did not alter the chemistry of the crystalline HA during deposition. Cell proliferation on the HA surface was also assessed, which demonstrated enhanced osteo-viability compared to the microblast and blank Ti. This study demonstrates the ability of the CoBlast process to deposit HA coatings with a range of surface properties onto Ti substrates. The ability of the CoBlast technology to offer diversity in modifying surface topography offers exciting new prospects in tailoring the properties of medical devices for applications ranging from dental to orthopedic settings.
Keywords:
hydroxyapatite; grit blasting; CoBlast; hard tissue implants
1. Introduction
Hydroxyapatite (HA), Ca
10
(PO
4
)
6
(OH)
2,
a proven bioceramic for coating medical device implants is widely known, not only for its biocompatible and osteoconductive properties, but also for its increased mechanical properties when applied to bio-inert metals for orthopedic use [
1
-
4
]. Implant surface modifications are often required in order to prescribe a particular surface roughness and increase surface area for osteoblast attachment, as well as to enhance the bioactive and osteoconductive properties of the underlying substrate. Such surface treatment methods include sand- or grit-blasting using abrasives, chemical treatments and deposition of calcium phosphate (CaP) coatings [
2
-
8
].
Abrasive blasting involves impacting the implant metal surface with abrasive particles under pressure to roughen the surface. Roughening orthopedic and dental implants utilizing alumina (Al
2
O
3
) abrasives is a common practice to enhance implant osteointegration
in vivo
[
5
,
6
]. However, the use of apatite abrasives are often preferred as it enhances bone formation [
7
,
18
]. It has been shown that this technique can be effective in depositing a thin layer of CaP on the surface being roughened [
18
-
20
]. A number of other HA coating deposition techniques have been employed to confer a bioactive layer onto metallic and other inert substrates including plasma spraying, which is one of the most common types of coating process for the generation of CaP thin films [
3
,
4
,
9
-
14
] and alternative deposition processes including pulsed laser deposition (PLD) [
15
], radio frequency (RF) magnetron sputtering [
16
], sol-gel immersion techniques, and electrophoretic deposition [
17
].
More recently, a novel approach CoBlast has been shown as an alternative process to deposit HA and substituted apatites onto titanium (Ti) substrates [
21
-
23
]. The CoBlast technique is based on the convergent flow of an abrasive and a dopant stream onto the implant surface which can effectively impregnate the metal with the dopant material. The CoBlast approach manipulates the ability of abrasive blasting to achieve surface roughening and bioactive layer deposition. The impregnation of the dopant material onto the surface results from a combination of the mechanical interlocking and tribo-chemical bond formation between the bioceramic material and the underlying metal substrate [
21
]. HA coatings prepared using the CoBlast technique demonstrated enhanced osteoblast attachment
in vitro
and early stage lamellar bone growth
in vivo
compared to microblasted and untreated Ti surfaces [
21
]. Additionally, a series of substituted apatites (AgA, SrA, ZnA) were effectively deposited using the CoBlast technique and these modifications offered the dual benefits of osteoconductive properties essential for bone integration with the added potential of microbial colonization inhibition without cytotoxic effects [
23
]. The established research showed that <10 μm thick coatings were applied with this technique employing alumina as the abrasive and that there was no evidence of alumina being incorporated into the modified surface [
21
].
The objective of this study is to demonstrate the use of apatitic abrasives in the treatment of Ti substrates using both the CoBlast technique (dopant/abrasive regime) and a control microblast surface (abrasive only). The chemical, topological and osteo-viability advantages of treated Ti substrates was characterised. The effect of abrasive particle size on the properties and performance of the CoBlast and microblast modified surfaces was also investigated. A series of apatitic abrasives (sintered CaP under the trade name MCD) with differing mean particle size values were employed for both techniques.
2. Results and Discussion
2.1. Chemical Characterization of HA and MCD Abrasive Powders
2.2. Characterization of the Modified Titanium Substrates
CoBlast demonstrated the ability to deposit a well adhered HA coating with no major evidence of contamination with additional calcium phosphate phases. This is in contrast to the variety of crystalline phases and the presence of altered chemical functionality produced during the standard high temperature plasma spray deposition. The XRD and FTIR analysis does not suggest formation of any such impurities within the CoBlast samples indicating that the HA coating on the CoBlast samples has retained the same properties as the starting crystalline HA powder employed. Therefore it is anticipated that HA modified surfaces prepared using CoBlast should not exhibit the problems associated with the presence of impurities observed for HA modified surfaces prepared using standard high temperature plasma spray which are outlined above.
2.3. Cell Culture Analysis
2.3.1. Cell Proliferation
Osteoblasts are the key cells that are involved in the osteoconduction process. The success of the implantation is strongly influenced by how well the first phase of the attachment and adhesion of these cells will occur, which will then lead to the subsequent proliferation and differentiation upon contact with the implant surface. CoBlast surfaces have exhibited excellent osteoblast attachment and proliferation
in vitro
compared to their respective controls [
21
-
23
]. Biocompatability of the modified surfaces was determined via a (3-(4,5-dimethylthiazol-2-yl)-2,5-diphenyltetrazolium bromide) (MTT) assay and the osteoblast proliferation results are presented in
Figure 7
.
Microblast and CoBlast surfaces prepared using the MCD 106 abrasive were selected for comparison. There was no significant difference in the cell proliferation between samples analyzed at day 1. However, at day 5 there was a significant increase (
p
< 0.01) in cell proliferation on the CoBlast coated substrate compared to the untreated titanium. A significant difference (
p
< 0.05) was also detected between the CoBlast sample and the microblast sample at day 5. The introduction of the bioactive HA layer through the CoBlast process was shown to further increase surface roughness and this combination of surface topography and bioactive surface chemistry was found to offer notably higher levels of cell proliferation after 5 days on the CoBlast surface. No evidence of cytotoxicity was observed using MG63 cells on any of the samples evaluated. However, the surface coating thickness and surface roughness of the CoBlast coatings was found to be lower compared to plasma HA coating in literature (20–300 μm thickness, 3–6 μm Ra)[
34
] with increased cell proliferation observed on plasma HA compared to grit blasted surfaces [
1
].
2.3.2. Cell Morphology
Surface modification techniques are extremely important for evoking desired cellular responses through tailoring the implants surface properties. The osteointegration process is greatly enhanced by these modifications, which in turn increases the long term success of the implant. As previously mentioned, HA is well known for its osteoconductive properties and its ability to influence cell adhesion and interaction at the implant-host interface. It is generally accepted that alongside chemical compatibility, the three dimensional surface topography (shape, size and surface texture) of the implant also influences early tissue response.
3. Experimental Section
3.1. Materials
Titanium (Grade 5, Ti-6Al-4V) coupons (15 mm × 15 mm × 1 mm), were obtained from Lisnabrin Engineering Ireland. Hydroxyapatite [Ca10(PO4)6(OH)2] powder was sourced from S.A.I., France. The MCD apatite abrasives were all purchased from Himed Inc. (NY, USA). HPLC grade 1M hydrochloric acid (HCl), de-ionised water, isopropanol (IPA), ethanol, phosphate buffer solution (PBS), potassium bromide (KBr) FT-ir grade, Trypsin EDTA, MTT assay kit, ACS reagent grade dimethyl sulphoxide, paraformaldehyde, glutaraldehyde, osmium tetroxide and hexamethyldisilizane were all purchased from Sigma-Aldrich UK. MG-63 osteoblast cells were obtained from American Type Culture Collection, Rockville, MD, USA. Minimum Essential Medium (MEM), foetal calf serum, penicillin G sodium, streptomycin, amphotericin B were purchased from PAA Laboratories GmbH, Austria.
3.2. Sample Preparation
Prior to surface modification, the coupons were cleaned ultrasonically in 1M HCl and then in isopropanol to remove any contaminants. The CoBlast technique was used to modify the titanium, through deposition with a HA layer. The processing utilized twin microblast nozzles for the dopant/abrasive system. The HA (dopant) was deposited onto the Ti coupons using compressed air at a pressure of 90 psi, speed of 13 mm/sec and a working distance of approximately 20 mm. The MCD abrasives (either MCD-106, MCD-180 or MCD-425) were blasted out of the second nozzle at a pressure of 75 psi and at a working distance of 8 mm from the surface. The microblast surfaces where prepared under the same corresponding conditions as above, however no HA was delivered through the dopant nozzle. After the surface treatment step, each sample was ultrasonically washed in de-ionized water for 5 mins to remove any loose powder from the surface.
3.3. Surface Characterisation
The elemental composition of the powders and the coatings was carried out using a Jeol JSM 5510 SEM in conjunction with an INCA X-sight EDX spectroscopy detector (Oxford Instruments, Buckinghamshire, UK). Images were also taken using the same SEM system. Gravimetric analysis of the surface treatments on Ti was used to determine the coating mass using an Ohaus DV314C analytical balance by measuring the sample before and after an acid wash (ultrasonic treatment in 20 mL 1 M HCl for 10 mins). PXRD data was collected on a Siemens GAXRD diffractometer using CuKα1 radiation, with an anode current of 30 mA and an accelerating voltage of 40 keV. Data was collected in the range of 20 to 60 2θ degrees with a step size of 0.02 and a scan rate of 1 s per step. Coating thickness was measured using a PosiTector 6000 N thickness gauge (DeFelsko, NY, USA). An average of six readings was used to determine each value. The surface roughness (Ra) was determined using a Talsurf 10 surface profilometer (Talyor Hobson, UK). A Perkin Elmer Spectrum One FTIR was used to determine the structural fingerprint of the powders and the coatings. The coating was scrapped off, gently ground and pressed into a KBR disc (2% wt sample in KBR). Powders for FTIR analysis were prepared in a similar manner. FTIR spectra were recorded in the 1600–400-cm-1 range, with 4 cm-1 resolution using 20 scans and background subtraction. The spectra gave approximately 70–90% transmittance however the results are presented in an overlay fashion.
3.4. In Vitro Cell Culture
Sample modifications including CoBlast HA/MCD-106 and microblast MCD-106 and the blank Ti were evaluated for osteoconductivity and cytotoxicity using cell culture tests. Prior to cell culture analysis, each sample set was steam autoclaved at 121 °C for 20 minutes. MG-63 cells were used to assess cell proliferation. Cells were cultured in the MEM media supplemented with 10% foetal calf serum and antibiotic/antimycotic (penicillin G sodium 100 U/mL, streptomycin 100 μg/mL, amphotericin B 0.25 μg/mL) in 75 cm
3
tissue culture flasks. Cells were maintained in a humidified atmosphere with 5% CO
2
at 37 °C and were sub-cultured when they reached confluence using 0.25% Trypsin EDTA solution to provide adequate numbers of cells for the various
in vitro
culture studies undertaken.
3.4.1. Cell Proliferation
MG-63 cell attachment to the various treated and untreated Ti substrates was determined after 4 hours in culture using a commercial MTT assay and employing a modified Mosmann method [
24
]. Cells were seeded onto the samples at a concentration of 1×10
5
cells/cm
2
and allowed to adhere during incubation at 37 °C in 5% CO
2
for 4 hrs. The MTT assay reagent was prepared as a 5 mg/mL stock solution in PBS, sterilized by filtration, and stored in the dark. An aliquot of the MTT stock solution (10% of total volume) was added to each well of a six well plate containing the samples (n = 4 for each sample type). After 3 hrs incubation at 37 °C in 5% CO
2
, 200 μl of dimethyl sulfoxide was added to dissolve the formazan crystals. The solution was agitated for 15 min on a shaker to ensure adequate dissolution. The optical density of the formazan solutions was read by spectrophotometry using an ELISA plate reader (Tecan Sunrise, Tecan Austria) at 570 nm with the background absorbance value measured at 650 nm. The absorbance values recorded were determined to be proportional to the number of cells attached to the surface in each case. All data reported are expressed as mean ± standard deviation.
3.4.2. Cell Morphology
MG-63 cells were seeded onto each of the above substrates at a cell density of 5 × 105 cells/cm2 in 6-well plates and were incubated for 24 hours. After cell culture, the samples were gently rinsed with PBS to remove any unattached cells and fixed in a modified Karnovsky's Fixative (2% paraformaldehyde/ 2% glutaraldehyde in PBS) for 1 hour. The samples were then rinsed in PBS and post-fixed in 1% osmium tetroxide and rinsed three times with PBS. The specimens were dehydrated by rinsing in an alcohol series (20, 30, 50, 70, 80, 90 and 95% ethanol), and finally rinsing 3 times in 100% ethanol. The samples were then were chemically dried in hexamethyldisilizane (HMDS) overnight. A 50 nm layer of gold-palladium was deposited onto the substrates using a Polaron E5000 SEM Sputter Coating Unit. The sputtering conditions used a set voltage of 1.4 kV, with a plasma current of 18 mA (argon gas), a deposition time of 2 minutes at a vacuum pressure of 0.05 Torr. The samples were then analyzed using the Jeol JSM 5510 SEM and subsequently using a FEI Quanta 200 Focused Ion Beam and SEM in backscatter electron mode.
4. Conclusions
Detailed surface studies have shown that the combination of an apatite abrasive and a HA dopant in the CoBlast process produces surfaces with a combination of optimized apatite chemistry and controlled surface structure. The CoBlast process has the ability to retain the chemistry of the starting HA material. This offers advantages over conventional high temperature plasma processing which alters the HA material from its desired chemical, structural and dissolution requirements for its use as an
in vivo
implant material. The study also shows that employing MCD abrasives offer an alternative to alumina for deposition using CoBlast process.
In vitro
studies clearly show that increased roughness of treated surfaces favors enhanced cell proliferation and the CoBlast process offers the ability to tailor the surface texture to produce an optimized surface for osteointegration of a HA modified implant. Enhanced cell proliferation was observed for CoBlast modified surfaces compared to the microblasted surface. The ability of the CoBlast technology to offer diversity in modifying surface topography is clearly shown in this and previous studies and represents foundation work, which supported by bioactivity studies and
in vivo
trials, offers exciting new prospects in tailoring the properties of medical devices for applications ranging from dental to orthopedic settings.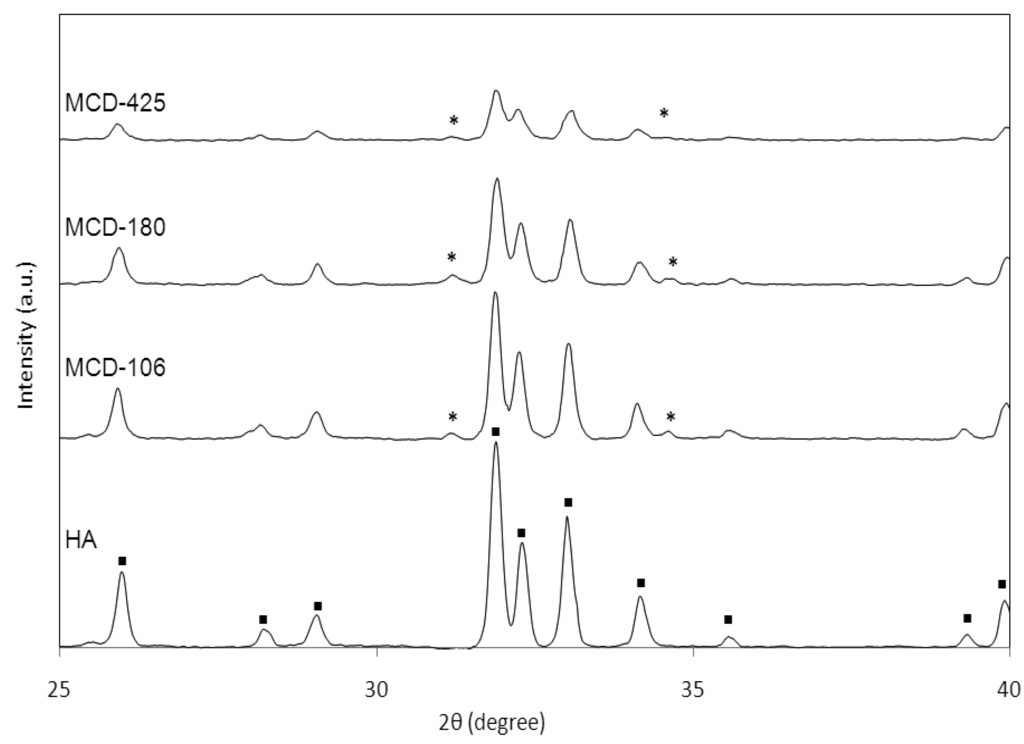 Figure 1. Powder X-ray diffraction (PXRD) spectra of the powders (▪ denotes HA peaks and * represents tricalcium phosphate (TCP)).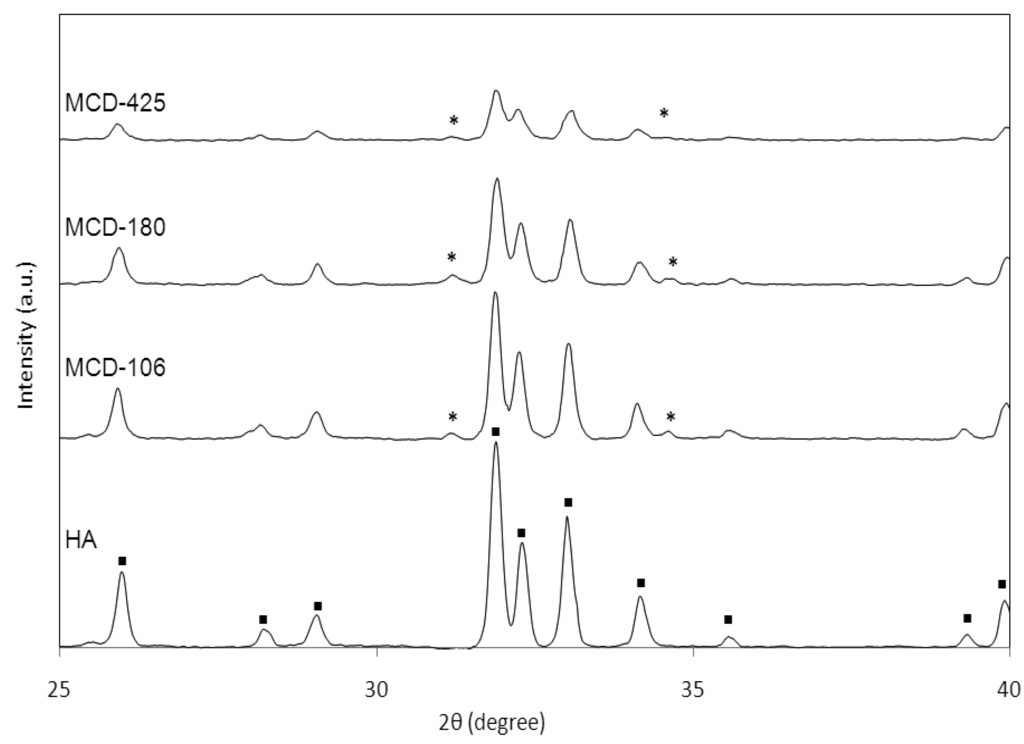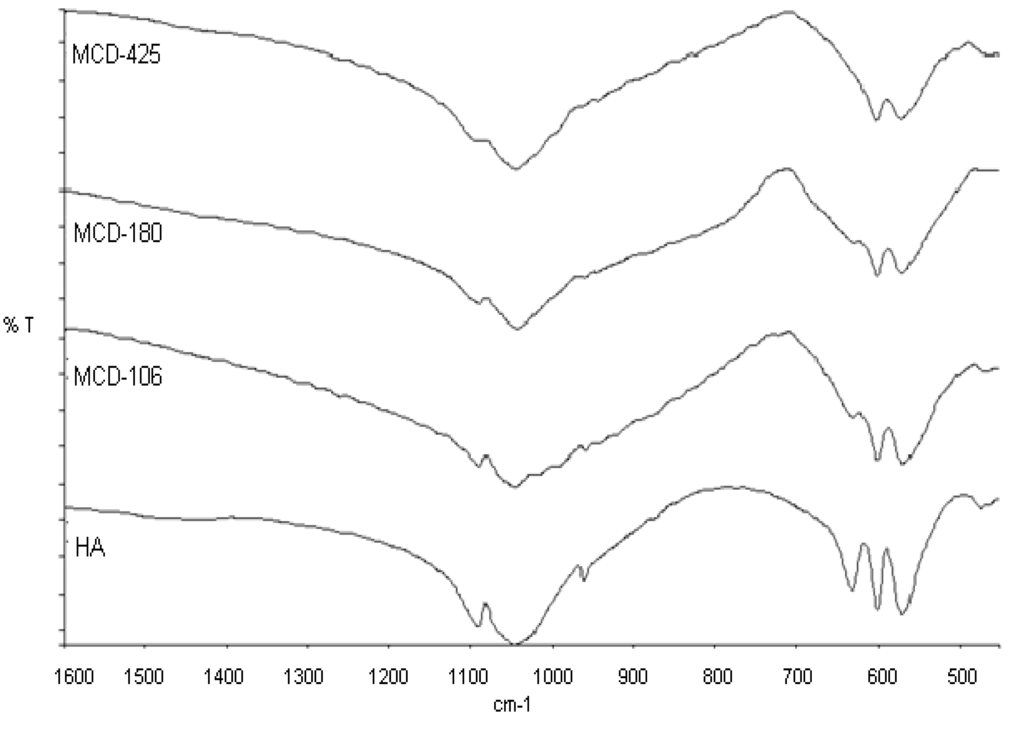 Figure 3. Scanning electron microscopy (SEM) images (×1000 magnification) of (a) titanium; (b) microblast MCD 106; (c) CoBlast HA/MCD-106.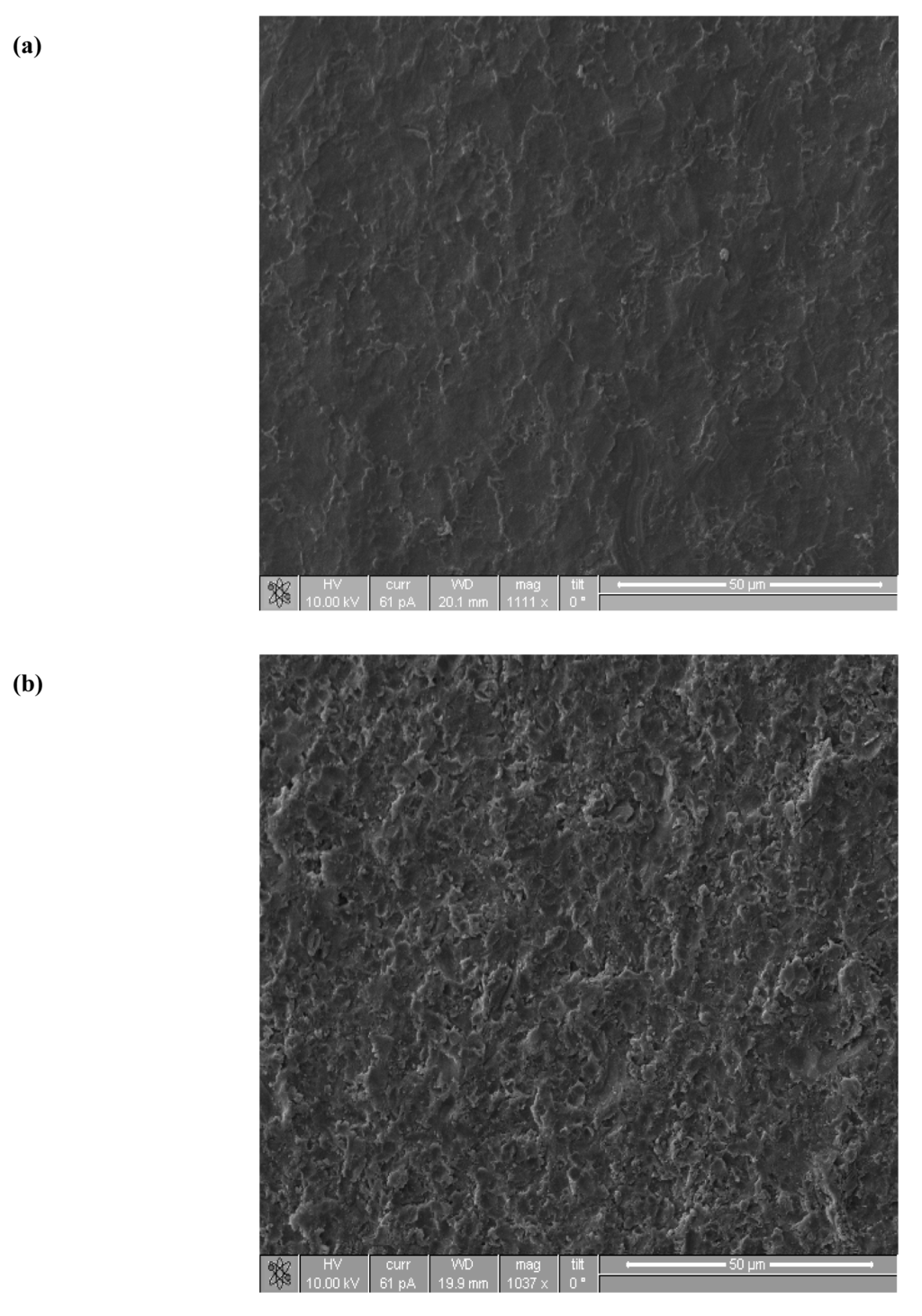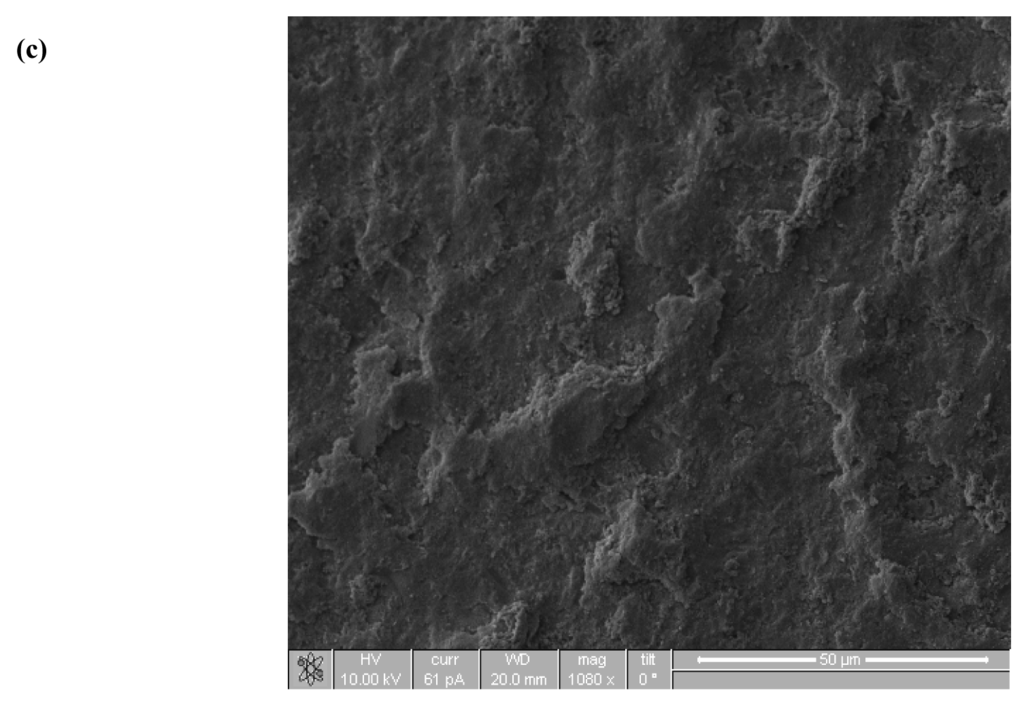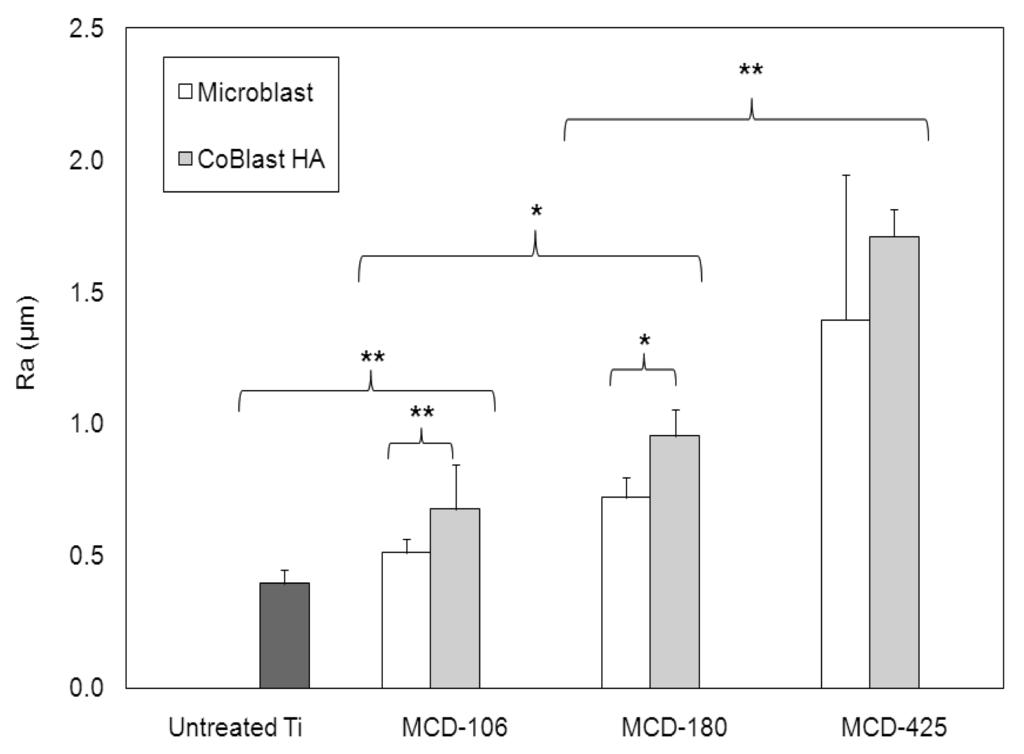 Figure 4.
Surface roughness (R
a
) of the various modifications (* denotes
p
< 0.05 and ** ascribes
p
< 0.01 determined using student's t-test).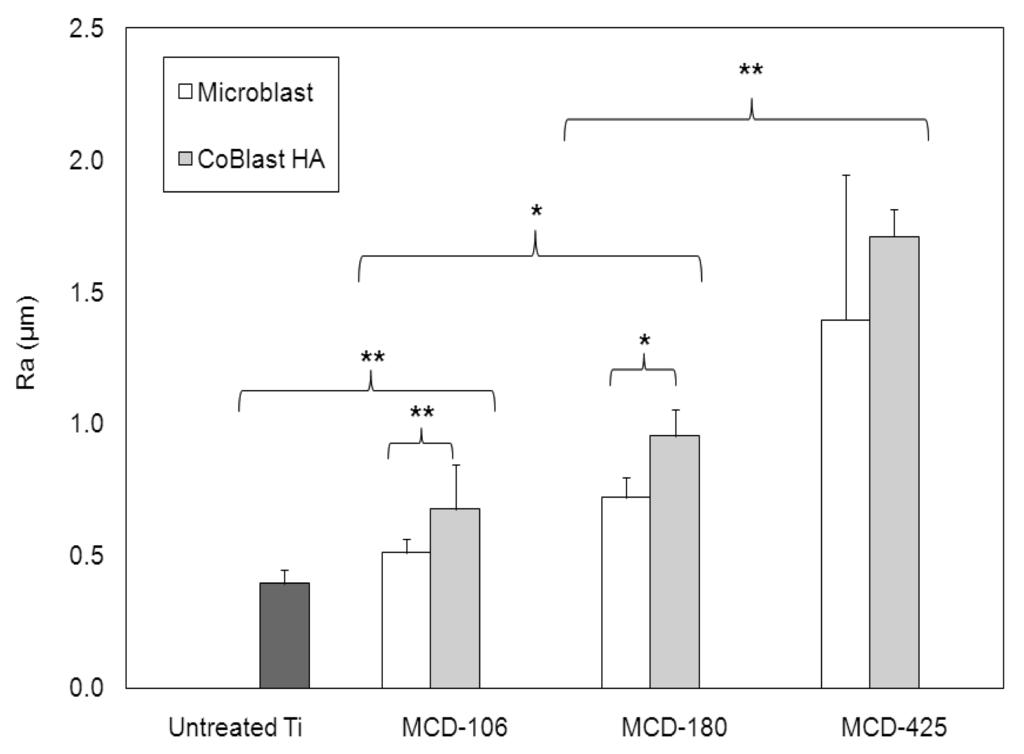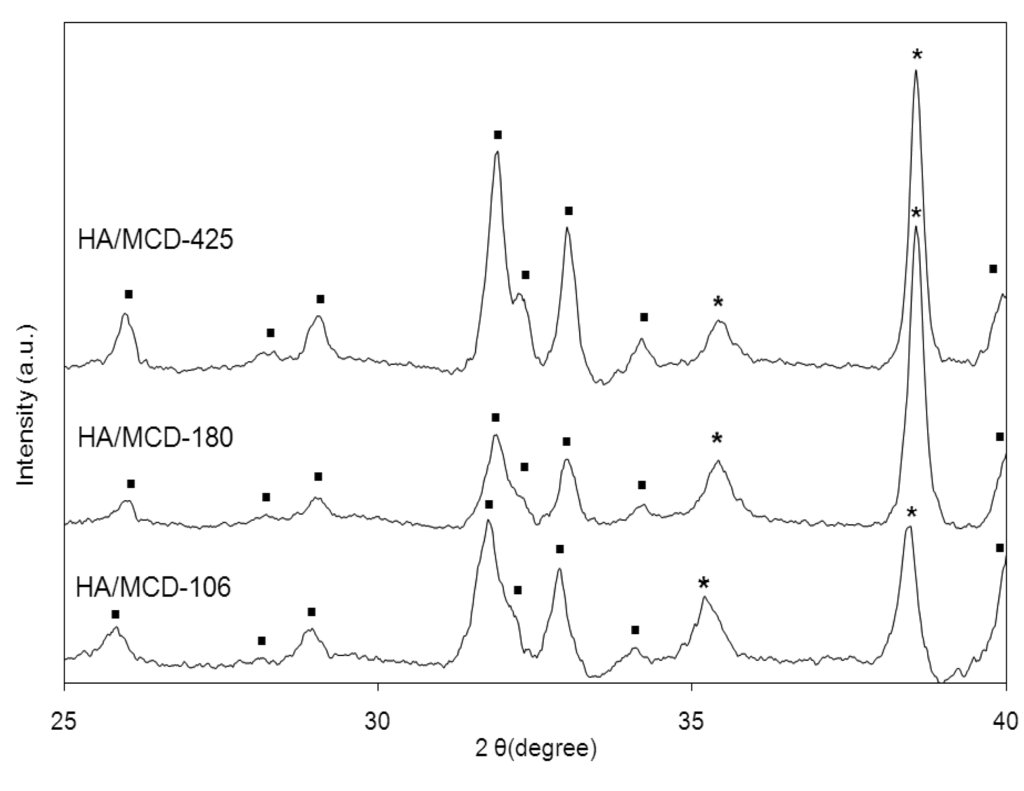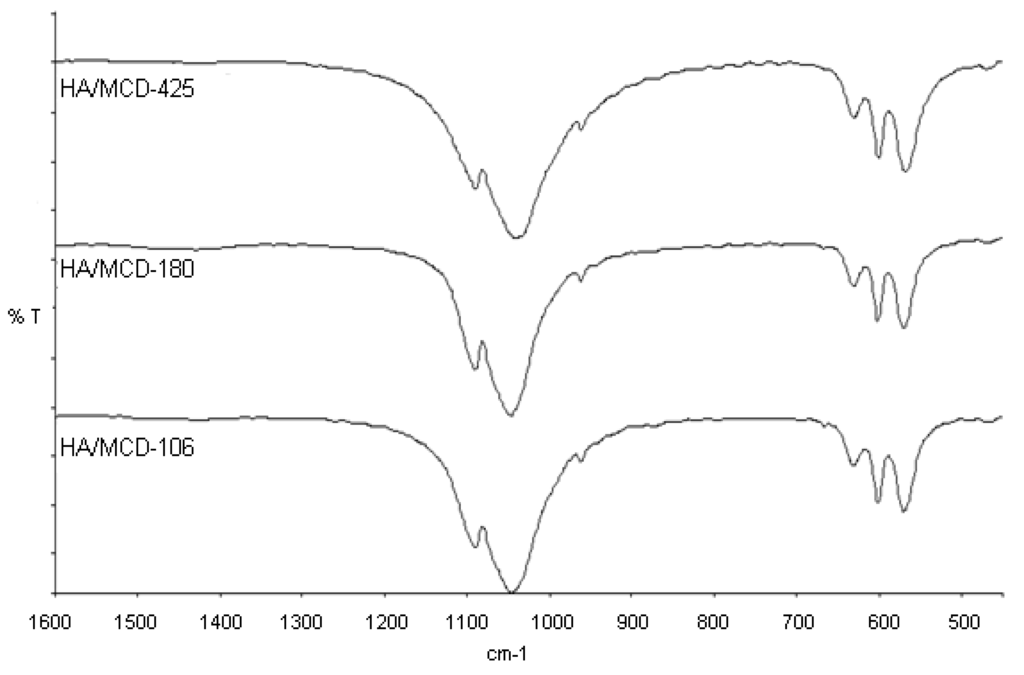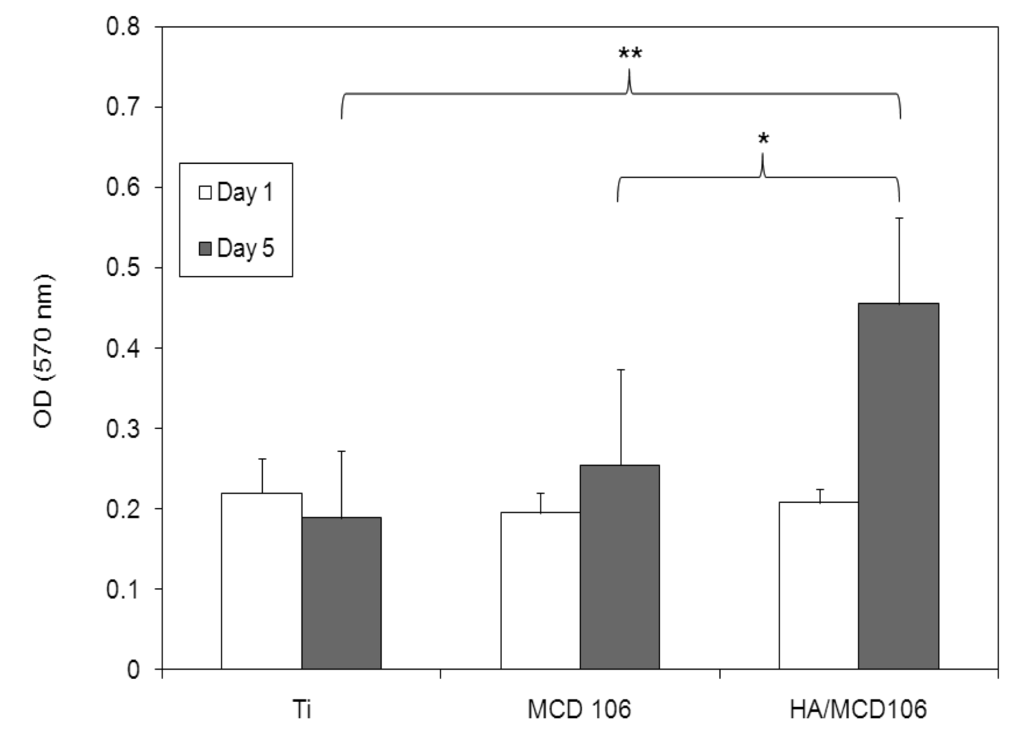 Figure 7.
(3-(4,5-dimethylthiazol-2-yl)-2,5-diphenyltetrazolium bromide) (MTT) assay data for MG-63 cells on modified Ti surfaces over five days
in vitro
(* denotes
p
< 0.05 and ** ascribes
p
< 0.01 determined using student's t-test).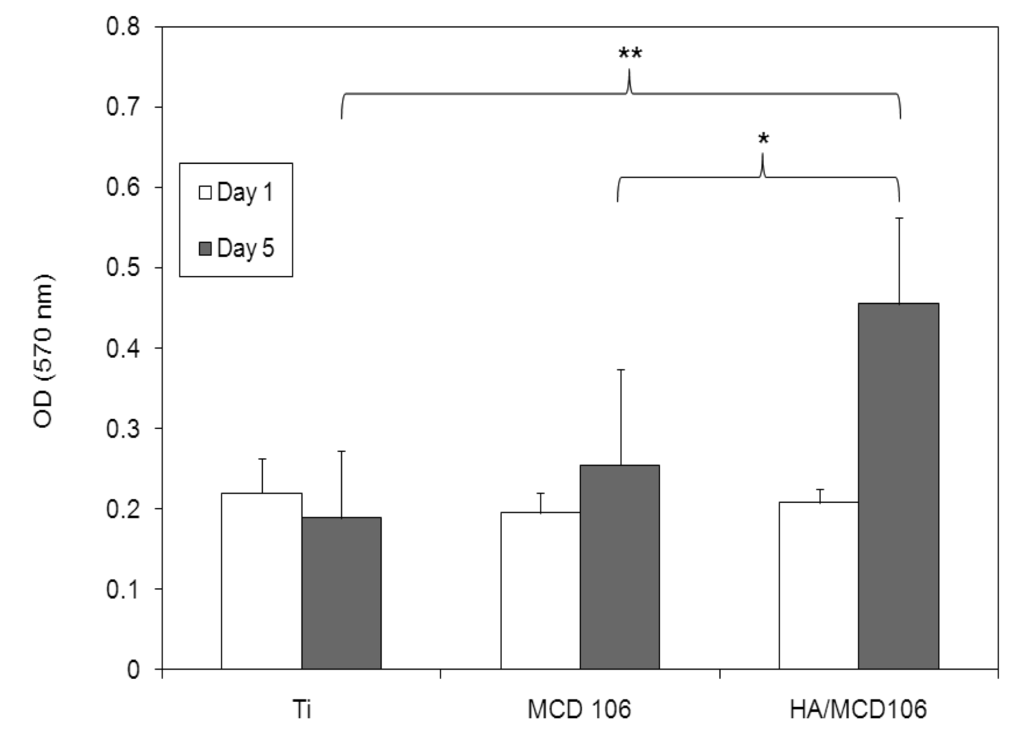 Figure 8. MG-63 osteoblasts cultured on (a) untreated Ti and (b) microblasted MCD 106 treatment × 500 magnification and (c) HA/MCD-106 surfaces (CoBlast treatment) (×500 magnification).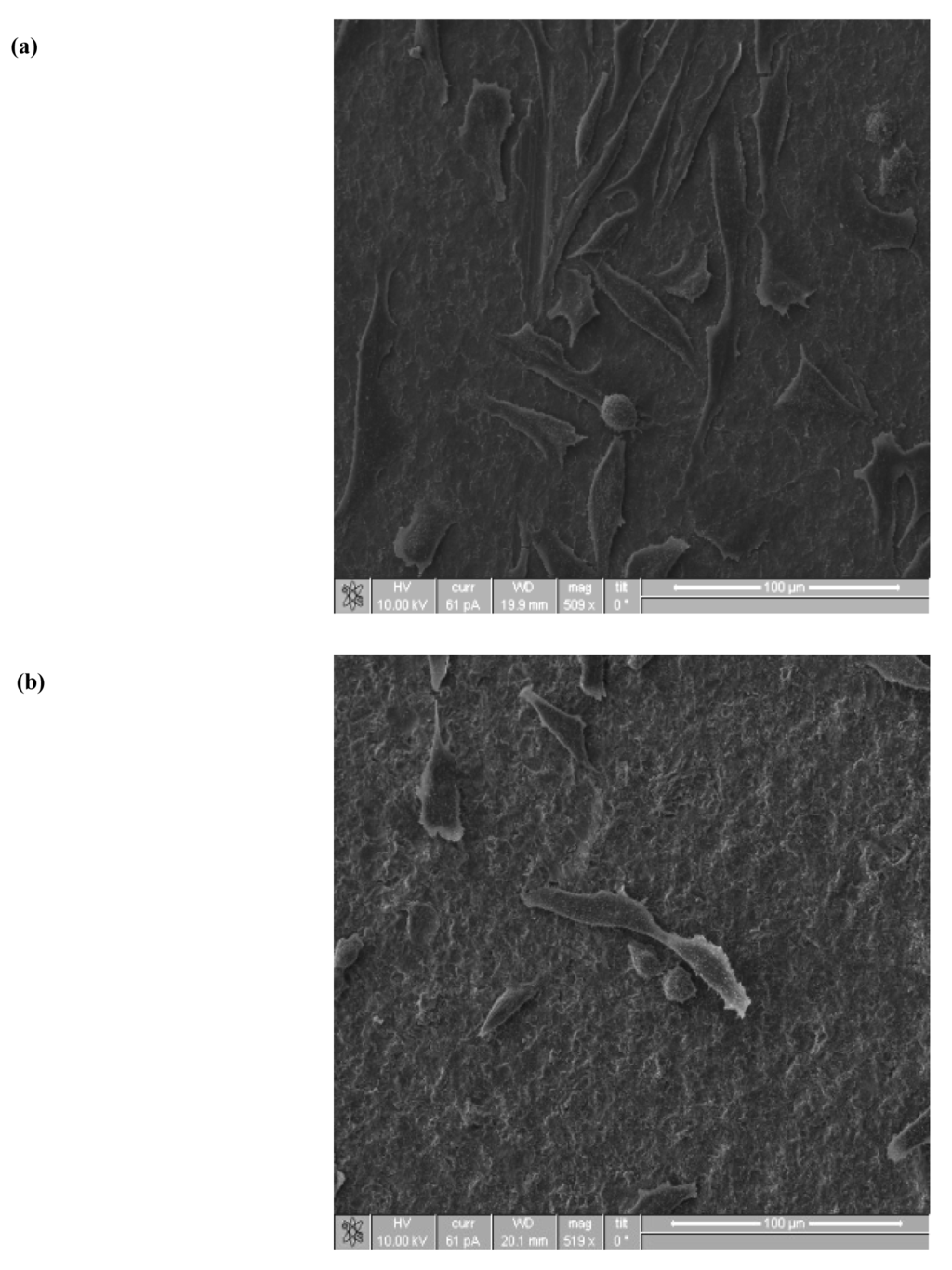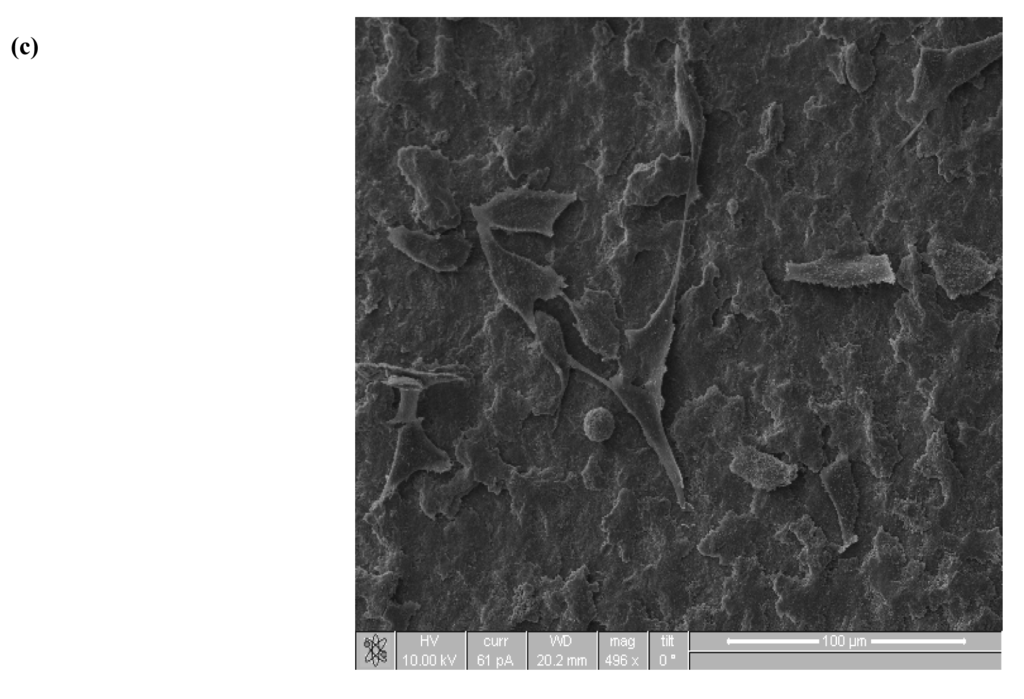 Table 1. Mean particle size analysis and energy dispersive X-ray (EDX) analysis of the calcium phosphate powders (n = 3).
Table 1. Mean particle size analysis and energy dispersive X-ray (EDX) analysis of the calcium phosphate powders (n = 3).

| Powder | Mean particle Size (μm) | O % atm | Ca % atm | P % atm | Ca/P |
| --- | --- | --- | --- | --- | --- |
| HA | 40 (±4) | 71 | 18 | 11 | 1.66 |
| MCD-106 | 44 (±2) | 72 | 18 | 10 | 1.76 |
| MCD-180 | 124 (±6) | 73 | 17 | 10 | 1.73 |
| MCD-425 | 355 (±6) | 77 | 13 | 10 | 1.29 |
Table 2. EDX analysis, coating thickness (PosiTector thickness gauge) and mass of the modified surfaces.
Table 2. EDX analysis, coating thickness (PosiTector thickness gauge) and mass of the modified surfaces.

| Modification | | O % atm | P % atm | Ca % atm | Ti % atm | Ca/P | Coating Thickness (μm) (2STD) | Coating Mass (mg/cm2) (2STD) |
| --- | --- | --- | --- | --- | --- | --- | --- | --- |
| Blank | Ti | 23 | - | - | 77 | - | 0 | - |
| Microblast | MCD-106 | 59 | 8 | 12 | 21 | 1.56 | 3 ± 1 | - |
| | MCD-180 | 56 | 6 | 10 | 27 | 1.53 | 3 ± 1 | - |
| | MCD-425 | 55 | 7 | 11 | 27 | 1.57 | 3 ± 2 | - |
| CoBlast | HA/MCD-106 | 63 | 13 | 21 | 2 | 1.59 | 6 ± 3 | 0.48 ± 0.4 |
| | HA/MCD-180 | 67 | 12 | 18 | 3 | 1.53 | 6 ± 1 | 0.44 ± 0.4 |
| | HA/MCD-425 | 65 | 12 | 20 | 5 | 1.61 | 7 ± 3 | 0.44 ± 0.3 |
Acknowledgments
The authors would like to acknowledge EnBio for supplying the CoBlast samples for this study.
© 2011 by the authors; licensee MDPI, Basel, Switzerland. This article is an open access article distributed under the terms and conditions of the Creative Commons Attribution license (http://creativecommons.org/licenses/by/3.0/).