UV Light-Assisted Synthesis of Highly Efficient Pd-Based Catalyst over NiO for Hydrogenation of o-Chloronitrobenzene
1
School of Chemistry and Environmental Engineering, Sichuan University of Science & Engineering, Zigong 643000, China
2
Key Laboratory of Green Catalysis of Sichuan Institute of High Education, Sichuan University of Science & Engineering, Zigong 643000, China
3
College of Chemistry and Materials Science, Sichuan Normal University, Chengdu, 610068, China
*
Author to whom correspondence should be addressed.
Received: 3 March 2018 / Revised: 6 April 2018 / Accepted: 7 April 2018 / Published: 14 April 2018
Abstract
Supported Pd-based catalyst over active nickel oxide (NiO) was repared using the impregnation method companying with UV-light irradiation. Moreover, the catalytic performance of the obtained Pd-based catalysts was evaluated towards the hydrogenation of
o
-chloronitrobenzene (
o
-CNB). Observations indicate that the as-prepared UV-irradiated Pd/NiO catalyst with a mole fraction 0.2% (0.2%Pd/NiO) has higher activity and selectivity in the
o
-CNB hydrogenation. Especially, UV-light irradiation played a positive role in the improvement of catalytic activity of 0.2%Pd/NiO catalyst, exhibiting an excess 11-fold activity superiority in contrast with non-UV-irradiated 0.2%Pd/NiO catalyst. In addition, it was investigated that effects of varied factors (i.e., reaction time, temperature,
o
-CNB/Pd ratio, Pd loading, hydrogen pressure) on the selective hydrogenation of
ο
-CNB catalyzed by UV-irradiated 0.2%Pd/NiO catalyst. Under the reaction conditions of 60 °C, 0.5 h, 1 MPa H
2
pressure, 100% conversion of
o
-CNB, and 81.1%
o
-CAN selectivity were obtained, even at high molar ratio (8000:1) of
o
-CNB to Pd.
View Full-Text
►

▼

Figures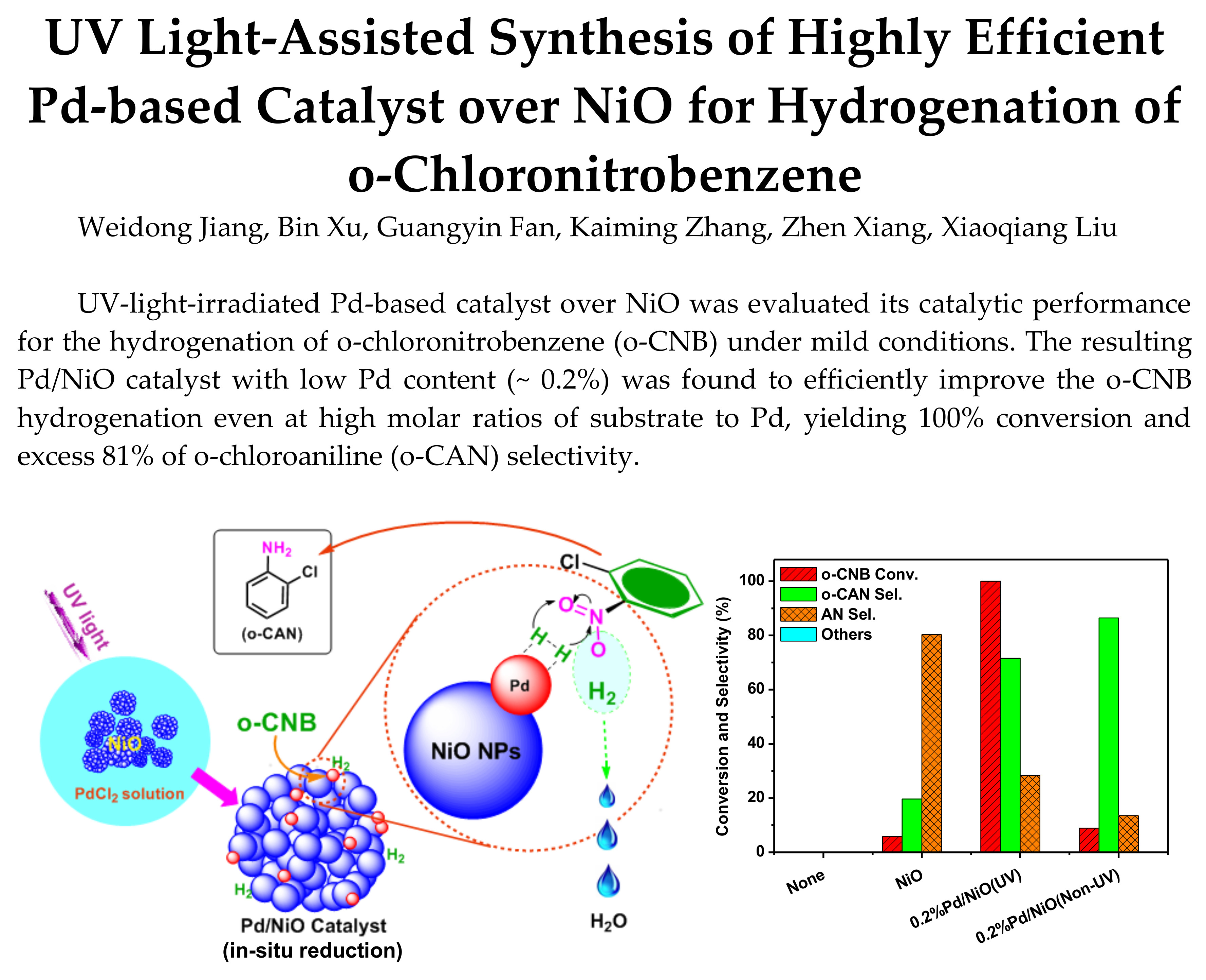 This is an open access article distributed under the
Creative Commons Attribution License
which permits unrestricted use, distribution, and reproduction in any medium, provided the original work is properly cited. (CC BY 4.0).
Share & Cite This Article
MDPI and ACS Style
Jiang, W.; Xu, B.; Fan, G.; Zhang, K.; Xiang, Z.; Liu, X. UV Light-Assisted Synthesis of Highly Efficient Pd-Based Catalyst over NiO for Hydrogenation of o-Chloronitrobenzene. Nanomaterials 2018, 8, 240.
Note that from the first issue of 2016, MDPI journals use article numbers instead of page numbers. See further details here.
Related Articles
Comments
[Return to top]