Open Access This article is
freely available
re-usable
Article
Tuning the Electronic Conductivity in Hydrothermally Grown Rutile TiO2 Nanowires: Effect of Heat Treatment in Different Environments
1
Max-Planck-Institut für Eisenforschung GmbH, Max-Planck-Str. 1, 40237 Düsseldorf, Germany
2
Department of Physics, University of Konstanz, POB 680, 78457 Konstanz, Germany
3
Materials Analytics, RWTH Aachen University, Kopernikusstr. 10, 52074 Aachen, Germany
*
Correspondence: Tel.: +49-211-6792-720
Received: 28 August 2017 / Accepted: 19 September 2017 / Published: 23 September 2017
Abstract
:
Hydrothermally grown rutile TiO
2
nanowires are intrinsically full of lattice defects, especially oxygen vacancies. These vacancies have a significant influence on the structural and electronic properties of the nanowires. In this study, we report a post-growth heat treatment in different environments that allows control of the distribution of these defects inside the nanowire, and thus gives direct access to tuning of the properties of rutile TiO
2
nanowires. A detailed transmission electron microscopy study is used to analyze the structural changes inside the nanowires which are correlated to the measured optical and electrical properties. The highly defective as-grown nanowire arrays have a white appearance and show typical semiconducting properties with n-type conductivity, which is related to the high density of oxygen vacancies. Heat treatment in air atmosphere leads to a vacancy condensation and results in nanowires which possess insulating properties, whereas heat treatment in N
2
atmosphere leads to nanowire arrays that appear black and show almost metal-like conductivity. We link this high conductivity to a TiO
2−

x
shell which forms during the annealing process due to the slightly reducing N
2
environment.
Keywords:
black TiO
2
; nanowire; conductivity; electron energy loss spectroscopy; oxygen vacancy; defects
1. Introduction
Nanostructured titanium dioxide (TiO
2
) is a promising material in the field of energy conversion and storage [
1
]. In most TiO
2
applications, the efficiency of the device is determined by three consecutive processes: light absorption, charge separation, and electron transport. Although TiO
2
is widely used for energy applications, the efficiency of bare TiO
2
is limited by a wide band gap of around 3 eV [
2
] and a relatively low electron conductivity [
3
,
4
]. To overcome these limitations, defect engineering can be used to optimize the optical band gap and the electrical properties. In combination with an optimized geometry, which can be derived from theoretical calculations [
5
], defect engineering enables the fabrication of highly active devices.
Defects can be introduced in TiO
2
by metal [
6
] and nonmetal [
7
,
8
] impurities or dopants. However, this approach has the drawback that the dopants, especially d-block transition metals, also act as recombination centers for the generated electron hole pairs [
9
], which in turn lowers the efficiency of the device. Other approaches to produce defective TiO
2
without doping are mediated by the incorporation of Ti
3+
and oxygen vacancies (O
vac
) via reduction [
10
,
11
,
12
], which might introduce surface disorder in addition [
13
,
14
,
15
]. Most approaches use hydrogen environment and elevated temperatures [
14
,
16
,
17
] or a hydrogen plasma [
18
,
19
] to produce defective TiO
2
. Similar types of defective TiO
2
can be obtained if active metals, such as Zn [
10
,
20
], Al [
21
], or Mg [
22
], are used as a reductant. However, these harsh reductive conditions are not mandatory to obtain defective TiO
2
. Instead, black TiO
2
nanoparticles with surface disorder can be obtained by annealing amorphous nanoparticles in Ar gas [
13
]. Concededly, there are no reports which show that crystalline TiO
2
, e.g., rutile TiO
2
nanowires (NWs), can be reduced in an oxygen-deficient atmosphere, such as vacuum, Ar, or N
2
.
The effect of defect engineering on the optical band gap and the apparent color, which can be tuned from yellow over blue to black, has been studied extensively [
16
,
23
,
24
]. Apart from that, reports about how structural changes, such as the introduction of O
vac
or surface disorder, influence the electrical properties are rare. So far, Nowotny and co-workers studied the influence of defect disorder on the semiconducting properties of rutile TiO
2
and found a strong effect on the electrical properties [
25
,
26
,
27
]. Especially, a high amount of O
vac
, which is intrinsically found in rutile TiO
2
, leads to strong n-type characteristics. In addition, the influence of O
vac
on the conducting properties of TiO
2
NWs was evaluated by intensity-modulated photocurrent spectroscopy. For oxygen-deficient NWs, two electron-transport modes, a trap-free mode in the core and a trap-limited mode near the surface, were detected [
28
]. Recently, Lü et al. [
29
] investigated the effect of the surface disorder on the electrical properties. On a 40 nm thick bilayer structure of crystalline anatase (≈20 nm) and amorphous TiO
2
(20 nm), which serves as a model system, they found a metallic conductivity at the interface between the crystalline and the amorphous part. These results give a first hint on the electrical properties of the defective, black TiO
2
. Admittedly, in this model system the amorphous layer does not represent the surface disorder found in black TiO
2
adequately. It is much thicker and does not show any ordering phenomena [
29
].
In this work, we present how the electrical properties of TiO2 NW arrays, incorporating rutile TiO2 NWs with different defect states, can be changed. A detailed analysis of the nanostructure and the local chemical environment of three differently treated NW arrays, in combination with our results from ultraviolet-visible (UV–Vis) and current-voltage (IV) measurements, leads to a better understanding of the underlying mechanism that are responsible for the electronic properties of defective TiO2. The results show how TiO2 NWs, which are intrinsically n-type semiconductors in the as-grown state, can be converted to almost insulating TiO2 NWs or NWs with a metal-like conductivity simply by using an appropriate atmosphere for the post-growth annealing.
2. Results
2.1. (Internal) Nanostructure and Local Chemical Environment
2.2. Optical and Electrical Properties
4. Materials and Methods
4.1. Synthesis Procedure
TiO
2
NW arrays were synthesized by a hydrothermal procedure adapted from Liu et al. [
40
]. All chemicals were used as supplied without further purification. In a typical synthesis, 250 μL titanium butoxide (Ti(
n
OBu)
4
), Sigma-Aldrich, St. Louis, MI, USA) was dropped into a mixture of 5 mL concentrated hydrochloric acid (37 wt%, analytical grade, Sigma-Aldrich) and 5 mL deionized water under vigorous stirring. Ultrasonically cleaned (isopropyl alcohol, acetone, ethanol) FTO substrates were placed vertically in a Teflon liner, which was filled with the growth solution and placed into a steel autoclave. The hydrothermal reaction was performed at 150 °C for 4.5 h. Afterwards, the autoclave was cooled down to room temperature. The FTO substrates, covered with TiO
2
NW arrays, were rinsed with deionized water and dried with compressed air. Heat treatment of the samples was performed at 500 °C (50 °C/min ramp up to 500 °C) on an Anton Paar DHS 1100 (Anton Paar, Graz, Austria) heating stage. For the TiO
2
NWs annealed in N
2
, a constant N
2
atmosphere of 1.35 bar was applied during the experiment, whereas the other sample was annealed in air.
4.2. Characterization
SEM analysis: The morphology of the NW arrays in top-view was investigated using a Zeiss AURIGA Modular CrossBeam workstation (Zeiss, Oberkochen, Germany) equipped with an in-lens detector. All measurements were carried out at 4 kV.
TEM analysis: TEM was applied for the morphological and crystallographic analysis. The TiO2 nanowires were scraped off the FTO substrate and the resulting powder was dispersed on a copper grid with a holy carbon film. A Philipps CM20 (FEI, Hillsboro, OR, USA) and a Jeol JEM-2200FS field emission gun instrument (Jeol, Akishima, Japan), both operated at 200 kV, were used for conventional bright field TEM, selected area electron diffraction, and HR TEM.
STEM images and EELS data were acquired at 300 kV with a FEI Titan Themis 60–300 (FEI, Hillsboro, OR, USA) equipped with a high brightness field emission (XFEG™) source, a monochromator, an aberration-corrector for the probe-forming lens system, a BRUKER EDS Super X detector, and a high-resolution energy filter (post-column Quantum ERS energy filter). EEL spectra were acquired in STEM mode with a dispersion of 0.1 eV per channel. To measure the band gap on a local scale, low-loss spectra in monochromated STEM mode were acquired with a dispersion of 0.01 eV. An energy resolution of 0.3 eV, as determined by the full-width at half maximum of the zero-loss peak, was obtained. Using a power-law fit, the tail of the zero-loss peak was removed and the band gap was extracted according to the linear fit method [
54
]. For all EELS measurements, the convergence semi angle was 23.8 mrad and the collection semi-angle was 35 mrad. All EELS data were taken using the dual-channel acquisition technique [
55
] and the spectra were corrected for dark current and channel-to-channel gain variation [
56
]. The background was removed using a standard power law fit [
56
].
EEL spectra of the Ti-L
2,3
edge were used to determine the Ti
3+
/Ti
4+
ratio with high lateral resolution. Therefore, a calibration technique of Stoyanov et al. [
34
]. was used. It is based on the position and intensities of the Ti L
2
and L
3
white lines.
UV-Vis spectroscopy: A PerkinElmer Lambda 800 spectrometer (PerkinElmer, Waltham, MA, USA) in transmission mode was utilized to measure the absorption spectra in a wavelength range of 350–850 nm. The step size was 1 nm. The detected UV–Vis data were used to determine direct and indirect band gaps using Tauc plots [
57
] and to calculate the Urbach energy [
38
] of the different samples.
IV characteristics: Qualitative information about the electronic properties of the investigated TiO2 NWs was obtained by IV-measurements. A platinum-iridium (PtIr) (4:1) tip served as a top electrode. The IV-characteristics of the transient current through the PtIr/TiO2/FTO sandwich were determined. The tip was taken because typical deposition techniques used for flat metal electrodes would infiltrate the interspace between the NWs and cause shorts. The tip was placed manually and softly on the NW array and pushed by its own weight (0.1 g) on a bunch of NWs during the measurement. The bottom contact was established by removing the NWs using a diamond writer and connecting the uncovered FTO with a thin insulated copper wire and a drop of silver paste. The sample holder was transferred into a vacuum chamber, where the humid air was replaced by dry nitrogen during several pumping and purging steps. A Keithley 2401 (Ketihly Instruments, Cleveland, OH, USA) was used as a voltage source and to measure the transient current. In the presented graphic, a positive electric field is pointing from the PtIr tip towards the FTO and the IV-curves were obtained by changing the field from negative to positive values.
5. Conclusions
In this study, we propose heat treatments in different environments in order to manipulate the structure of hydrothermally grown rutile TiO2 NWs in such a way that their optical and electrical properties can be tailored. The as-grown NWs incorporate a high amount of defects, especially Ovac, which are responsible for the n-type conductivity in these NWs. Independent of the environment, the heat treatment leads to a condensation of these vacancies and to the formation of single-crystalline, lattice defect free, rutile TiO2 NWs that incorporate voids. The absence of Ovac results in a blocking of the transient current and concurrently improves the optical properties by decreasing the band gap and Urbach energy. For an oxidizing environment, such as air, the resulting NWs are almost insulating. Although NWs annealed in N2 contain up to around 80% of an insulating rutile TiO2 core, their properties are completely different. They possess a black color and an almost metal-like conductivity. These properties are related to the slightly reducing atmosphere of N2 during the heat treatment. It inhibits the vanishing of the surface-near Ovac and thus a core-shell structure with a highly oxygen deficient shell is formed.
Acknowledgments
This work was funded by the German Research Foundation (DFG). The authors thank Christian Liebscher and Siyuan Zhang for their help during EELS band gap measurements and Benjamin Breitbach for performing the heating at the Anton Paar Heating device.
Author Contributions
Alena Folger, Julian Kalb, Lukas Schmidt-Mende and Christina Scheu conceived and designed the experiments; Alena Folger did the synthesis and performed the SEM, TEM, and UV measurements and Julian Kalb performed the IV measurements; Alena Folger and Julian Kalb analyzed the data of the respective experiments; Alena Folger, Julian Kalb, Lukas Schmidt-Mende, and Christina Scheu interpreted and discussed the data, Alena Folger wrote the paper with contributions from Julian Kalb, all authors have given approval to the final version of the manuscript.
Conflicts of Interest
The authors declare no conflict of interest.

Figure 1. Scanning electron microscopy (SEM) images of nanowire (NW) arrays, which are (a) as-grown (ag), (b) annealed in air, and (c) annealed in N2. The insets show a high magnification SEM image of a single NW from the respective NW array. The scale bar of the inset is 50 nm.


Figure 2. High-angle annular dark-field scanning transmission electron microscopy (STEM) image and a corresponding electron diffraction pattern (inset) for (a) an as-grown NW, (b) a NW annealed in air, and (c) a NW annealed in N2. All images show a representative area in the center of its respective NW and the diffraction patterns are taken from entire NWs.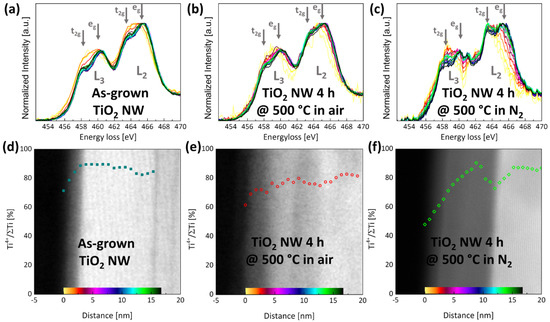 Figure 3. (a–c) Position resolved electron energy loss (EEL) spectra of the Ti-L2,3 edge, for (a) an as-grown NW, (b) a NW annealed in air, and (c) a NW annealed in N2. The positions of the spectra are marked in the STEM images of (d–f) with a specific color, which is the same for the respective Ti-L2,3 edge (the color changes from the NW surface to the center (left to right) in the following order: yellow, orange, red, pink, purple, blue, cyan, green, black). In (d–f), the Ti4+ gradient is overlaid with the STEM image.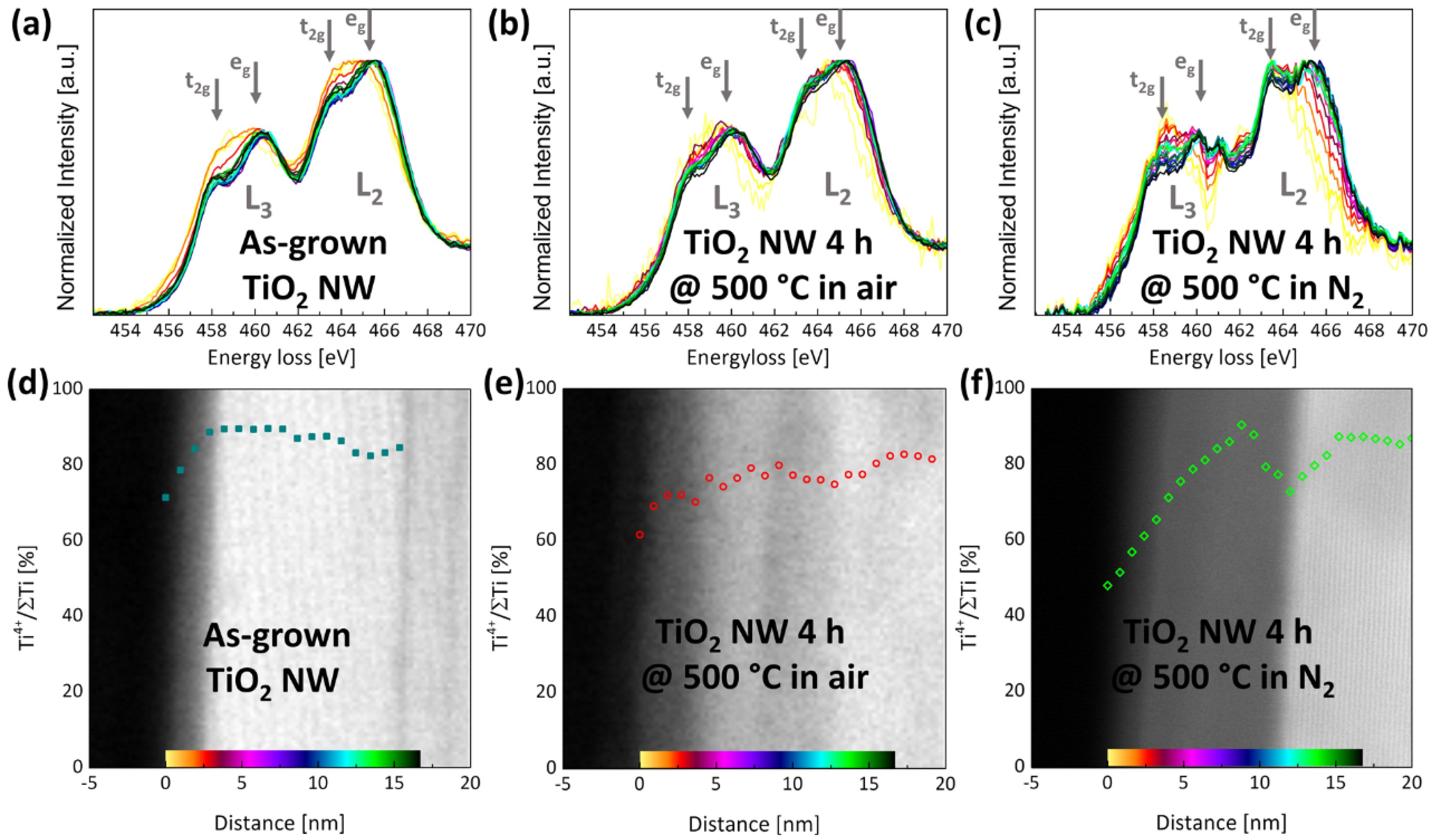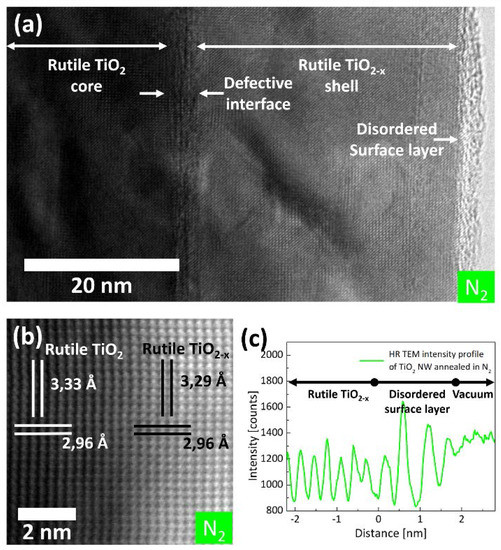 Figure 4.
(
a
) High resolution (HR) transmission electron microscopy (TEM) image of a NW annealed in N
2
showing the surface near region. (
b
) Annular bright field STEM image of the interface between the rutile TiO
2
core and the TiO
2−

x
shell. (
c
) Intensity line scan of (
a
) showing an out-of-plane periodicity in the disordered surface layer parallel to the [001] growth direction.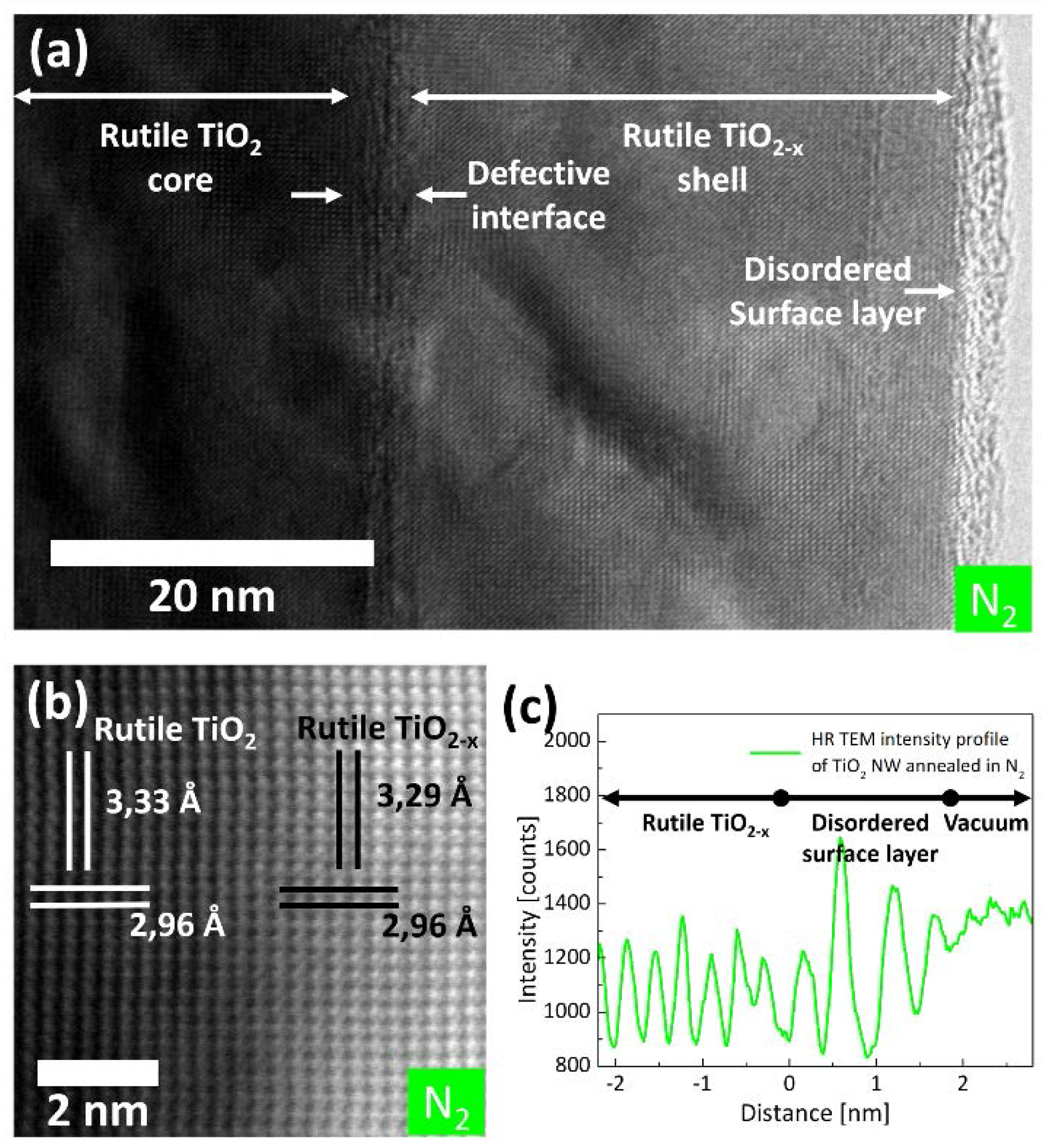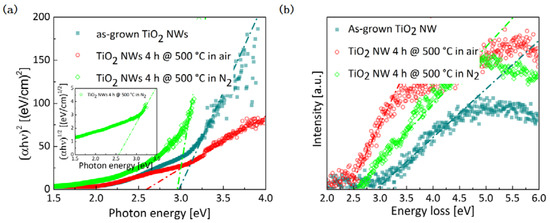 Figure 5. (a) Tauc plot for direct band gap and (b) zero-loss subtracted low-loss EEL spectra for NWs which are as-grown (petrol squares), annealed in air (red circles), and annealed in N2 (green lozenges). The inset in (a) shows the Tauc plot for an indirect band gap for the NW array annealed in N2.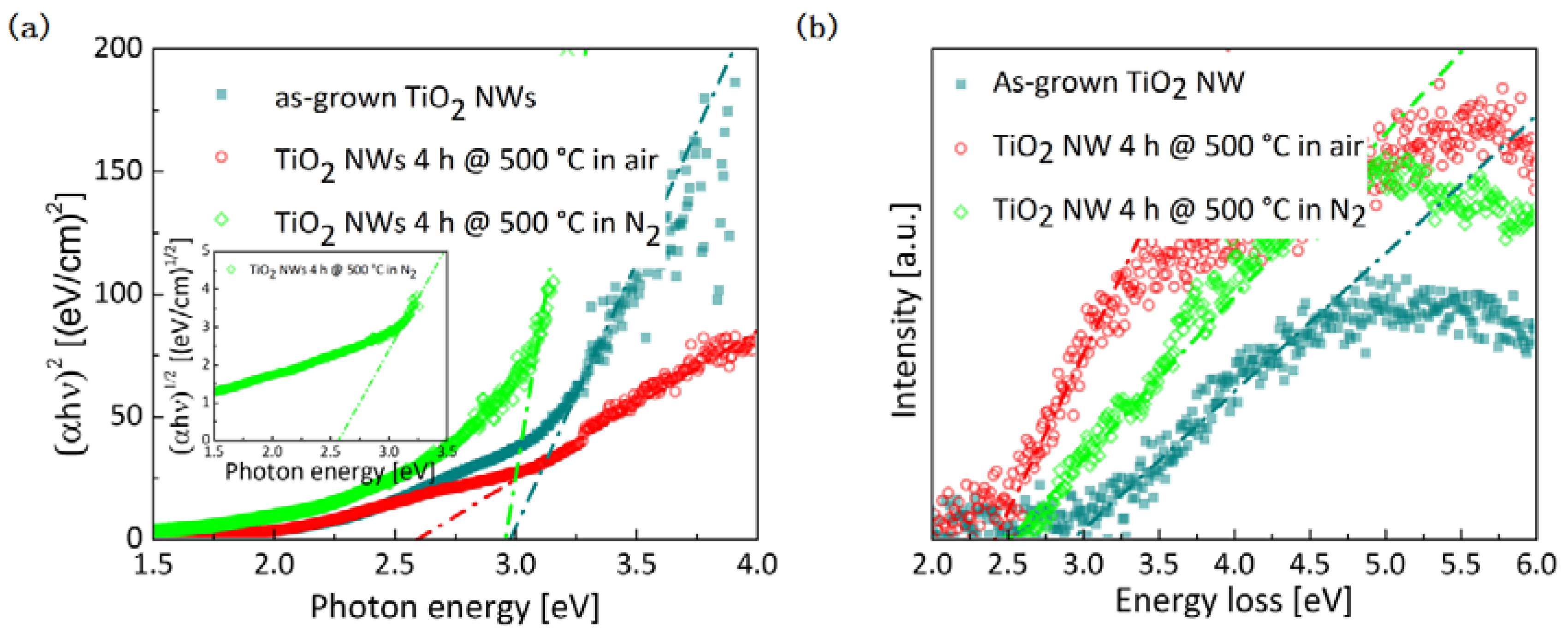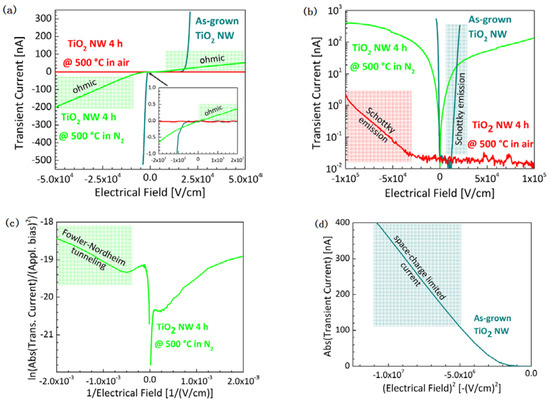 Figure 6.
Transient current characteristics through as-grown NWs, NWs annealed in air, or in N
2
that is measured between a PtIr top and an FTO bottom electrode. The different plots emphasize several conduction-limiting mechanisms: (
a
) Linear plot showing ohmic behavior and the inset is a zoom in on the point of origin, (
b
) Schottky plot, (
c
) Fowler–Nordheim plot and (
d
) space–charge-limited current plot [
39
].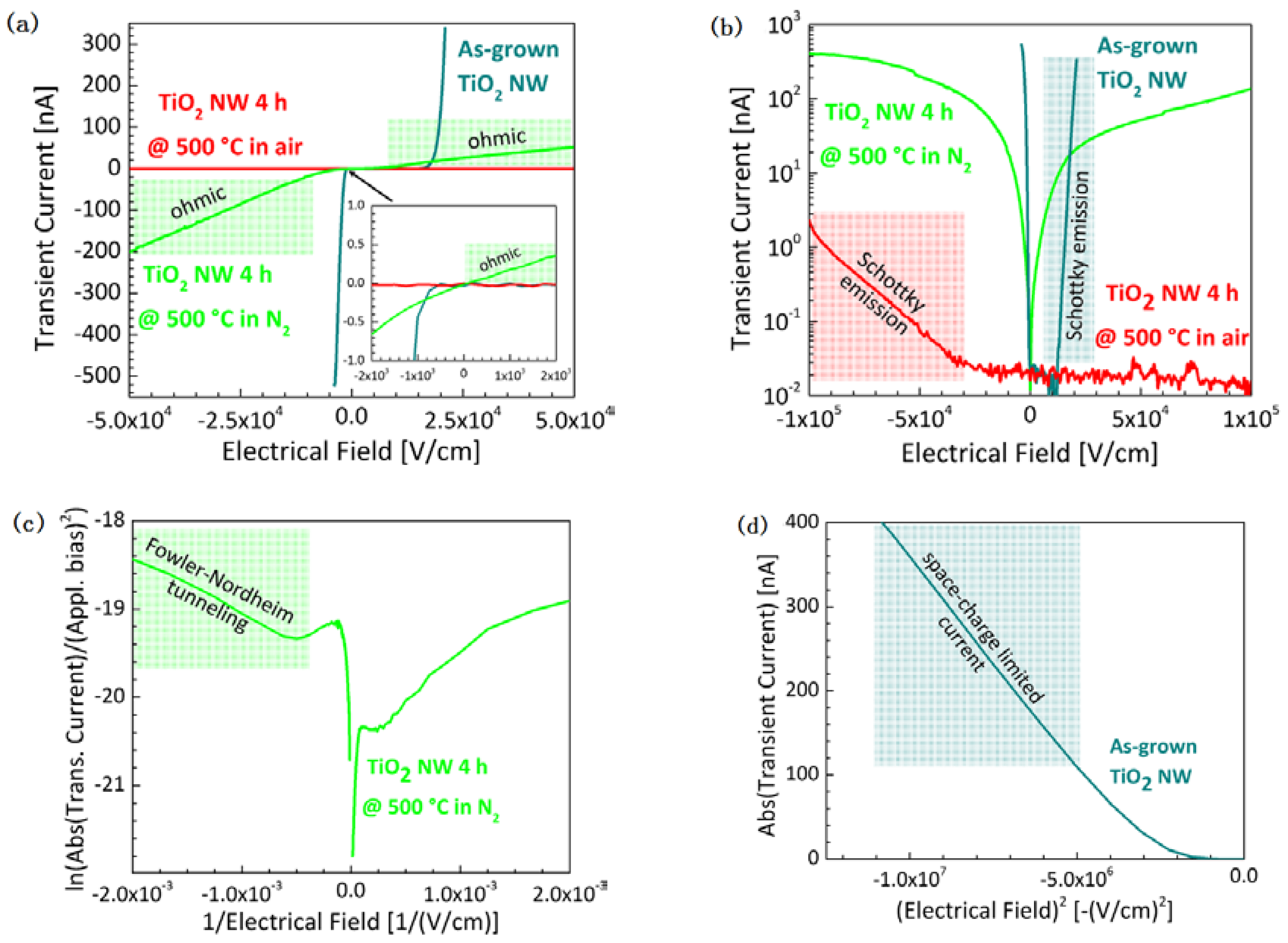 © 2017 by the authors. Licensee MDPI, Basel, Switzerland. This article is an open access article distributed under the terms and conditions of the Creative Commons Attribution (CC BY) license (http://creativecommons.org/licenses/by/4.0/).