Structural Changes Induced in Grapevine (Vitis vinifera L.) DNA by Femtosecond IR Laser Pulses: A Surface-Enhanced Raman Spectroscopic Study
1
National Institute for Research & Development of Isotopic and Molecular Technologies, Donat 67-103, 400293 Cluj-Napoca, Romania
2
Babeş-Bolyai University, Faculty of Physics, Kogălniceanu 1, 400084 Cluj-Napoca, Romania
3
National Institute of Research and Development for Biological Sciences, branch Institute of Biological Research, Republicii Street 48, 400015 Cluj-Napoca, Romania
*
Author to whom correspondence should be addressed.
Academic Editor: Thomas Nann
Received: 23 March 2016 / Revised: 25 April 2016 / Accepted: 17 May 2016 / Published: 25 May 2016
Abstract
In this work, surface-enhanced Raman spectra of ten genomic DNAs extracted from leaf tissues of different grapevine (
Vitis vinifera
L.) varieties, respectively, are analyzed in the wavenumber range 300–1800 cm
−1
. Furthermore, structural changes induced in grapevine genomic nucleic acids upon femtosecond (170 fs) infrared (IR) laser pulse irradiation (λ = 1100 nm) are discussed in detail for seven genomic DNAs, respectively. Surface-enhanced Raman spectroscopy (SERS) signatures, vibrational band assignments and structural characterization of genomic DNAs are reported for each case. As a general observation, the wavenumber range between 1500 and 1660 cm
−1
of the spectra seems to be modified upon laser treatment. This finding could reflect changes in the base-stacking interactions in DNA. Spectral shifts are mainly attributed to purines (dA, dG) and deoxyribose. Pyrimidine residues seem to be less affected by IR femtosecond laser pulse irradiation. Furthermore, changes in the conformational properties of nucleic acid segments are observed after laser treatment. We have found that DNA isolated from Feteasca Neagra grapevine leaf tissues is the most structurally-responsive system to the femtosecond IR laser irradiation process. In addition, using unbiased computational resources by means of principal component analysis (PCA), eight different grapevine varieties were discriminated.
View Full-Text
►

▼

Figures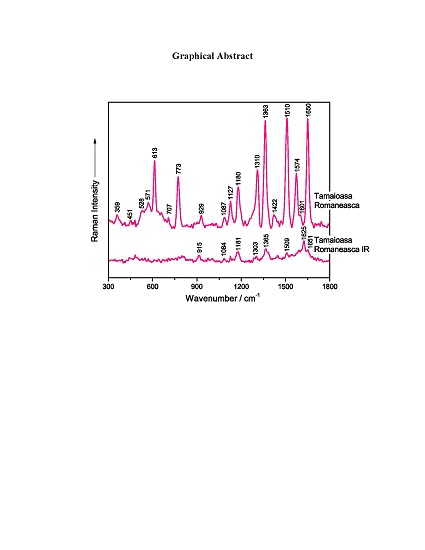 This is an open access article distributed under the
Creative Commons Attribution License
which permits unrestricted use, distribution, and reproduction in any medium, provided the original work is properly cited. (CC BY 4.0).
Share & Cite This Article
MDPI and ACS Style
Dina, N.E.; Muntean, C.M.; Leopold, N.; Fălămaș, A.; Halmagyi, A.; Coste, A. Structural Changes Induced in Grapevine (Vitis vinifera L.) DNA by Femtosecond IR Laser Pulses: A Surface-Enhanced Raman Spectroscopic Study. Nanomaterials 2016, 6, 96.
Note that from the first issue of 2016, MDPI journals use article numbers instead of page numbers. See further details here.
Related Articles
Comments
[Return to top]