Fetal Aneuploidy Detection by Cell-Free DNA Sequencing for Multiple Pregnancies and Quality Issues with Vanishing Twins
1
LifeCodexx AG, Konstanz 78315, Germany
2
Bahceci IVF Center, Istanbul 34330, Turkey
3
BioGen Medical Instruments Co. Ltd., Istanbul 34235, Turkey
4
Petz Aladár Country Teaching Hospital, Győr 9023, Hungary
5
Sequenom Center for Molecular Medicine, San Diego, CA 92121, USA
6
Center for Prenatal Diagnosis and Human Genetics Kudamm-199, Berlin 10719, Germany
*
Author to whom correspondence should be addressed.
Received: 21 March 2014 / Revised: 12 May 2014 / Accepted: 15 May 2014 / Published: 25 June 2014
Abstract
Non-invasive prenatal testing (NIPT) by random massively parallel sequencing of maternal plasma DNA for multiple pregnancies is a promising new option for prenatal care since conventional non-invasive screening for fetal trisomies 21, 18 and 13 has limitations and invasive diagnostic methods bear a higher risk for procedure related fetal losses in the case of multiple gestations compared to singletons. In this study, in a retrospective blinded analysis of stored twin samples, all 16 samples have been determined correctly, with four trisomy 21 positive and 12 trisomy negative samples. In the prospective part of the study, 40 blood samples from women with multiple pregnancies have been analyzed (two triplets and 38 twins), with two correctly identified trisomy 21 cases, confirmed by karyotyping. The remaining 38 samples, including the two triplet pregnancies, had trisomy negative results. However, NIPT is also prone to quality issues in case of multiple gestations: the minimum total amount of cell-free fetal DNA must be higher to reach a comparable sensitivity and vanishing twins may cause results that do not represent the genetics of the living sibling, as described in two case reports.
View Full-Text
►

▼

Figures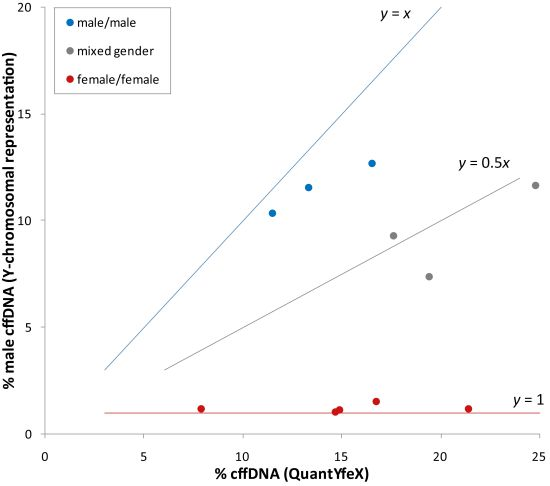 Share & Cite This Article
MDPI and ACS Style
Grömminger, S.; Yagmur, E.; Erkan, S.; Nagy, S.; Schöck, U.; Bonnet, J.; Smerdka, P.; Ehrich, M.; Wegner, R.-D.; Hofmann, W.; Stumm, M. Fetal Aneuploidy Detection by Cell-Free DNA Sequencing for Multiple Pregnancies and Quality Issues with Vanishing Twins. J. Clin. Med. 2014, 3, 679-692.
Related Articles
Comments
[Return to top]