Effects of KLK Peptide on Adjuvanticity of Different ODN Sequences
Pfizer Vaccine Immunotherapeutics, Ottawa Laboratories, Ottawa, ON K2K 3A2, Canada
*
Author to whom correspondence should be addressed.
Academic Editor: Sjoerd H. van der Burg
Received: 16 February 2016 / Revised: 20 April 2016 / Accepted: 25 April 2016 / Published: 4 May 2016
Abstract
Endosomal Toll-like receptors (TLR) such as TLR3, 7, 8 and 9 recognize pathogen associated nucleic acids. While DNA sequence does influence degree of binding to and activation of TLR9, it also appears to influence the ability of the ligand to reach the intracellular endosomal compartment. The KLK (KLKL5KLK) antimicrobial peptide, which is immunostimulatory itself, can translocate into cells without cell membrane permeabilization and thus can be used for endosomal delivery of TLR agonists, as has been shown with the IC31 formulation that contains an oligodeoxynucleotide (ODN) TLR9 agonist. We evaluated the adjuvant activity of KLK combined with CpG or non-CpG (GpC) ODN synthesized with nuclease resistant phosphorothioate (S) or native phosphodiester (O) backbones with ovalbumin (OVA) antigen in mice. As single adjuvants, CpG(S) gave the strongest enhancement of OVA-specific immunity and the addition of KLK provided no benefit and was actually detrimental for some readouts. In contrast, KLK enhanced the adjuvant effects of CpG(O) and to a lesser extent of GpC (S), which on their own had little or no activity. Indeed while CD8 T cells, IFN-γ secretion and humoral response to vaccine antigen were enhanced when CpG(O) was combined with KLK, only IFN-γ secretion was enhanced when GpC (S) was combined to KLK. The synergistic adjuvant effects with KLK/ODN combinations were TLR9-mediated since they did not occur in TLR9 knock-out mice. We hypothesize that a nuclease resistant ODN with CpG motifs has its own mechanism for entering cells to reach the endosome. For ODN without CpG motifs, KLK appears to provide an alternate mechanism for accessing the endosome, where it can activate TLR9, albeit with lower potency than a CpG ODN. For nuclease sensitive (O) backbone ODN, KLK may also provide protection from nucleases in the tissues.
View Full-Text
►

▼

Figures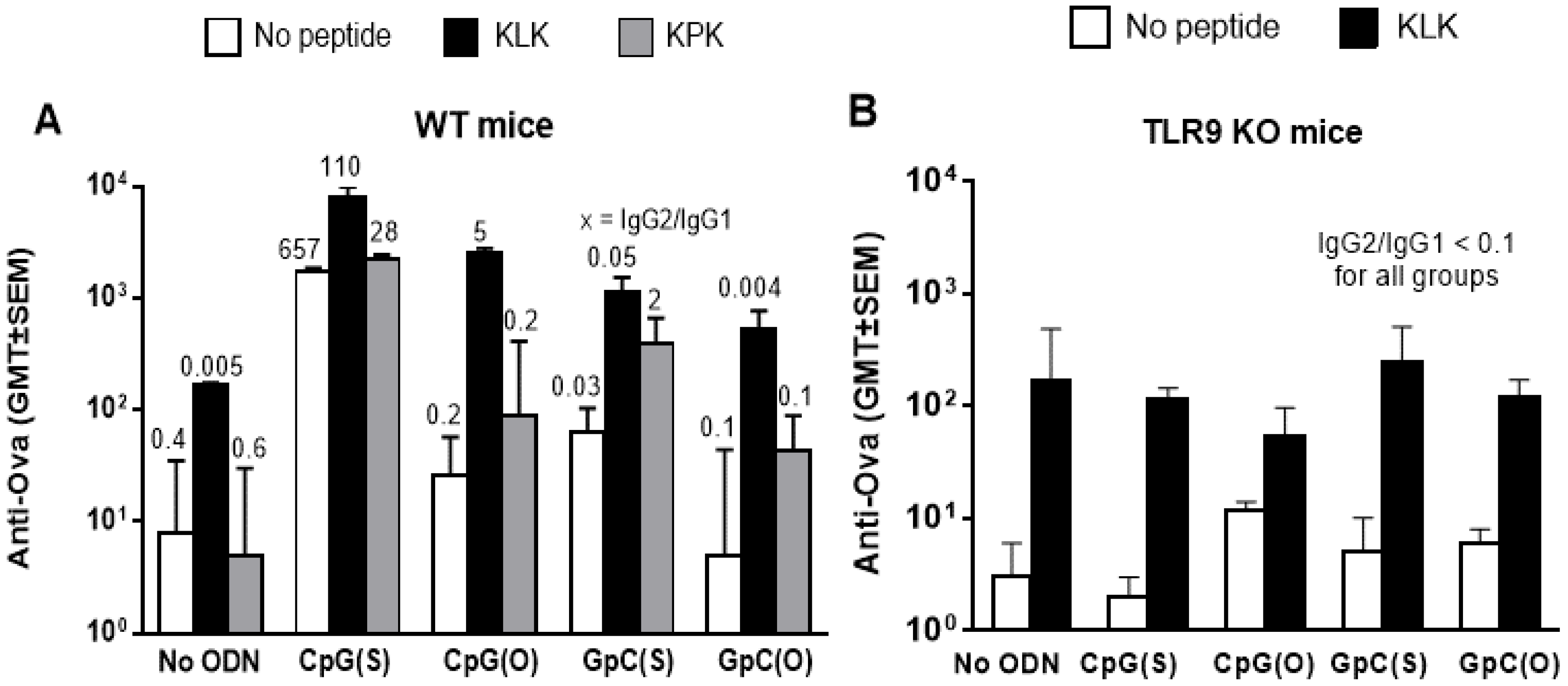 Figure 1
This is an open access article distributed under the
Creative Commons Attribution License
which permits unrestricted use, distribution, and reproduction in any medium, provided the original work is properly cited. (CC BY 4.0).
Share & Cite This Article
MDPI and ACS Style
Chikh, G.; Luu, R.; Patel, S.; Davis, H.L.; Weeratna, R.D. Effects of KLK Peptide on Adjuvanticity of Different ODN Sequences. Vaccines 2016, 4, 14.
Note that from the first issue of 2016, MDPI journals use article numbers instead of page numbers. See further details here.
Related Articles
Comments
[Return to top]