Caspase-1 Dependent IL-1β Secretion and Antigen-Specific T-Cell Activation by the Novel Adjuvant, PCEP
1
Vaccinology and Immunotherapeutics program, School of Public Health, 107 Wiggins Road, University of Saskatchewan, Saskatoon, SK S7N 5E5, Canada
2
Vaccine and Infectious Disease Organization-International Vaccine Centre, 120 Veterinary Road, University of Saskatchewan, Saskatoon, SK S7N 5E3, Canada
3
Department of Veterinary Microbiology, Western College of Veterinary Medicine, University of Saskatchewan, Saskatoon, SK S7N 5B4, Canada
4
University of Alberta, 3-7 University Hall, Edmonton, AB T6G 2J9, Canada
†
Current address: Advanced Medical Research Institute of Canada, Sudbury, ON P3E 5JI, Canada
*
Author to whom correspondence should be addressed.
Received: 17 February 2014 / Revised: 2 June 2014 / Accepted: 4 June 2014 / Published: 26 June 2014
Abstract
The potent adjuvant activity of the novel adjuvant, poly[di(sodiumcarboxylatoethylphenoxy)phosphazene] (PCEP), with various antigens has been reported previously. However, very little is known about its mechanisms of action. We have recently reported that intramuscular injection of PCEP induces NLRP3, an inflammasome receptor gene, and inflammatory cytokines, including IL-1β and IL-18, in mouse muscle tissue. Caspase-1 is required for the processing of pro-forms of IL-1β and IL-18 into mature forms and is a critical constituent of the NLRP3 inflammasome. Hence, in the present study, we investigated the role of caspase-1 in the secretion of IL-1β and IL-18 in PCEP-stimulated splenic dendritic cells (DCs). Caspase inhibitor YVAD-fmk-treated splenic DCs showed significantly reduced IL-1β and IL-18 secretion in response to PCEP stimulation. Further, PCEP had no effect on the expression of MHC class II or co-stimulatory molecules, CD86 and CD40, suggesting that PCEP does not induce DC maturation. However, PCEP directly activated B-cells to induce significant production of IgM. In addition, PCEP+ovalbumin (OVA) immunized mice showed significantly increased production of antigen-specific IFN-γ by CD4
+
and CD8
+
T-cells. We conclude that PCEP activates innate immunity, leading to increased antigen-specific T-cell responses.
View Full-Text
►

▼

Figures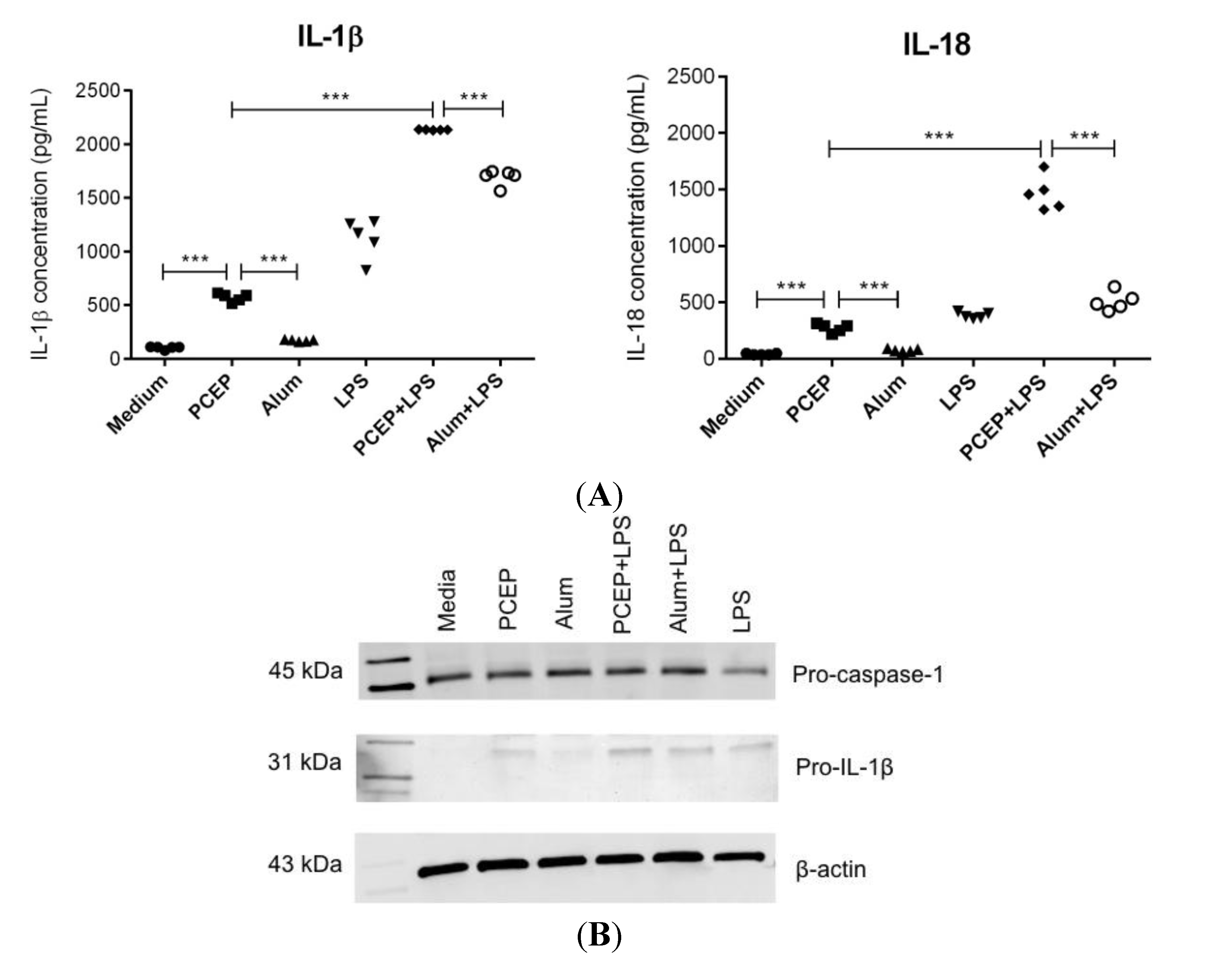 Figure 1
Share & Cite This Article
MDPI and ACS Style
Awate, S.; Eng, N.F.; Gerdts, V.; Babiuk, L.A.; Mutwiri, G. Caspase-1 Dependent IL-1β Secretion and Antigen-Specific T-Cell Activation by the Novel Adjuvant, PCEP. Vaccines 2014, 2, 500-514.
Related Articles
Comments
[Return to top]