Electromechanical Anisotropy at the Ferroelectric to Relaxor Transition of (Bi0.5Na0.5)0.94Ba0.06TiO3 Ceramics from the Thermal Evolution of Resonance Curves
1
Instituto de Ingeniería Eléctrica, Facultad de Ingeniería, Universidad de la República, Julio Herreray Reissig 565, 11300 Montevideo, Uruguay
2
Instituto de Ciencia de Materiales de Madrid (ICMM-CSIC), c/Sor Juana Inés de la Cruz, 3. Cantoblanco, 28049 Madrid, Spain
3
Instituto de Tecnologías Físicas y de la Información (ITEFI-CSIC), c/Serrano 144, 28006 Madrid, Spain
*
Author to whom correspondence should be addressed.
Received: 15 November 2017 / Revised: 18 December 2017 / Accepted: 28 December 2017 / Published: 16 January 2018
Abstract
(Bi
0.5
Na
0.5
)
0.94
Ba
0.06
TiO
3
dense ceramics were obtained from autocombustion sol-gel synthesized nanopowders and sintered at 1050 °C for 1–2 h for the study of the electromechanical anisotropy. Measurement of the complex impedance spectrum was carried out on thin ceramic disks, thickness-poled, as a function of the temperature from 16 °C up to the vanishing of the electromechanical resonances at the ferroelectric to relaxor transition near 100 °C. The spectrum comprises the fundamental radial extensional mode and three overtones of this, together with the fundamental thickness extensional mode, coupled with other complex modes. Thermal evolution of the spectrum shows anisotropic behavior. Piezoelectric, elastic, and dielectric material coefficients, including all losses, were determined from iterative analysis of the complex impedance curves at the planar, thickness, and shear virtually monomodal resonances of disks and shear plates, thickness-poled. d
33
was measured quasi-statically at 100 Hz. This set of data was used as the initial condition for the optimization of the numerical calculation by finite elements of the full spectrum of the disk, from 100 kHz to 1.9 MHz, to determine the thermal evolution of the material coefficients. An appropriate measurement strategy to study electromechanical anisotropy of piezoelectric ceramics has been developed.
View Full-Text
►

▼

Figures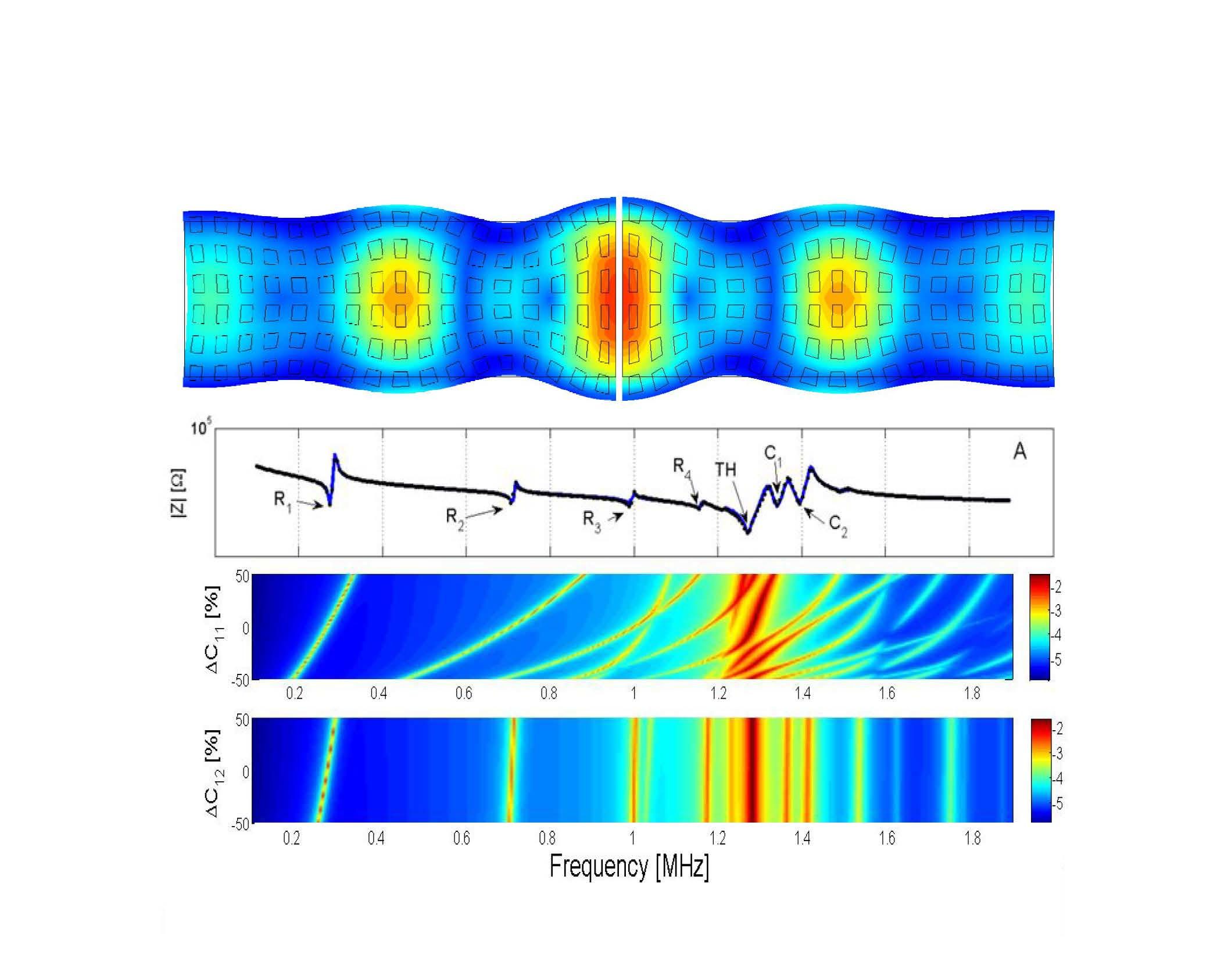 This is an open access article distributed under the
Creative Commons Attribution License
which permits unrestricted use, distribution, and reproduction in any medium, provided the original work is properly cited. (CC BY 4.0).
Share & Cite This Article
MDPI and ACS Style
Pérez, N.; García, A.; Riera, E.; Pardo, L. Electromechanical Anisotropy at the Ferroelectric to Relaxor Transition of (Bi0.5Na0.5)0.94Ba0.06TiO3 Ceramics from the Thermal Evolution of Resonance Curves. Appl. Sci. 2018, 8, 121.
Note that from the first issue of 2016, MDPI journals use article numbers instead of page numbers. See further details here.
Related Articles
Comments
[Return to top]