Transcriptional Profiling of a Cross-Protective Salmonella enterica serovar Typhimurium UK-1 dam Mutant Identifies a Set of Genes More Transcriptionally Active Compared to Wild-Type, and Stably Transcribed across Biologically Relevant Microenvironments
1
Department of Veterinary Microbiology and Pathology, Washington State University, Pullman, WA 99164, USA
2
Paul G. Allen School for Global Animal Health, Washington State University, Pullman, WA 99164, USA
3
Department of Biomedical Sciences and Pathobiology, Virginia Tech, Blacksburg, VA 24061, USA
*
Authors to whom correspondence should be addressed.
Received: 1 March 2014 / Revised: 30 April 2014 / Accepted: 4 May 2014 / Published: 9 May 2014
Abstract
Vaccination with
Salmonella enterica
serovar
Typhimurium lacking DNA adenine methyltransferase confers cross-protective immunity against multiple
Salmonella
serotypes. The mechanistic basis is thought to be associated with the de-repression of genes that are tightly regulated when transiting from one microenvironment to another. This de-repression provides a potential means for the production of a more highly expressed and stable antigenic repertoire capable of inducing cross-protective immune responses. To identify genes encoding proteins that may contribute to cross-protective immunity, we used a
Salmonella
Typhimurium DNA adenine methyltransferase mutant strain (UK-1
dam
mutant) derived from the parental UK-1 strain, and assessed the transcriptional profile of the UK-1
dam
mutant and UK-1 strain
grown under conditions that simulate the intestinal or endosomal microenvironments encountered during the infective process. As expected, the transcriptional profile of the UK-1
dam
mutant identified a set of genes more transcriptionally active when compared directly to UK-1, and stably transcribed in biologically relevant culture conditions. Further, 22% of these genes were more highly transcribed
in comparison to two other clinically-relevant
Salmonella
serovars. The strategy employed here helps to identify potentially conserved proteins produced by the UK-1
dam
mutant that stimulate and/or modulate the development of cross-protective immune responses toward multiple
Salmonella
serotypes.
View Full-Text
►

▼

Figures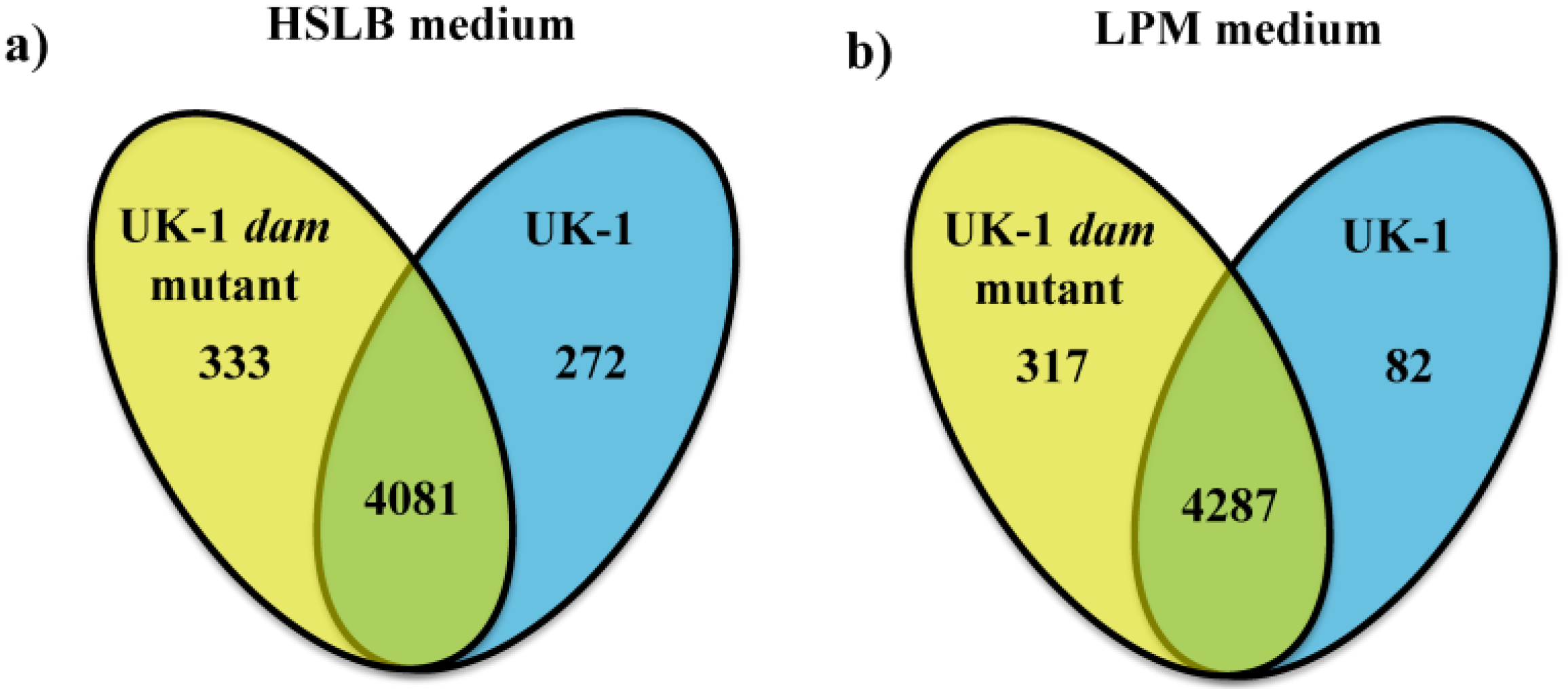 Figure 1
Share & Cite This Article
MDPI and ACS Style
Miller, C.B.; Pierlé, S.A.; Brayton, K.A.; Ochoa, J.N.; Shah, D.H.; Lahmers, K.K. Transcriptional Profiling of a Cross-Protective Salmonella enterica serovar Typhimurium UK-1 dam Mutant Identifies a Set of Genes More Transcriptionally Active Compared to Wild-Type, and Stably Transcribed across Biologically Relevant Microenvironments. Pathogens 2014, 3, 417-436.
Related Articles
Comments
[Return to top]