Genetic Variation of the Host Plant Species Matters for Interactions with Above- and Belowground Herbivores
1
Collaborative Research Center (CRC) 973, Institute of Biology, Functional Biodiversity, Freie Universität Berlin, Königin-Luise-Str. 1-3, Berlin 14195, Germany
2
Julius Kühn-Institut, Federal Research Centre for Cultivated Plants, Institute for Ecological Chemistry, Plant Analysis and Stored Product Protection, Königin-Luise-Str. 19, Berlin 14195, Germany
*
Author to whom correspondence should be addressed.
Received: 15 May 2014 / Revised: 22 July 2014 / Accepted: 8 August 2014 / Published: 29 August 2014
Abstract
Plants are challenged by both above- and belowground herbivores which may indirectly interact with each other via herbivore-induced changes in plant traits; however, little is known about how genetic variation of the host plant shapes such interactions. We used two genotypes (M4 and E9) of
Solanum dulcamara
(Solanaceae) with or without previous experience of aboveground herbivory by
Spodoptera exigua
(Noctuidae) to quantify its effects on subsequent root herbivory by
Agriotes
spp. (Elateridae). In the genotype M4, due to the aboveground herbivory, shoot and root biomass was significantly decreased, roots had a lower C/N ratio and contained significantly higher levels of proteins, while the genotype E9 was not affected. However, aboveground herbivory had no effects on weight gain or mortality of the belowground herbivores. Root herbivory by
Agriotes
increased the nitrogen concentration in the roots of M4 plants leading to a higher weight gain of conspecific larvae. Also, in feeding bioassays,
Agriotes
larvae tended to prefer roots of M4 over E9, irrespective of the aboveground herbivore treatment. Fourier-Transform Infrared Spectroscopy (FT-IR) documented differences in metabolic profiles of the two plant genotypes and of the roots of M4 plants after aboveground herbivory. Together, these results demonstrate that previous aboveground herbivory can have genotype-specific effects on quantitative and qualitative root traits. This may have consequences for belowground interactions, although generalist root herbivores might not be affected when the root biomass offered is still sufficient for growth and survival.
View Full-Text
►

▼

Figures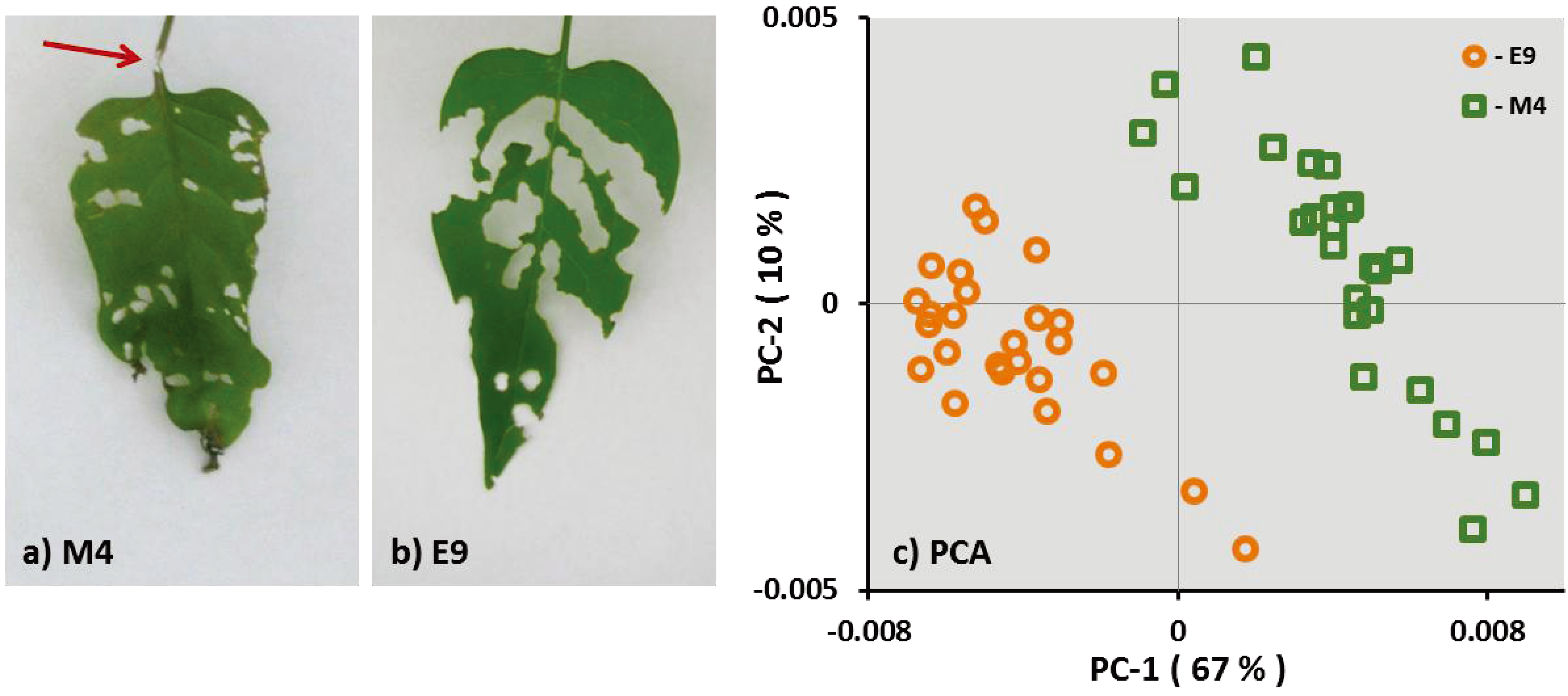 Figure 1
Share & Cite This Article
MDPI and ACS Style
Kafle, D.; Krähmer, A.; Naumann, A.; Wurst, S. Genetic Variation of the Host Plant Species Matters for Interactions with Above- and Belowground Herbivores. Insects 2014, 5, 651-667.
Related Articles
Comments
[Return to top]