Survival Strategies in the Aquatic and Terrestrial World: The Impact of Second Messengers on Cyanobacterial Processes
1
Cell and Molecular Biology Graduate Program, 322 Plant Biology Building, Michigan State University, East Lansing, MI 48824, USA
2
Department of Energy Plant Research Laboratory, 106 Plant Biology Building, Michigan State University, East Lansing, MI 48824, USA
3
Department of Biochemistry and Molecular Biology, Michigan State University, 612 Wilson Road, East Lansing, MI 48823, USA
*
Author to whom correspondence should be addressed.
Received: 3 September 2014 / Revised: 31 October 2014 / Accepted: 5 November 2014 / Published: 18 November 2014
Abstract
Second messengers are intracellular substances regulated by specific external stimuli globally known as first messengers. Cells rely on second messengers to generate rapid responses to environmental changes and the importance of their roles is becoming increasingly realized in cellular signaling research. Cyanobacteria are photooxygenic bacteria that inhabit most of Earth's environments. The ability of cyanobacteria to survive in ecologically diverse habitats is due to their capacity to adapt and respond to environmental changes. This article reviews known second messenger-controlled physiological processes in cyanobacteria. Second messengers used in these systems include the element calcium (Ca
2+
), nucleotide-based guanosine tetraphosphate or pentaphosphate (ppGpp or pppGpp, represented as (p)ppGpp), cyclic adenosine 3',5'-monophosphate (cAMP), cyclic dimeric GMP (c-di-GMP), cyclic guanosine 3',5'-monophosphate (cGMP), and cyclic dimeric AMP (c-di-AMP), and the gaseous nitric oxide (NO). The discussion focuses on processes central to cyanobacteria, such as nitrogen fixation, light perception, photosynthesis-related processes, and gliding motility. In addition, we address future research trajectories needed to better understand the signaling networks and cross talk in the signaling pathways of these molecules in cyanobacteria. Second messengers have significant potential to be adapted as technological tools and we highlight possible novel and practical applications based on our understanding of these molecules and the signaling networks that they control.
View Full-Text
►

▼

Figures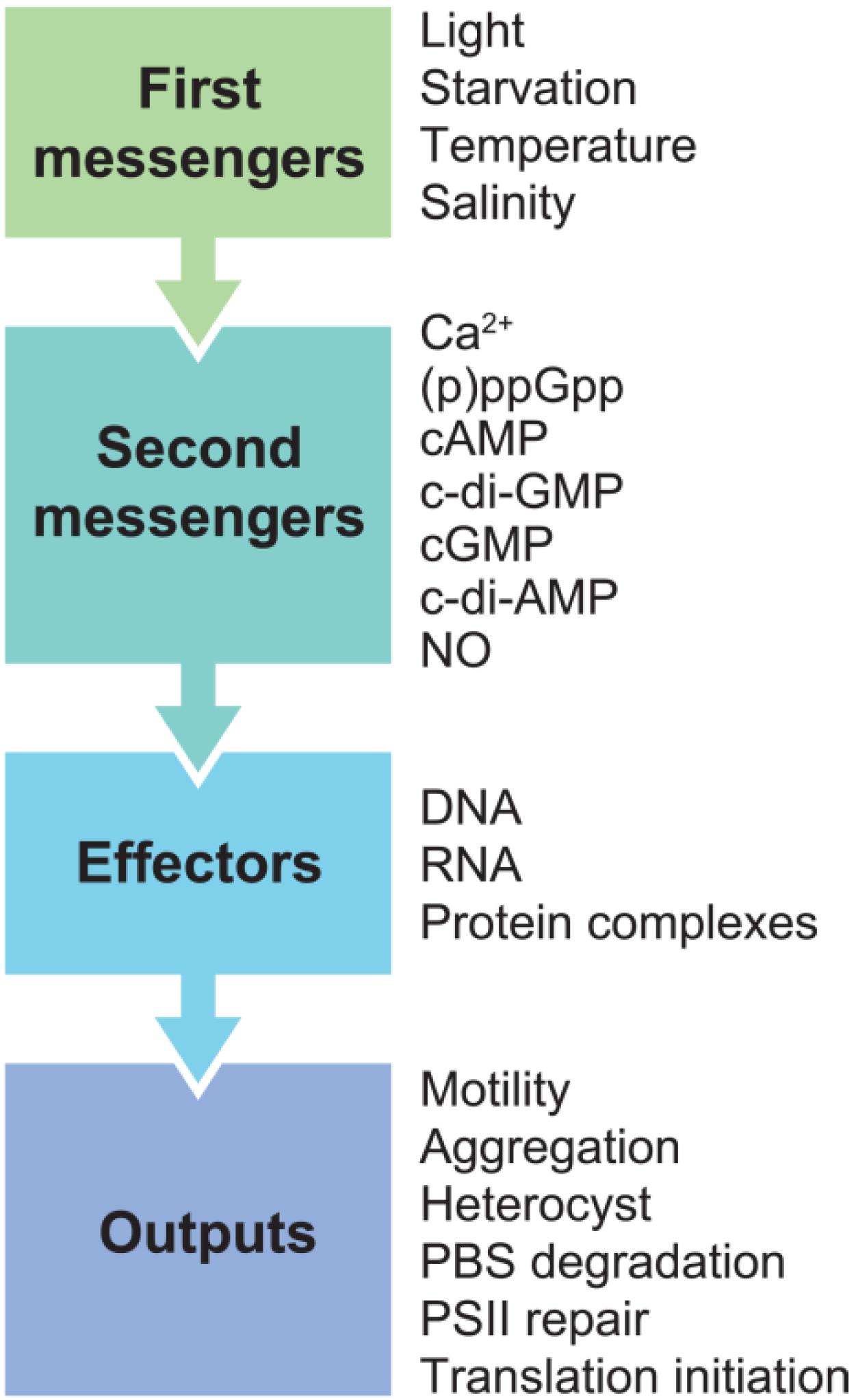 Figure 1
This is an open access article distributed under the
Creative Commons Attribution License
which permits unrestricted use, distribution, and reproduction in any medium, provided the original work is properly cited. (CC BY 4.0).
Share & Cite This Article
MDPI and ACS Style
Agostoni, M.; Montgomery, B.L. Survival Strategies in the Aquatic and Terrestrial World: The Impact of Second Messengers on Cyanobacterial Processes. Life 2014, 4, 745-769.
Related Articles
Comments
[Return to top]