New Insights in the Ontogeny and Taphonomy of the Devonian Acanthodian Triazeugacanthus affinis From the Miguasha Fossil-Lagerstätte, Eastern Canada
1
Département de Biologie, Chimie et Géographie, Université du Québec à Rimouski, Rimouski, QC G5L 3A1, Canada
2
Institut de Minéralogie, de Physique des Matériaux et de Cosmochimie, Sorbonne Universités, UPMC Univ Paris 06, CNRS UMR 7590, IRD UMR 206, MNHN, F-75005 Paris, France
*
Author to whom correspondence should be addressed.
Academic Editors: Karim Benzerara, Jennyfer Miot and Thibaud Coradin
Received: 28 October 2015 / Revised: 12 December 2015 / Accepted: 16 December 2015 / Published: 23 December 2015
Abstract
Progressive biomineralization of a skeleton occurs during ontogeny in most animals. In fishes, larvae are poorly mineralized, whereas juveniles and adults display a progressively more biomineralized skeleton. Fossil remains primarily consist of adult specimens because the fossilization of poorly-mineralized larvae and juveniles necessitates exceptional conditions. The Miguasha
Fossil-Lagerstätte
is renowned for its Late Devonian vertebrate fauna, revealing the exceptional preservation of fossilized ontogenies for 14 of the 20 fish species from this locality. The mineralization of anatomical structures of the acanthodian
Triazeugacanthus affinis
from Miguasha are compared among larval, juvenile and adult specimens using Energy Dispersive X-ray Spectrometry. Chemical composition of anatomical structures of
Triazeugacanthus
reveals differences between cartilage and bone. Although the histology and anatomy is well-preserved, Fourier transform infrared spectrometry shows that the original chemical composition of bone is altered by diagenesis; the mineral phase of the bone (
i.e
., hydroxyapatite) is modified chemically to form more stable carbonate-fluorapatite. Fluorination occurring in mineralized skeletal structures of adult
Triazeugacanthus
is indicative of exchanges between groundwater and skeleton at burial, whereas the preservation of larval soft tissues is likely owing to a rapid burial under anoxic conditions. The exceptional state of preservation of a fossilized ontogeny allowed us to characterize chemically the progressive mineralization of the skeleton in a Devonian early vertebrate.
View Full-Text
►

▼

Figures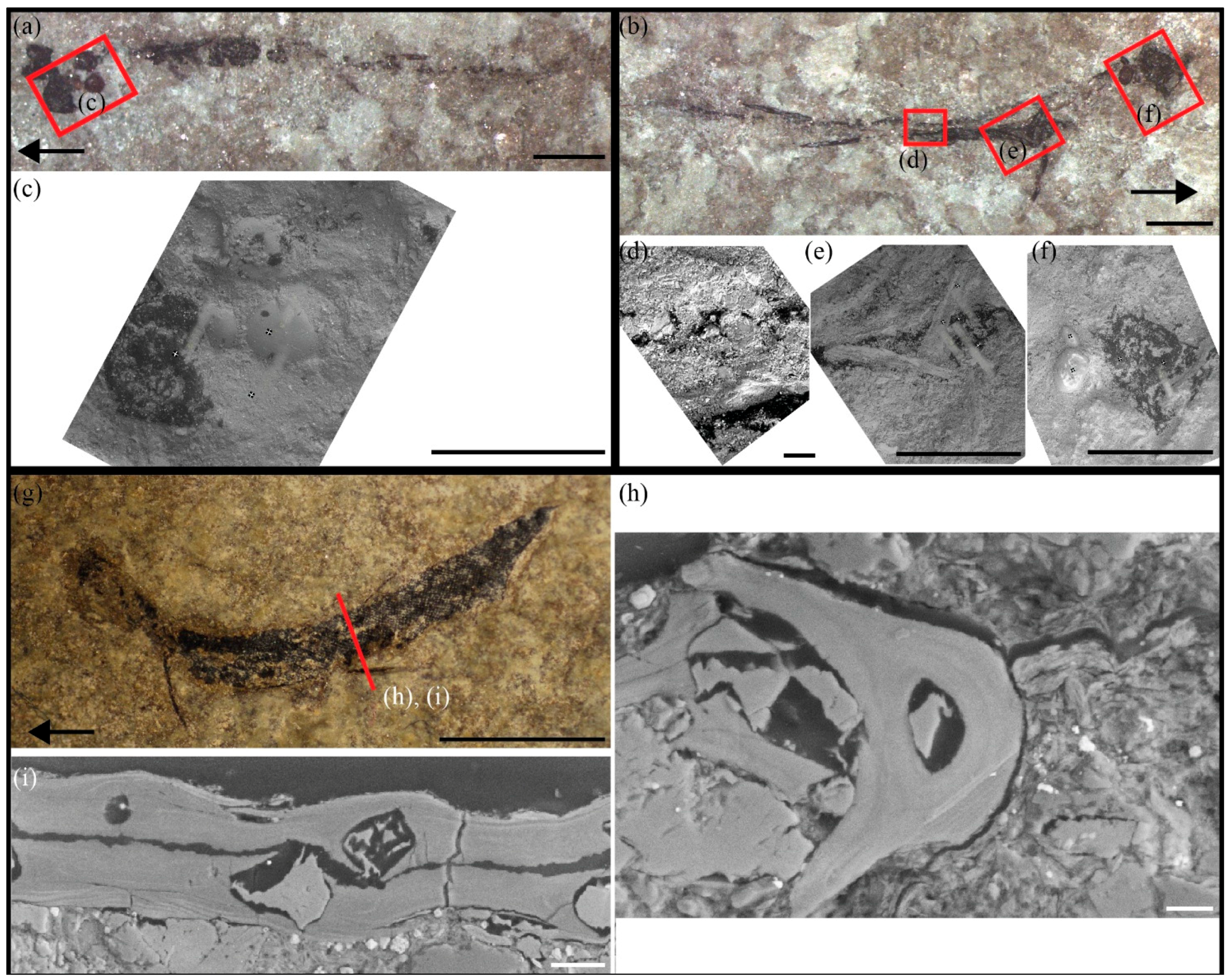 Figure 1a
This is an open access article distributed under the
Creative Commons Attribution License
which permits unrestricted use, distribution, and reproduction in any medium, provided the original work is properly cited. (CC BY 4.0).
Share & Cite This Article
MDPI and ACS Style
Chevrinais, M.; Balan, E.; Cloutier, R. New Insights in the Ontogeny and Taphonomy of the Devonian Acanthodian Triazeugacanthus affinis From the Miguasha Fossil-Lagerstätte, Eastern Canada. Minerals 2016, 6, 1.
Note that from the first issue of 2016, MDPI journals use article numbers instead of page numbers. See further details here.
Related Articles
Comments
[Return to top]