Climate or Land Use?—Attribution of Changes in River Flooding in the Sahel Zone
1
Potsdam Institute for Climate Impact Research (PIK), Telegraphenberg, 14473 Potsdam, Germany
2
Swedish Meteorological and Hydrological Institute (SMHI), SE-601 76 Norrköping, Sweden
3
Institute of Earth and Environmental Science, University of Potsdam, Karl-Liebknecht-Staße 24-25, 14476 Potsdam-Golm, Germany
*
Author to whom correspondence should be addressed.
Academic Editor: Lutz Breuer
Received: 31 January 2015 / Accepted: 26 May 2015 / Published: 12 June 2015
Abstract
This study intends to contribute to the ongoing discussion on whether land use and land cover changes (LULC) or climate trends have the major influence on the observed increase of flood magnitudes in the Sahel. A simulation-based approach is used for attributing the observed trends to the postulated drivers. For this purpose, the ecohydrological model SWIM (Soil and Water Integrated Model) with a new, dynamic LULC module was set up for the Sahelian part of the Niger River until Niamey, including the main tributaries Sirba and Goroul. The model was driven with observed, reanalyzed climate and LULC data for the years 1950–2009. In order to quantify the shares of influence, one simulation was carried out with constant land cover as of 1950, and one including LULC. As quantitative measure, the gradients of the simulated trends were compared to the observed trend. The modeling studies showed that for the Sirba River only the simulation which included LULC was able to reproduce the observed trend. The simulation without LULC showed a positive trend for flood magnitudes, but underestimated the trend significantly. For the Goroul River and the local flood of the Niger River at Niamey, the simulations were only partly able to reproduce the observed trend. In conclusion, the new LULC module enabled some first quantitative insights into the relative influence of LULC and climatic changes. For the Sirba catchment, the results imply that LULC and climatic changes contribute in roughly equal shares to the observed increase in flooding. For the other parts of the subcatchment, the results are less clear but show, that climatic changes and LULC are drivers for the flood increase; however their shares cannot be quantified. Based on these modeling results, we argue for a two-pillar adaptation strategy to reduce current and future flood risk: Flood mitigation for reducing LULC-induced flood increase, and flood adaptation for a general reduction of flood vulnerability.
View Full-Text
►

▼

Figures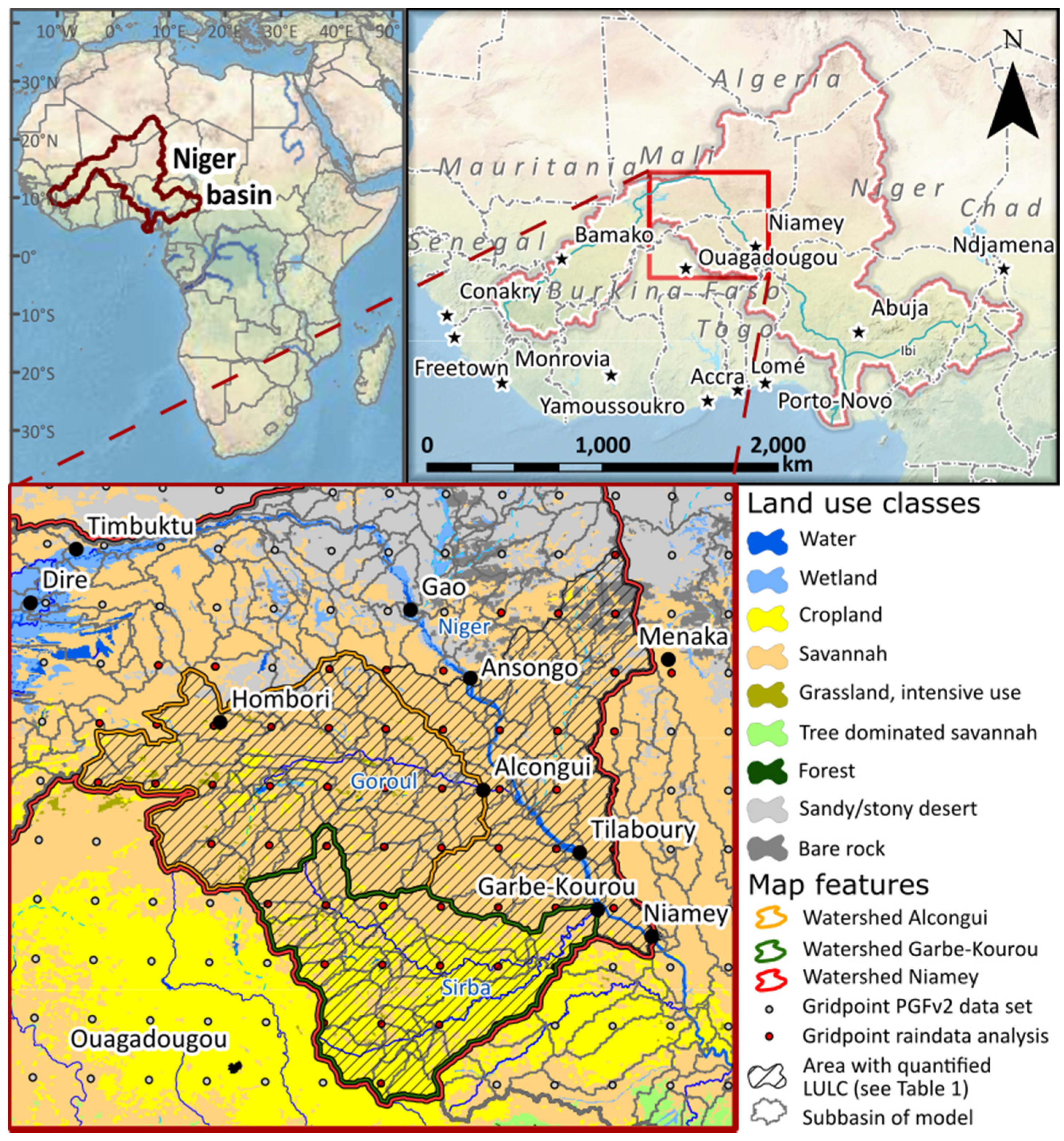 Figure 1
This is an open access article distributed under the
Creative Commons Attribution License
which permits unrestricted use, distribution, and reproduction in any medium, provided the original work is properly cited. (CC BY 4.0).
Share & Cite This Article
MDPI and ACS Style
Aich, V.; Liersch, S.; Vetter, T.; Andersson, J.C.M.; Müller, E.N.; Hattermann, F.F. Climate or Land Use?—Attribution of Changes in River Flooding in the Sahel Zone. Water 2015, 7, 2796-2820.
Related Articles
Comments
[Return to top]