Nephron Patterning: Lessons from Xenopus, Zebrafish, and Mouse Studies
1
Sorbonne Universités, UPMC Université Paris 06, IBPS–UMR7622, Paris F-75005, France
2
Developmental Biology Laboratory CNRS, UMR7622, Institut de Biologie Paris-Seine (IBPS), Paris F-75005, France
3
INSERM, U1156, Paris F-75005, France
*
Author to whom correspondence should be addressed.
Academic Editor: Christoph Englert
Received: 7 August 2015 / Revised: 1 September 2015 / Accepted: 2 September 2015 / Published: 11 September 2015
Abstract
The nephron is the basic structural and functional unit of the vertebrate kidney. To ensure kidney functions, the nephrons possess a highly segmental organization where each segment is specialized for the secretion and reabsorption of particular solutes. During embryogenesis, nephron progenitors undergo a mesenchymal-to-epithelial transition (MET) and acquire different segment-specific cell fates along the proximo-distal axis of the nephron. Even if the morphological changes occurring during nephrogenesis are characterized, the regulatory networks driving nephron segmentation are still poorly understood. Interestingly, several studies have shown that the pronephric nephrons in
Xenopus
and zebrafish are segmented in a similar fashion as the mouse metanephric nephrons. Here we review functional and molecular aspects of nephron segmentation with a particular interest on the signaling molecules and transcription factors recently implicated in kidney development in these three different vertebrate model organisms. A complete understanding of the mechanisms underlying nephrogenesis in different model organisms will provide novel insights on the etiology of several human renal diseases.
View Full-Text
►

▼

Figures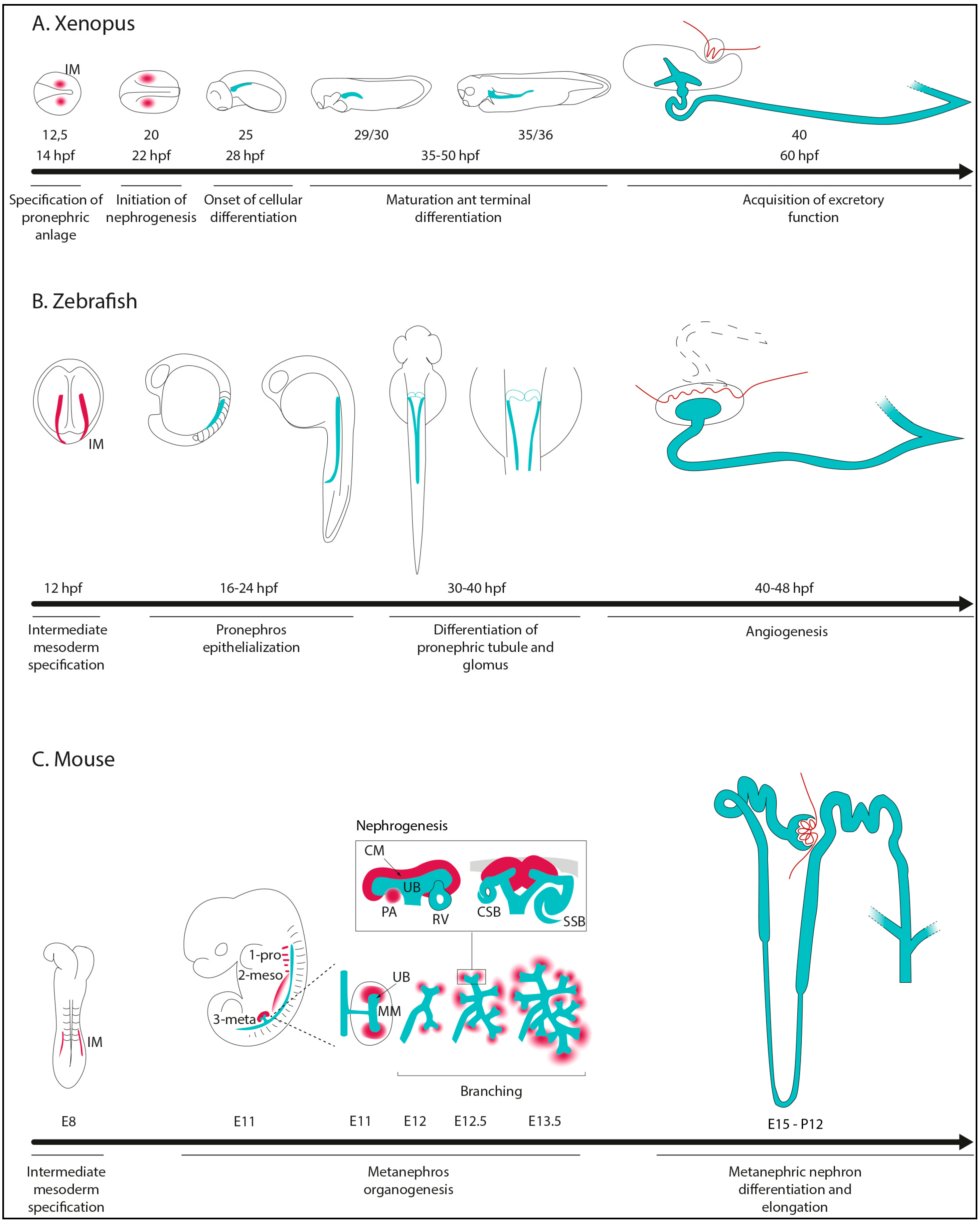 Figure 1
This is an open access article distributed under the
Creative Commons Attribution License
which permits unrestricted use, distribution, and reproduction in any medium, provided the original work is properly cited. (CC BY 4.0).
Share & Cite This Article
MDPI and ACS Style
Desgrange, A.; Cereghini, S. Nephron Patterning: Lessons from Xenopus, Zebrafish, and Mouse Studies. Cells 2015, 4, 483-499.
Related Articles
Comments
[Return to top]