Aberrantly Over-Expressed TRPM8 Channels in Pancreatic Adenocarcinoma: Correlation with Tumor Size/Stage and Requirement for Cancer Cells Invasion
1
Division of Hematology-Oncology, Department of Medicine, Penn State College of Medicine, Program of Experimental Therapeutics, Penn State Hershey Cancer Institute, Penn State Milton S. Hershey Medical Center, Pennsylvania State University, Hershey, PA 17033, USA
2
Division of Anatomic Pathology, Department of Pathology, Penn State College of Medicine, Penn State Milton S. Hershey Medical Center, Pennsylvania State University, Hershey, PA 17033, USA
3
Division of Biostatistics, Department of Public Health, Penn State College of Medicine, Penn State Milton S. Hershey Medical Center, Pennsylvania State University, Hershey, PA 17033, USA
4
Schreyer Honors College, Pennsylvania State University, University Park, PA 16802, USA; Penn State Harrisburg School of Humanities, Pennsylvania State University, Middletown, PA 17057, USA
*
Author to whom correspondence should be addressed.
Received: 10 March 2014 / Revised: 7 May 2014 / Accepted: 14 May 2014 / Published: 23 May 2014
Abstract
The transient receptor potential melastatin-subfamily member 8 (TRPM8) channels control Ca
2+
homeostasis. Recent studies indicate that TRPM8 channels are aberrantly expressed and required for cellular proliferation in pancreatic adenocarcinoma. However, the functional significance of TRPM8 in pancreatic tissues is mostly unknown. The objectives of this study are to examine the expression of TRPM8 in various histopathological types of pancreatic tissues, determine its clinical significance in pancreatic adenocarcinoma, and investigate its functional role in cancer cells invasion. We present evidence that, in normal pancreatic tissues, anti-TRPM8 immunoreactivity is detected in the centroacinar cells and the islet endocrine cells. In pre-malignant pancreatic tissues and malignant neoplasms, TRPM8 is aberrantly expressed to variable extents. In the majority of pancreatic adenocarcinoma, TRPM8 is expressed at moderate or high levels, and anti-TRPM8 immunoreactivity positively correlates with the primary tumor size and stage. In the pancreatic adenocarcinoma cell lines that express relatively high levels of
TRPM8
, short hairpin RNA-mediated interference of
TRPM8
expression impaired their ability of invasion. These data suggest that aberrantly expressed TRPM8 channels play contributory roles in pancreatic tumor growth and metastasis, and support exploration of TRPM8 as a biomarker and target of pancreatic adenocarcinoma.
View Full-Text
►

▼

Figures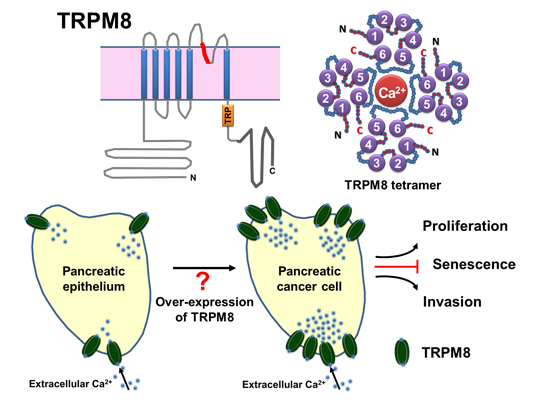 Share & Cite This Article
MDPI and ACS Style
Yee, N.S.; Li, Q.; Kazi, A.A.; Yang, Z.; Berg, A.; Yee, R.K. Aberrantly Over-Expressed TRPM8 Channels in Pancreatic Adenocarcinoma: Correlation with Tumor Size/Stage and Requirement for Cancer Cells Invasion. Cells 2014, 3, 500-516.
Related Articles
Comments
[Return to top]