HiJAK'd Signaling; the STAT3 Paradox in Senescence and Cancer Progression
Department of Pathology, Case Western Reserve University, Case Comprehensive Cancer Center, 2103 Cornell Road, WRB 3-134, Cleveland, OH 44106, USA
*
Author to whom correspondence should be addressed.
Received: 8 February 2014 / Revised: 8 March 2014 / Accepted: 11 March 2014 / Published: 26 March 2014
Abstract
Clinical and epidemiological data have associated chronic inflammation with cancer progression. Most tumors show evidence of infiltrating immune and inflammatory cells, and chronic inflammatory disorders are known to increase the overall risk of cancer development. While immune cells are often observed in early hyperplastic lesions
in vivo
, there remains debate over whether these immune cells and the cytokines they produce in the developing hyperplastic microenvironment act to inhibit or facilitate tumor development. The interleukin-6 (IL-6) family of cytokines, which includes IL-6 and oncostatin M (OSM), among others (LIF, CT-1, CNTF, and CLC), are secreted by immune cells, stromal cells, and epithelial cells, and regulate diverse biological processes. Each of the IL-6 family cytokines signals through a distinct receptor complex, yet each receptor complex uses a shared gp130 subunit, which is critical for signal transduction following cytokine binding. Activation of gp130 results in the activation of Signal Transducer and Activator of Transcription 3 (STAT3), and the Mitogen-Activated Protein Kinase (MAPK) and Phosphatidylinositol 3-Kinase (PI3K) signaling cascades. Tumor suppressive signaling can often be observed in normal cells following prolonged STAT3 activation. However, there is mounting evidence that the IL-6 family cytokines can contribute to later stages of tumor progression in many ways. Here we will review how the microenvironmental IL-6 family cytokine OSM influences each stage of the transformation process. We discuss the intrinsic adaptations a developing cancer cell must make in order to tolerate and circumvent OSM-mediated growth suppression, as well as the OSM effectors that are hijacked during tumor expansion and metastasis. We propose that combining current therapies with new ones that suppress the signals generated from the tumor microenvironment will significantly impact an oncologist's ability to treat cancer.
View Full-Text
►

▼

Figures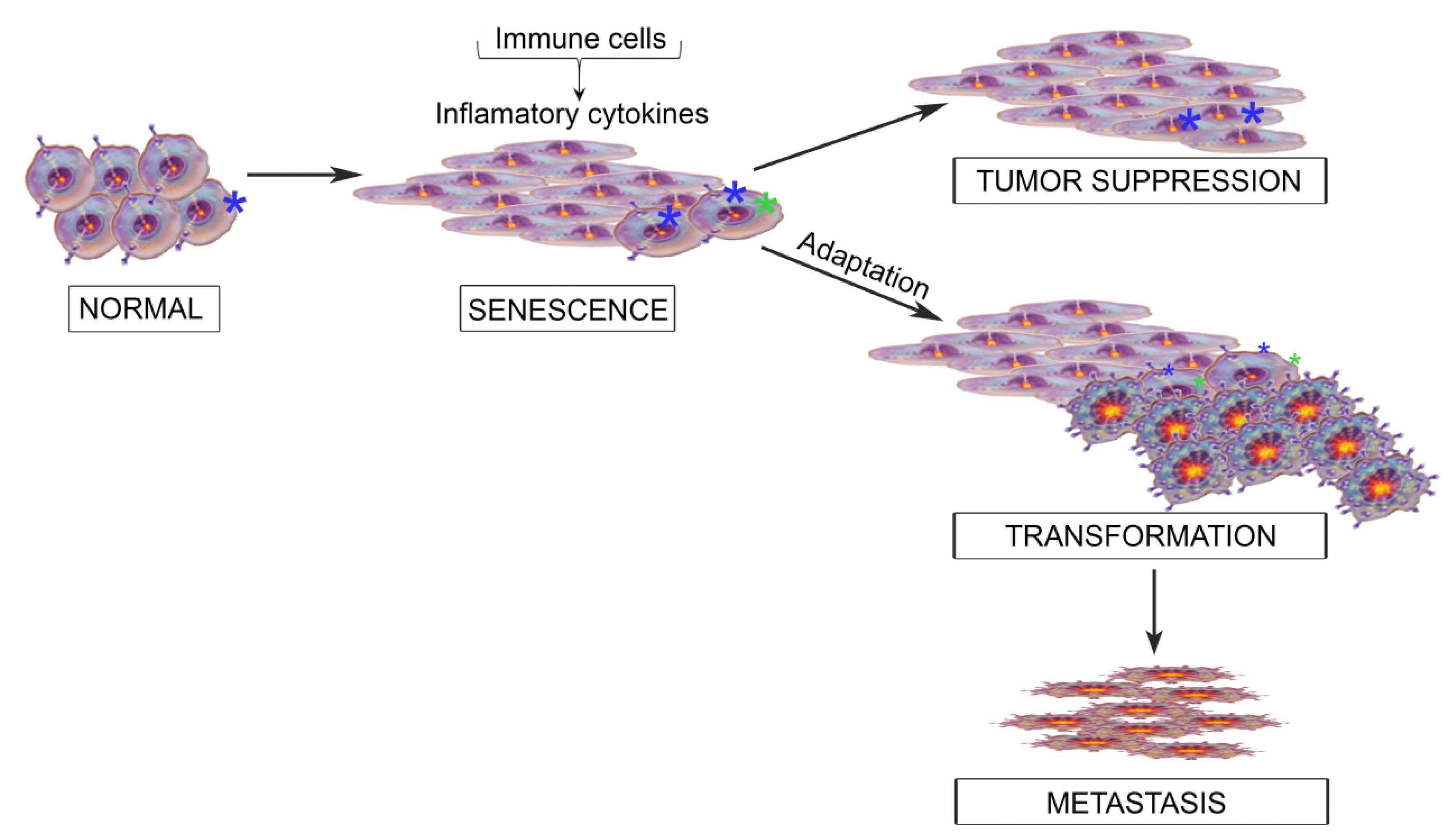 Figure 1
Share & Cite This Article
MDPI and ACS Style
Junk, D.J.; Bryson, B.L.; Jackson, M.W. HiJAK'd Signaling; the STAT3 Paradox in Senescence and Cancer Progression. Cancers 2014, 6, 741-755.
Related Articles
Comments
[Return to top]