Open Access This article is
freely available
re-usable
Review
Structural Pathways of Cytokines May Illuminate Their Roles in Regulation of Cancer Development and Immunotherapy
1
Center for Computational Biology and Bioinformatics and College of Engineering, Koc University, Rumelifeneri Yolu, 34450 Sariyer Istanbul, Turkey
2
Cancer and Inflammation Program, Leidos Biomedical Research, Inc., Frederick National Laboratory for Cancer Research, National Cancer Institute, Frederick, MD 21702, USA
3
Sackler Institute of Molecular Medicine, Department of Human Genetics and Molecular Medicine, Sackler School of Medicine, Tel Aviv University, Tel Aviv 69978, Israel
*
Author to whom correspondence should be addressed; Tel.: +1-301-846-5579.
Received: 26 February 2014; in revised form: 11 March 2014 / Accepted: 12 March 2014 / Published: 25 March 2014
Abstract
: Cytokines are messengers between tissues and the immune system. They play essential roles in cancer initiation, promotion, metastasis, and immunotherapy. Structural pathways of cytokine signaling which contain their interactions can help understand their action in the tumor microenvironment. Here, our aim is to provide an overview of the role of cytokines in tumor development from a structural perspective. Atomic details of protein-protein interactions can help in understanding how an upstream signal is transduced; how higher-order oligomerization modes of proteins can influence their function; how mutations, inhibitors or antagonists can change cellular consequences; why the same protein can lead to distinct outcomes, and which alternative parallel pathways can take over. They also help to design drugs/inhibitors against proteins

de novo

or by mimicking natural antagonists as in the case of interferon-γ. Since the structural database (PDB) is limited, structural pathways are largely built from a series of predicted binary protein-protein interactions. Below, to illustrate how protein-protein interactions can help illuminate roles played by cytokines, we model some cytokine interaction complexes exploiting a powerful algorithm (PRotein Interactions by Structural Matching—PRISM).
Keywords:
structural pathways; cytokines; structures of cytokines; structural pathways of cytokines; protein interactions; protein interaction prediction; cancer immunotherapy
1. Introduction
Interactions of proteins with themselves, with other proteins, and other small and large macromolecules define their functions. Abstract diagrams of protein interactions—where nodes are proteins and edges are interactions—are useful: they provide the cellular "master plan"; that is, a broad view of cellular signaling pathways and their circuitry [1,2]. Nonetheless, these simple representations that depict which proteins interact, lack the structural detail which allows understanding of how proteins interact, how large signalosome complexes assemble, under which conditions distinct parallel pathways are activated, and how oncogenic mutations in a protein influence its interactions, its pathways and ultimately, cellular behavior [3,4,5,6,7,8,9,10]. Interaction details are also critical for drug discovery [11]. Combined with biochemical and biological data, structural pathways can help predict global drug effects at the cell, tissue and organism levels [12,13]. Structural pathways can predict new interactions that have not yet been shown experimentally; these new interactions may shed light on why aberrations in a given protein may result in distinct outcomes. Atomic details of protein complexes assist in understanding cellular control which can modify signaling processes. As a case in point, both interleukin-10 (IL-10) and IL-6 activate STAT3 (Signal transducer and activator of transcription 3) transcription factor; however, the former leads to anti-inflammatory response while the latter initiates inflammation (Figure 1). Structural predictions can identify and help elucidate the functional mechanisms. Here, we map cancer-related structural pathways of cytokines, and focus on examples illustrating the usefulness of structural data in understanding cytokine function; the role of aberrant cytokine expression in pathogenesis of autoimmune diseases and cancer; the importance of oligomerization modes of cytokines and their receptors; and the benefit of viral cytokine antagonists in designing peptide inhibitors of cytokines. Cytokines have critical roles in tumor development; construction of their structural pathways can help us understand the mechanism of their action in a tumor microenvironment.
Cytokines are complex messengers that enable crosstalk between tissues and the immune system. They also underlie events in tumor initiation and progression [14]. Cytokines, their receptors, downstream consequences, as well as their upstream pathways that promote cytokine production are important in malignant transformation. Figure 1 displays node and edge networks of some major cytokines. Structural details of these pathways can provide novel insights to the mechanisms of cytokine-induced oncogenesis.
Cytokines are grouped into nine categories: chemokines, interferons (IFNs), tumor necrosis factors (TNFs), transforming growth factor-β (TGF-β) family members, interleukin-1 (IL-1) family members (such as IL-1α, IL-1β, and IL-18), IL-10 family members, IL-17 family members, hematopoietic growth factors (such as IL-1, G-CSF, GM-CSF), and platelet derived growth factors (PDGFs) [15]. Cytokine receptors are classified into seven subclasses: Type-I cytokine receptors (IFN-α, IFN-β, G-CSF, GM-CSF, etc.), Type-II cytokine receptors (IFN-GR IL-10R), TGF-β receptors, TNF receptors, immunoglobulin superfamily receptors (IL-1R), G-protein coupled receptors, and IL-17 receptors [16].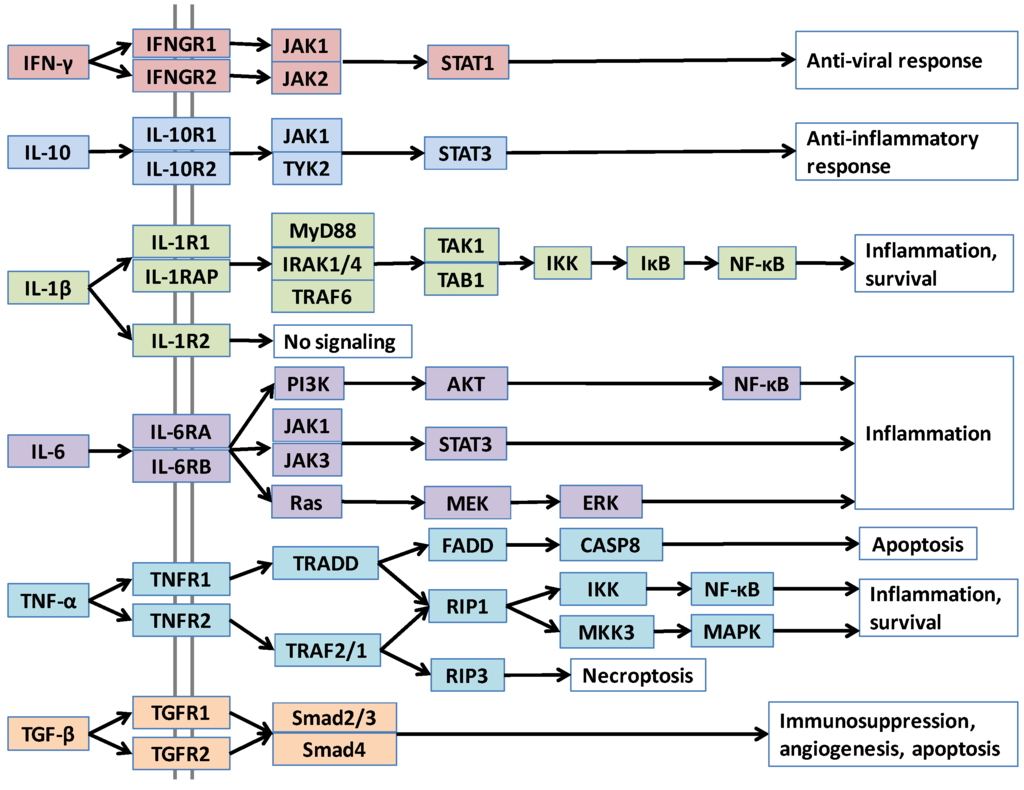 Cytokines execute their function by binding to their receptors on target cells and activating downstream pathways. Pathways merge and diverge at several points with more than one parallel downstream path, as in the case of TNF-α, IL-1β and IL-6 in Figure 1. A cytokine can also bind to different receptors with varying affinities. Differences in receptors' concentration, orthosteric or allosteric mutations that alter the affinity of the cytokine to the receptors, all can lead to distinct consequences. Structural details can capture differences in affinity and efficacy. Further, not only alterations in downstream pathways, but also variations in cytokine concentrations due to upstream changes can impact cellular outcomes. Activation of oncogenes, such as Ras, results in inflammatory cytokine expression [17,18]. Constitutive activation of NF-κB, the major pathway that regulates immune inflammatory responses [19] and produces pro-inflammatory cytokines, such as TNF-α, IL-1β, and IL-6 [15,20], leads to chronic inflammation, which promotes cancer [1,21,22]. Inhibition of NF-κB in tumor cells switches inflammation-induced tumor growth to regression and has been suggested as an effective therapy [19]. Lipopolysaccharide (LPS) of Gram-negative bacteria activates the Toll-like receptor (TLR) pathway, which stimulates the NF-κB family of transcription factors [1]. LPS causes metastatic tumor growth of colon adenocarcinoma in the lung in a mouse model and NF-κB is responsible for this action [19]. Thus, upstream pathways control the cytokine concentrations in cells and have vital roles in cancer development. Our aim in this review is to provide an overview of cytokines in cancer from a structural standpoint. Below, we continue with a broad description of cytokines and their roles in cancer development. Then, we briefly introduce computational strategies to model protein-protein interactions and describe the PRISM tool that we use to construct structural pathways. We follow by providing structural case studies of major cytokines, showing the usefulness of structures in characterizing cytokine function and regulation, and understanding mechanisms of mutations and inhibitors/antagonists in cytokine signaling. While there are additional cytokines which are important in tumor development, here we focused on widely studied ones.
2. Cytokines and Their Roles in Cancer
Cytokines are a diverse group of signaling molecules that are produced as a result of infection, inflammation, injury, and cellular stress [23]. They activate immune cells and regulate their development, differentiation, and migration; they stimulate host immune responses to control stress and minimize cellular damage, and thus restore homeostasis [15,19,23]. These messenger proteins are either secreted or are membrane-bound, allowing communication of immune cells with each other in a paracrine, autocrine or endocrine fashion [15,16]. Membrane-bound forms of cytokines allow communication through direct cell-cell contact, but secreted cytokines permit rapid spread of the signal to other tissues [16]. They act locally or systemically to coordinate acute or chronic inflammatory responses.
Cytokines have complex and even opposing roles in the immune system [16]. They are either pro- or anti-inflammatory. Pro-inflammatory cytokines, such as IL-1β and TNF-α, induce inflammation as a result of infection or injury; anti-inflammatory cytokines, like IL-10 and TGF-β, suppress the activity and production of pro-inflammatory signals [20], limiting inflammation and host damage. While not the individual cytokines, their overall balance determines cell fate: stimulate inflammatory response or suppress it [20]. Different cytokine combinations give rise to distinct consequences, such as inflammation, proliferation, and angiogenesis [15]. Imbalances in cytokine expression or signaling contribute to malignant transformation [23].
Cytokines stimulate host immune responses not only against pathogens, but against tumors [16]. Host-derived cytokines can inhibit tumor progression as well as promote proliferation, decrease apoptosis, and foster invasion and metastasis [23]. They are important orchestrators of cancer-related inflammation [14,17]. Inflammation is required to combat pathogens, heal wounds and maintain tissue homeostasis [21,24]; if not finely tuned, it can lead to oncogenesis [1]. Inflammation has roles in almost all phases of tumor development, including tumor initiation, promotion and metastasis [21,25,26]. Tumor cells perturb tissue cytokine expression and these alterations in cytokine levels recruit infiltrating leukocytes to the tumor microenvironment, which in turn contribute to extra cytokine production [18,21,23,27]. Cytokines are pleiotropic, allowing a particular cytokine to act on various cell types; they may also have opposite effects on distinct target cells [15,20,23], depending on other cytokines present in the local environment. Cytokines are redundant, with multiple cytokines having similar activities [15,20,23,28], allowing them to compensate for each other in deficiency or drug resistance.
The immune system has dual roles in cancer: it eradicates cancer cells when it recognizes tumor antigens and provokes anti-tumor immune response. On the other hand, the immune system selects for resistant cancer cells best fit to survive in immunocompetent hosts and promote its growth, which is also called "cancer immunoediting" [24]. During primary tumor development, immune surveillance eliminates tumors, but established cancers provoke immune tolerance [29,30]. Tumors in immunodeficient host are "unedited" and more immunogenic; when transplanted to another host with intact immune system, they alert anti-tumor immunity. However, they are "edited" in immunocompetent host, allowing them to escape the immune system [24,29,30].
Cytokines play critical roles in the pathogenesis of autoimmune and auto-inflammatory diseases and cancer. Nevertheless, they are also used as therapeutic agents in such diseases. Much effort has been invested in cancer immunotherapy, exploiting cytokines in cancer treatments to activate immune responses against cancer [16]. Manipulation of cytokine levels can be used to stimulate immune responses [23]. Several cytokines have been used in clinical trials, and Type-I interferons (IFNs) were proposed to be beneficial for treatment of cancer [16]; however, cytokine redundancy hinders such efforts [16].
In order to investigate the role of cytokines in carcinogenesis, cytokine-deficient mice were used in several studies [23,30,31,32,33,34,35]. For instance, lack of IL-1 decreases tumor invasiveness and angiogenesis [16] and IL-1 receptor (IL-1R) antagonists suppress tumor growth [35]. TNF-α-deficient mice are resistant to skin tumor [33]. Thus, pro-inflammatory cytokines IL-1 and TNF-α promote some tumor types. In contrast, IFN-γ contributes to prevention of carcinogen-induced sarcomas [30] and its loss enhances tumor formation [23]. IL-10 deficiency increases IL-1 levels, promoting cancer in the absence of IL-10 [36]. Thus, IFN-γ and anti-inflammatory cytokine IL-10 protect the host against cancer. However, the inter-relationship between pro- and anti-inflammatory cytokines and oncogenesis is still not entirely clear. TGF-β acts to inhibit cancer in normal and pre-cancerous cells, although cancer cells lose tumor-inhibitory effects of TGF-β, invade and metastasize to other tissues [37].
3. Approaches in Construction of Structural Pathways
Structural information helps to understand cellular signaling pathways in detail. However, in many cases, structural knowledge relating to protein-protein interactions is missing, as in the case of TNF-α-TNFR1. In order to address this problem, several computational structural approaches have been developed to model protein interactions. Strategies include ab initio docking and template-based techniques. Docking approaches may or may not exploit prior knowledge of protein interactions [38]. Most of the traditional docking techniques treat proteins as rigid bodies with minimal flexibility [3] and aim to dock proteins with complementary surfaces and electrochemical properties. They generate many false-positives because complementary surfaces are often found between target proteins. In addition, they take more CPU time, which can make them impractical for proteome-scale studies. In contrast, template based techniques make use of prior protein-protein interaction knowledge. Binding surfaces or interfaces of proteins are more conserved among different unrelated protein folds the rest of protein surfaces [39,40]. That is, although the global structures of proteins may differ, they may use similar interfaces to interact with their partners. Template-based techniques are more suitable for large-scale studies in terms of CPU time. A powerful template-based algorithm developed by our group, PRotein Interactions by Structural Matching (PRISM) employs recurring interfaces of protein-protein interactions whose 3D structures were previously resolved and are available in the PDB as knowledge-based template motifs [41,42]. In the cytokine case studies described below, we used the PRISM algorithm to model missing structures of protein-protein complexes, such as TNF-α-TNFR1 and IL10-IL10RB complexes. Computational tools help enrich the available structural data for protein interactions and analyze the effects of mutations on the interactions and pathways.
5. Conclusions
Cytokines play important roles in cancer initiation, progression, angiogenesis, metastasis and immunotherapy. Cytokines are major players in cancer-related inflammation. Cytokines and lymphoreticular infiltrates comprise the majority of the tumor microenvironment and mediate a dialog between tumor and normal tissues. To survive, evade cancer-specific immunity and tolerate chemotherapy, tumors change the relative cytokine concentrations in the microenvironment. Different cytokine cocktails trigger different responses: while some combinations contribute to tumor initiation or promotion, others are used to activate anti-tumor immunity in cancer immunotherapy. Here, we focused on cytokines and their roles in cancer from a structural standpoint. Exploiting the crystal or modeled structures of protein-protein interactions, we illustrated that (1) some parallel pathways are mutually exclusive, like TNFR1- and TNFR2-dependent paths in TNF-α signaling, whereas others can co-exist, such as IL10 downstream paths; and that (2) oncogenic mutations that fall on the interface of protein complexes, such as E41* nonsense mutation on IL-10RB, may abolish the interaction and block the subsequent downstream signaling. We further showed that (3) oligomerization modes of proteins can affect function; and that (4) mimicking the natural antagonists of cytokines such as 2L in TNF-α signaling and viral protein IFN-γBP in IFN-γ signaling, can be an efficient method to develop novel therapeutic inhibitors of cytokines. Collectively, all aspects of cytokine signaling including their upstream and downstream pathways and crosstalk with other pathways, their interactions with receptors, oligomerization modes, sequence variants, mutations, all have a role in malignant transformation. Atomic details of cytokine pathways and interactions can help to better understand the mechanisms of how and why cytokines induce carcinogenesis. We conclude by emphasizing that structures of interactions are essential for a complete in-depth picture of cancer.
Acknowledgements
This project has been funded in whole or in part with Federal funds from the Frederick National Laboratory for Cancer Research, National Institutes of Health, under contract HHSN261200800001E. This research was supported by the Intramural Research Program of NIH, Frederick National Lab, Center for Cancer Research.
Author Contributions
Emine Guven-Maiorov, Saliha Ece Acuner-Ozbabacan, Ozlem Keskin, Attila Gursoy, and Ruth Nussinov conceived and oversaw the project. Emine Guven-Maiorov and Saliha Ece A cuner-Ozbabacan devised the study, carried out the modeling and analysis and wrote the manuscript. Ruth Nussinov, Ozlem Keskin, and Attila Gursoy helped in writing. All authors editied and approved the manuscript.
Conflicts of Interest
The authors declare that there are no conflicts of interest.
© 2014 by the authors; licensee MDPI, Basel, Switzerland. This article is an open access article distributed under the terms and conditions of the Creative Commons Attribution license (http://creativecommons.org/licenses/by/3.0/).