Nuclear DNA-Content in Mesenchymal Lesions in Dogs: Its Value as Marker of Malignancy and Extent of Genomic Instability
1
Department of Clinical Science of Companion Animals, Faculty of Veterinary Medicine, UU, Yalelaan 104, 3584 CM, Utrecht, The Netherlands
2
Department of Pathobiology, Faculty of Veterinary Medicine, UU, Yalelaan 1, 3508 TD, Utrecht, The Netherlands
†
These authors contributed equally to this work.
‡
Appointment at time of investigation.
*
Author to whom correspondence should be addressed.
Received: 25 October 2012 / Revised: 16 November 2012 / Accepted: 26 November 2012 / Published: 3 December 2012
Abstract
DNA-aneuploidy may reflect the malignant nature of mesenchymal proliferations and herald gross genomic instability as a mechanistic factor in tumor genesis. DNA-ploidy and -index were determined by flow cytometry in canine inflammatory or neoplastic mesenchymal tissues and related to clinico-pathological features, biological behavior and p53 gene mutational status. Half of all sarcomas were aneuploid. Benign mesenchymal neoplasms were rarely aneuploid and inflammatory lesions not at all. The aneuploidy rate was comparable to that reported for human sarcomas with significant variation amongst subtypes. DNA-ploidy status in canines lacked a relation with histological grade of malignancy, in contrast to human sarcomas. While aneuploidy was related to the development of metastases in soft tissue sarcomas it was not in osteosarcomas. No relation amongst sarcomas was found between ploidy status and presence of P53 gene mutations. Heterogeneity of the DNA index between primary and metastatic sarcoma sites was present in half of the cases examined. Hypoploidy is more common in canine sarcomas and hyperploid cases have less deviation of the DNA index than human sarcomas. The variation in the presence and extent of aneuploidy amongst sarcoma subtypes indicates variation in genomic instability. This study strengthens the concept of interspecies variation in the evolution of gross chromosomal aberrations during cancer development.
View Full-Text
►

▼

Figures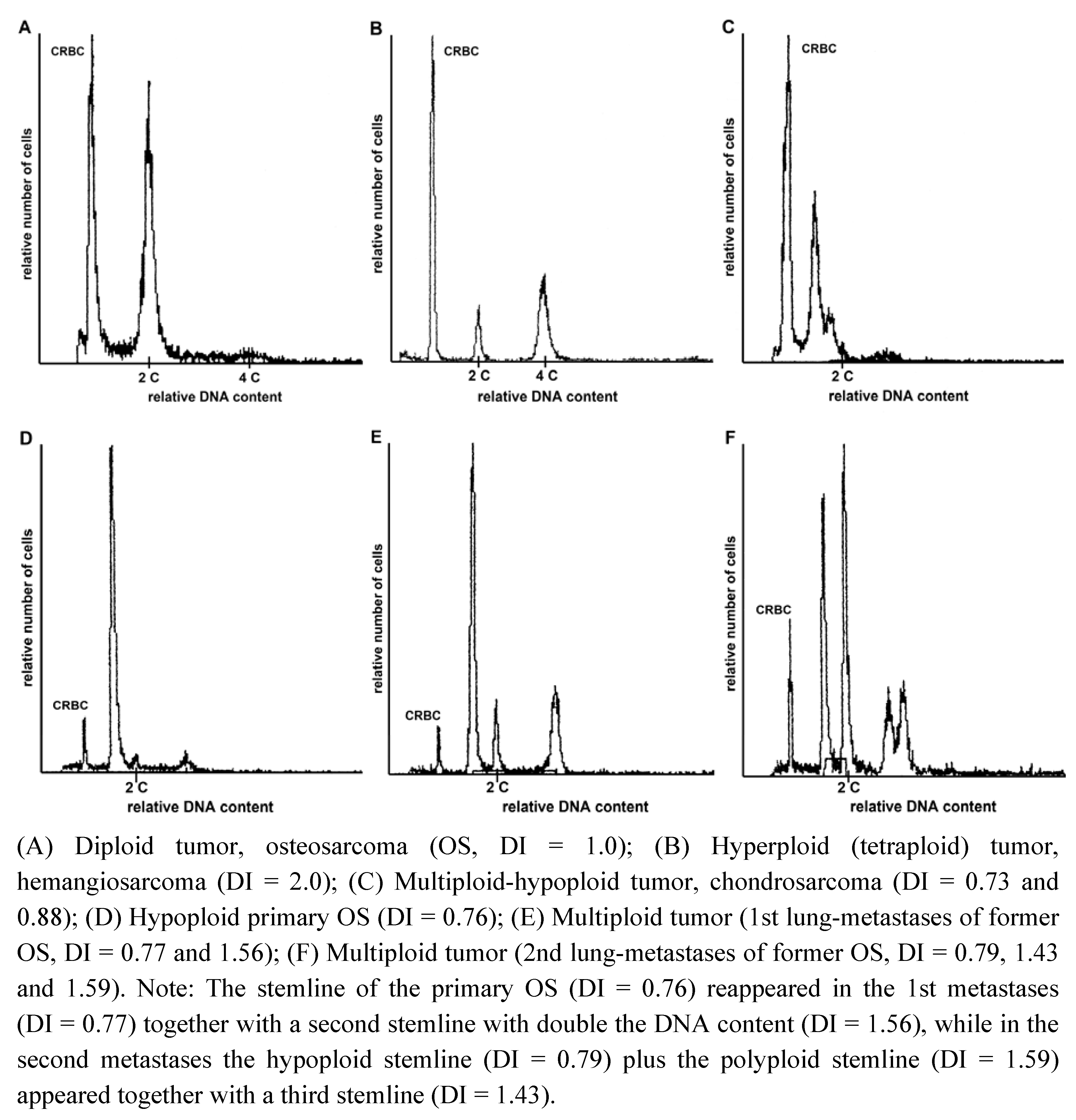 Figure 1
Share & Cite This Article
MDPI and ACS Style
Boerkamp, K.M.; Rutteman, G.R.; Kik, M.J.L.; Kirpensteijn, J.; Schulze, C.; Grinwis, G.C.M. Nuclear DNA-Content in Mesenchymal Lesions in Dogs: Its Value as Marker of Malignancy and Extent of Genomic Instability. Cancers 2012, 4, 1300-1317.
Related Articles
Comments
[Return to top]