Toll-Like Receptor 4 Signaling Integrates Intestinal Inflammation with Tumorigenesis: Lessons from the Murine Model of Colitis-Associated Cancer
Department of Medicine, Division of Gastroenterology, University of Miami Miller School of Medicine, Miami, Florida 33101, USA
*
Author to whom correspondence should be addressed.
Received: 9 June 2011 / Revised: 25 July 2011 / Accepted: 26 July 2011 / Published: 2 August 2011
Abstract
Chronic inflammation has long been implicated as a predisposition for cancer, but the underlying mechanism for how this occurs has remained obscure. Ulcerative colitis (UC) is a chronic inflammatory disorder of the large intestine which is known to be highly linked to colorectal cancer. During chronic inflammation the intestinal mucosa is in a constant cycle of injury and repair resulting in aberrant epithelial proliferation, a process that increases the risk of neoplastic transformation. In particular, the coexistence of commensal flora in the intestine plays an important role in the regulation of mucosal restitution after epithelial injury. It has become apparent that signaling through toll-like receptors (TLRs), the receptor family recognizing pathogen-associated molecular patterns, is crucial to intestinal epithelial proliferation and mucosal restitution. We have recently described two important downstream pathways underlying TLR4-mediated epithelial proliferation in a mouse model of colitis-associated cancer;
i.e.
, cyclooxygenase 2 (COX-2)-mediated production of prostaglandin E
2
(PGE
2
), and induction of specific ligands for epidermal growth factor receptor (EGFR). These two pathways are closely involved with mucosal levels of PGE
2
and other prostanoids such as 15-deoxy-delta 12,14-prostaglandin-J2 (15d-PGJ2). Understanding the fine interplay between the TLR signaling and intestinal tumorigenesis in the setting of chronic inflammation can contribute to establishing a novel treatment strategy for inflammation-associated cancers.
View Full-Text
►

▼

Figures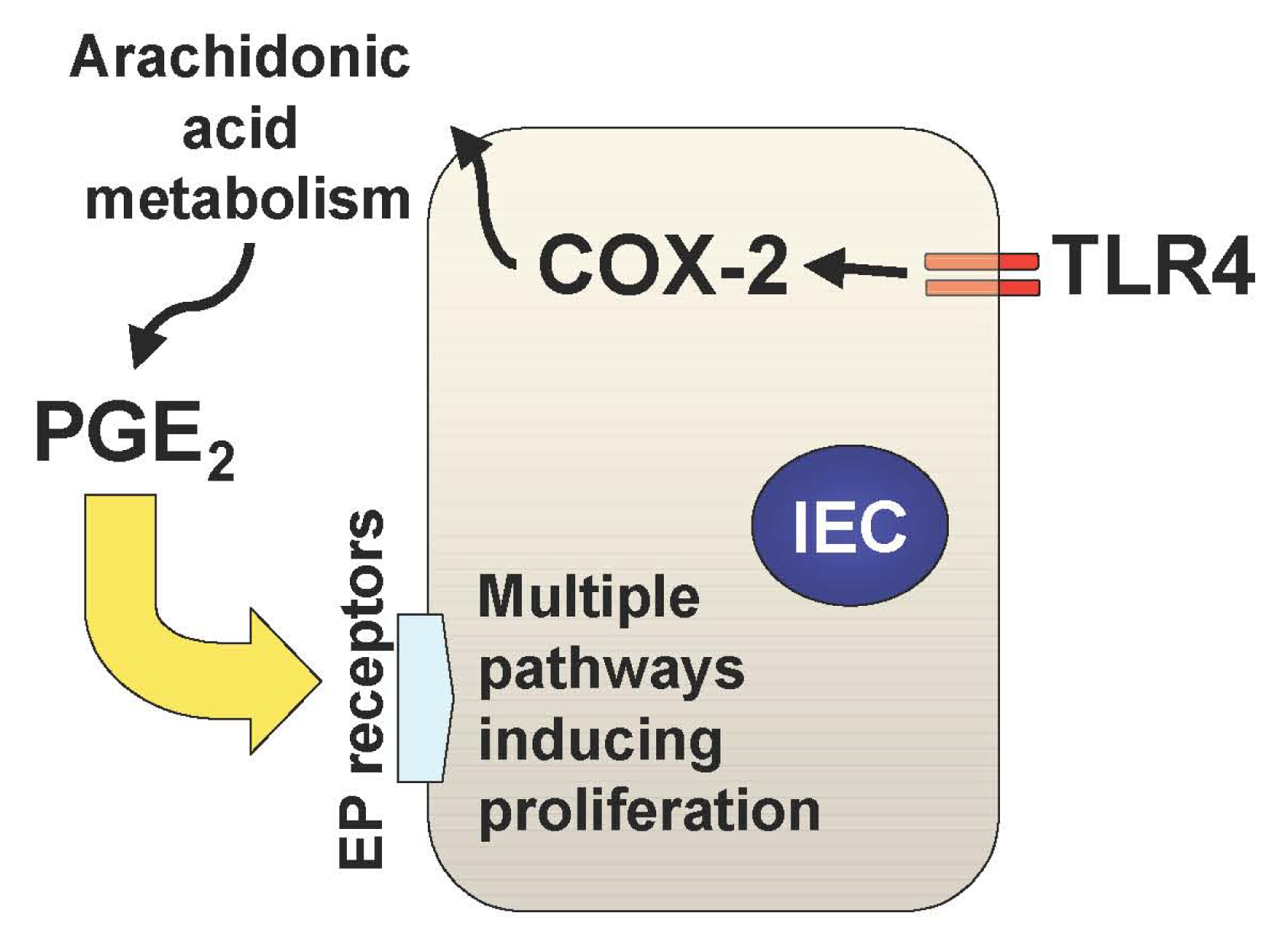 Share & Cite This Article
MDPI and ACS Style
Hernandez, Y.; Sotolongo, J.; Fukata, M. Toll-Like Receptor 4 Signaling Integrates Intestinal Inflammation with Tumorigenesis: Lessons from the Murine Model of Colitis-Associated Cancer. Cancers 2011, 3, 3104-3113.
Related Articles
Comments
[Return to top]