Open Access This article is
freely available
re-usable
Article
Glioma Specific Extracellular Missense Mutations in the First Cysteine Rich Region of Epidermal Growth Factor Receptor (EGFR) Initiate Ligand Independent Activation
†
These authors contributed equally to this work.
‡
Current address: CSIRO Division of Materials Science and Engineering, Parkville, VIC 3052, Australia.
Received: 25 February 2011; in revised form: 29 March 2011 / Accepted: 7 April 2011 /
Published: 18 April 2011
Abstract
: The epidermal growth factor receptor (EGFR) is overexpressed or mutated in glioma. Recently, a series of missense mutations in the extracellular domain (ECD) of EGFR were reported in glioma patients. Some of these mutations clustered within a cysteine-rich region of the EGFR targeted by the therapeutic antibody mAb806. This region is only exposed when EGFR activates and appears to locally misfold during activation. We expressed two of these mutations (R324L and E330K) in NR6 mouse fibroblasts, as they do not express any EGFR-related receptors. Both mutants were autophosphorylated in the absence of ligand and enhanced cell survival and anchorage-independent and xenograft growth. The ECD truncation that produces the de2-7EGFR (or EGFRvIII), the most common EGFR mutation in glioma, generates a free cysteine in this same region. Using a technique optimized for detecting disulfide-bonded dimers, we definitively demonstrated that the de2-7EGFR is robustly dimerized and that ablation of the free cysteine prevents dimerization and activation. Modeling of the R324L mutation suggests it may cause transient breaking of disulfide bonds, leading to similar disulfide-bonded dimers as seen for the de2-7EGFR. These ECD mutations confirm that the cysteine-rich region of EGFR around the mAb806 epitope has a significant role in receptor activation.
Keywords:
EGFR; de2-7EGFR; extracellular domain mutation; autoactivation; dimerization; disulfide bond; free cysteine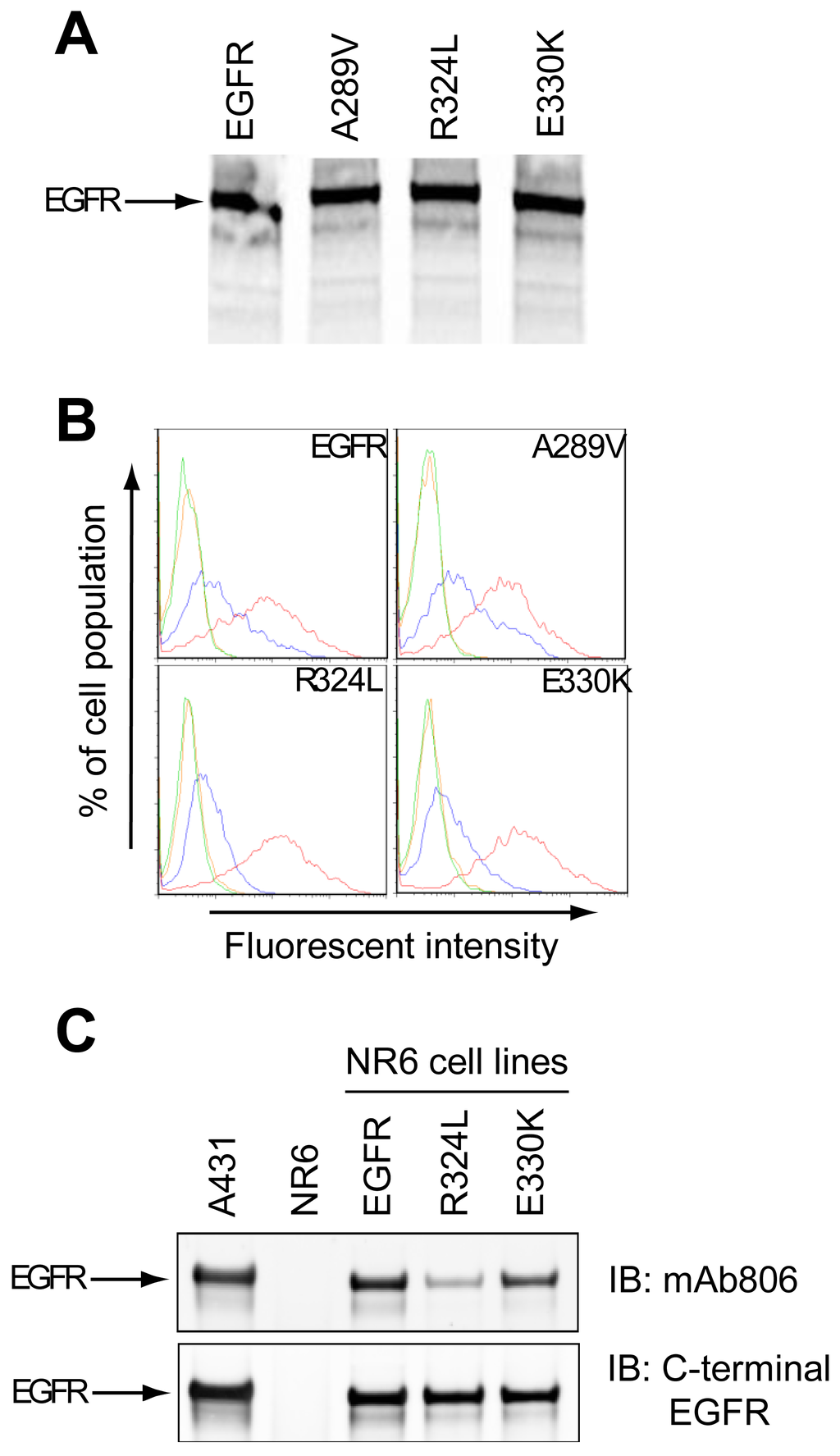 Figure 1.
Biochemical characterization of mutant epidermal growth factor receptor (EGFR). (
A
). wtEGFR and mutant EGFR were translated into
35
S-cysteine labelled proteins in a cell free expression system and labeled proteins detected by autoradiography following SDS-PAGE; (
B
). NR6 cells expressing wtEGFR or mutant EGFR were stained with secondary antibody alone (green), isotype control antibody (orange), mAb528 (red) or mAb806 (blue) and subjected to Fluorescence Activated Cell Sorting
(
FACS) analysis. The representative profiles for each cell line are shown; (
C
). wtEGFR or mutant EGFR cells were grown under serum free conditions, lysed and IP'd using mAb528. Western blot analysis of total EGFR using a mAb806 probe (
upper panel
) or a C-terminal EGFR probe (
lower panel
) are shown. A431 cells that overexpress the EGFR were included as a positive control.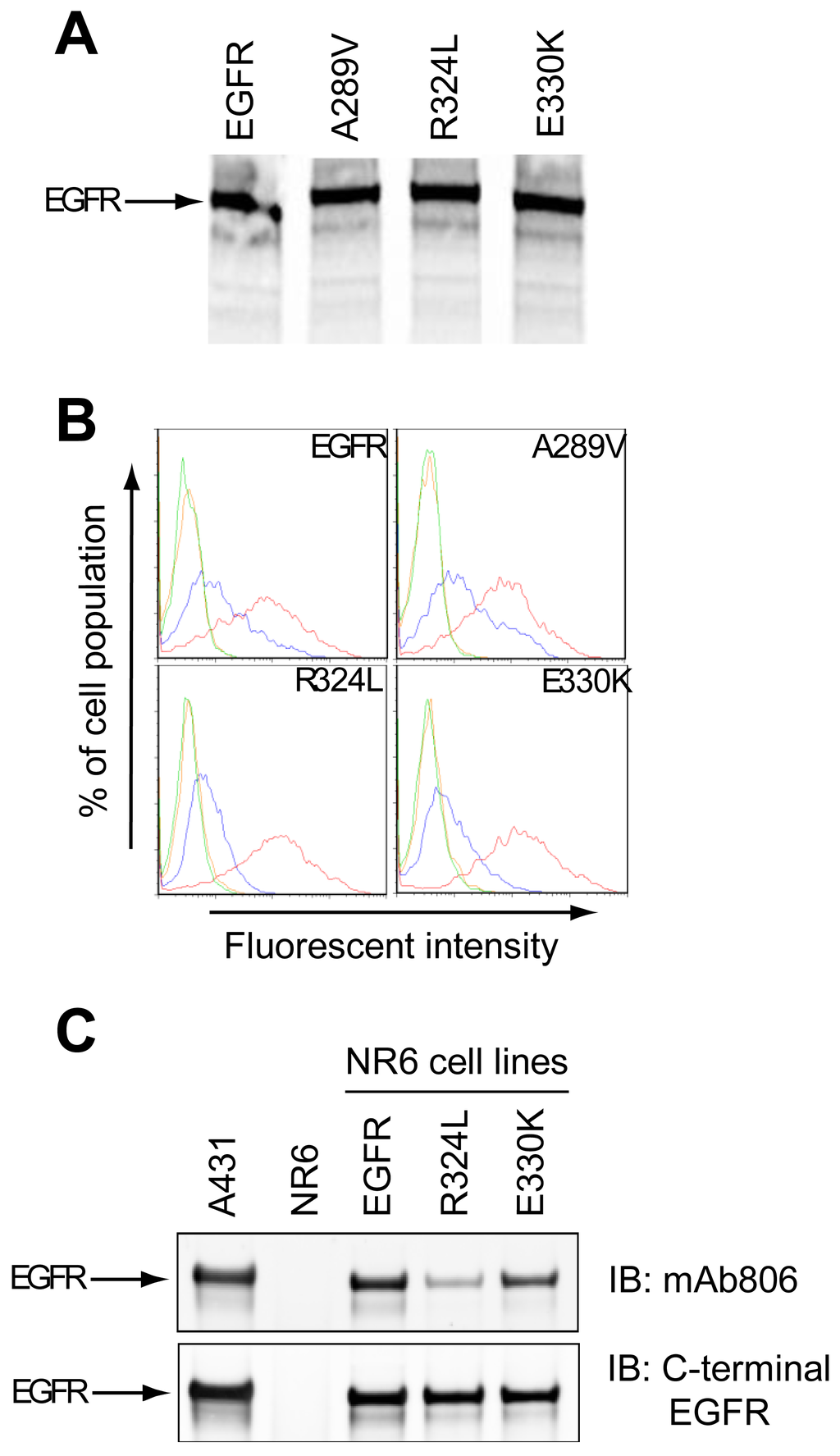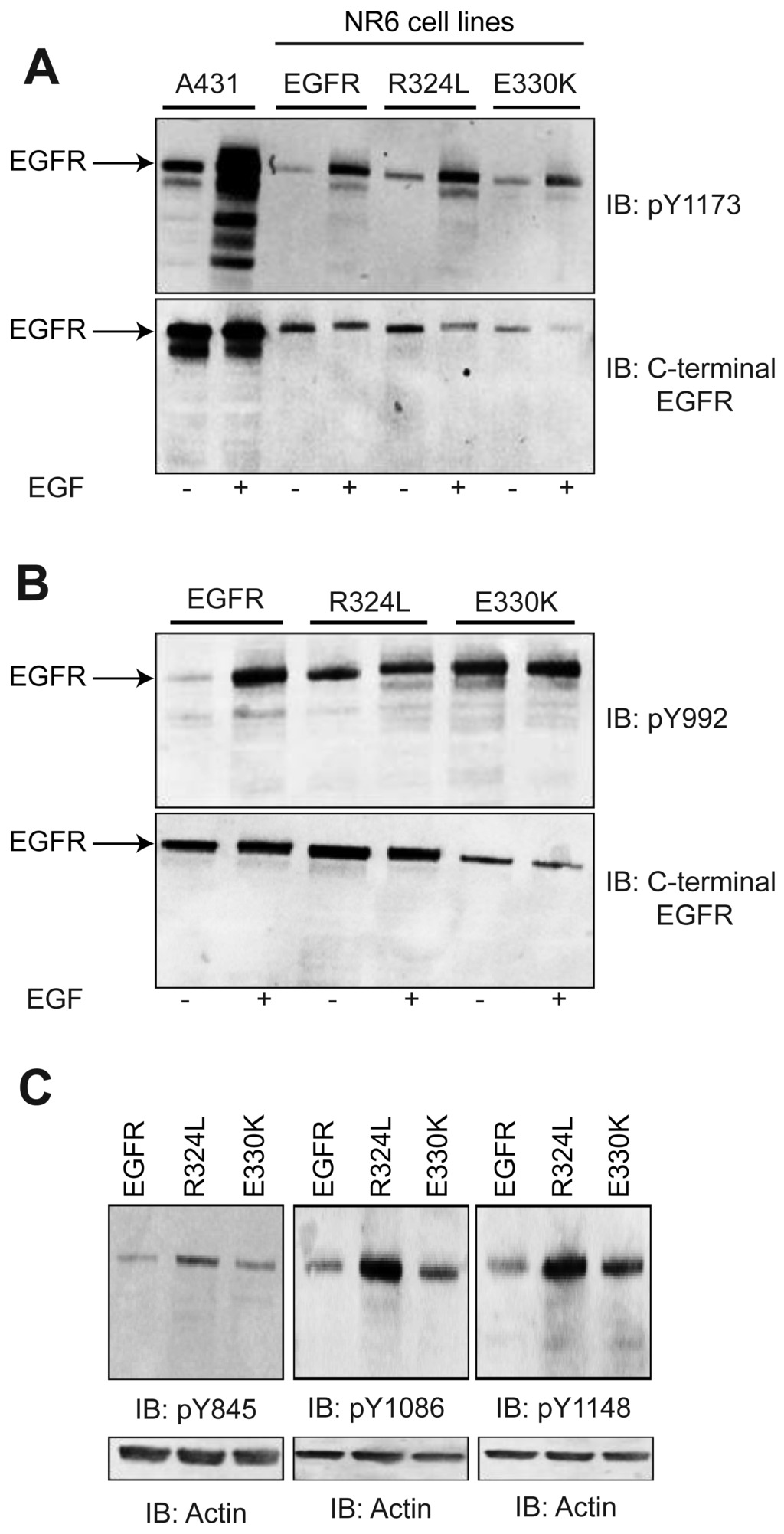 Figure 2.
Activation of the EGFR mutants. Whole cell lysates (WCL) from NR6 cells expressing wtEGFR or the R324L and E330K mutants were analyzed by Western blot at multiple phosphorylation sites without or with EGF stimulation. (
A
). pY1173 analysis (
upper panel
) and C-terminal EGFR (
lower panel
). A431 cells that overexpress the EGFR were included as a positive control; (
B
). pY992 blot (
upper panel
) and C-terminal EGFR (
lower panel
); (
C
). Basal phosphorylation status of pY845 (
left
), pY1086 (
middle
) and pY1148 (
right
) blots and their corresponding actin loading controls. In all cases representative results from multiple repeats are shown.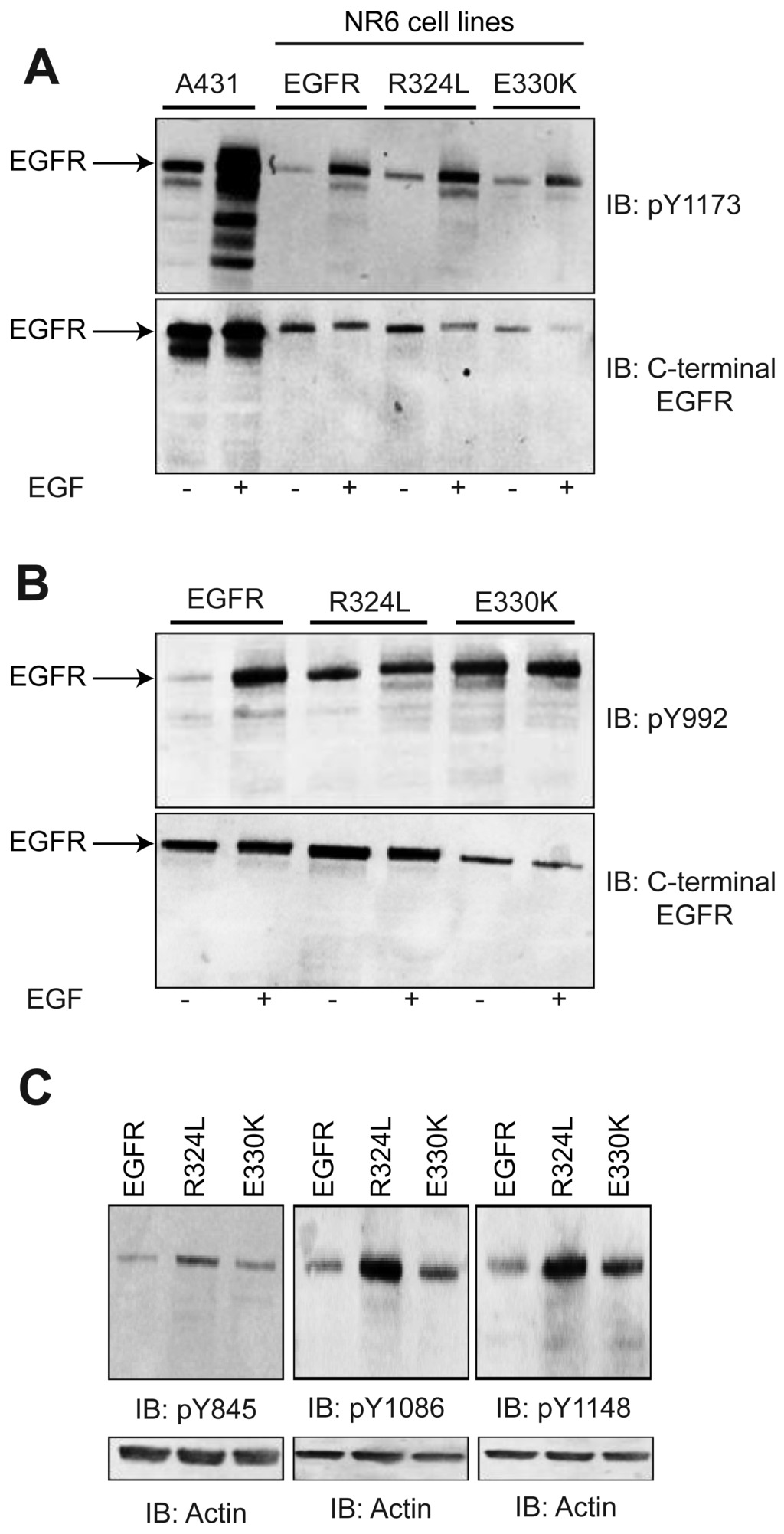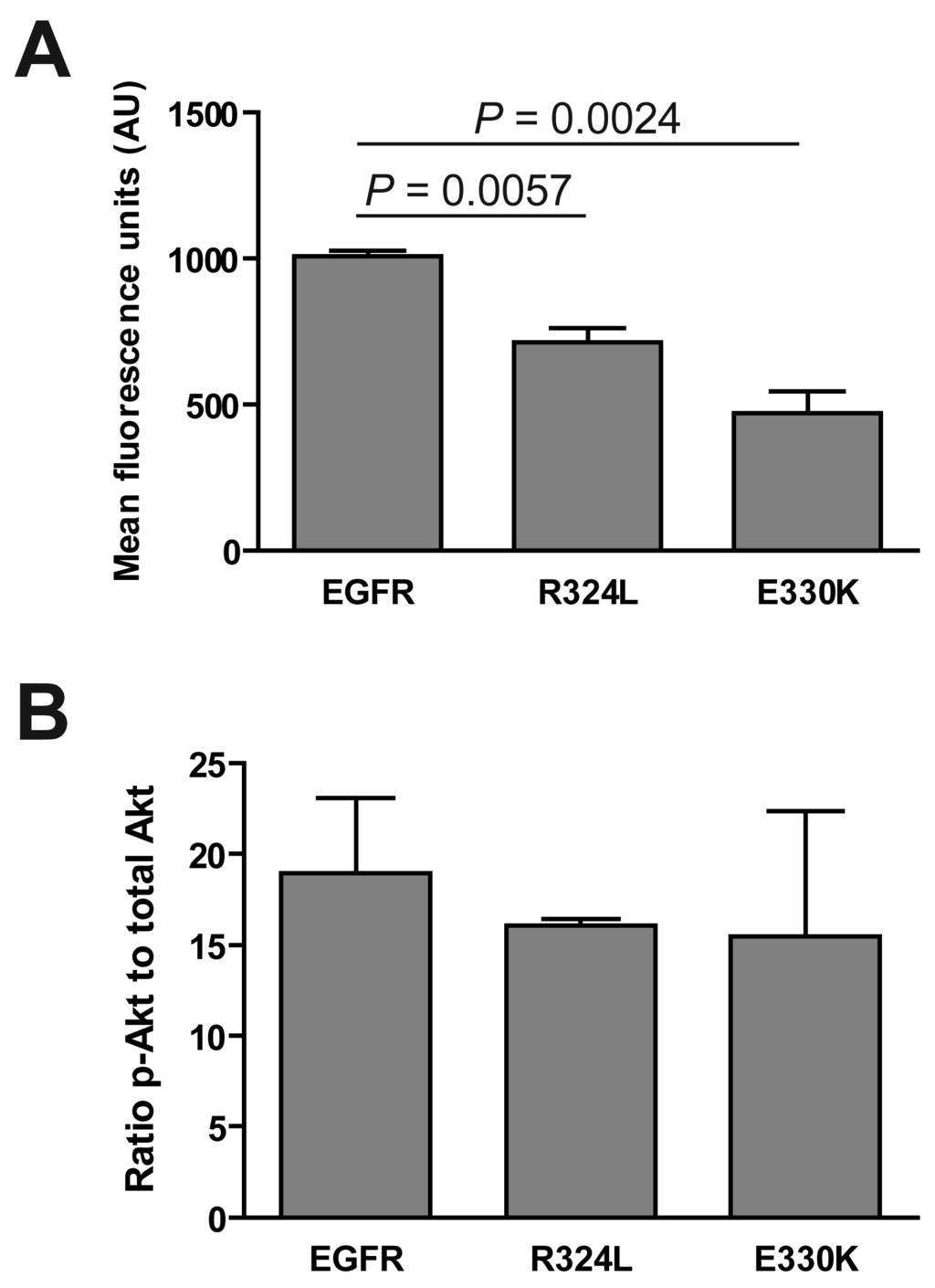 Figure 3. Activation of downstream pathways by mutant EGFR. Transgenic NR6 cells expressing wtEGFR, R324L and E330K were plated under serum free conditions and then lysed and tested by Bioplex for (A) pERK1/2 and (B) pAkt levels. Data is presented as mean fluorescent intensity ± S.E. or as a ratio of p-Akt to t-Akt ± S.E. of three independent replicates corrected for total Akt protein.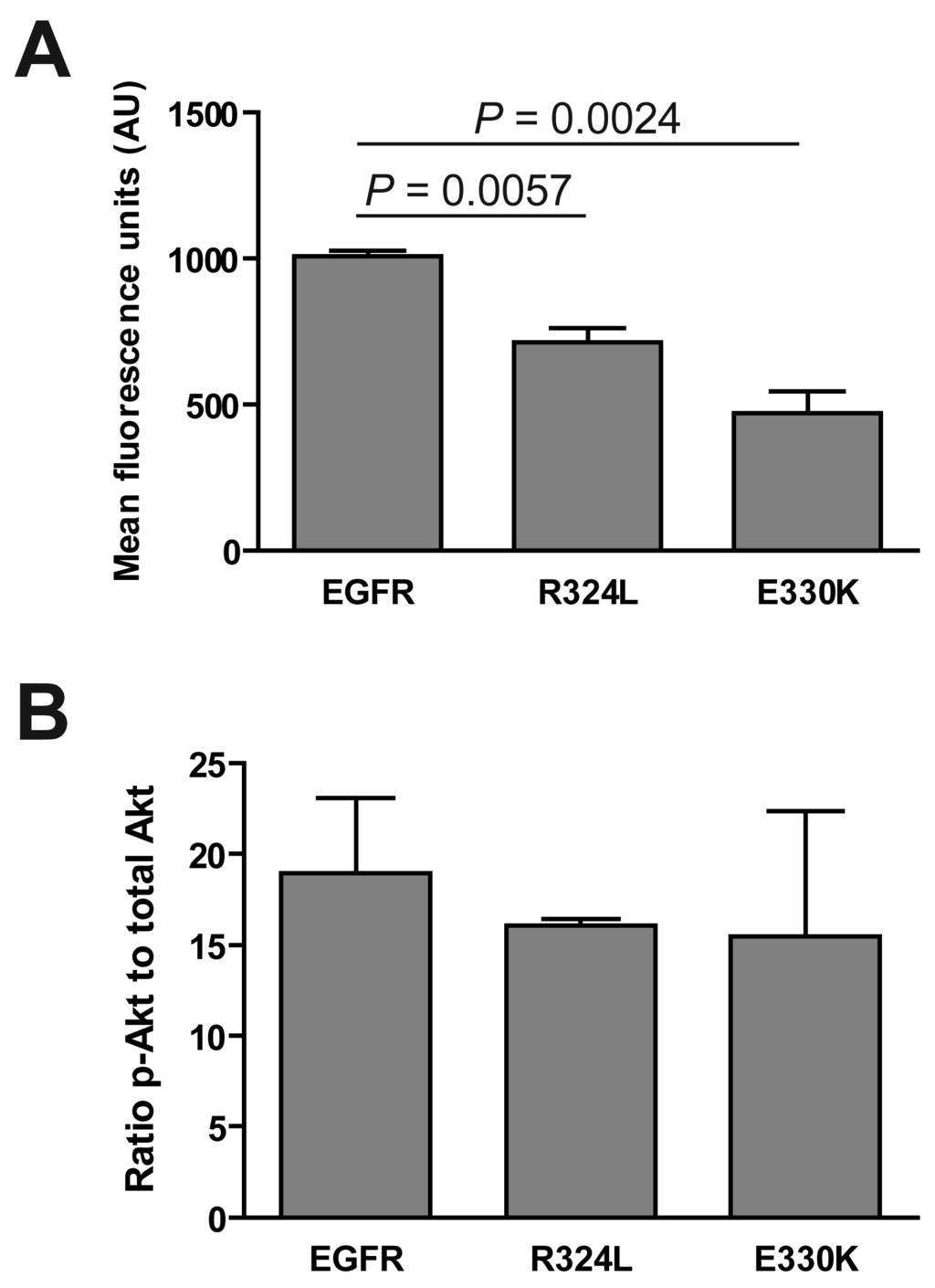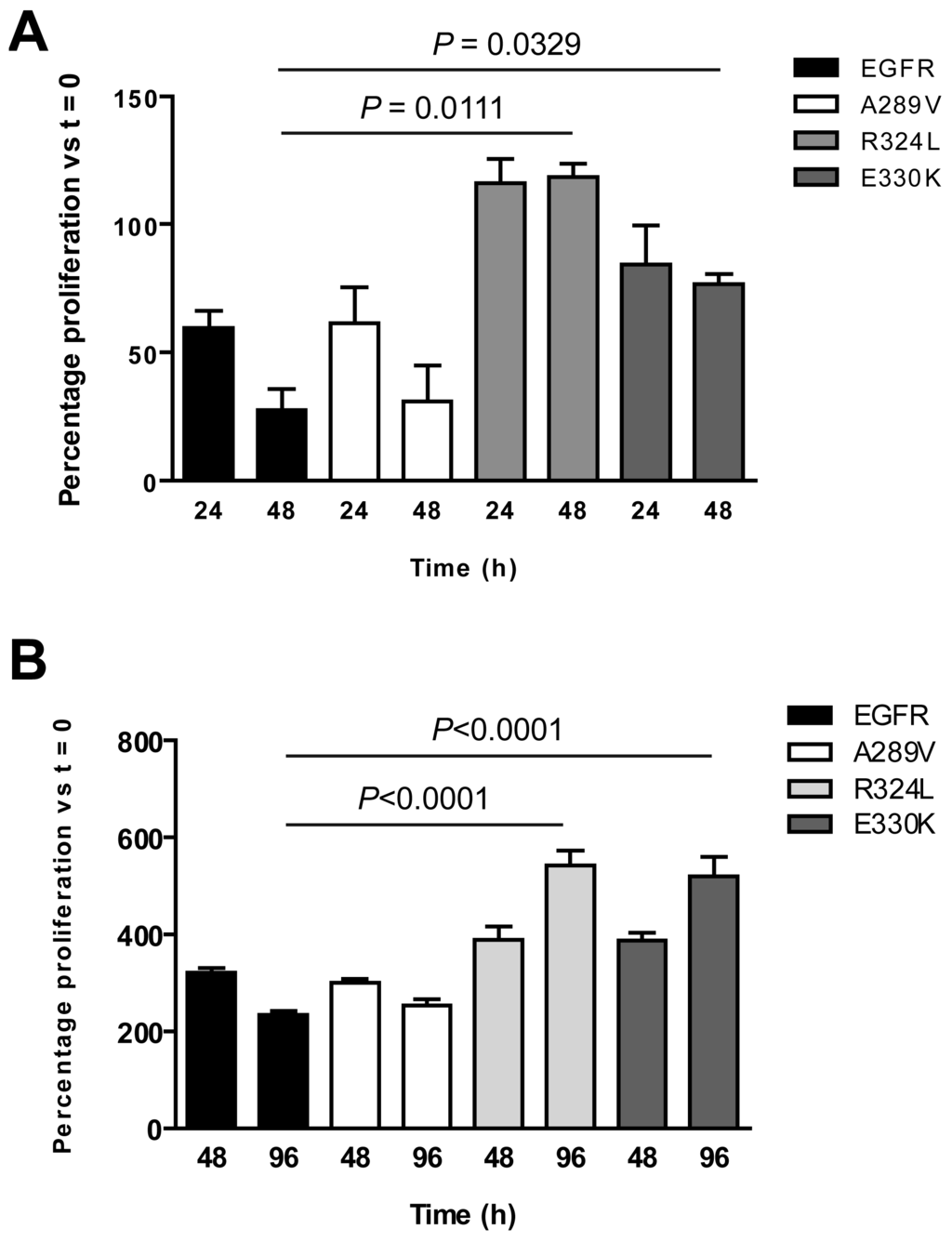 Figure 4. The R324L and E330K mutants show increased cell survival under serum free and 2% FBS conditions. Transgenic cells were cultured under (A) serum free conditions for 48 h and (B) in media containing 2% FBS for 96 h. Cells were tested for proliferation at various time points using the MTS assay. The data shown is the percentage of cell growth at each time point compared to the 0 h control ± S.E.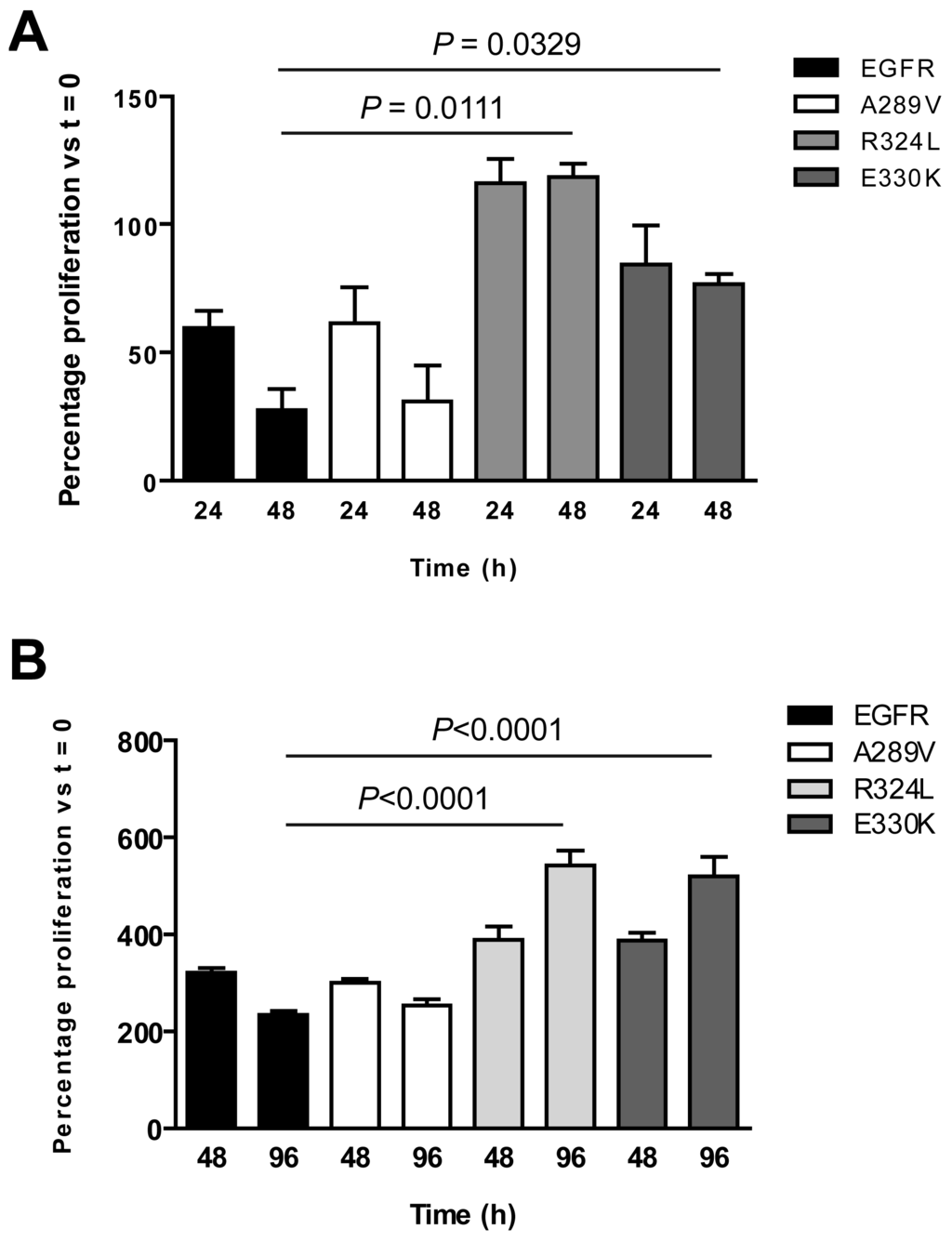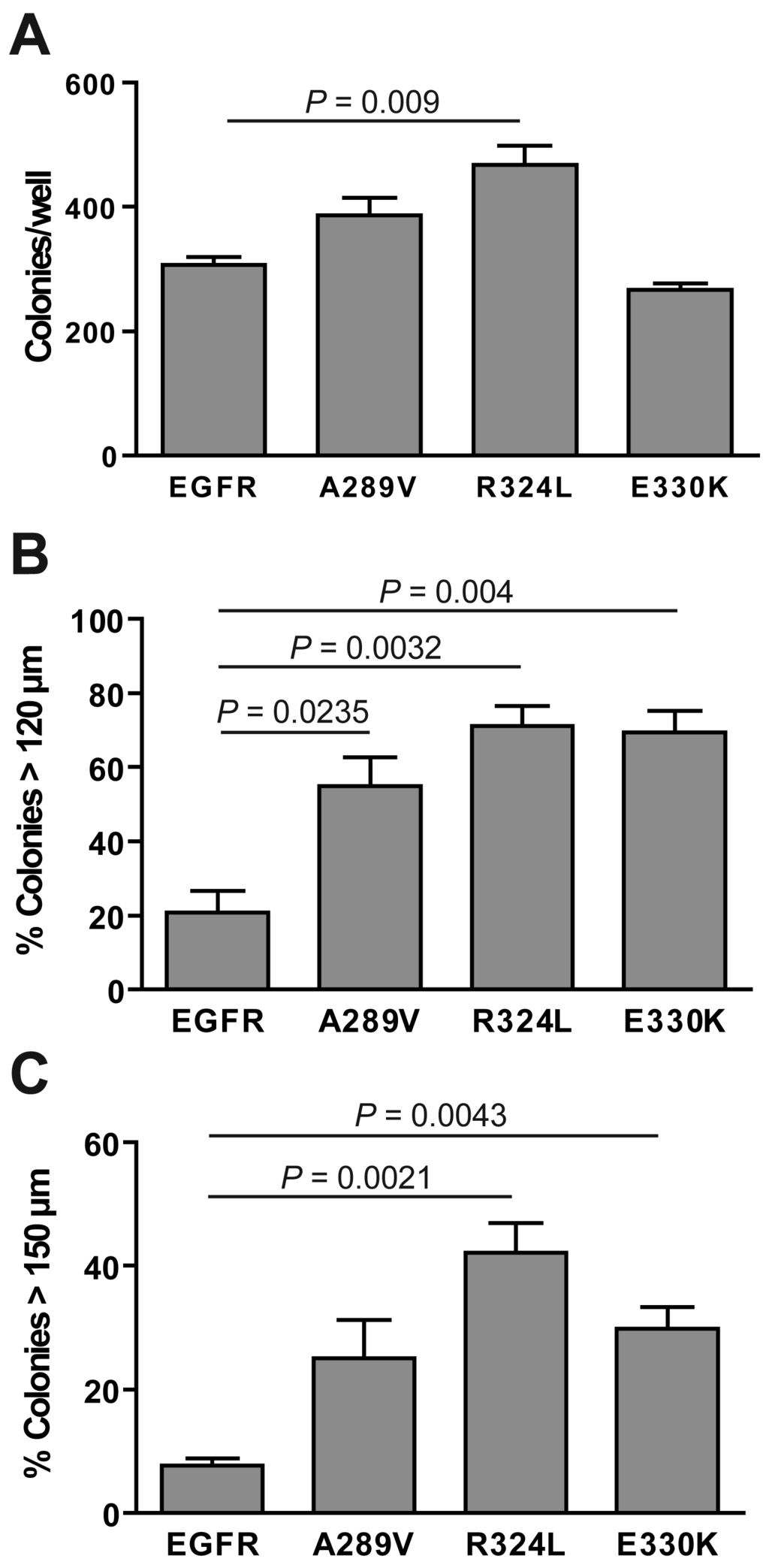 Figure 5. The R324L and E330K mutants demonstrate enhanced transforming activity in anchorage independent growth assays. Transgenic NR6 cells were plated in an agarose matrix for 20 days and stained with MTT. (A) Colonies were counted and data graphed as the total colonies per well ± S.E. A random 10–20% sampling of the total numbers was analyzed for the percentage of cells (B) over 120 μm or (C) over 150 μm in size ± S.E.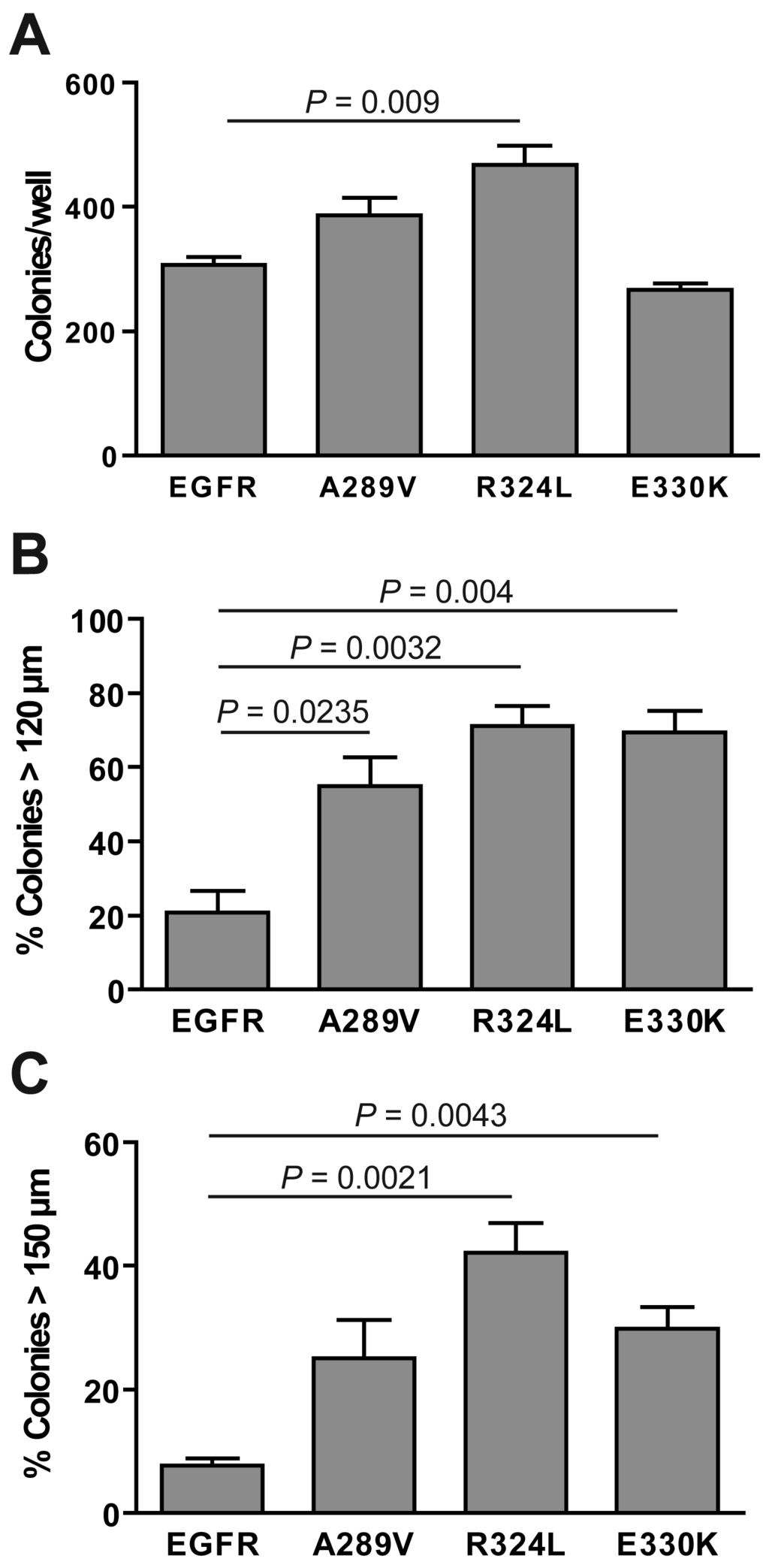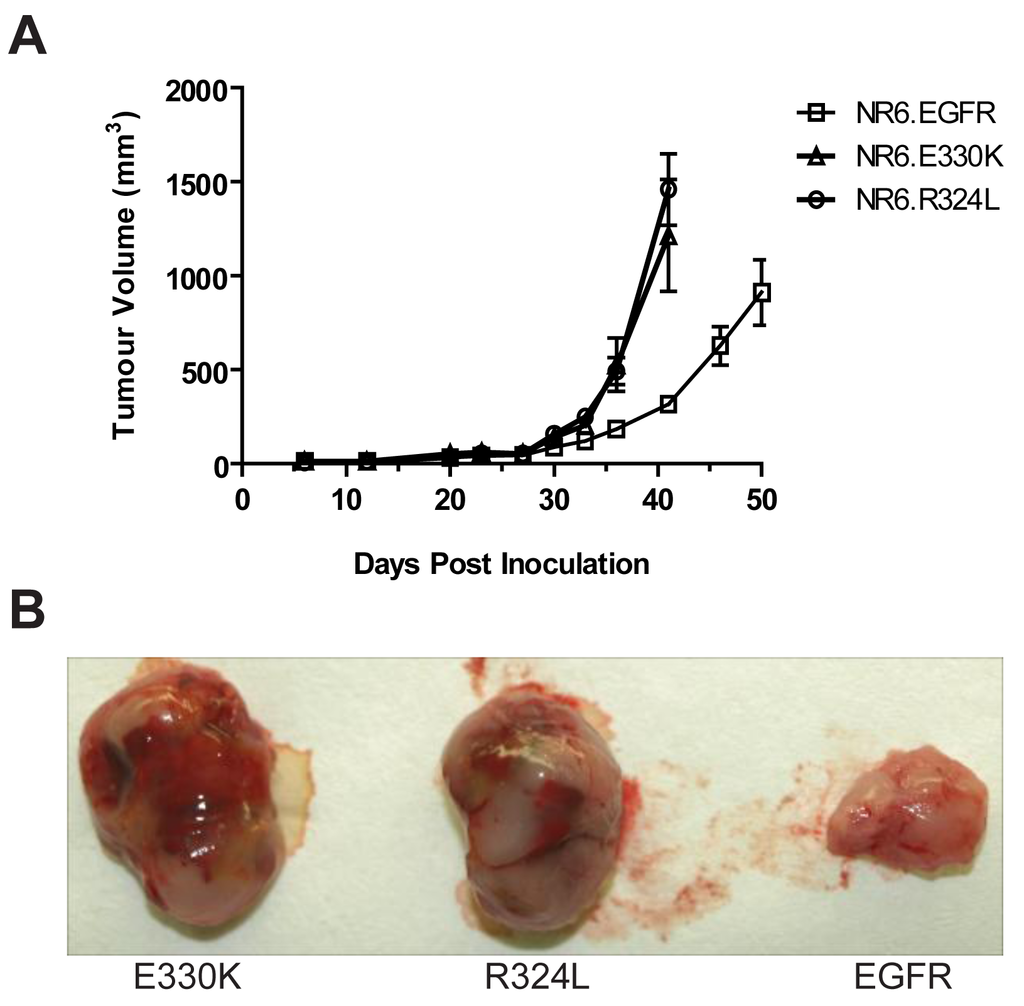 Figure 6.
EGFR mutants promote
in vivo
tumor growth. Nude mice were injected subcutaneously into both flanks with transgenic NR6 cells containing wtEGFR, R324L or E330K. (
A
) Growth curves for NR6 cells expressing wtEGFR or R324L or E330K mutants. Data is presented as mean tumor volume ± S.E; (
B
) Gross tumors surgically resected for E330K, R324L and wtEGFR after 40 days.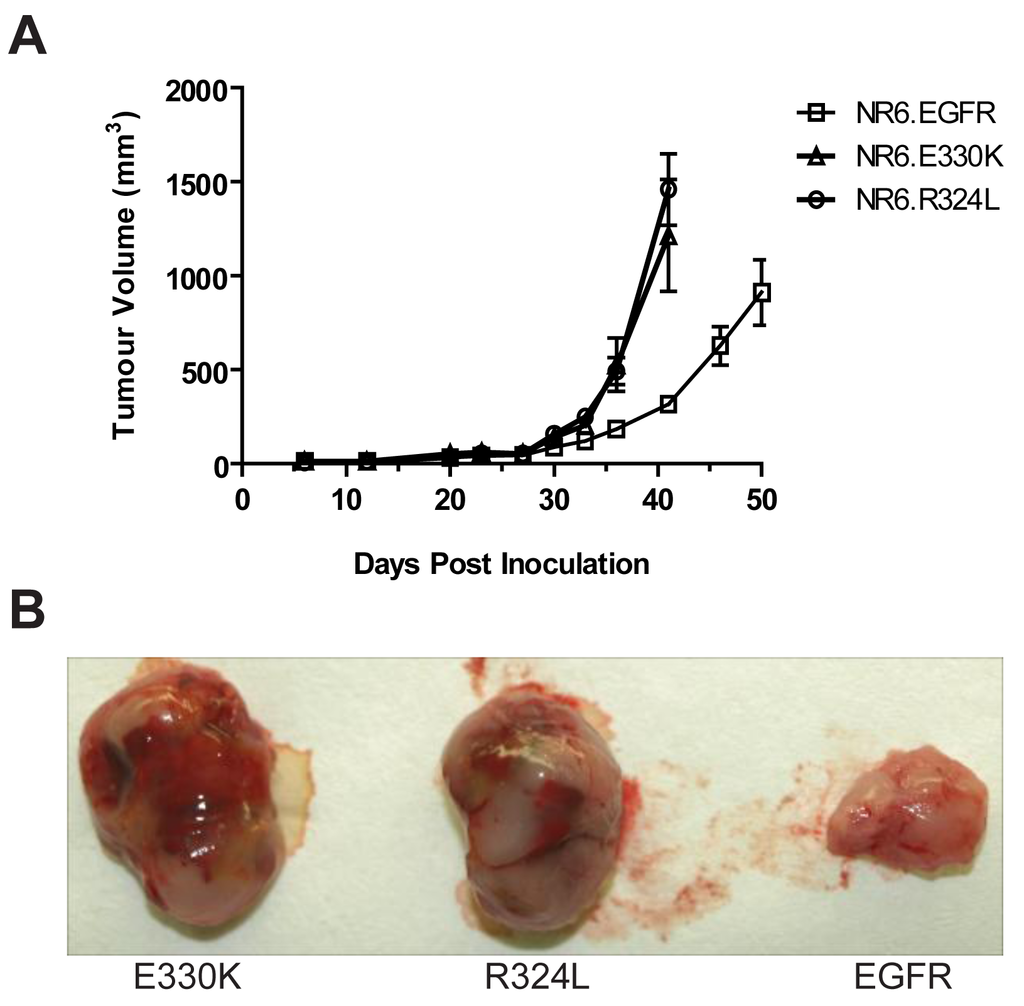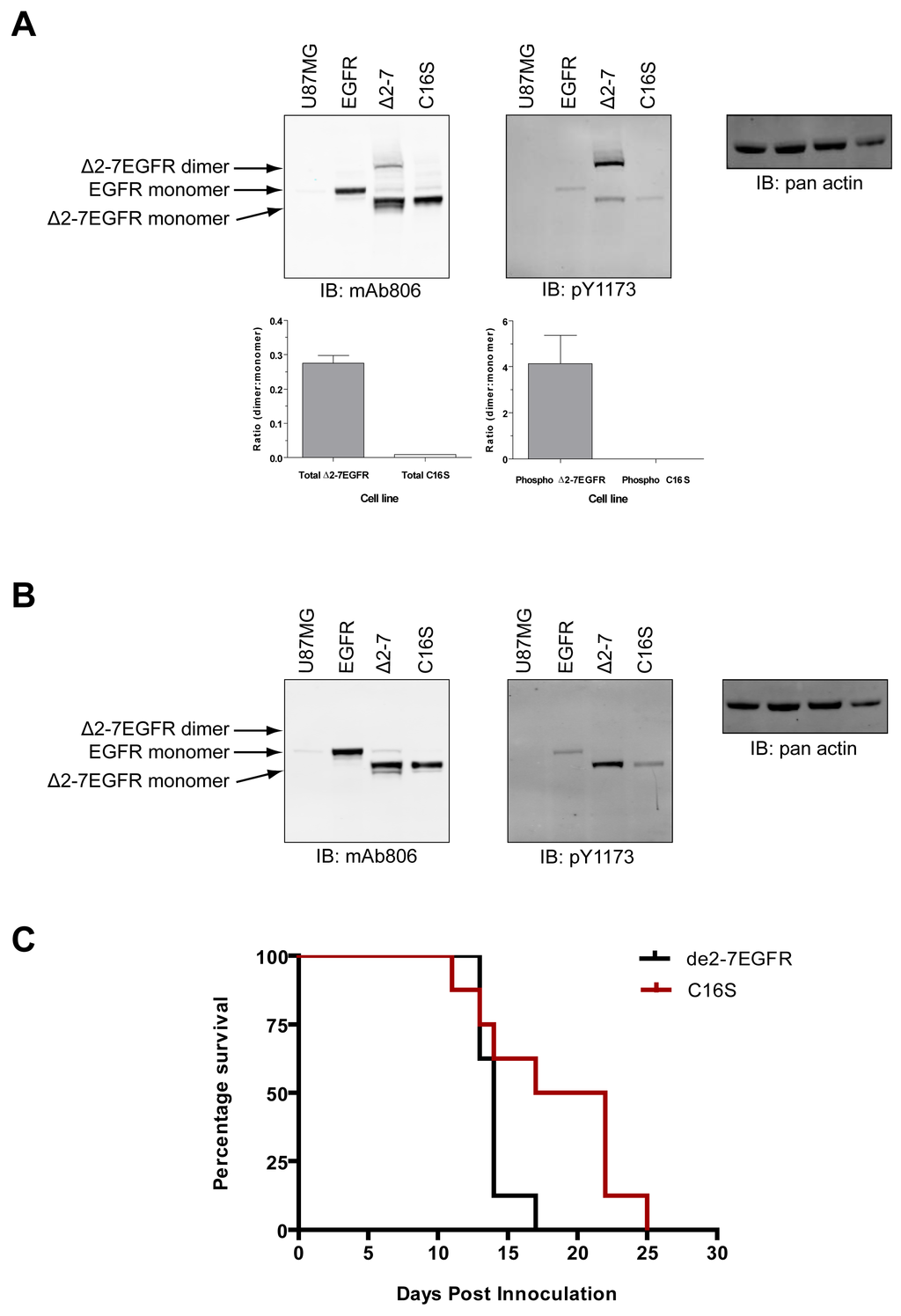 Figure 7.
de2-7EGFR forms reduction-sensitive homodimers
in vitro
through its free cysteine residue. Cells were lysed and equal protein probed by Western blot under non-reducing (
A
) and reducing (
B
) conditions for total EGFR/de2-7EGFR by mAb806 blotting (
left hand panels
) and pY1173 (
middle panels
). A pan actin blot was used as the loading control (
right hand panels
). Graphed data of dimer:monomer densitometry ratios ± S.E. for non-reducing mAb806 (
lower left graph
) and pY1173 (
lower right graph
) are depicted under each blot in (
A
). U87MG parental cells (U87MG) and U87MG overexpressing the wtEGFR (EGFR) were included as control for the wtEGFR on the blots. In all cases representative results from multiple repeats are shown (
C
) C16S is less tumorigenic than unmodified de2-7EGFR. Nude mice were injected subcutaneously into both flanks with transgenic U87MG cells expressing either unmodified de2-7EGFR or the C16S variant. Kaplan-Meier survival curves were then determined based on a tumor volume of 1000 mm
3
.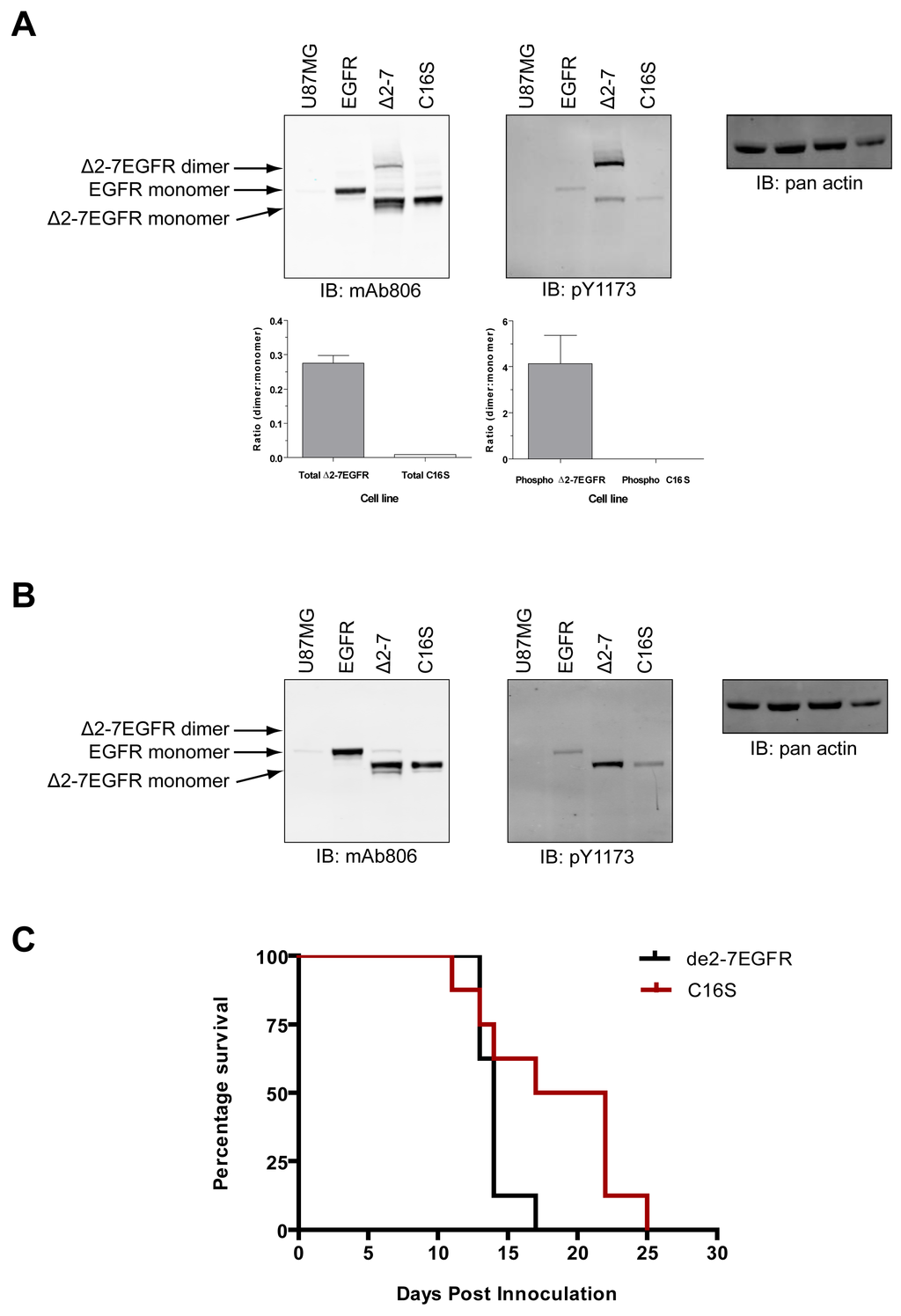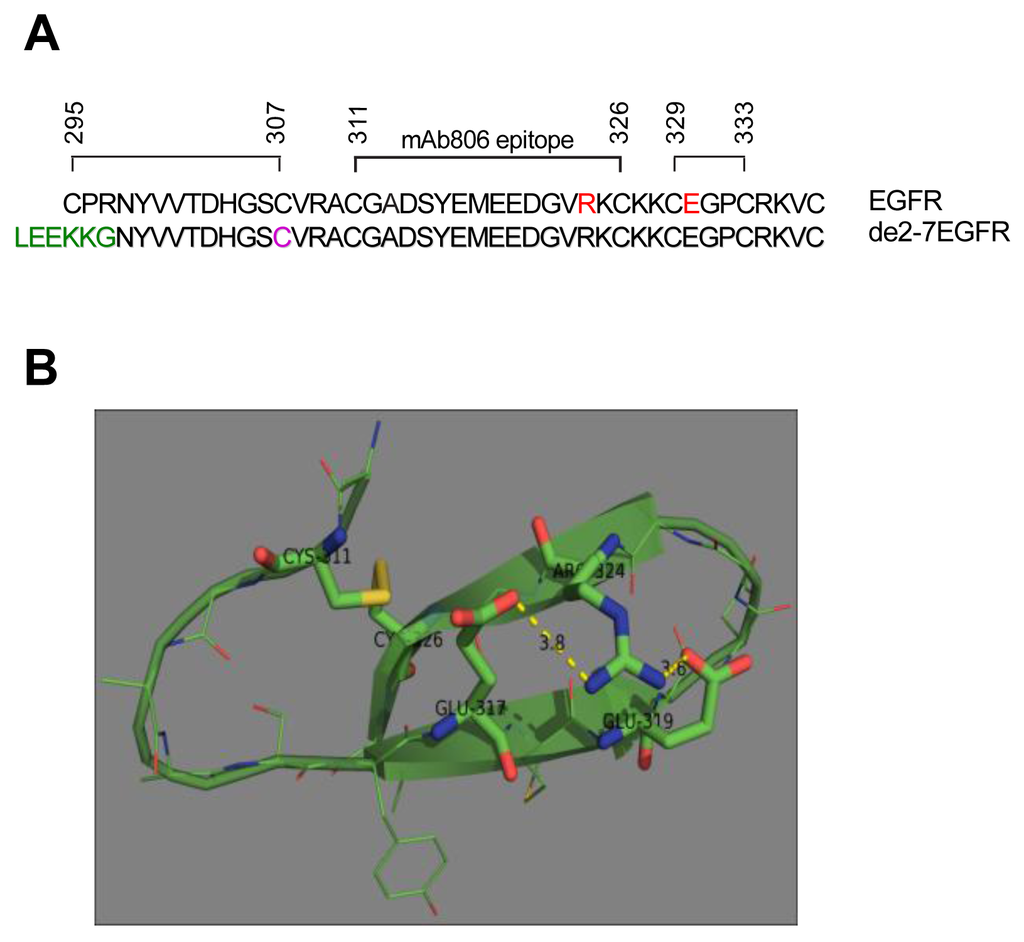 Figure 8.
(
A
). Alignment of amino acids 295-337 of the immature EGFR protein with amino acids 1-46 of the mature de2-7EGFR protein. The disulfide bonds (black lines), mAb806 epitope and position of two EGFR ECD mutations studied in this paper (red) are shown. A 267 amino acid truncation removes the C295 from the EGFR structure and results in a free C16 residue in the mature de2-7EGFR protein (pink) as well as a unique 6 amino acid N-terminal sequence (green); (
B
). Three dimensional structural model of module 7 incorporating the R324L mutation. R324 lies within the module 7 loop spanning amino acids 311-326 in Domain II of EGFR. The R324L mutation will abolish salt bridges (dashed lines) with E317 and E319 which stabilize the loop, leading to greater loop flexibility and significant strain on the C311-C326 bond (yellow). Analysis utilized the structure of ligand bound EGFR extracellular domain described previously [
3
]. The figure was prepared with PyMol v.1.2r2 software (Schrodinger, LLC).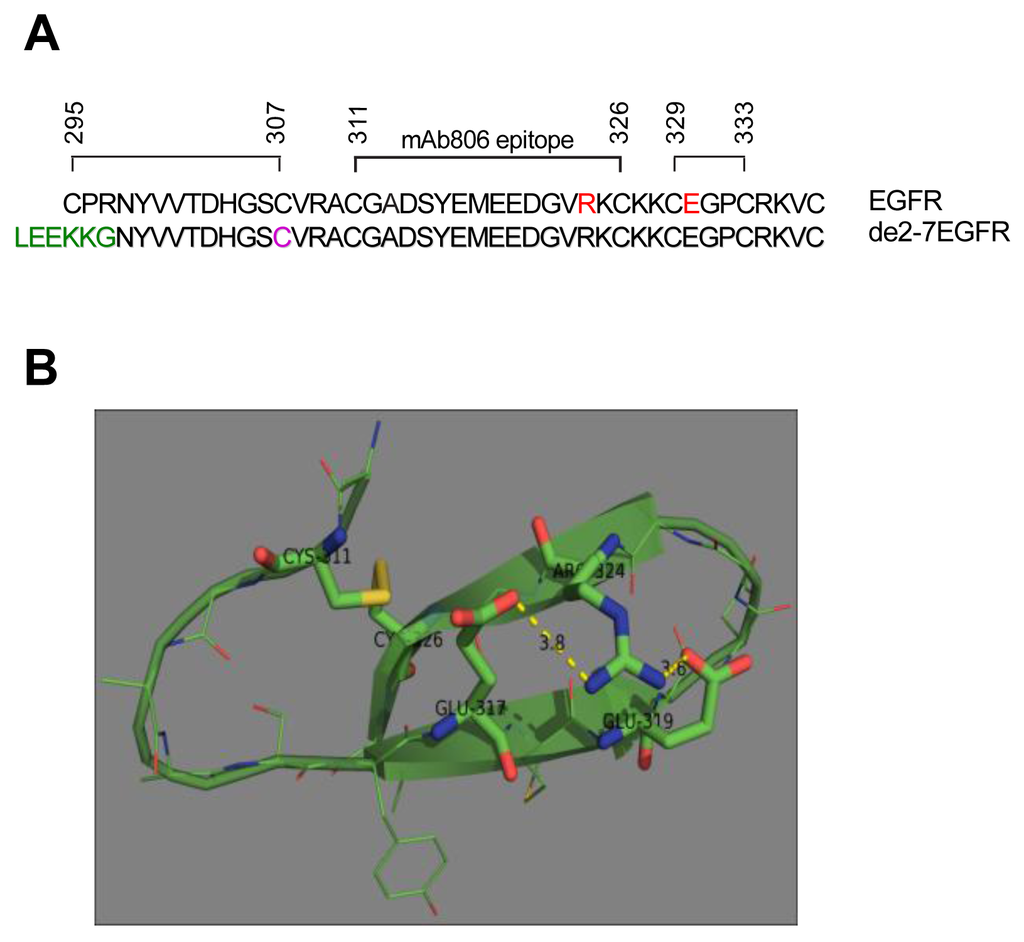 This work was supported by the National Health and Medical Council of Australia (Program Grant 280912), the James S. McDonnell Foundation (#220020173), a research grant from Amgen Inc and the Victorian Government's Operational Infrastructure Support Program. T.G.J is a recipient of a Clinical Fellowship from the Victorian Cancer Agency.
Supplementary Files
Supplementary File 1:
Supplementary File 2:
© 2011 by the authors; licensee MDPI, Basel, Switzerland. This article is an open access article distributed under the terms and conditions of the Creative Commons Attribution license (http://creativecommons.org/licenses/by/3.0/).