Panax ginseng Leaf Extracts Exert Anti-Obesity Effects in High-Fat Diet-Induced Obese Rats
1
Department of Food Science and Biotechnology, Kyungpook National University, Daegu 41566, Korea
2
Department of Life Sciences, Yeungnam University, Gyeongsan 38541, Korea
3
Punggi Ginseng Research Institute Gyeong Buk A.R.E.S, Gyeongsangbuk-do Agricultural Research & Extension Services, Daegu 41404, Korea
4
Division of Agriculture Environment Research, Gyeongsangbuk-do Agricultural Research & Extension Services, Daegu 41404, Korea
5
Institute of Agricultural Science & Technology, Kyungpook National University, Daegu 41566, Korea
*
Author to whom correspondence should be addressed.
Received: 2 August 2017 / Revised: 4 September 2017 / Accepted: 7 September 2017 / Published: 10 September 2017
Abstract
Recent studies have reported that the aerial parts of ginseng contain various saponins, which have anti-oxidative, anti-inflammatory, and anti-obesity properties similar to those of ginseng root. However, the leaf extracts of Korean ginseng have not yet been investigated. In this study, we demonstrate the anti-obesity effects of green leaf and dried leaf extracts (GL and DL, respectively) of ginseng in high-fat diet (HFD)-induced obese rats. The administration of GL and DL to HFD-induced obese rats significantly decreased body weight (by 96.5% and 96.7%, respectively), and epididymal and abdominal adipose tissue mass. Furthermore, DL inhibited the adipogenesis of 3T3-L1 adipocytes through regulation of the expression of key adipogenic regulators, such as peroxisome proliferator-activated receptor (PPAR)-γ and CCAAT/enhancer-binding protein (C/EBP)-α. In contrast, GL had little effect on the adipogenesis of 3T3-L1 adipocytes but greatly increased the protein expression of PPARγ compared with that in untreated cells. These results were not consistent with an anti-obesity effect in the animal model, which suggested that the anti-obesity effect of GL in vivo resulted from specific factors released by other organs, or from increased energy expenditure. To our knowledge, these findings are the first evidence for the anti-obesity effects of the leaf extracts of Korean ginseng in vivo.
View Full-Text
►

▼

Figures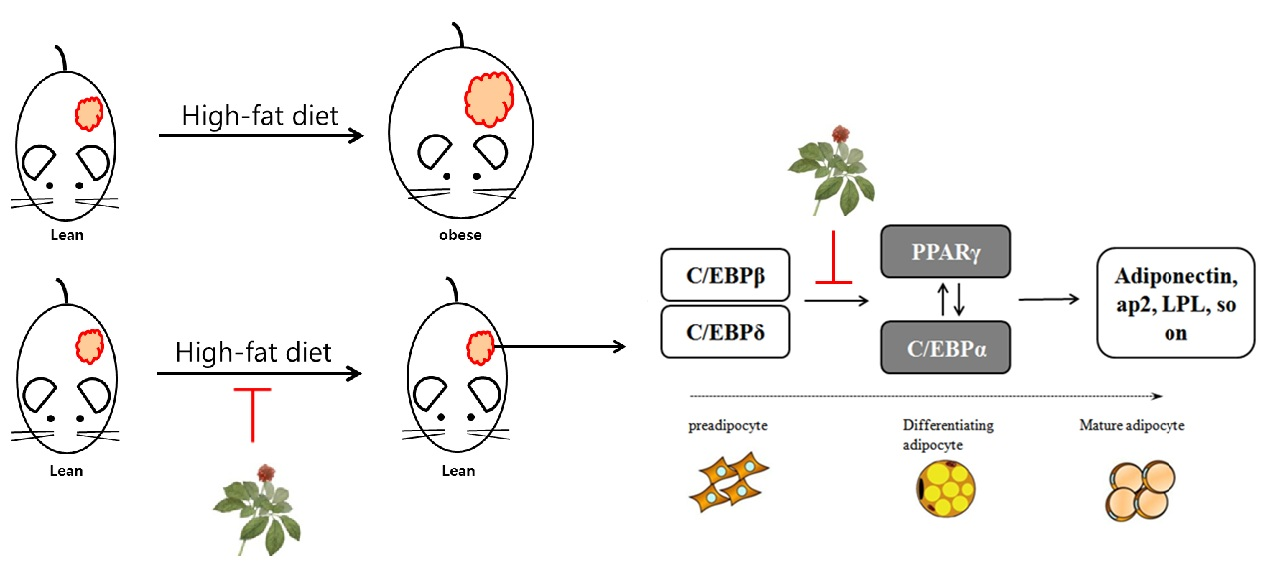 This is an open access article distributed under the
Creative Commons Attribution License
which permits unrestricted use, distribution, and reproduction in any medium, provided the original work is properly cited. (CC BY 4.0).
Share & Cite This Article
MDPI and ACS Style
Lee, S.G.; Lee, Y.J.; Jang, M.-H.; Kwon, T.R.; Nam, J.-O. Panax ginseng Leaf Extracts Exert Anti-Obesity Effects in High-Fat Diet-Induced Obese Rats. Nutrients 2017, 9, 999.
Note that from the first issue of 2016, MDPI journals use article numbers instead of page numbers. See further details here.
Related Articles
Comments
[Return to top]