Beta Palmitate Improves Bone Length and Quality during Catch-Up Growth in Young Rats
1
The Jesse Z and Sara Lea Shafer Institute for Endocrinology and Diabetes, National Center for Childhood Diabetes, Schneider Children's Medical Center of Israel, Petach Tikva 4920235, Israel
2
Sackler Faculty of Medicine, Tel Aviv University, Tel Aviv 6997801, Israel
3
Department of Anatomy and Anthropology, Sackler Faculty of Medicine, Tel Aviv University, Tel Aviv 6997801, Israel
4
Institute for Gastroenterology, Nutrition and Liver Diseases, Schneider Children's Medical Center of Israel, Petach Tikva 4920235, Israel
5
The Molecular Endocrinology Laboratory, Felsenstein Medical Research Center, Petach Tikva 4920235, Israel
6
Bioinformatics Unit, Faculty of Life Sciences, Tel Aviv University, Tel Aviv 6997801, Israel
7
Enzymotec Ltd., Sagi 2000 Industrial Park, Migdal HaEmeq 2310001, Israel
*
Author to whom correspondence should be addressed.
Received: 6 June 2017 / Revised: 4 July 2017 / Accepted: 12 July 2017 / Published: 18 July 2017
Abstract
Palmitic acid (PA) is the most abundant saturated fatty acid in human milk, where it is heavily concentrated in the
sn
-
2
-position (termed beta palmitate, BPA) and as such is conserved in all women, regardless of their diet or ethnicity, indicating its physiological and metabolic importance. We hypothesized that BPA improves the efficiency of nutrition-induced catch up growth as compared to
sn
-
1,3
PA, which is present in vegetable oil. Pre-pubertal male rats were subjected to a 17 days food restriction followed by re-feeding for nine days with
1,3
PA or BPA-containing diets. We measured bone length, epiphyseal growth plate height (EGP, histology), bone quality (micro-CT and 3-point bending assay), and gene expression (Affymetrix). The BPA-containing diet improved most growth parameters: humeri length and EGP height were greater in the BPA-fed animals. Further analysis of the EGP revealed that the hypertrophic zone was significantly higher in the BPA group. In addition, Affymetrix analysis revealed that the diet affected the expression of several genes in the liver and EGP. Despite the very subtle difference between the diets and the short re-feeding period, we found a small but significant improvement in most growth parameters in the BPA-fed rats. This pre-clinical study may have important implications, especially for children with growth disorders and children with special nutritional needs.
View Full-Text
►

▼

Figures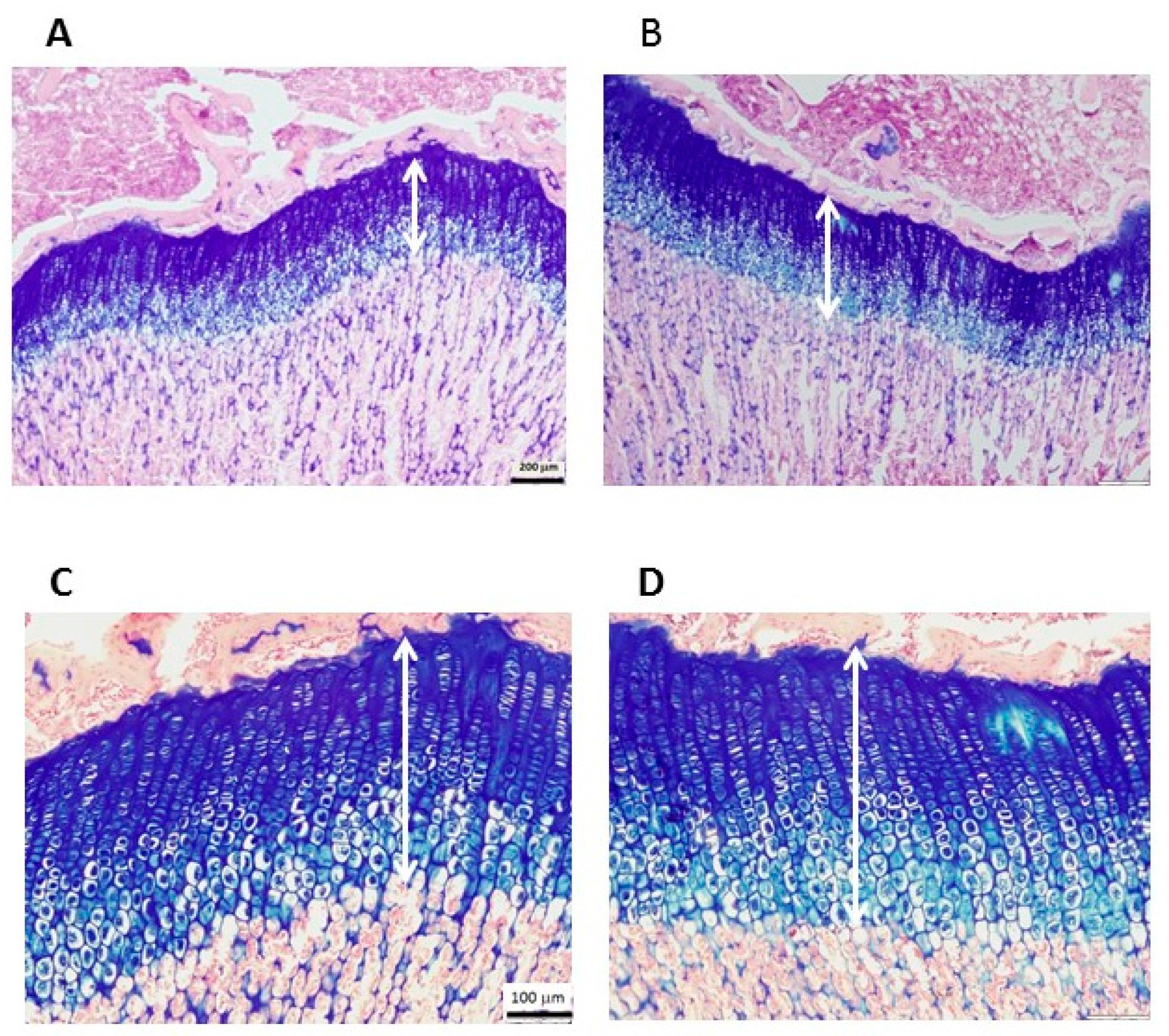 Figure 1
This is an open access article distributed under the
Creative Commons Attribution License
which permits unrestricted use, distribution, and reproduction in any medium, provided the original work is properly cited. (CC BY 4.0).
Share & Cite This Article
MDPI and ACS Style
Bar-Maisels, M.; Gabet, Y.; Shamir, R.; Hiram-Bab, S.; Pasmanik-Chor, M.; Phillip, M.; Bar-Yoseph, F.; Gat-Yablonski, G. Beta Palmitate Improves Bone Length and Quality during Catch-Up Growth in Young Rats. Nutrients 2017, 9, 764.
Note that from the first issue of 2016, MDPI journals use article numbers instead of page numbers. See further details here.
Related Articles
Comments
[Return to top]