Asiatic Acid Prevents the Deleterious Effects of Valproic Acid on Cognition and Hippocampal Cell Proliferation and Survival
1
Department of Anatomy, Faculty of Medicine, Khon Kaen University, Khon Kaen 40002, Thailand
2
Center for Research and Development of Herbal Health Products, Khon Kaen University, Khon Kaen 40002, Thailand
3
Neuroscience Research and Development Group, Khon Kaen University, Khon Kaen 40002, Thailand
4
Department of Physiology, Faculty of Medicine, Khon Kaen University, Khon Kaen 40002, Thailand
5
School of Life Sciences, Medical School, Queen's Medical Centre, Nottingham University, Nottingham NG7 2UH, UK
*
Author to whom correspondence should be addressed.
Received: 25 March 2016 / Revised: 3 May 2016 / Accepted: 11 May 2016 / Published: 18 May 2016
Abstract
Valproic acid (VPA) is commonly prescribed as an anticonvulsant and mood stabilizer used in the treatment of epilepsy and bipolar disorder. A recent study has demonstrated that VPA reduces histone deacetylase (HDAC) activity, an action which is believed to contribute to the effects of VPA on neural stem cell proliferation and differentiation which may explain the cognitive impairments produced in rodents and patients. Asiatic acid is a triterpenoid derived from the medicinal plant
Centella asiatica
. Our previous study has shown that Asiatic acid improves working spatial memory and increases cell proliferation in the sub granular zone of the hippocampal dentate gyrus. In the present study we investigate the effects of Asiatic acid in preventing the memory and cellular effects of VPA. Male Spraque-Dawley rats were orally administered Asiatic acid (30 mg/kg/day) for 28 days, while VPA-treated animals received injections of VPA (300 mg/kg) twice a day from Day 15 to Day 28 for 14 days. Spatial memory was determined using the novel object location (NOL) test and hippocampal cell proliferation and survival was quantified by immuostaining for Ki-67 and Bromodeoxyuridine (BrdU), respectively. The results showed that VPA-treated animals were unable to discriminate between objects in familiar and novel locations. Moreover, VPA significantly reduced numbers of Ki-67 and BrdU positive cells. These results indicate that VPA treatment caused impairments of spatial working memory, cell proliferation and survival in the subgranular zone (SGZ) of the hippocampal dentate gyrus (DG). However, these abnormalities were restored to control levels by co-treatment with Asiatic acid. These data demonstrate that Asiatic acid could prevent the spatial memory and neurogenesis impairments caused by VPA.
View Full-Text
►

▼

Figures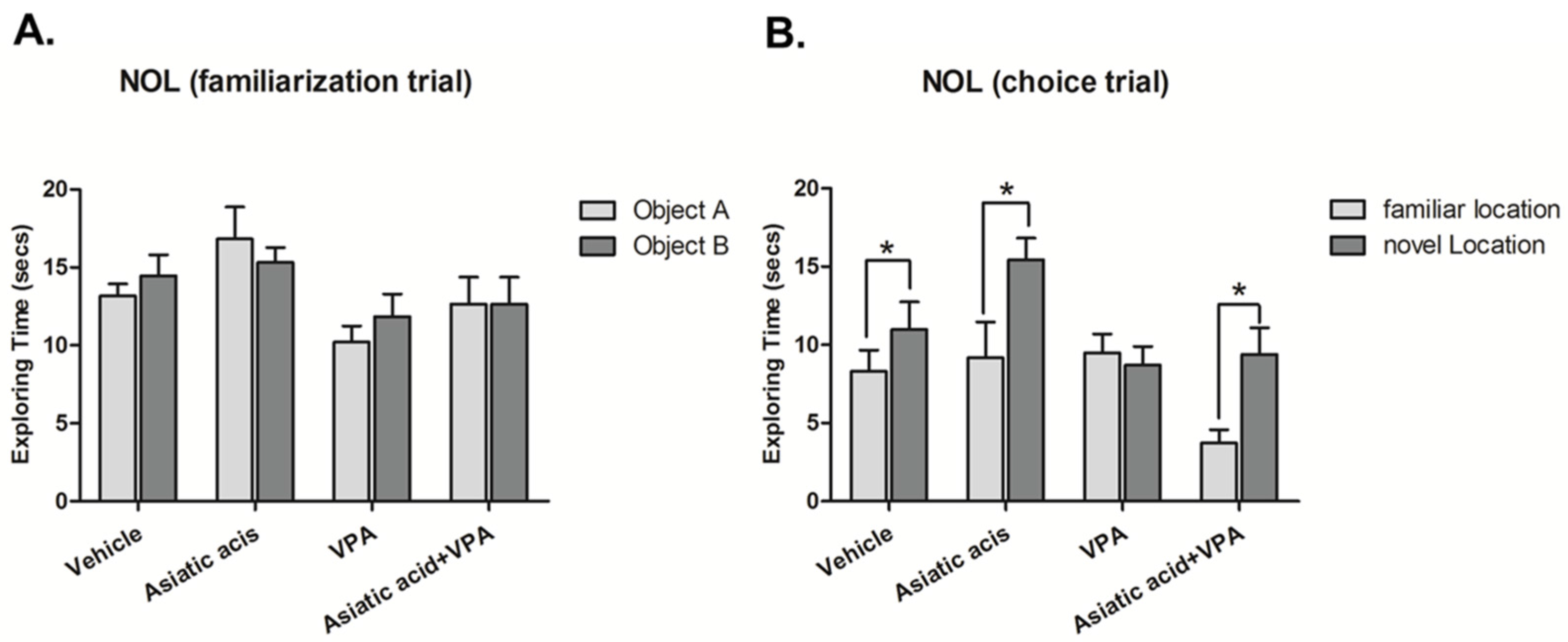 Figure 1
This is an open access article distributed under the
Creative Commons Attribution License
which permits unrestricted use, distribution, and reproduction in any medium, provided the original work is properly cited. (CC BY 4.0).
Share & Cite This Article
MDPI and ACS Style
Umka Welbat, J.; Sirichoat, A.; Chaijaroonkhanarak, W.; Prachaney, P.; Pannangrong, W.; Pakdeechote, P.; Sripanidkulchai, B.; Wigmore, P. Asiatic Acid Prevents the Deleterious Effects of Valproic Acid on Cognition and Hippocampal Cell Proliferation and Survival. Nutrients 2016, 8, 303.
Note that from the first issue of 2016, MDPI journals use article numbers instead of page numbers. See further details here.
Related Articles
Comments
[Return to top]