Potential Anticancer Properties of Osthol: A Comprehensive Mechanistic Review
1
Pharmaceutical Sciences Research Center, School of Pharmacy, Kermanshah University of Medical Sciences, Kermanshah 67146, Iran
2
Department of Pharmacognosy and Biotechnology, School of Pharmacy, Kermanshah University of Medical Sciences, Kermanshah 67146, Iran
3
Students Research Committee, School of Pharmacy, Kermanshah University of Medical Sciences, Kermanshah 67146, Iran
4
Department of Clinical and Administrative Sciences, College of Pharmacy, Larkin University, Miami, FL 33169, USA
5
School of Health Sciences, University of Turabo, Gurabo, PR 00778, USA
6
Laboratory for Translational Oncology and Personalized Medicine, Rashid Latif Medical College, Lahore 54000, Pakistan
7
Applied Biotechnology Research Center, Baqiyatallah University of Medical Sciences, Tehran 1435916471, Iran
8
Department of Pharmacology, Faculty of Pharmacy, University of Erciyes, 38039 Kayseri, Turkey
9
Department of Pharmaceutical Sciences, College of Pharmacy, Larkin University, Miami, FL 33169, USA
*
Authors to whom correspondence should be addressed.
Received: 21 November 2017 / Revised: 15 December 2017 / Accepted: 29 December 2017 / Published: 3 January 2018
Abstract
Cancer is caused by uncontrolled cell proliferation which has the potential to occur in different tissues and spread into surrounding and distant tissues. Despite the current advances in the field of anticancer agents, rapidly developing resistance against different chemotherapeutic drugs and significantly higher off-target effects cause millions of deaths every year. Osthol is a natural coumarin isolated from Apiaceaous plants which has demonstrated several pharmacological effects, such as antineoplastic, anti-inflammatory and antioxidant properties. We have attempted to summarize up-to-date information related to pharmacological effects and molecular mechanisms of osthol as a lead compound in managing malignancies. Electronic databases, including PubMed, Cochrane library, ScienceDirect and Scopus were searched for in vitro, in vivo and clinical studies on anticancer effects of osthol. Osthol exerts remarkable anticancer properties by suppressing cancer cell growth and induction of apoptosis. Osthol's protective and therapeutic effects have been observed in different cancers, including ovarian, cervical, colon and prostate cancers as well as chronic myeloid leukemia, lung adenocarcinoma, glioma, hepatocellular, glioblastoma, renal and invasive mammary carcinoma. A large body of evidence demonstrates that osthol regulates apoptosis, proliferation and invasion in different types of malignant cells which are mediated by multiple signal transduction cascades. In this review, we set spotlights on various pathways which are targeted by osthol in different cancers to inhibit cancer development and progression.
View Full-Text
►

▼

Figures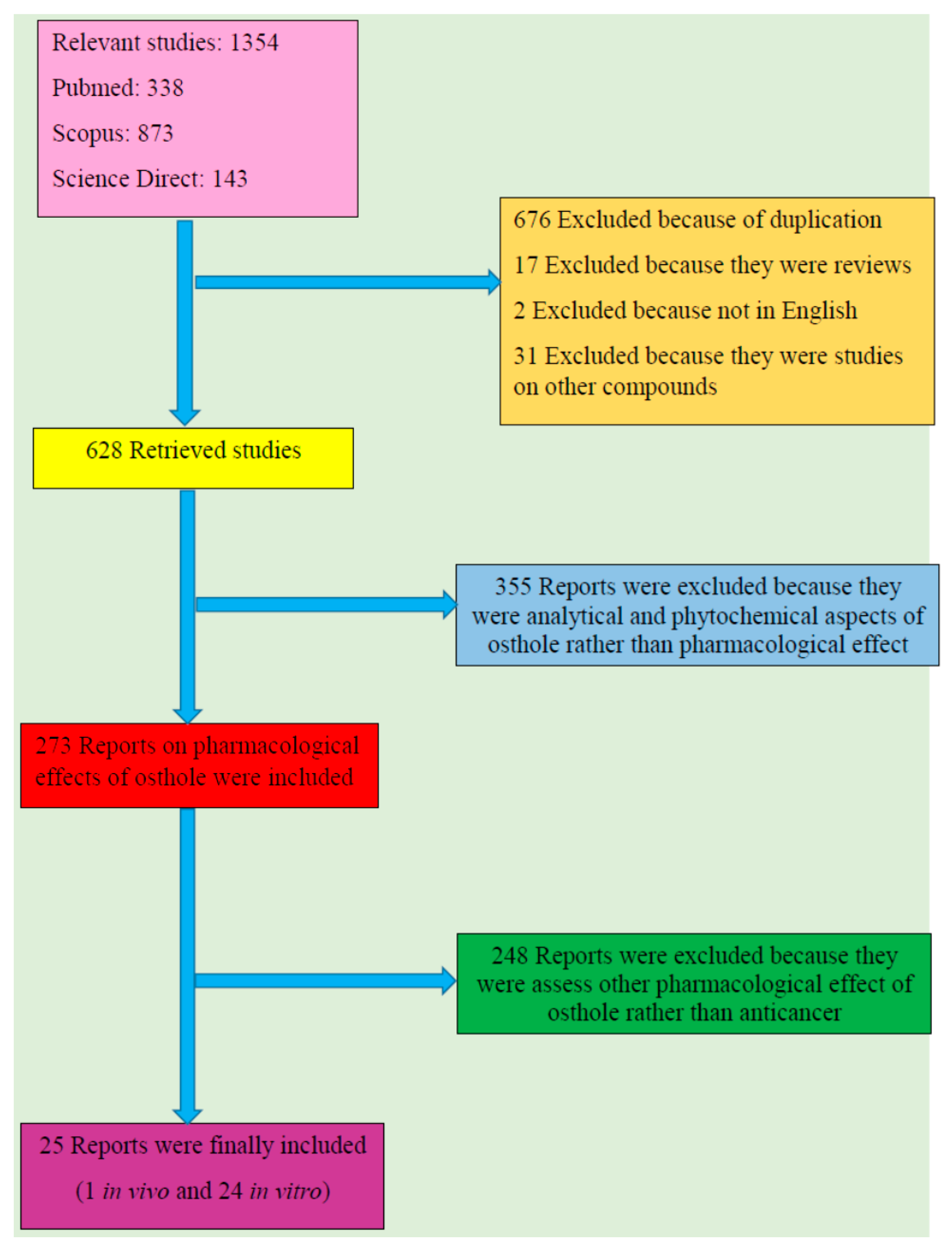 Figure 1
This is an open access article distributed under the
Creative Commons Attribution License
which permits unrestricted use, distribution, and reproduction in any medium, provided the original work is properly cited. (CC BY 4.0).
Share & Cite This Article
MDPI and ACS Style
Shokoohinia, Y.; Jafari, F.; Mohammadi, Z.; Bazvandi, L.; Hosseinzadeh, L.; Chow, N.; Bhattacharyya, P.; Farzaei, M.H.; Farooqi, A.A.; Nabavi, S.M.; Yerer, M.B.; Bishayee, A. Potential Anticancer Properties of Osthol: A Comprehensive Mechanistic Review. Nutrients 2018, 10, 36.
Note that from the first issue of 2016, MDPI journals use article numbers instead of page numbers. See further details here.
Related Articles
Comments
[Return to top]