Atomic Resolution Structure of the Oncolytic Parvovirus LuIII by Electron Microscopy and 3D Image Reconstruction
1
Department of Biochemistry and Molecular Biology, University of Florida, Gainesville, FL 32611, USA
2
Center for Structural Biology, The McKnight Brain Institute, University of Florida, Gainesville, FL 32611, USA
3
Department of Chemistry and Biochemistry and Division of Biological Sciences, University of California-San Diego, San Diego, CA 92093, USA
4
Department of Laboratory Medicine, Yale University Medical School, New Haven, CT 06520, USA
5
Department of Genetics, Yale University Medical School, New Haven, CT 06510, USA
†
Current address: Zydus Research Centre, Biotech Division, Cadila Healthcare Ltd., The Zydus Group, Ahmedabad, Gujarat 380015, India.
‡
Current address: NanoImaging Services, Inc., 4940 Carroll Canyon Road, Suite 115, San Diego, CA 92121, USA.
*
Author to whom correspondence should be addressed.
Received: 16 October 2017 / Revised: 27 October 2017 / Accepted: 27 October 2017 / Published: 30 October 2017
Abstract
LuIII, a protoparvovirus pathogenic to rodents, replicates in human mitotic cells, making it applicable for use to kill cancer cells. This virus group includes H-1 parvovirus (H-1PV) and minute virus of mice (MVM). However, LuIII displays enhanced oncolysis compared to H-1PV and MVM, a phenotype mapped to the major capsid viral protein 2 (VP2). This suggests that within LuIII VP2 are determinants for improved tumor lysis. To investigate this, the structure of the LuIII virus-like-particle was determined using single particle cryo-electron microscopy and image reconstruction to 3.17 Å resolution, and compared to the H-1PV and MVM structures. The LuIII VP2 structure, ordered from residue 37 to 587 (C-terminal), had the conserved VP topology and capsid morphology previously reported for other protoparvoviruses. This includes a core β-barrel and α-helix A, a depression at the icosahedral 2-fold and surrounding the 5-fold axes, and a single protrusion at the 3-fold axes. Comparative analysis identified surface loop differences among LuIII, H-1PV, and MVM at or close to the capsid 2- and 5-fold symmetry axes, and the shoulder of the 3-fold protrusions. The 2-fold differences cluster near the previously identified MVM sialic acid receptor binding pocket, and revealed potential determinants of protoparvovirus tumor tropism.
View Full-Text
►

▼

Figures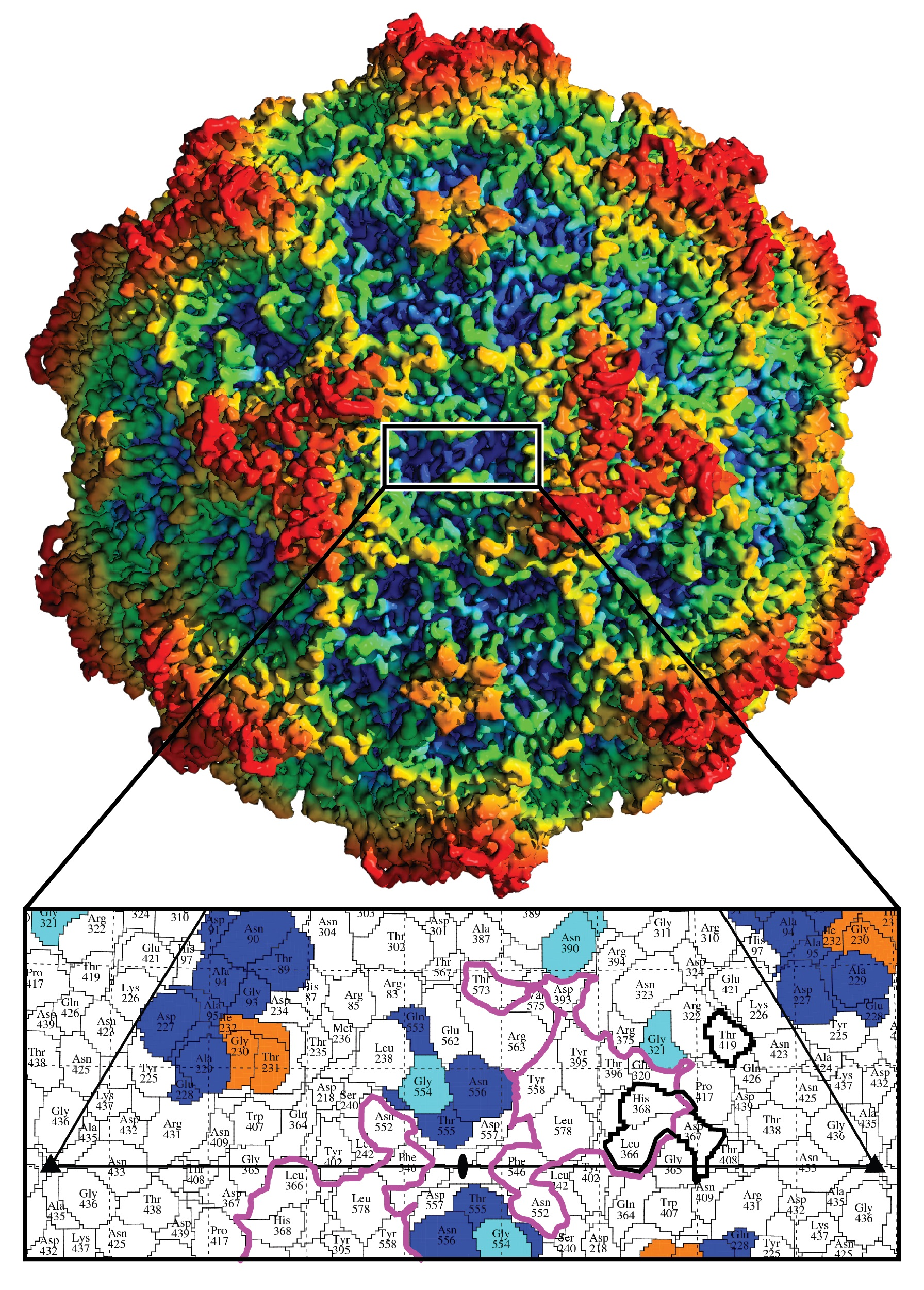 This is an open access article distributed under the
Creative Commons Attribution License
which permits unrestricted use, distribution, and reproduction in any medium, provided the original work is properly cited. (CC BY 4.0).
Share & Cite This Article
MDPI and ACS Style
Pittman, N.; Misseldine, A.; Geilen, L.; Halder, S.; Smith, J.K.; Kurian, J.; Chipman, P.; Janssen, M.; Mckenna, R.; Baker, T.S.; D'Abramo Jr., A.; Cotmore, S.; Tattersall, P.; Agbandje-McKenna, M. Atomic Resolution Structure of the Oncolytic Parvovirus LuIII by Electron Microscopy and 3D Image Reconstruction. Viruses 2017, 9, 321.
Note that from the first issue of 2016, MDPI journals use article numbers instead of page numbers. See further details here.
Related Articles
Comments
[Return to top]