Comparative Proteome Analysis of Porcine Jejunum Tissues in Response to a Virulent Strain of Porcine Epidemic Diarrhea Virus and Its Attenuated Strain
State Key Laboratory of Agricultural Microbiology, College of Veterinary Medicine, Huazhong Agricultural University, Wuhan 430070, China
*
Author to whom correspondence should be addressed.
Academic Editor: Andrew Mehle
Received: 10 August 2016 / Revised: 12 November 2016 / Accepted: 21 November 2016 / Published: 29 November 2016
Abstract
Porcine epidemic diarrhea virus (PEDV), a predominant cause of acute enteric infection, leads to severe dehydrating diarrhea and mortality in piglets all over the world. A virulent PEDV YN13 strain, isolated in our laboratory, was attenuated to yield an attenuated PEDV strain YN144. To better understand the pathogenesis mechanism and the virus-host interaction during infection with both PEDV YN13 and YN144 strains, a comparative proteomic analysis was carried out to investigate the proteomic changes produced in the primary target organ, using isobaric tags for relative and absolute quantitation (iTRAQ) labeling, followed by liquid chromatography tandem-mass spectrometry (LC-MS/MS). A total of 269 and 301 differently expressed proteins (DEPs) were identified in the jejunum tissues of the piglets inoculated with YN13 and YN144, respectively. Bioinformatics analysis revealed that these proteins were involved in stress responses, signal transduction, and the immune system. All of these involved interferon-stimulated genes (ISGs) which were up-regulated in jejunums by both of the PEDV-infected groups. Based on the comparative analysis, we proposed that different changes induced by YN13 and YN144 in heterogeneous nuclear ribonucleoprotein A1 (hnRNPA1), eukaryotic initiation factor 4G1 (eIF4G1), and some members in the heat shock protein (HSP) family, may be responsible for differences in their pathogenicity.
View Full-Text
►

▼

Figures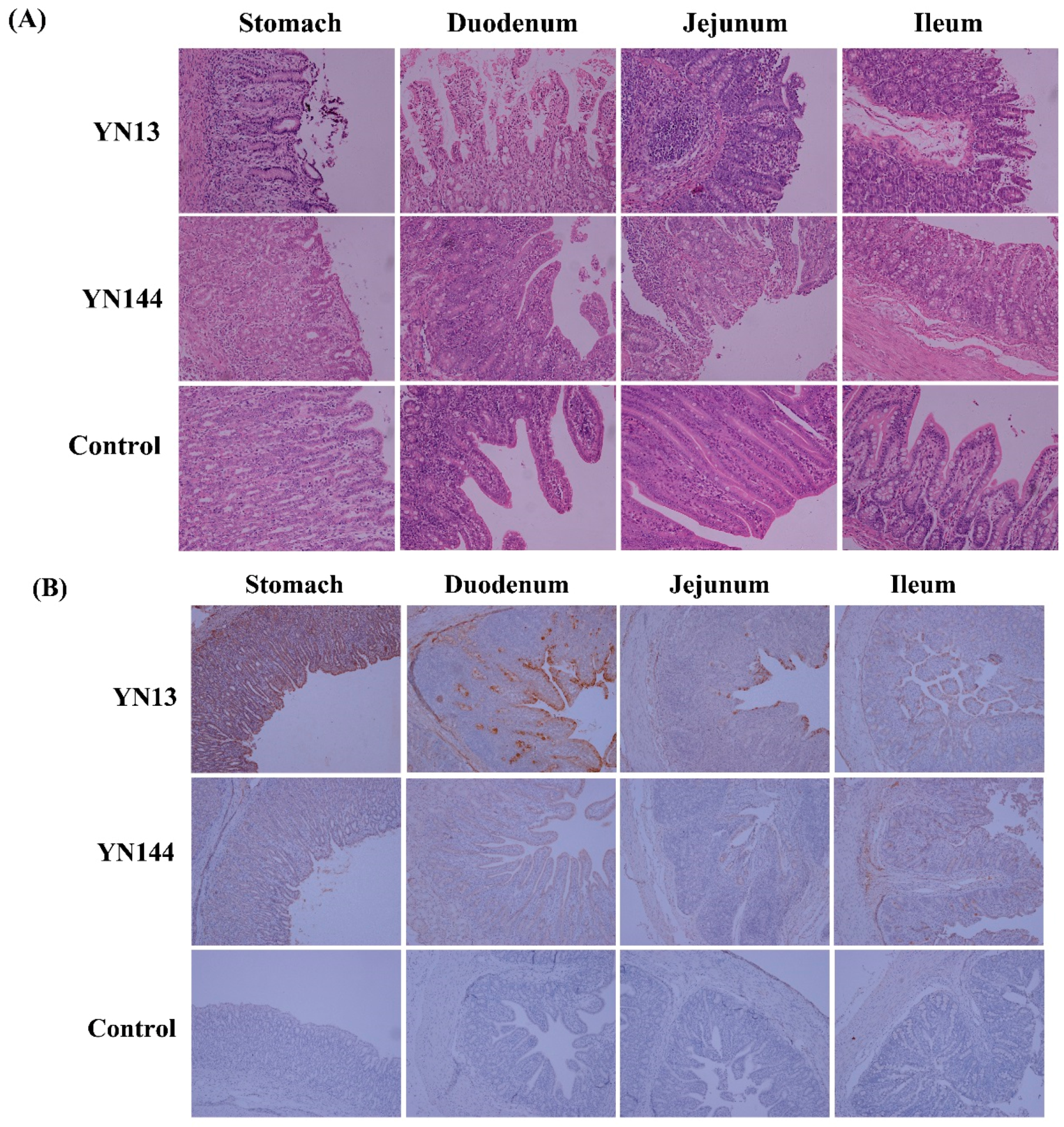 Figure 1a
This is an open access article distributed under the
Creative Commons Attribution License
which permits unrestricted use, distribution, and reproduction in any medium, provided the original work is properly cited. (CC BY 4.0).
Share & Cite This Article
MDPI and ACS Style
Li, Z.; Chen, F.; Ye, S.; Guo, X.; Muhanmmad Memon, A.; Wu, M.; He, Q. Comparative Proteome Analysis of Porcine Jejunum Tissues in Response to a Virulent Strain of Porcine Epidemic Diarrhea Virus and Its Attenuated Strain. Viruses 2016, 8, 323.
Note that from the first issue of 2016, MDPI journals use article numbers instead of page numbers. See further details here.
Related Articles
Comments
[Return to top]