Mechanistic Study of Common Non-Nucleoside Reverse Transcriptase Inhibitor-Resistant Mutations with K103N and Y181C Substitutions
Department of Antiviral Research, Merck Research Laboratories, West Point, PA 19486, USA
*
Author to whom correspondence should be addressed.
Academic Editor: Curt Hagedorn
Received: 11 August 2016 / Revised: 15 September 2016 / Accepted: 16 September 2016 / Published: 23 September 2016
Abstract
Non-nucleoside reverse transcriptase inhibitors (NNRTIs) are a mainstay of therapy for human immunodeficiency type 1 virus (HIV-1) infections. However, their effectiveness can be hampered by the emergence of resistant mutations. To aid in designing effective NNRTIs against the resistant mutants, it is important to understand the resistance mechanism of the mutations. Here, we investigate the mechanism of the two most prevalent NNRTI-associated mutations with K103N or Y181C substitution. Virus and reverse transcriptase (RT) with K103N/Y188F, K103A, or K103E substitutions and with Y181F, Y188F, or Y181F/Y188F substitutions were employed to study the resistance mechanism of the K103N and Y181C mutants, respectively. Results showed that the virus and RT with K103N/Y188F substitutions displayed similar resistance levels to the virus and RT with K103N substitution versus NNRTIs. Virus and RT containing Y181F, Y188F, or Y181F/Y188F substitution exhibited either enhanced or similar susceptibility to NNRTIs compared with the wild type (WT) virus. These results suggest that the hydrogen bond between N103 and Y188 may not play an important role in the resistance of the K103N variant to NNRTIs. Furthermore, the results from the studies with the Y181 or Y188 variant provide the direct evidence that aromatic π–π stacking plays a crucial role in the binding of NNRTIs to RT.
View Full-Text
►

▼

Figures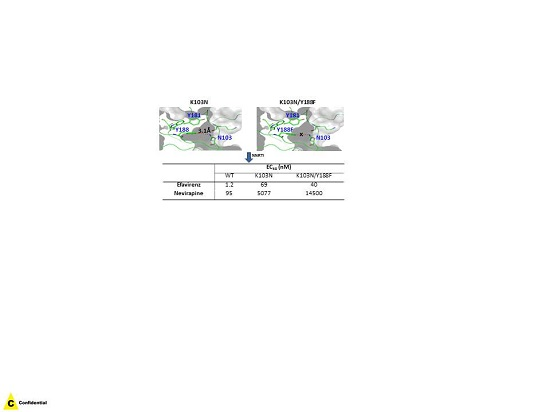 This is an open access article distributed under the
Creative Commons Attribution License
which permits unrestricted use, distribution, and reproduction in any medium, provided the original work is properly cited. (CC BY 4.0).
Share & Cite This Article
MDPI and ACS Style
Lai, M.-T.; Munshi, V.; Lu, M.; Feng, M.; Hrin-Solt, R.; McKenna, P.M.; Hazuda, D.J.; Miller, M.D. Mechanistic Study of Common Non-Nucleoside Reverse Transcriptase Inhibitor-Resistant Mutations with K103N and Y181C Substitutions. Viruses 2016, 8, 263.
Note that from the first issue of 2016, MDPI journals use article numbers instead of page numbers. See further details here.
Related Articles
Comments
[Return to top]