Dendritic Cells in Oncolytic Virus-Based Anti-Cancer Therapy
1
Departments of Pathology, Dalhousie University, Halifax, NS B3H 1X5, Canada
2
Department of Biology, Dalhousie University, Halifax, NS B3H 1X5, Canada
3
Department of Microbiology and Immunology, Dalhousie University, Halifax, NS B3H 1X5, Canada
4
Department of Strategy and Organizational Performance, IWK Health Centre, Halifax, NS B3K 6R8, Canada
*
Authors to whom correspondence should be addressed.
Academic Editors: E. Antonio Chiocca and Martine L.M. Lamfers
Received: 9 September 2015 / Revised: 10 November 2015 / Accepted: 27 November 2015 / Published: 9 December 2015
Abstract
Dendritic cells (DCs) are specialized antigen-presenting cells that have a notable role in the initiation and regulation of innate and adaptive immune responses. In the context of cancer, appropriately activated DCs can induce anti-tumor immunity by activating innate immune cells and tumor-specific lymphocytes that target cancer cells. However, the tumor microenvironment (TME) imposes different mechanisms that facilitate the impairment of DC functions, such as inefficient antigen presentation or polarization into immunosuppressive DCs. These tumor-associated DCs thus fail to initiate tumor-specific immunity, and indirectly support tumor progression. Hence, there is increasing interest in identifying interventions that can overturn DC impairment within the TME. Many reports thus far have studied oncolytic viruses (OVs), viruses that preferentially target and kill cancer cells, for their capacity to enhance DC-mediated anti-tumor effects. Herein, we describe the general characteristics of DCs, focusing on their role in innate and adaptive immunity in the context of the TME. We also examine how DC-OV interaction affects DC recruitment, OV delivery, and anti-tumor immunity activation. Understanding these roles of DCs in the TME and OV infection is critical in devising strategies to further harness the anti-tumor effects of both DCs and OVs, ultimately enhancing the efficacy of OV-based oncotherapy.
View Full-Text
►

▼

Figures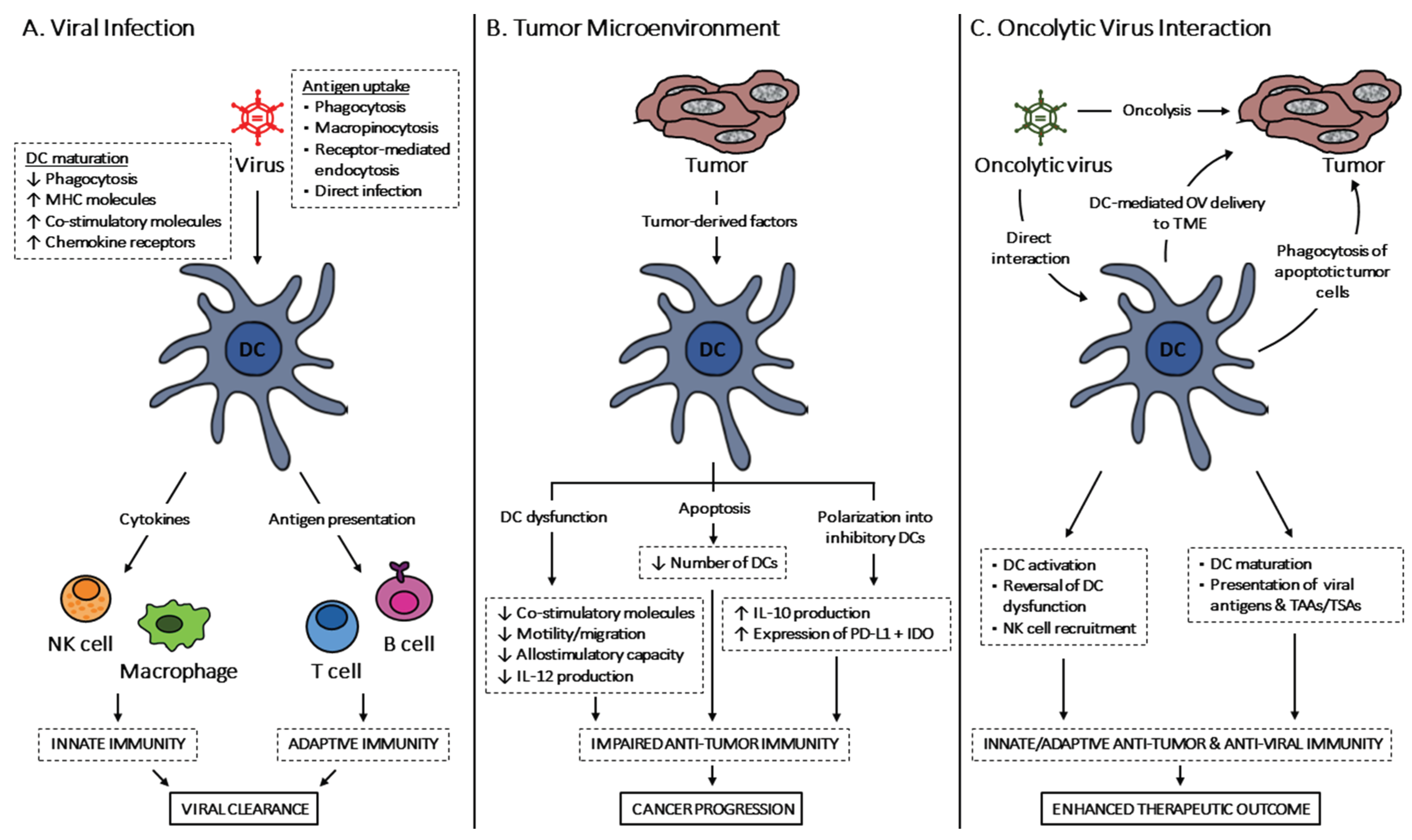 Figure 1
This is an open access article distributed under the
Creative Commons Attribution License
which permits unrestricted use, distribution, and reproduction in any medium, provided the original work is properly cited. (CC BY 4.0).
Share & Cite This Article
MDPI and ACS Style
Kim, Y.; Clements, D.R.; Sterea, A.M.; Jang, H.W.; Gujar, S.A.; Lee, P.W.K. Dendritic Cells in Oncolytic Virus-Based Anti-Cancer Therapy. Viruses 2015, 7, 6506-6525.
Related Articles
Comments
[Return to top]