Human Cytomegalovirus UL34 Early and Late Proteins Are Essential for Viral Replication
1
Department of Biomedical Sciences, Heritage College of Osteopathic Medicine, Ohio University, 228 Irvine Hall, Athens, OH 45701, USA
2
Department of Biomedical Sciences and Program in Molecular and Cellular Biology, Heritage College of Osteopathic Medicine, Ohio University, 228 Irvine Hall, Athens, OH 45701, USA
*
Author to whom correspondence should be addressed.
Received: 10 December 2013 / Revised: 17 January 2014 / Accepted: 21 January 2014 / Published: 28 January 2014
Abstract
UL34 is one of the ~50 genes of human cytomegalovirus (HCMV) required for replication in cell culture in human fibroblasts. UL34 encodes highly related early (UL34a) and late (UL34b) proteins that are virtually identical, with the early protein containing an additional 21 amino terminal amino acids. The UL34 proteins are sequence-specific DNA‑binding proteins that localize to the nucleus. The HCMV genome contains 14 to 15 UL34 binding sites; two of the UL34 binding sites contribute to transcriptional regulation of two other viral genes, US3 and US9. The roles of the remaining binding sites and the requirement for both UL34 proteins during viral infection remain unknown. We examined the contributions of the early and late UL34 proteins to viral replication by generating HCMV-containing bacterial artificial chromosomes with the initiation codon for the early or the late protein mutated. Neither virus was able to replicate, demonstrating that UL34 expression is required throughout the viral replication cycle. A marked decrease in viral gene expression for each of the mutants suggests that UL34 proteins may contribute generally to transcriptional regulation. Intracellular localization studies demonstrated that UL34 colocalizes with the major immediate early protein, IE2, and the viral DNA polymerase processivity factor, UL44, to viral DNA replication centers. In conclusion, sustained UL34 protein expression is required for viral replication. The sequence-specific DNA binding ability of UL34 proteins, their localization to viral DNA replication centers and their general effects on viral gene expressions suggests that UL34 proteins contribute to the establishment of a nuclear environment necessary for viral gene expression and DNA replication.
View Full-Text
►

▼

Figures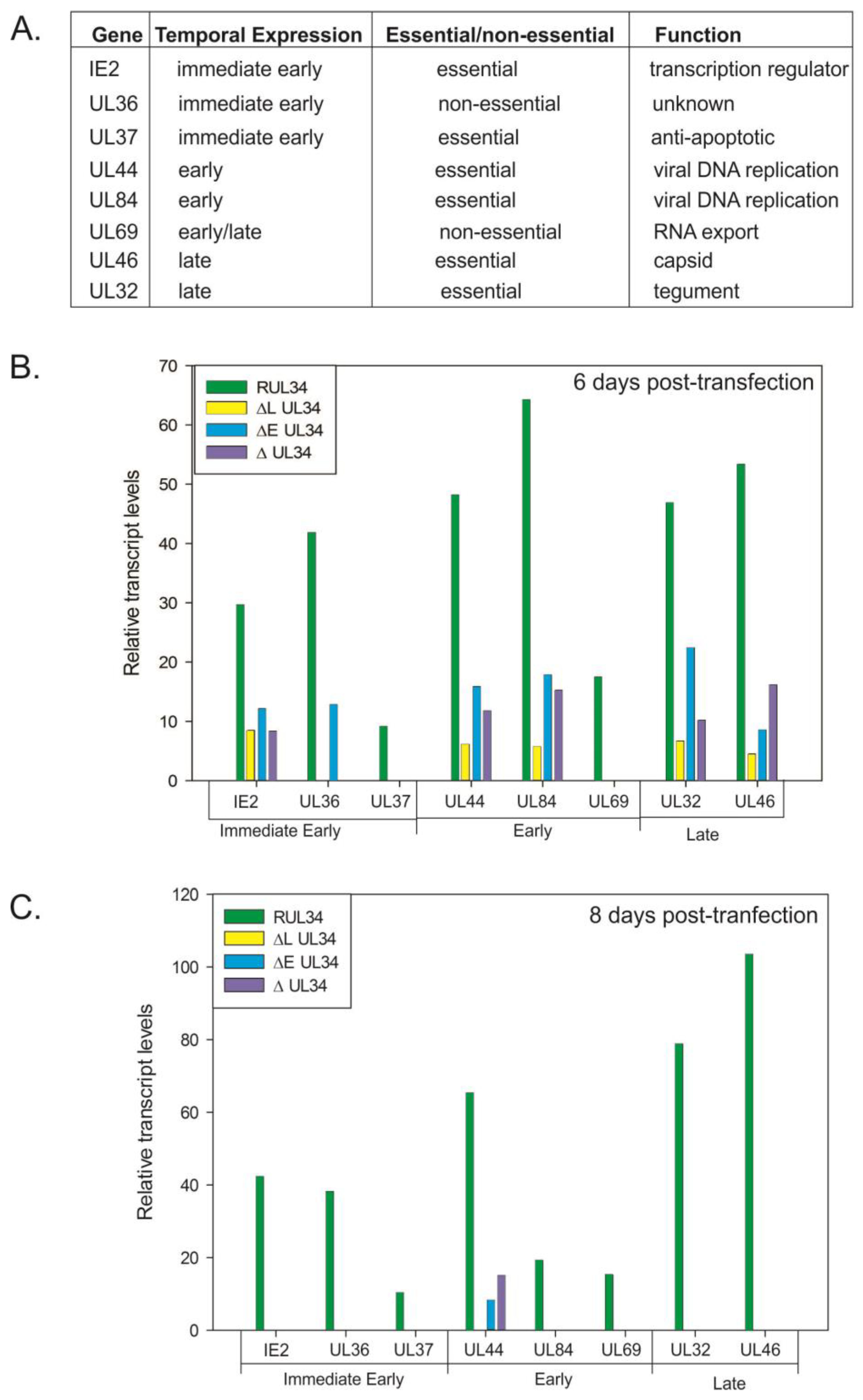 Figure 1
Share & Cite This Article
MDPI and ACS Style
Rana, R.; Biegalke, B.J. Human Cytomegalovirus UL34 Early and Late Proteins Are Essential for Viral Replication. Viruses 2014, 6, 476-488.
Related Articles
Comments
[Return to top]