Spread of the Emerging Viral Hemorrhagic Septicemia Virus Strain, Genotype IVb, in Michigan, USA
1
Department of Pathobiology and Diagnostic Investigation, College of Veterinary Medicine, Michigan State University, East Lansing, MI 48824, USA
2
Department of Fisheries and Wildlife, College of Agriculture and Natural Resources, Michigan State University, East Lansing, MI 48824, USA
3
Department of Fish Diseases and Management, Cairo University, Cairo, Egypt
4
Michigan Department of Natural Resources, State of Michigan Government, Lansing, MI 48909, USA
5
United States Geological Survey-Western Fisheries Research Center, Seattle, WA 98115, USA
*
Author to whom correspondence should be addressed.
Received: 21 March 2012 / Revised: 11 April 2012 / Accepted: 13 April 2012 / Published: 3 May 2012
Abstract
In 2003, viral hemorrhagic septicemia virus (VHSV) emerged in the Laurentian Great Lakes causing serious losses in a number of ecologically and recreationally important fish species. Within six years, despite concerted managerial preventive measures, the virus spread into the five Great Lakes and to a number of inland waterbodies. In response to this emerging threat, cooperative efforts between the Michigan Department of Natural Resources (MI DNR), the Michigan State University Aquatic Animal Health Laboratory (MSU-AAHL), and the United States Department of Agriculture-Animal and Plant Health Inspection Services (USDA-APHIS) were focused on performing a series of general and VHSV-targeted surveillances to determine the extent of virus trafficking in the State of Michigan. Herein we describe six years (2005–2010) of testing, covering hundreds of sites throughout Michigan's Upper and Lower Peninsulas. A total of 96,228 fish representing 73 species were checked for lesions suggestive of VHSV and their internal organs tested for the presence of VHSV using susceptible cell lines. Of the 1,823 cases tested, 30 cases from 19 fish species tested positive for VHSV by tissue culture and were confirmed by reverse transcriptase polymerase chain reaction (RT-PCR). Gene sequence analyses of all VHSV isolates retrieved in Michigan demonstrated that they belong to the emerging sublineage "b" of the North American VHSV genotype IV. These findings underscore the complexity of VHSV ecology in the Great Lakes basin and the critical need for rigorous legislation and regulatory guidelines in order to reduce the virus spread within and outside of the Laurentian Great Lakes watershed.
View Full-Text
►

▼

Figures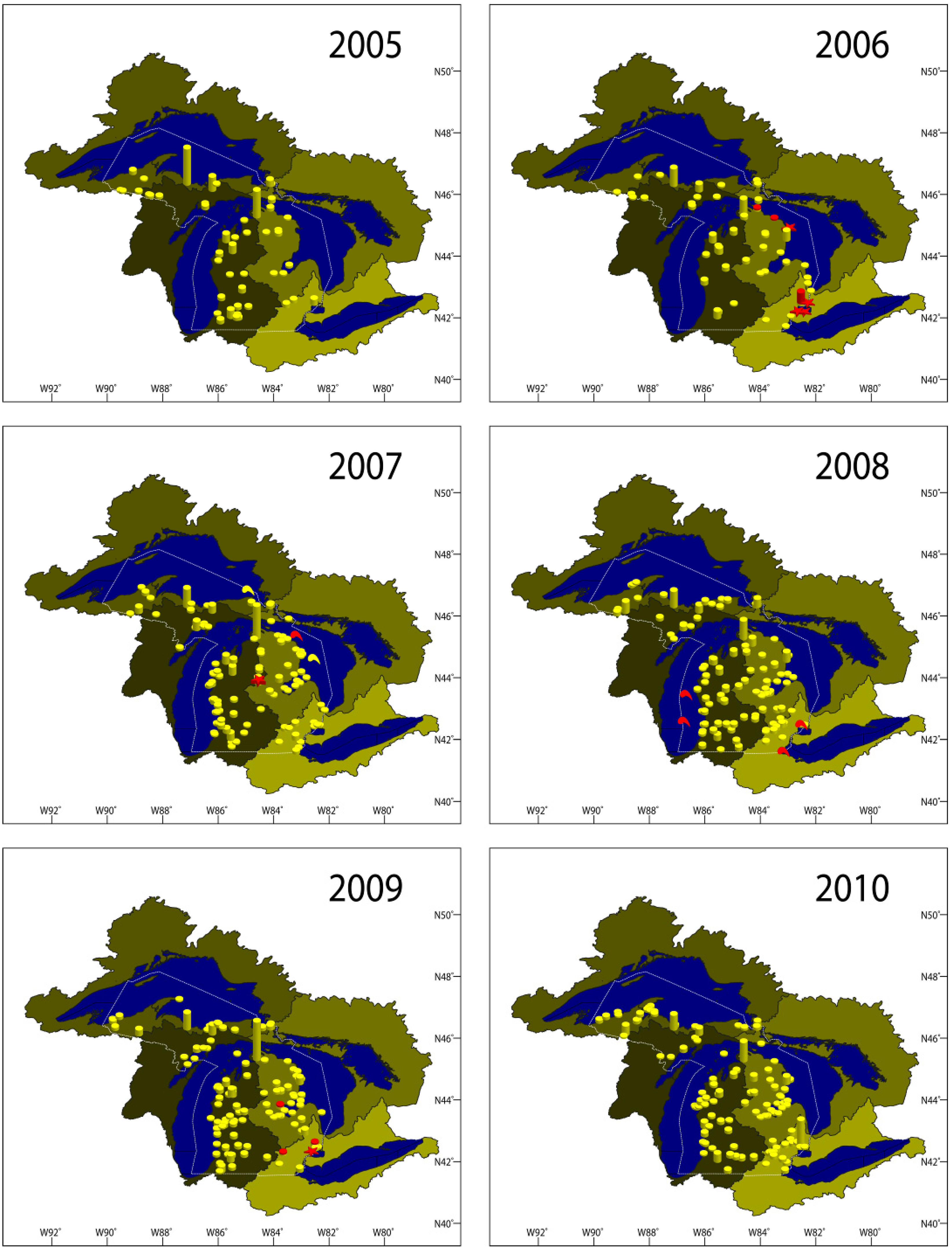 Figure 1
Share & Cite This Article
MDPI and ACS Style
Faisal, M.; Shavalier, M.; Kim, R.K.; Millard, E.V.; Gunn, M.R.; Winters, A.D.; Schulz, C.A.; Eissa, A.; Thomas, M.V.; Wolgamood, M.; Whelan, G.E.; Winton, J. Spread of the Emerging Viral Hemorrhagic Septicemia Virus Strain, Genotype IVb, in Michigan, USA. Viruses 2012, 4, 734-760.
Related Articles
Comments
[Return to top]