Hiding Lipid Presentation: Viral Interference with CD1d-Restricted Invariant Natural Killer T (iNKT) Cell Activation
1
Department of Medical Microbiology, University Medical Center Utrecht, 3584 CX Utrecht, The Netherlands
2
Department of Pediatric Immunology, University Medical Center Utrecht, 3584 CX Utrecht, The Netherlands
*
Author to whom correspondence should be addressed.
Received: 2 September 2012 / Revised: 12 October 2012 / Accepted: 17 October 2012 / Published: 23 October 2012
Abstract
The immune system plays a major role in protecting the host against viral infection. Rapid initial protection is conveyed by innate immune cells, while adaptive immunity (including T lymphocytes) requires several days to develop, yet provides high specificity and long-lasting memory.
Invariant natural killer T (iNKT) cells are an unusual subset of T lymphocytes, expressing a semi-invariant T cell receptor together with markers of the innate NK cell lineage. Activated iNKT cells can exert direct cytolysis and can rapidly release a variety of immune-polarizing cytokines, thereby regulating the ensuing adaptive immune response. iNKT cells recognize lipids in the context of the antigen-presenting molecule CD1d. Intriguingly, CD1d-restricted iNKT cells appear to play a critical role in anti-viral defense: increased susceptibility to disseminated viral infections is observed both in patients with iNKT cell deficiency as well as in CD1d- and iNKT cell-deficient mice. Moreover, viruses have recently been found to use sophisticated strategies to withstand iNKT cell-mediated elimination. This review focuses on CD1d-restricted lipid presentation and the strategies viruses deploy to subvert this pathway.
View Full-Text
►

▼

Figures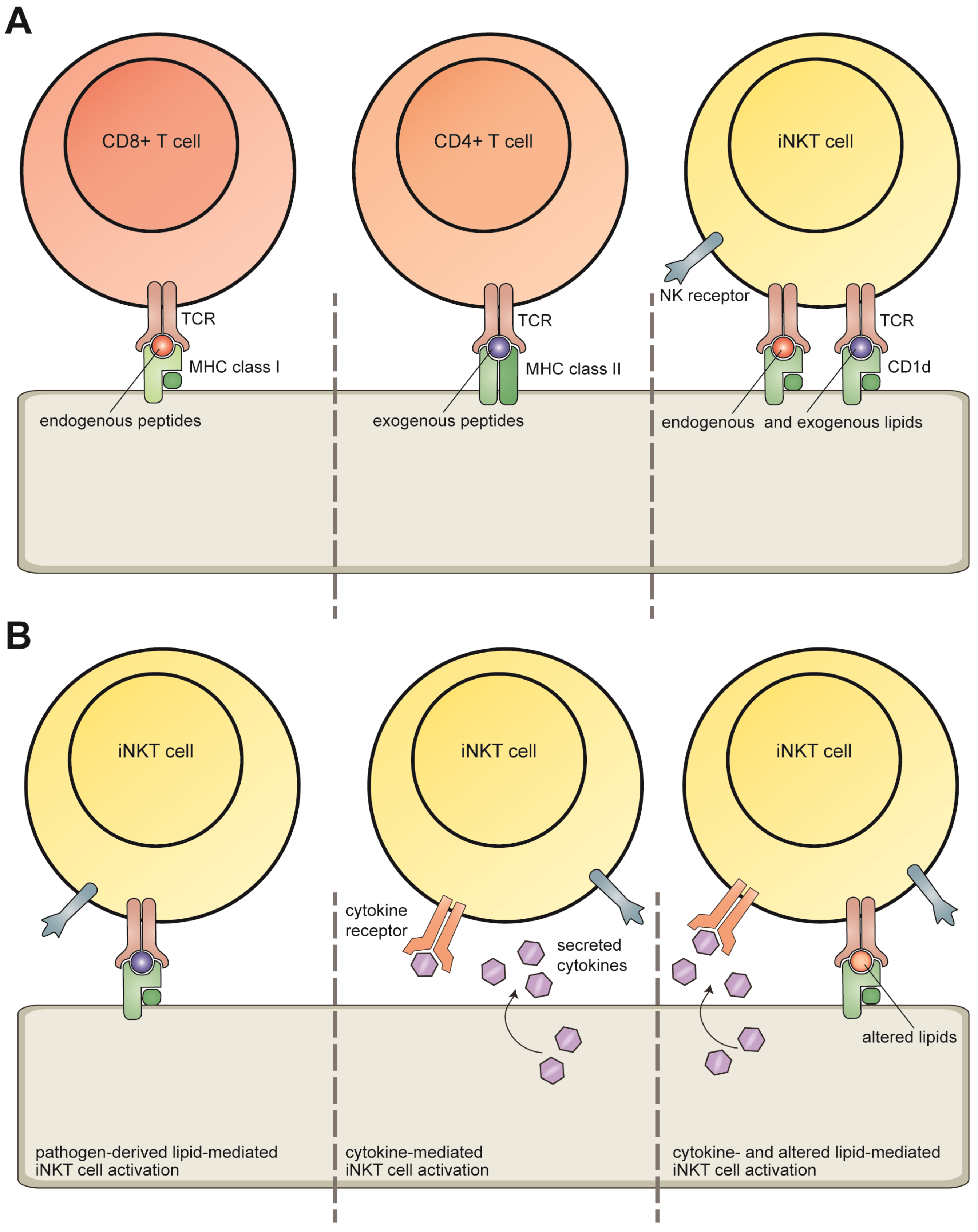 Figure 1
Share & Cite This Article
MDPI and ACS Style
Horst, D.; Geerdink, R.J.; Gram, A.M.; Stoppelenburg, A.J.; Ressing, M.E. Hiding Lipid Presentation: Viral Interference with CD1d-Restricted Invariant Natural Killer T (iNKT) Cell Activation. Viruses 2012, 4, 2379-2399.
Related Articles
Comments
[Return to top]