Introduction of a Novel Swine-Origin Influenza A (H1N1) Virus into Milwaukee, Wisconsin in 2009
1
Midwest Respiratory Virus Program (MRVP) Laboratory, Medical College of Wisconsin, Milwaukee, WI 53226, USA
2
Department of Pediatric, Medical College of Wisconsin, Milwaukee, WI 53226, USA
3
Department of Pathology, Medical College of Wisconsin, Milwaukee, WI 53226, USA
4
Children's Research Institute, Children's Hospital of Wisconsin, P.O. Box 1997, Milwaukee, WI 53201-1997, USA
5
Children's Hospital of Wisconsin, P.O. Box 1997, Milwaukee, WI 53201-1997, USA
6
Dynacare laboratories, Milwaukee, Wisconsin, USA
*
Author to whom correspondence should be addressed.
Received: 4 June 2009 / Revised: 11 June 2009 / Accepted: 11 June 2009 / Published: 11 June 2009
Abstract
On 17 April 2009, novel swine origin influenza A virus (S-OIV) cases appeared within the United States. Most influenza A diagnostic assays currently utilized in local clinical laboratories do not allow definitive subtype determination. Detailed subtype analysis of influenza A positive samples in our laboratory allowed early confirmation of a large outbreak of S-OIV in southeastern Wisconsin (SEW). The initial case of S-OIV in SEW was detected on 28 April 2009. All influenza A samples obtained during the 16 week period prior to 28 April 2009, and the first four weeks of the subsequent epidemic were sub typed. Four different multiplex assays were employed, utilizing real time PCR and end point PCR to fully subtype human and animal influenza viral components. Specific detection of S-OIV was developed within days. Data regarding patient demographics and other concurrently circulating viruses were analyzed. During the first four weeks of the epidemic, 679 of 3726 (18.2%) adults and children tested for influenza A were identified with S-OIV infection. Thirteen patients (0.34%) tested positive for seasonal human subtypes of influenza A during the first two weeks and none in the subsequent 2 weeks of the epidemic. Parainfluenza viruses were the most prevalent seasonal viral agents circulating during the epidemic (of those tested), with detection rates of 12% followed by influenza B and RSV at 1.9% and 0.9% respectively. S-OIV was confirmed on day 2 of instituting subtype testing and within 4 days of report of national cases of S-OIV. Novel surge capacity diagnostic infrastructure exists in many specialty and research laboratories around the world. The capacity for broader influenza A sub typing at the local laboratory level allows timely and accurate detection of novel strains as they emerge in the community, despite the presence of other circulating viruses producing identical illness. This is likely to become increasingly important given the need for appropriate subtype driven anti-viral therapy and the potential shortage of such medications in a large epidemic.
View Full-Text
►

▼

Figures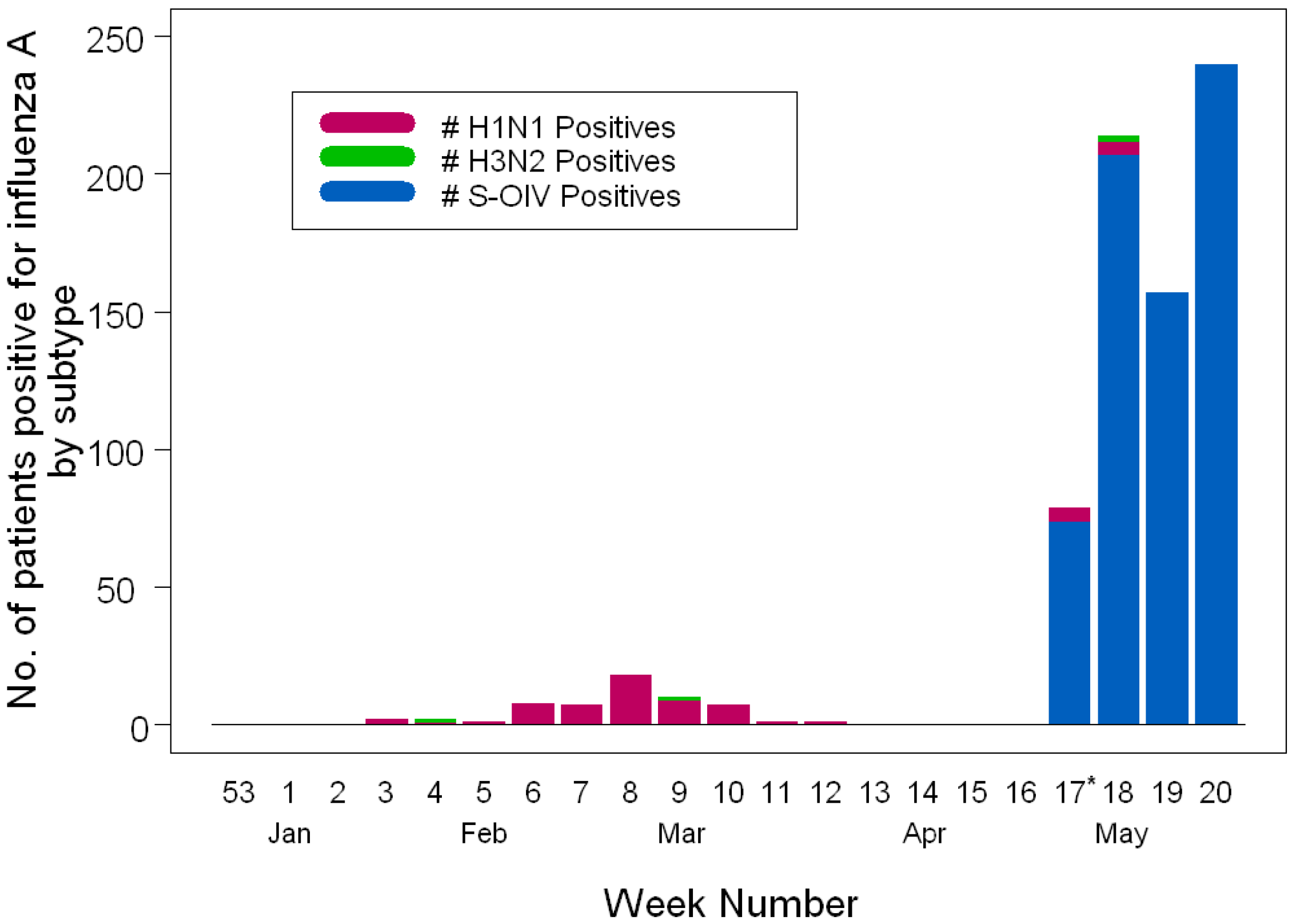 Figure 1
Share & Cite This Article
MDPI and ACS Style
Kumar, S.; Chusid, M.J.; Willoughby, R.E.; Havens, P.L.; Kehl, S.C.; Ledeboer, N.A.; Li, S.-H.; Henrickson, K.J. Introduction of a Novel Swine-Origin Influenza A (H1N1) Virus into Milwaukee, Wisconsin in 2009. Viruses 2009, 1, 72-83.
Related Articles
Comments
[Return to top]