Bone Regeneration and Remodeling within a Unidirectional Porous Hydroxyapatite Bone Substitute at a Cortical Bone Defect Site: Histological Analysis at One and Two Years after Implantation
1
Department of Orthopaedic Surgery, Tsukuba Medical Center Hospital, 1-3-1 Amakubo, Tsukuba, Ibaraki 305-8550, Japan
2
Department of Orthopaedic Surgery, Kenpoku Medical Center, Takahagi Kyodo Hospital, 1006-9 Agehocho, Kamitetsuna, Takahagi, Ibaraki 318-0004, Japan
3
Department of Orthopaedic Surgery, Ichihara Hospital, 3681 Ohzone, Tsukuba, Ibaraki 300-3295, Japan
4
Tsukuba Central Hospital, 1589-3 Kashiwada-Cho, Ushiku, Ibaraki 300-1211, Japan
5
Biomaterials Unit, National Institute for Materials Science, 1-1 Namiki, Tsukuba, Ibaraki 305-0044, Japan
6
Department of Orthopaedic Surgery, University of Tsukuba, 1-1-1 Tennodai, Tsukuba, Ibaraki 305-8575, Japan
*
Author to whom correspondence should be addressed.
Academic Editor: Franz E. Weber
Received: 11 June 2015 / Revised: 22 July 2015 / Accepted: 27 July 2015 / Published: 30 July 2015
Abstract
Unidirectional porous hydroxyapatite (UDPHAp) is an artificial bone substitute with a unique microstructure consisting of 100–300-µm oval pores that present the material unidirectionally. UDPHAp has a compression strength of 14 MPa and a porosity of 75%, which promotes cell migration and capillary formation within the material. Despite these advantageous properties, bone remodeling and bone formation with UDPHAp remain unclear. To examine long-term remodeling and differences in bone formation based on the defect site, trapezoidal prism-shaped UDPHAp blocks were implanted into rectangular-shaped cortical bone defects in the proximal tibia of Japanese white rabbits. Histological analysis performed at 52 and 104 weeks after implantation revealed that bone and capillaries had formed within the implanted UDPHAp material. Bone formed within the UDPHAp implanted in the cortical defect of rabbit tibia and remodel up to two years. The percentage of new bone area within UDPHAp was larger in cortical lesions than that in medullary lesions. These findings suggest that UDPHAp is a promising material for the repair of non-critical-sized cortical bone defects.
View Full-Text
►

▼

Figures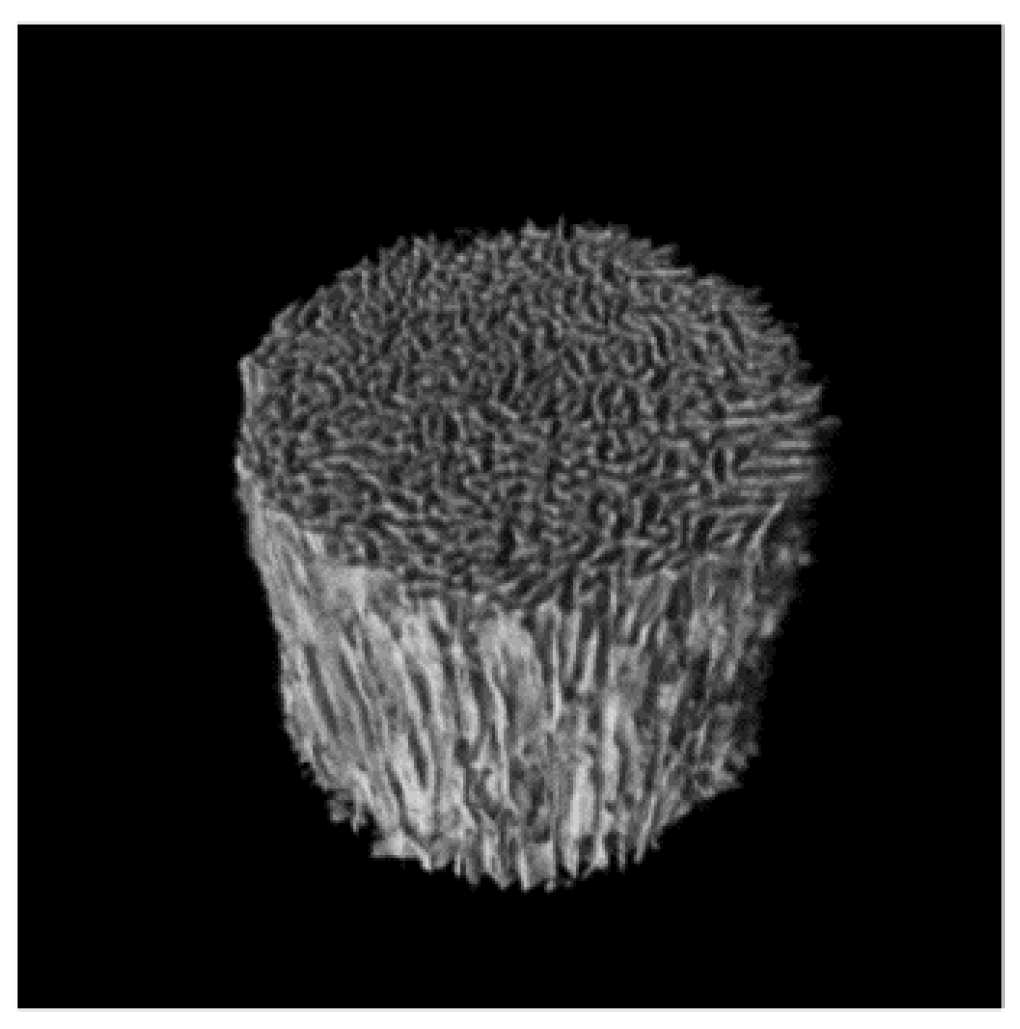 Figure 1
This is an open access article distributed under the
Creative Commons Attribution License
which permits unrestricted use, distribution, and reproduction in any medium, provided the original work is properly cited. (CC BY 4.0).
Share & Cite This Article
MDPI and ACS Style
Iwasashi, M.; Funayama, T.; Watanabe, A.; Noguchi, H.; Tsukanishi, T.; Suetsugu, Y.; Makihara, T.; Ochiai, N.; Yamazaki, M.; Sakane, M. Bone Regeneration and Remodeling within a Unidirectional Porous Hydroxyapatite Bone Substitute at a Cortical Bone Defect Site: Histological Analysis at One and Two Years after Implantation. Materials 2015, 8, 4884-4894.
Related Articles
Comments
[Return to top]