Novel Magnetic Zinc Oxide Nanotubes for Phenol Adsorption: Mechanism Modeling
1
Fabrication Technology Department, Advanced Technology and New Materials Researches Institute, City of Scientific Researches and technological applications, New Borg El-Arab City, Alexandria 21934, Egypt
2
Chemical and Petrochemical Engineering Department, Egypt-Japan University of Science and Technology, New Borg El-Arab City, Alexandria 21934, Egypt
3
Electronic Materials Researches Department, Advanced Technology and New Materials Researches Institute, City of Scientific Researches and technological applications, New Borg El-Arab City, Alexandria 21934, Egypt
4
Chemistry Department, Faculty of Science, Tanta University, Tanta 31527, Egypt
5
Environment and Natural Materials Research Institute (ENMRI), City of Scientific Research and Technological Applications, New Borg El-Arab City, Alexandria 21934, Egypt
6
Research Center for Advanced Materials Science (RCAMS), King Khalid University, Abha 61413, P.O. Box 9004, Saudi Arabia
7
Physics Department, Faculty of Science, King Khalid University, Abha 61413, P.O. Box 9004, Saudi Arabia
8
Physics Department, Faculty of Science, Al-Azhar University, Assiut 71452, Egypt
*
Authors to whom correspondence should be addressed.
Received: 11 September 2017 / Revised: 9 November 2017 / Accepted: 15 November 2017 / Published: 25 November 2017
Abstract
Considering the great impact of a material's surface area on adsorption processes, hollow nanotube magnetic zinc oxide with a favorable surface area of 78.39 m
2
/g was fabricated with the assistance of microwave technology in the presence of poly vinyl alcohol (PVA) as a stabilizing agent followed by sonic precipitation of magnetite nano-particles. Scanning electron microscopy (SEM) and transmission electron microscopy (TEM) micrographs identified the nanotubes' morphology in the synthesized material with an average aspect ratio of 3. X-ray diffraction (XRD) analysis verified the combination of magnetite material with the hexagonal wurtzite structure of ZnO in the prepared material. The immobilization of magnetite nanoparticles on to ZnO was confirmed using vibrating sample magnetometry (VSM). The sorption affinity of the synthesized magnetic ZnO nanotube for phenolic compounds from aqueous solutions was examined as a function of various processing factors. The degree of acidity of the phenolic solution has great influence on the phenol sorption process on to magnetic ZnO. The calculated value of ΔH
0
designated the endothermic nature of the phenol uptake process on to the magnetic ZnO nanotubes. Mathematical modeling indicated a combination of physical and chemical adsorption mechanisms of phenolic compounds on to the fabricated magnetic ZnO nanotubes. The kinetic process correlated better with the second-order rate model compared to the first-order rate model. This result indicates the predominance of the chemical adsorption process of phenol on to magnetic ZnO nanotubes.
View Full-Text
►

▼

Figures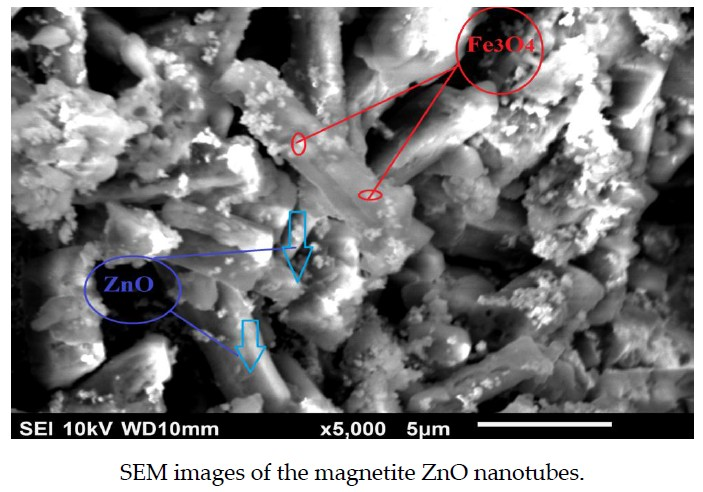 This is an open access article distributed under the
Creative Commons Attribution License
which permits unrestricted use, distribution, and reproduction in any medium, provided the original work is properly cited. (CC BY 4.0).
Share & Cite This Article
MDPI and ACS Style
Elkady, M.F.; Hassan, H.S.; Amer, W.A.; Salama, E.; Algarni, H.; Shaaban, E.R. Novel Magnetic Zinc Oxide Nanotubes for Phenol Adsorption: Mechanism Modeling. Materials 2017, 10, 1355.
Note that from the first issue of 2016, MDPI journals use article numbers instead of page numbers. See further details here.
Related Articles
Comments
[Return to top]