Rapid Degradation of Phenanthrene by Using Sphingomonas sp. GY2B Immobilized in Calcium Alginate Gel Beads
1
School of Environmental Science and Engineering, Zhongkai University of Agriculture and Engineering, Guangzhou 510225, China
2
School of Chemistry and Chemical Engineering, South China University of Technology, Guangzhou 510640, China
*
Author to whom correspondence should be addressed.
Received: 26 August 2009 / Accepted: 15 September 2009 / Published: 16 September 2009
Abstract
The strain
Sphingomonas
sp. GY2B is a high efficient phenanthrene-degrading strain isolated from crude oil contaminated soils that displays a broad-spectrum degradation ability towards PAHs and related aromatic compounds. This paper reports embedding immobilization of strain GY2B in calcium alginate gel beads and the rapid degradation of phenanthrene by the embedded strains. Results showed that embedded immobilized strains had high degradation percentages both in mineral salts medium (MSM) and 80% artificial seawater (AS) media, and had higher phenanthrene degradation efficiency than the free strains. More than 90% phenanthrene (100 mg·L
-1
) was degraded within 36 h, and the phenanthrene degradation percentages were >99.8% after 72 h for immobilized strains. 80% AS had significant negative effect on the phenanthrene degradation rate (PDR) of strain GY2B during the linear-decreasing stage of incubation and preadsorption of cells onto rice straw could improve the PDR of embedded strain GY2B. The immobilization of strain GY2B possesses a good potential for application in the treatment of industrial wastewater containing phenanthrene and other related aromatic compounds.
View Full-Text
►

▼

Figures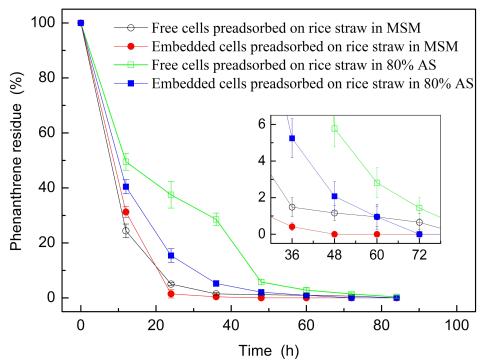 Share & Cite This Article
MDPI and ACS Style
Tao, X.-Q.; Lu, G.-N.; Liu, J.-P.; Li, T.; Yang, L.-N. Rapid Degradation of Phenanthrene by Using Sphingomonas sp. GY2B Immobilized in Calcium Alginate Gel Beads. Int. J. Environ. Res. Public Health 2009, 6, 2470-2480.
Related Articles
Comments
[Return to top]