Gene-by-Psychosocial Factor Interactions Influence Diastolic Blood Pressure in European and African Ancestry Populations: Meta-Analysis of Four Cohort Studies
1
Department of Epidemiology, School of Public Health, University of Michigan, Ann Arbor, MI 48109, USA
2
Survey Research Center, Institute for Social Research, University of Michigan, Ann Arbor, MI 48104, USA
3
Department of Human Genetics and Institute of Molecular Medicine, University of Texas Health Science Center, Houston, TX 77030, USA
4
Center for Complex Disease Genomics, McKusick-Nathans Institute of Genetic Medicine, Johns Hopkins University School of Medicine, Baltimore, MD 21205, USA
5
Department of Epidemiology and Biostatistics, Dornsife School of Public Health, Drexel University, Philadelphia, PA 19104, USA
6
Department of Physiology and Biophysics, University of Mississippi Medical Center, Jackson, MS 39216, USA
7
Department of Epidemiology, Gillings School of Global Public Health, University of North Carolina, Chapel Hill, NC 27599, USA
8
Department of Epidemiology, Human Genetics and Environmental Sciences, School of Public Health, University of Texas Health Science Center at Houston, Houston, TX 77030, USA
9
Department of Medicine, University of Mississippi Medical Center, Jackson, MS 39216, USA
10
Jackson Heart Study, Jackson State University, Jackson, MS 39213, USA
11
Department of Epidemiology, Rollins School of Public Health, Emory University, Atlanta, GA 30322, USA
*
Author to whom correspondence should be addressed.
Received: 2 October 2017 / Revised: 4 December 2017 / Accepted: 7 December 2017 / Published: 18 December 2017
Abstract
Inter-individual variability in blood pressure (BP) is influenced by both genetic and non-genetic factors including socioeconomic and psychosocial stressors. A deeper understanding of the gene-by-socioeconomic/psychosocial factor interactions on BP may help to identify individuals that are genetically susceptible to high BP in specific social contexts. In this study, we used a genomic region-based method for longitudinal analysis, Longitudinal Gene-Environment-Wide Interaction Studies (LGEWIS), to evaluate the effects of interactions between known socioeconomic/psychosocial and genetic risk factors on systolic and diastolic BP in four large epidemiologic cohorts of European and/or African ancestry. After correction for multiple testing, two interactions were significantly associated with diastolic BP. In European ancestry participants, outward/trait anger score had a significant interaction with the
C10orf107
genomic region (
p
= 0.0019). In African ancestry participants, depressive symptom score had a significant interaction with the
HFE
genomic region (
p
= 0.0048). This study provides a foundation for using genomic region-based longitudinal analysis to identify subgroups of the population that may be at greater risk of elevated BP due to the combined influence of genetic and socioeconomic/psychosocial risk factors.
View Full-Text
►

▼

Figures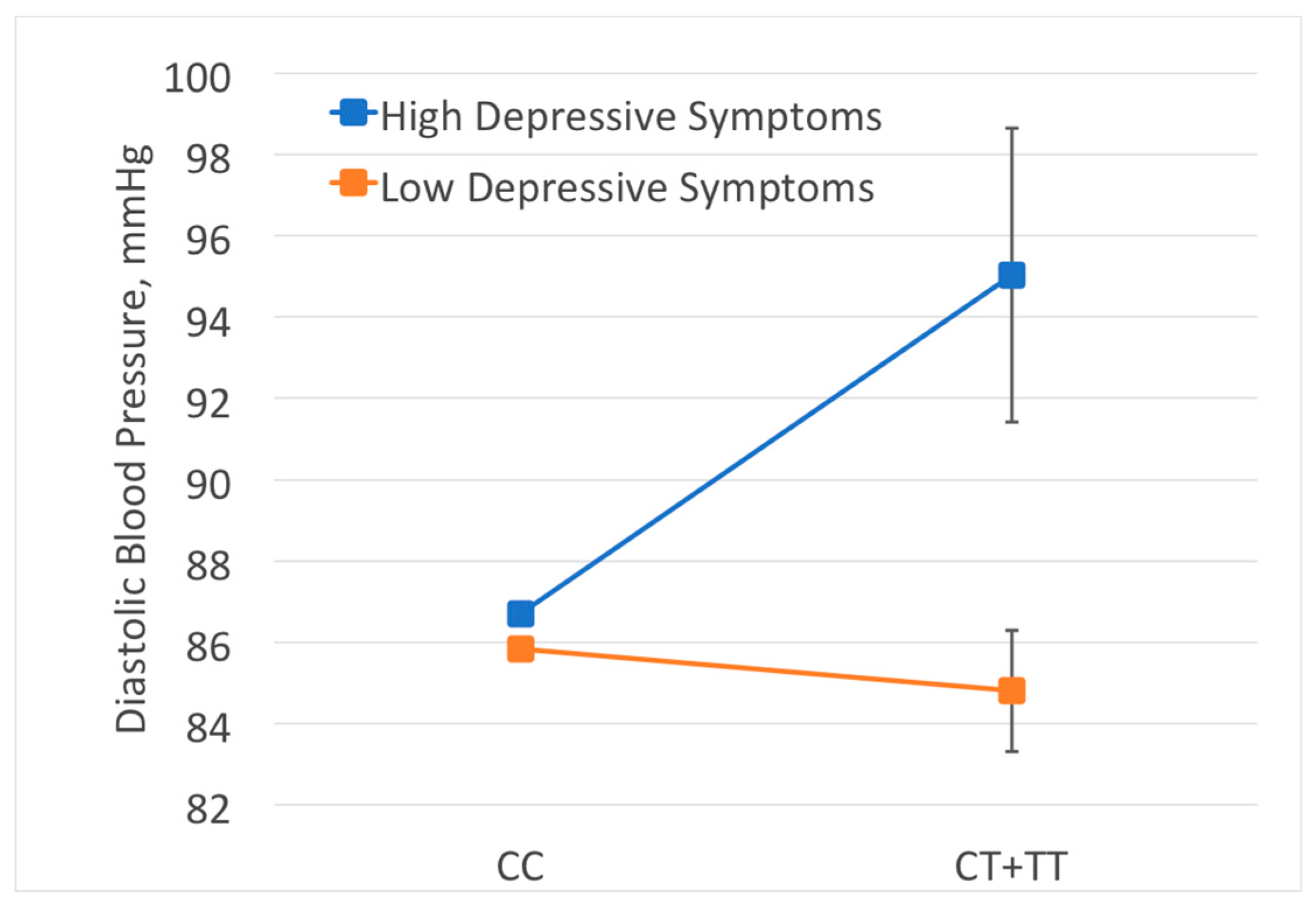 Figure 1
This is an open access article distributed under the
Creative Commons Attribution License
which permits unrestricted use, distribution, and reproduction in any medium, provided the original work is properly cited. (CC BY 4.0).
Share & Cite This Article
MDPI and ACS Style
Smith, J.A.; Zhao, W.; Yasutake, K.; August, C.; Ratliff, S.M.; Faul, J.D.; Boerwinkle, E.; Chakravarti, A.; Diez Roux, A.V.; Gao, Y.; Griswold, M.E.; Heiss, G.; Kardia, S.L.R.; Morrison, A.C.; Musani, S.K.; Mwasongwe, S.; North, K.E.; Rose, K.M.; Sims, M.; Sun, Y.V.; Weir, D.R.; Needham, B.L. Gene-by-Psychosocial Factor Interactions Influence Diastolic Blood Pressure in European and African Ancestry Populations: Meta-Analysis of Four Cohort Studies. Int. J. Environ. Res. Public Health 2017, 14, 1596.
Note that from the first issue of 2016, MDPI journals use article numbers instead of page numbers. See further details here.
Related Articles
Comments
[Return to top]