Study of Epigenetic Properties of Poly(HexaMethylene Biguanide) Hydrochloride (PHMB)
1
Department of Toxicology, University Bordeaux Segalen, 143, rue Léo Sagnat 33076-Bordeaux, France
2
Laboratoire PAREVA, Z.I. du bois de LEUZE 25, avenue Marie Curie 13310-Saint-Martin de CRAU, France
*
Author to whom correspondence should be addressed.
Received: 23 March 2014 / Revised: 1 July 2014 / Accepted: 7 July 2014 / Published: 8 August 2014
Abstract
Poly(HexaMethylene Biguanide) hydrochloride (PHMB)
CAS No. [32289-58-0]
is a particularly effective member of the biguanides antiseptic chemical group, and has been in use since the early fifties in numerous applications. It has been proposed that PHMB be classified as a category 3 carcinogen although PHMB is not genotoxic. It has been hypothesized that PHMB may have epigenetic properties effects, including non-genotoxic modifications of DNA bases, DNA methylation and mitogenic cytokine production. These properties have been assessed in vitro using 3 cell types: Caco-2 cells (from a human colon adenocarcinoma) with a non-functional
p53
gene. (∆p53: mut p53), N2-A (Neuro-2A cells, mouse neural cells), the brain being a possible target organ in rodents and HepG2 cells (human hepatocellular carcinoma) with functional
p53
gene. From the concentration 1 µg/mL up to 20 µg/mL of PHMB, no effect was observed, either growth stimulation or inhibition. Viability testing using neutral red led to an IC 50 of 20–25 µg/mL after treatment with PHMB for 3 h, whereas the MTT test led to IC50 values of 80 µg/mL, 160 µg/mL and 160 µg/mL respectively for HepG2 cells, Neuro-2A cells and Caco-2 cells. PHMB does not induce significant oxidative stress (production of MDA or lipoperoxidation, nor does it induce hydroxylation of DNA (8-OH-dG) and/or its hypermethylation (m5dC), the latter being strongly implicated in DNA replication and regulation and cell division. PHMB does not induce significant production of mitogenic cytokines such as TNF-α (tumor necrosis factor), interleukins (IL-1 alpha), and the transcription factor nuclear factor kappa B (NF-κB) which can cause either apoptosis or stimulate the growth of transformed cells or tumors. Instead, from concentrations of 20 to 100 µg/mL, PHMB kills cells of all types in less than 3 h. The expression of genes involved in the mechanisms of cell death induced by PHMB, including
p53
, the pro apoptotic gene
bax
and others, the anti-apoptotic
bcl-2
and caspase-3 has been evaluated by RT-PCR. Finally, the status of GAP-junctions (GJIC) in the presence of PHMB has been determined and appeared to not be significantly affected. Taken together the data show that in vitro PHMB does not exhibit clear and remarkable epigenetic properties except a slight increase of some cytokines and transcription factor at higher concentrations at which cell lysis occurs rapidly.
View Full-Text
►

▼

Figures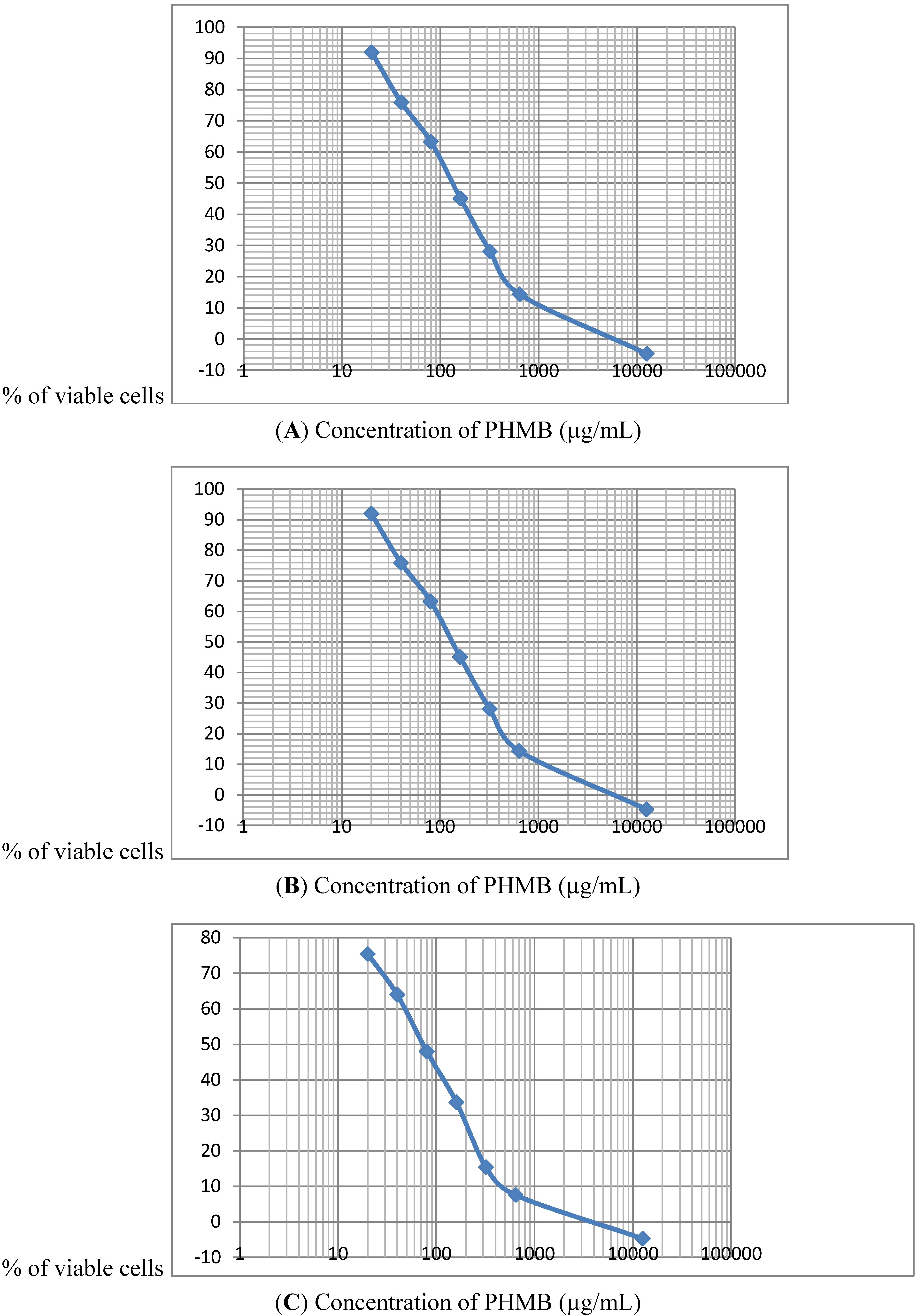 Figure 1
Scifeed alert for new publications
Never miss any articles
matching your research
from any publisher
Get alerts for new papers matching your research
Find out the new papers from selected authors
Updated daily for 49'000+ journals and 6000+ publishers
Share & Cite This Article
MDPI and ACS Style
Creppy, E.E.; Diallo, A.; Moukha, S.; Eklu-Gadegbeku, C.; Cros, D. Study of Epigenetic Properties of Poly(HexaMethylene Biguanide) Hydrochloride (PHMB). Int. J. Environ. Res. Public Health 2014, 11, 8069-8092.
Related Articles
Comments
[Return to top]