Effects of Moderate Strength Cold Air Exposure on Blood Pressure and Biochemical Indicators among Cardiovascular and Cerebrovascular Patients
1
School of Atmospheric Sciences, Nanjing University of Information Sciences and Technology, 219 Ningliu Road, Nanjing 210044, China
2
Key Laboratory of Arid Climatic Change and Reducing Disaster of Gansu Province, Lanzhou Institute of Arid Meteorology, China Meteorological Administration, 2070 Donggang East Road, Lanzhou 730020, China
3
School of Applied Meteorology, Nanjing University of Information Sciences and Technology, 219 Ningliu Road, Nanjing 210044, China
4
Lanzhou Central Meteorological Observatory, 2070 Donggang East Road, Lanzhou 730020, China
*
Author to whom correspondence should be addressed.
Received: 19 December 2013 / Revised: 17 February 2014 / Accepted: 19 February 2014 / Published: 27 February 2014
Abstract
The effects of cold air on cardiovascular and cerebrovascular diseases were investigated in an experimental study examining blood pressure and biochemical indicators. Zhangye, a city in Gansu Province, China, was selected as the experimental site. Health screening and blood tests were conducted, and finally, 30 cardiovascular disease patients and 40 healthy subjects were recruited. The experiment was performed during a cold event during 27–28 April 2013. Blood pressure, catecholamine, angiotensin II (ANG-II), cardiac troponin I (cTnI), muscle myoglobin (Mb) and endothefin-1 (ET-1) levels of the subjects were evaluated 1 day before, during the 2nd day of the cold exposure and 1 day after the cold air exposure. Our results suggest that cold air exposure increases blood pressure in cardiovascular disease patients and healthy subjects via the sympathetic nervous system (SNS) that is activated first and which augments ANG-II levels accelerating the release of the norepinephrine and stimulates the renin-angiotensin system (RAS). The combined effect of these factors leads to a rise in blood pressure. In addition, cold air exposure can cause significant metabolism and secretion of Mb, cTnI and ET-1 in subjects; taking the patient group as an example, ET-1 was 202.7 ng/L during the cold air exposure, increased 58 ng/L compared with before the cold air exposure, Mb and cTnI levels remained relatively high (2,219.5 ng/L and 613.2 ng/L, increased 642.1 ng/L and 306.5 ng/L compared with before the cold air exposure, respectively) 1-day after the cold exposure. This showed that cold air can cause damage to patients' heart cells, and the damage cannot be rapidly repaired. Some of the responses related to the biochemical markers indicated that cold exposure increased cardiovascular strain and possible myocardial injury.
View Full-Text
►

▼

Figures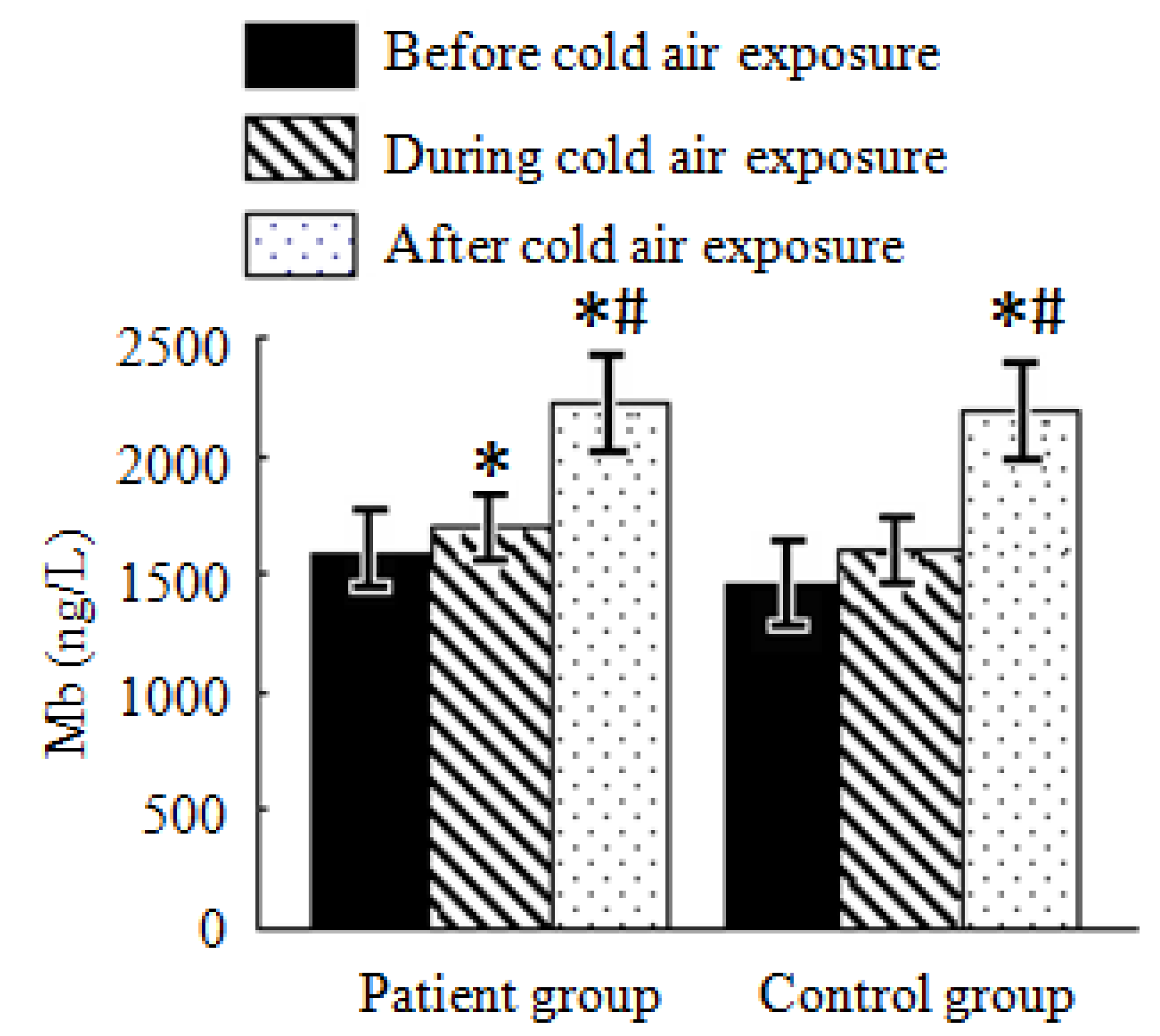 Figure 1
Share & Cite This Article
MDPI and ACS Style
Zhang, X.; Zhang, S.; Wang, C.; Wang, B.; Guo, P. Effects of Moderate Strength Cold Air Exposure on Blood Pressure and Biochemical Indicators among Cardiovascular and Cerebrovascular Patients. Int. J. Environ. Res. Public Health 2014, 11, 2472-2487.
Related Articles
Comments
[Return to top]