Open Access This article is
freely available
re-usable
Review
Symbiodinium
—Invertebrate Symbioses and the Role of Metabolomics
1
AIMS@JCU, Australian Institute of Marine Science, School of Pharmacy and Molecular Sciences, James Cook University, Townsville, Queensland 4811, Australia
2
ARC Centre of Excellence for Coral Reef Studies, James Cook University, Townsville, Queensland 4811, Australia
3
School of Pharmacy and Molecular Sciences, James Cook University, Townsville, Queensland 4811, Australia
*Author to whom correspondence should be addressed; Tel.: +61-7-47815395; Fax: +61-7-47816078.
Received: 26 August 2010; in revised form: 24 September 2010 / Accepted: 26 September 2010 / Published: 30 September 2010
Abstract
:
Symbioses play an important role within the marine environment. Among the most well known of these symbioses is that between coral and the photosynthetic dinoflagellate,
Symbiodinium
spp. Understanding the metabolic relationships between the host and the symbiont is of the utmost importance in order to gain insight into how this symbiosis may be disrupted due to environmental stressors. Here we summarize the metabolites related to nutritional roles, diel cycles and the common metabolites associated with the invertebrate-
Symbiodinium
relationship. We also review the more obscure metabolites and toxins that have been identified through natural products and biomarker research. Finally, we discuss the key role that metabolomics and functional genomics will play in understanding these important symbioses.
Keywords:
metabolomics; zooxanthellae; marine; Symbiodinium; coral
2.
Symbiodinium

Symbiosis

Symbiosis was originally defined by Anton deBary as "the living together of differently named organisms" [

20

].

Symbiodinium

have established intracellular symbioses with corals, anemones, jellyfish, nudibranchs, Ciliophora, Foraminifera, zoanthids and sponges and have extracellular symbioses with giant clams (for review see [

21

]). The majority of the estimated 798 coral species have established symbiosis with

Symbiodinium

; in this symbiotic relationship the algae are found within a host-derived vacuole (symbiosome membrane) within the gastrodermal cell layer. The cell membrane is derived during the acquisition and division of the algal symbionts, and is analogous to the symbiosome in legumes where the plant membrane encloses the symbiotic rhizobium cells [

20

]. Roth

et al.

defined this cell membrane in 1988 as the host derived symbiosome [

22

]. It was not until 1993 that further work by Rands

et al.

[

23

] analyzed this cell membrane more closely; they found that the cell membrane of the anemone host

Anemonia viridis

controls the availability of phosphorous compounds and other nutrients to zooxanthellae. Moreover, the transportation of all nutrients must proceed via this cell membrane and thus it is critical to the metabolic interaction between the symbiont and host.

Symbiodinium

cell numbers can range from one symbiont per host cell [

24

] to over 60 in some hydroids [

25

], with

Symbiodinium

normal cell densities being in the order of 1–2 million cells cm

−2

of coral tissue. Although only four

Symbiodinium

species have been formally characterized; they represent a large species complex and, based upon genetic markers [

26

], at least 160 distinct

Symbiodinium

strains have been identified, each of which may represent a distinct species with distinct physiologies. While some

Symbiodinium

strains are considered generalists, and can establish symbiosis with more than one species of host, others are restricted in the symbiotic association they can form. Given the diversity in both coral host species and algal genotypes there is a large potential for a range of metabolic relationships.
3. Targeted Metabolite Analysis
3.1. Nutritional Roles of
Symbiodinium
3.3. Biomarkers and Natural Products
5. Metabolomics in Systems Biology
6. Concluding Remarks
It is clear from the literature available that metabolite analysis of
Symbiodinium
symbioses peaked in the 1970s and 1980s with a keen interest in the nutritional roles that symbionts provided their hosts and how they interacted. The pioneers in these early days of metabolite analysis made a significant contribution to the knowledge that marine science benefits from today. Little was understood in those early years about the quantity of metabolites produced by the symbiont, nor how the host utilized them. Yet not only did they prove that the symbiont was providing nutrition to the host but also, that free living zooxanthellae behaved differently to their counterparts involved in symbiosis. While work continues to this day on elucidating the role of individual metabolites, the rise of genetic methods in the 1990s and beyond has seen the focus of research into metabolites dwindle in favor of genomic analysis.
However, questions about the feasibility of using metabolic biomarkers to aid in identifying phenotypes were asked as far back as twenty odd years ago when Trench noticed that zooxanthellae were biochemically different. Similar issues still exist today with many questions yet to be answered. For example, problems such as phenotype identification, elucidation of signaling pathways between host and symbiont and correlating gene expression with the metabolome are just a few problems that have yet to be fully addressed in the invertebrate-algal symbiosis. With the acceptance of climate change being a significant threat to coral reefs, it is of the utmost importance that we begin to start answering such questions. These issues have always been around and it is now, with advances in instrumentation, the increasing popularity of metabolomics along with a systems biology approach that these questions may finally be answered.
Acknowledgements
This work was supported in part by the ARC Centre of Excellence for Coral Reef Studies, a CRIG grant from James Cook University, a research scholarship from AIMS@JCU, a James Cook University top-up scholarship from the School of Pharmacy and Molecular Sciences and an Australian postgraduate award from the Australian government.
Samples Availability:

Available from the authors.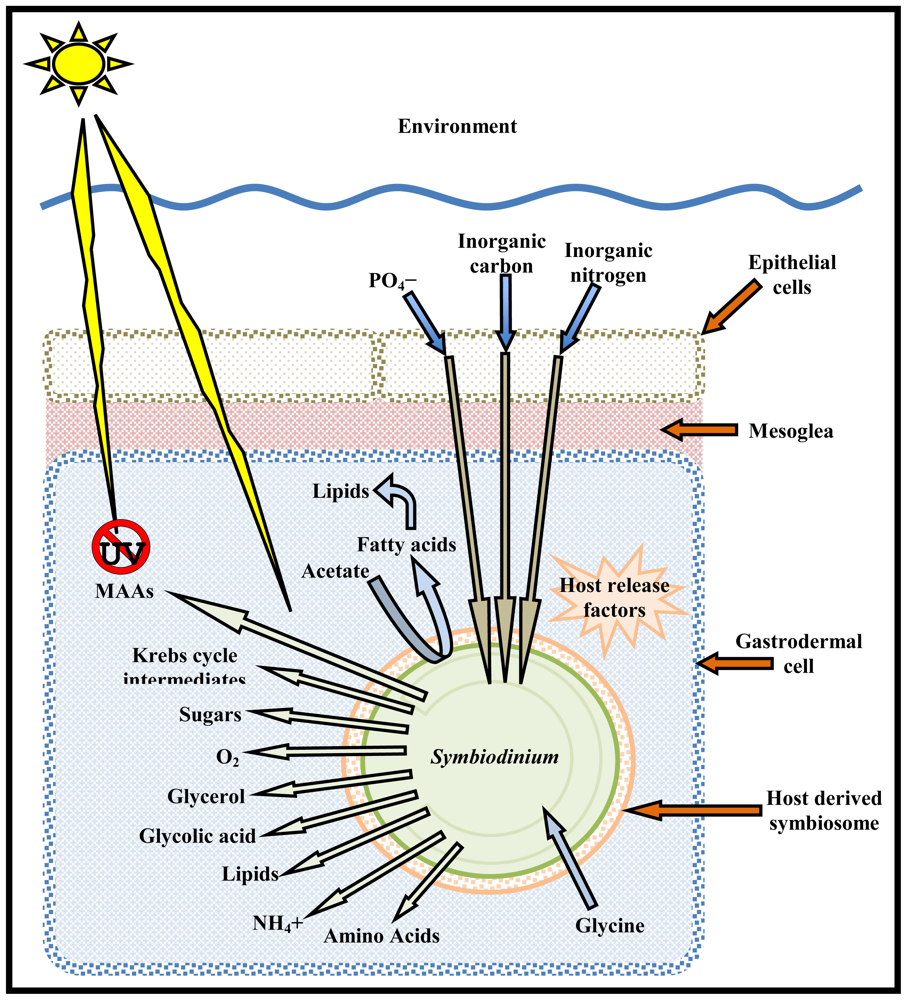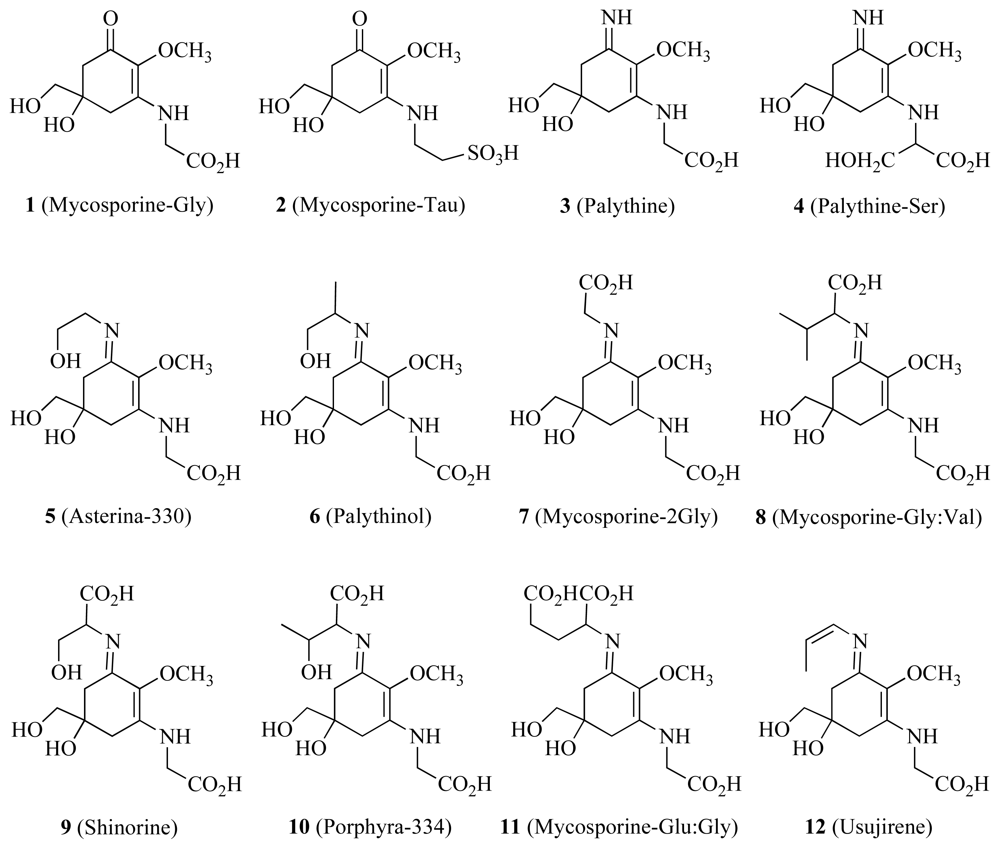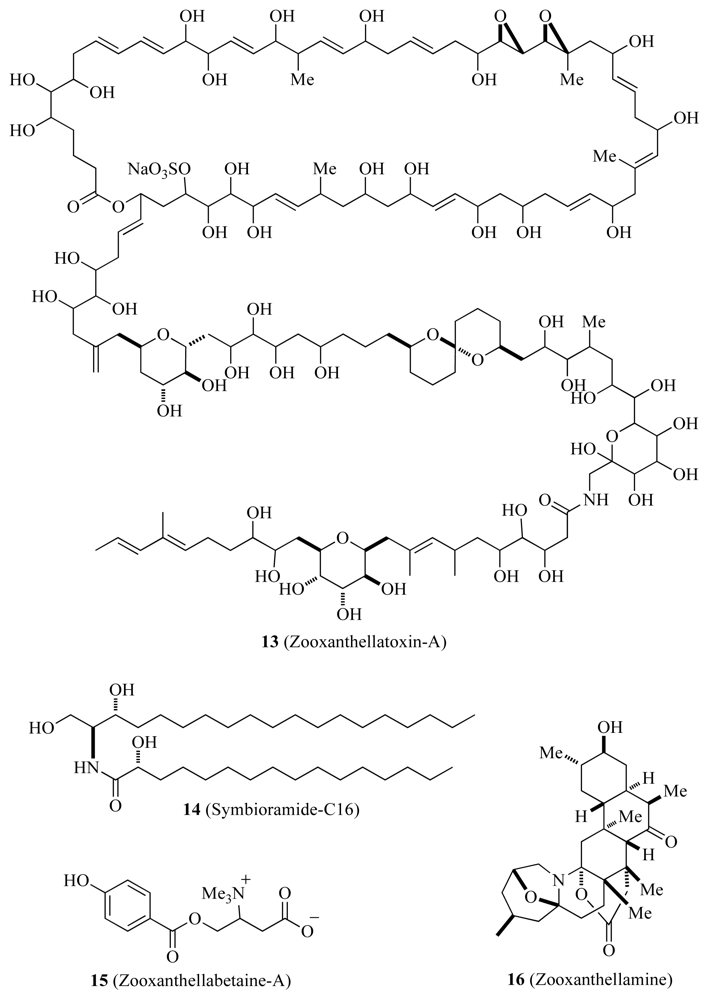 Scheme 2. Molecular structures of zooxanthellatoxin-A (13), symbioramide-C16 (14), zooxanthellabetaine (15) and zooxanthellamine (16).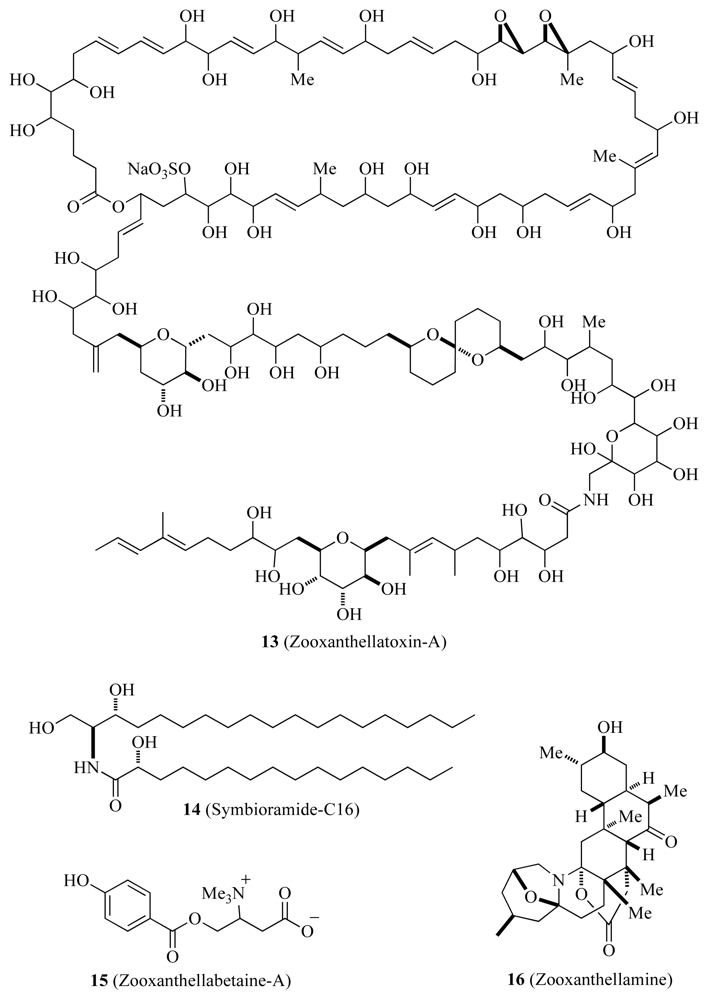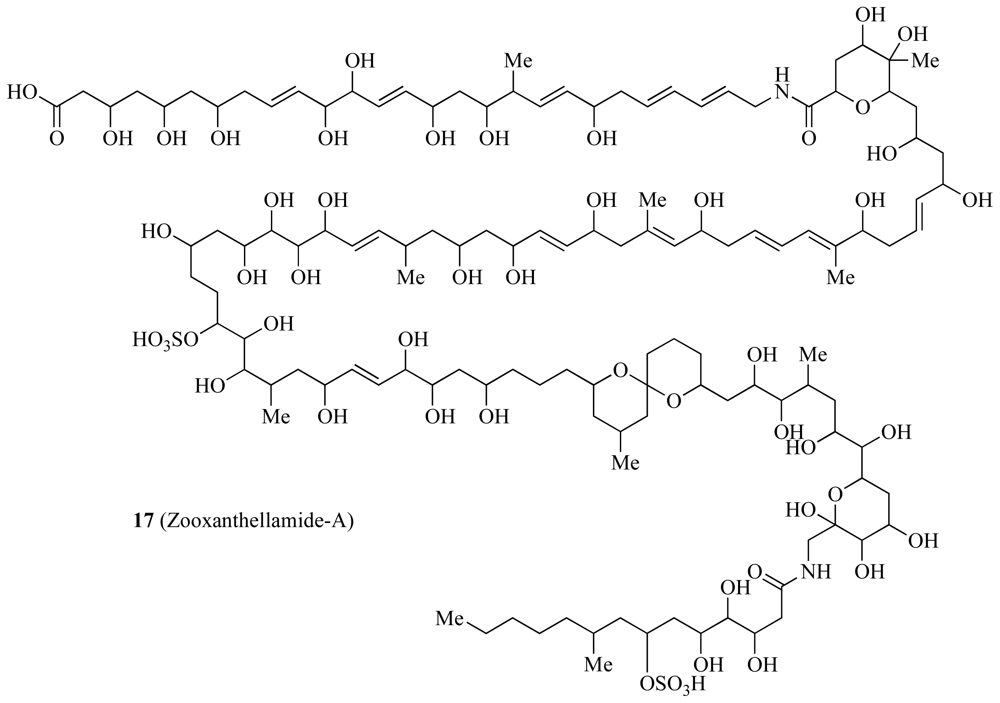 Table 1. Common metabolites of the invertebrate-

Symbiodinium

relationship.
Metabolite
Transport Direction

Symbiodinium

specific
Function
Reference
Host to symbiont
Symbiont to host
Maltose
✓
Nutrition
[33]
Glycerol
✓
Nutrition
[34]
Glucose and other hexoses
✓
Nutrition
[29,35]
Glycolic acid
✓
Nutrition
[29]
Glycine
✓
Nucleotide synthesis and nutrition
[36]
Alanine
✓
Protein formation
[18]
Acetate
✓
Fatty acid synthesis
[37,38]
Fatty acids
✓
Lipid synthesis
[38]
Lipids
✓
Energy exchange
[39]
Lactate
✓
Metabolite
[37]
Succinate
✓
Krebs cycle
[37]
Citrate
✓
Krebs cycle
[37]
Ketoglutarate
✓
Krebs cycle
[37]
Malate
✓
Krebs cycle
[37]
Pyruvate
✓
Glycolysis product
[37]
PO43−
✓
Nutrition
[40]
NO2−, NO3−, NH4+
✓
Amino acid synthesis
[40]
Inorganic carbon (

i.e.

, CO2, HCO3−)
✓
Photosynthesis
[41,42]
O2
✓
Photosynthesis
[43]
Zooxanthellamide-A and B
✓
Unknown
[44,45]
Mycosporine-like amino acids
✓
UV light and free radical protection
[46]
Zooxanthellatoxins
✓
Unknown
[47]
Symbioramide-C16
✓
Unknown
[48]
Zooxanthellabetaines
✓
Unknown
[48]
Zooxanthellamine
✓
Unknown
[48]
© 2010 by the authors; licensee Molecular Diversity Preservation International, Basel, Switzerland This article is an open-access article distributed under the terms and conditions of the Creative Commons Attribution license (http://creativecommons.org/licenses/by/3.0/).