NMR-Based Metabolomic Investigations on the Differential Responses in Adductor Muscles from Two Pedigrees of Manila Clam Ruditapes philippinarum to Cadmium and Zinc
1
Key Laboratory of Coastal Zone Environment Processes, CAS, Shandong Provincial Key Laboratory of Coastal Zone Environment Processes, Yantai Institute of Coastal Zone Research, Chinese Academy of Sciences, Yantai 264003, China
2
The Graduate School of Chinese Academy of Sciences, Beijing 100049, China
*
Author to whom correspondence should be addressed.
Received: 9 August 2011 / Revised: 7 September 2011 / Accepted: 8 September 2011 / Published: 19 September 2011
Abstract
Manila clam
Ruditapes philippinarum
is one of the most important economic species in shellfishery in China due to its wide geographic distribution and high tolerance to environmental changes (e.g., salinity, temperature). In addition, Manila clam is a good biomonitor/bioindicator in "Mussel Watch Programs" and marine environmental toxicology. However, there are several pedigrees of
R. philippinarum
distributed in the marine environment in China. No attention has been paid to the biological differences between various pedigrees of Manila clams, which may introduce undesirable biological variation in toxicology studies. In this study, we applied NMR-based metabolomics to detect the biological differences in two main pedigrees (White and Zebra) of
R. philippinarum
and their differential responses to heavy metal exposures (Cadmium and Zinc) using adductor muscle as a target tissue to define one sensitive pedigree of
R. philippinarum
as biomonitor for heavy metals. Our results indicated that there were significant metabolic differences in adductor muscle tissues between White and Zebra clams, including higher levels of alanine, glutamine, hypotaurine, phosphocholine and homarine in White clam muscles and higher levels of branched chain amino acids (valine, leucine and isoleucine), succinate and 4-aminobutyrate in Zebra clam muscles, respectively. Differential metabolic responses to heavy metals between White and Zebra clams were also found. Overall, we concluded that White pedigree of clam could be a preferable bioindicator/biomonitor in marine toxicology studies and for marine heavy metals based on the relatively high sensitivity to heavy metals.
View Full-Text
►

▼

Figures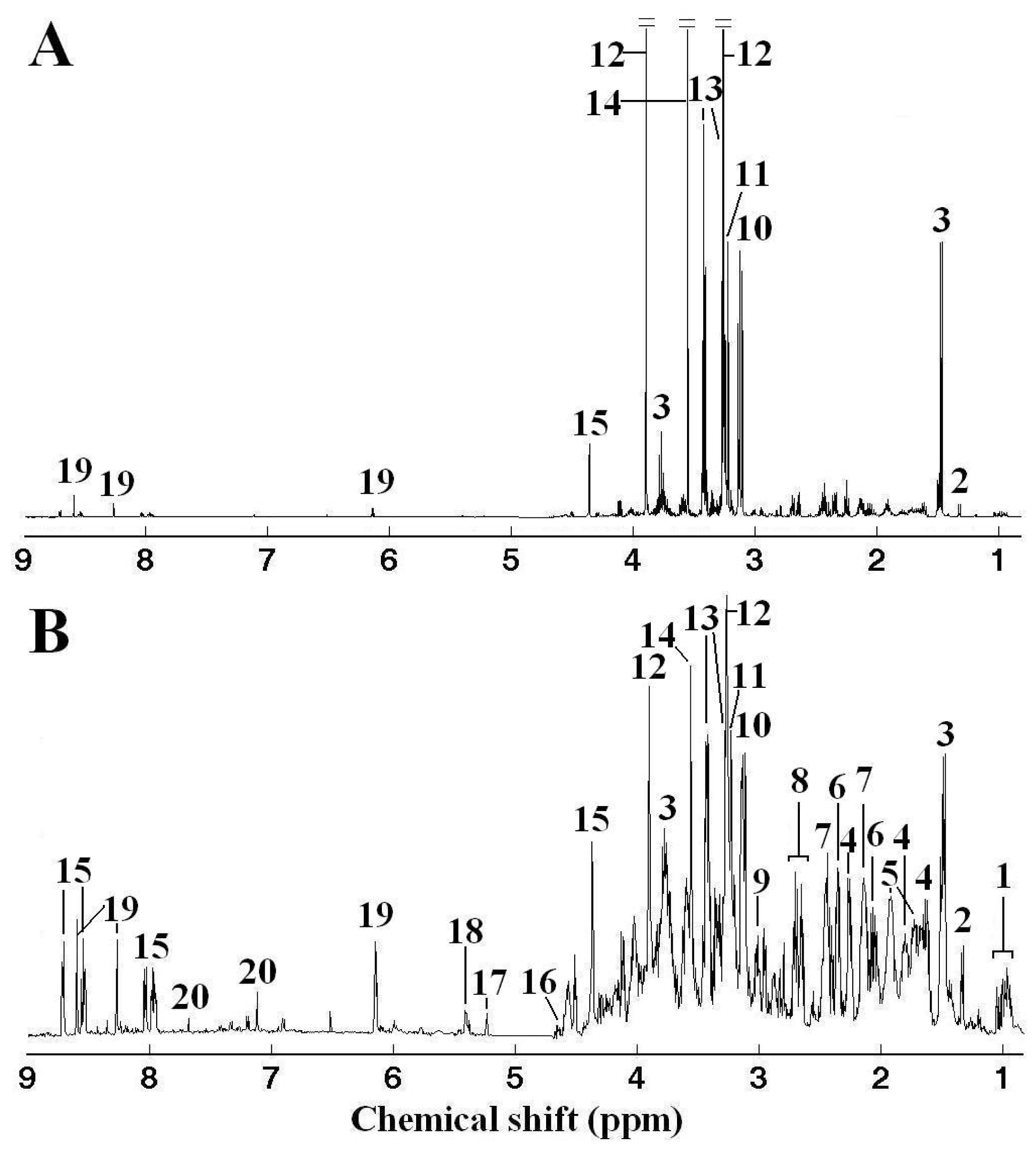 Share & Cite This Article
MDPI and ACS Style
Wu, H.; Liu, X.; Zhao, J.; Yu, J. NMR-Based Metabolomic Investigations on the Differential Responses in Adductor Muscles from Two Pedigrees of Manila Clam Ruditapes philippinarum to Cadmium and Zinc. Mar. Drugs 2011, 9, 1566-1579.
Related Articles
Comments
[Return to top]