Bifurcatriol, a New Antiprotozoal Acyclic Diterpene from the Brown Alga Bifurcaria bifurcata
1
School of Chemistry, National University of Ireland Galway, University Road, Galway, Ireland
2
Lehrstuhl für Organische Chemie 2, Ruhr-Universität Bochum, Universitätsstraße 150, 44801 Bochum, Germany
3
Swiss Tropical and Public Health Institute, 4051 Basel, Switzerland
4
University of Basel, 4003 Basel, Switzerland
5
GEOMAR Centre for Marine Biotechnology (GEOMAR-Biotech), Research Unit Marine Natural Product Chemistry, Research Division Marine Ecology, GEOMAR Helmholtz Centre for Ocean Research Kiel, Am Kiel-Kanal 44, 24106 Kiel, Germany
*
Author to whom correspondence should be addressed.
Received: 19 June 2017 / Revised: 24 July 2017 / Accepted: 27 July 2017 / Published: 2 August 2017
Abstract
Linear diterpenes that are commonly found in brown algae are of high chemotaxonomic and ecological importance. This study reports bifurcatriol (1), a new linear diterpene featuring two stereogenic centers isolated from the Irish brown alga
Bifurcaria
bifurcata
. The gross structure of this new natural product was elucidated based on its spectroscopic data (IR, 1D and 2D-NMR, HRMS). Its absolute configuration was identified by experimental and computational vibrational circular dichroism (VCD) spectroscopy, combined with the calculation of
13
C-NMR chemical shielding constants. Bifurcatriol (1) was tested for in vitro antiprotozoal activity towards a small panel of parasites (Plasmodium falciparum, Trypanosoma brucei rhodesiense, T. cruzi, and Leishmania donovani) and cytotoxicity against mammalian primary cells. The highest activity was exerted against the malaria parasite P. falciparum (IC
50
value 0.65 μg/mL) with low cytotoxicity (IC
50
value 56.6 μg/mL). To our knowledge, this is the first successful application of VCD and DP4 probability analysis of the calculated
13
C-NMR chemical shifts for the simultaneous assignment of the absolute configuration of multiple stereogenic centers in a long-chain acyclic natural product.
View Full-Text
►

▼

Figures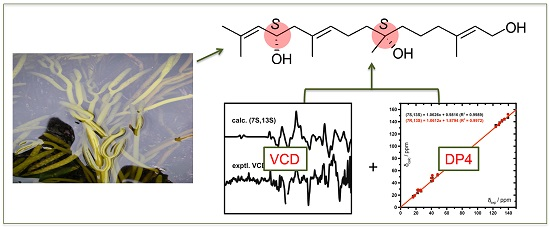 This is an open access article distributed under the
Creative Commons Attribution License
which permits unrestricted use, distribution, and reproduction in any medium, provided the original work is properly cited. (CC BY 4.0).
Share & Cite This Article
MDPI and ACS Style
Smyrniotopoulos, V.; Merten, C.; Kaiser, M.; Tasdemir, D. Bifurcatriol, a New Antiprotozoal Acyclic Diterpene from the Brown Alga Bifurcaria bifurcata. Mar. Drugs 2017, 15, 245.
Note that from the first issue of 2016, MDPI journals use article numbers instead of page numbers. See further details here.
Related Articles
Comments
[Return to top]