Computer-Aided Drug Design Applied to Marine Drug Discovery: Meridianins as Alzheimer's Disease Therapeutic Agents
1
Department of Evolutionary Biology, Ecology and Environmental Sciences, Faculty of Biology and Biodiversity Research Institute (IRBio), Universitat de Barcelona, 08028 Barcelona, Catalonia, Spain
2
Mind the Byte S.L., 08028 Barcelona, Catalonia, Spain
*
Authors to whom correspondence should be addressed.
Received: 6 October 2017 / Revised: 10 November 2017 / Accepted: 14 November 2017 / Published: 27 November 2017
Abstract
Computer-aided drug discovery/design (CADD) techniques allow the identification of natural products that are capable of modulating protein functions in pathogenesis-related pathways, constituting one of the most promising lines followed in drug discovery. In this paper, we computationally evaluated and reported the inhibitory activity found in meridianins A–G, a group of marine indole alkaloids isolated from the marine tunicate
Aplidium
, against various protein kinases involved in Alzheimer's disease (AD), a neurodegenerative pathology characterized by the presence of neurofibrillary tangles (NFT). Balance splitting between tau kinase and phosphate activities caused tau hyperphosphorylation and, thereby, its aggregation and NTF formation. Inhibition of specific kinases involved in its phosphorylation pathway could be one of the key strategies to reverse tau hyperphosphorylation and would represent an approach to develop drugs to palliate AD symptoms. Meridianins bind to the adenosine triphosphate (ATP) binding site of certain protein kinases, acting as ATP competitive inhibitors. These compounds show very promising scaffolds to design new drugs against AD, which could act over tau protein kinases Glycogen synthetase kinase-3 Beta (GSK3β) and Casein kinase 1 delta (CK1δ, CK1D or KC1D), and dual specificity kinases as dual specificity tyrosine phosphorylation regulated kinase 1 (DYRK1A) and cdc2-like kinases (CLK1). This work is aimed to highlight the role of CADD techniques in marine drug discovery and to provide precise information regarding the binding mode and strength of meridianins against several protein kinases that could help in the future development of anti-AD drugs.
View Full-Text
►

▼

Figures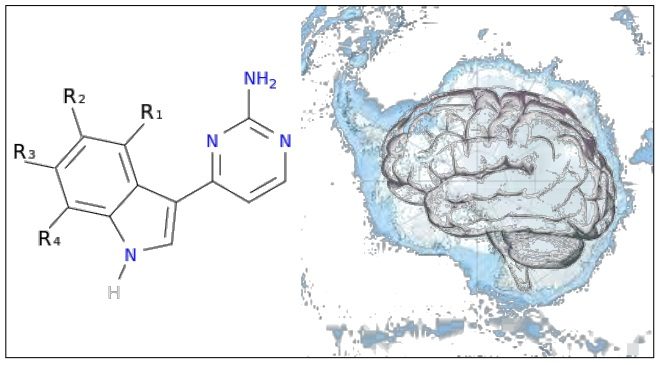 This is an open access article distributed under the
Creative Commons Attribution License
which permits unrestricted use, distribution, and reproduction in any medium, provided the original work is properly cited. (CC BY 4.0).
Share & Cite This Article
MDPI and ACS Style
Llorach-Pares, L.; Nonell-Canals, A.; Sanchez-Martinez, M.; Avila, C. Computer-Aided Drug Design Applied to Marine Drug Discovery: Meridianins as Alzheimer's Disease Therapeutic Agents. Mar. Drugs 2017, 15, 366.
Note that from the first issue of 2016, MDPI journals use article numbers instead of page numbers. See further details here.
Related Articles
Comments
[Return to top]