The Effect of Polyunsaturated Aldehydes on Skeletonema marinoi (Bacillariophyceae): The Involvement of Reactive Oxygen Species and Nitric Oxide
Stazione Zoologica Anton Dohrn di Napoli, Villa Comunale, Napoli I80121, Italy
†
Current Address: Department of Biology, Colorado State University, Fort Collins, CO 80523, USA
*
Author to whom correspondence should be addressed.
Received: 18 January 2014 / Revised: 4 June 2014 / Accepted: 30 June 2014 / Published: 14 July 2014
Abstract
Nitric oxide (NO) and reactive oxygen species (ROS) production was investigated in the marine diatom,
Skeletonema marinoi
(SM), exposed to 2
E
,4
E
/
Z
-decadienal (DECA), 2
E
,4
E
/
Z
-octadienal (OCTA), 2
E
,4
E
/
Z
-heptadienal (HEPTA) and a mix of these last two (MIX). When exposed to polyunsaturated aldehydes (PUA), a decrease of NO was observed, proportional to the PUA concentration (85% of the initial level after 180 min with 66 µM DECA). Only OCTA, HEPTA and MIX induced a parallel increase of ROS, the highest (2.9-times the control) with OCTA concentrations twice the EC
50
for growth at 24 h (20 μM). The synthesis of carotenoids belonging to the xanthophyll cycle (XC) was enhanced during exposure, suggesting their antioxidant activity. Our data provide evidence that specific pathways exist as a reaction to PUA and that they depend upon the PUA used and/or the diatom species. In fact,
Phaeodactylum tricornutum
(PT) produces NO in response to DECA, but not to OCTA. We advance the hypothesis that SM perceives OCTA and HEPTA as intra-population infochemicals (as it produces PUA), while PT (non-PUA producing species) perceives them as allelochemicals. The ability to produce and to use PUA as infochemicals may underlie ecological traits of different diatom species and modulate ecological success in natural communities.
View Full-Text
►

▼

Figures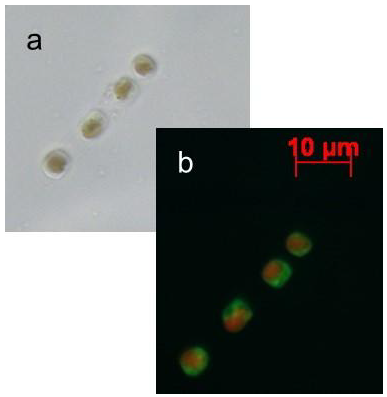 Share & Cite This Article
MDPI and ACS Style
Gallina, A.A.; Brunet, C.; Palumbo, A.; Casotti, R. The Effect of Polyunsaturated Aldehydes on Skeletonema marinoi (Bacillariophyceae): The Involvement of Reactive Oxygen Species and Nitric Oxide. Mar. Drugs 2014, 12, 4165-4187.
Related Articles
Comments
[Return to top]